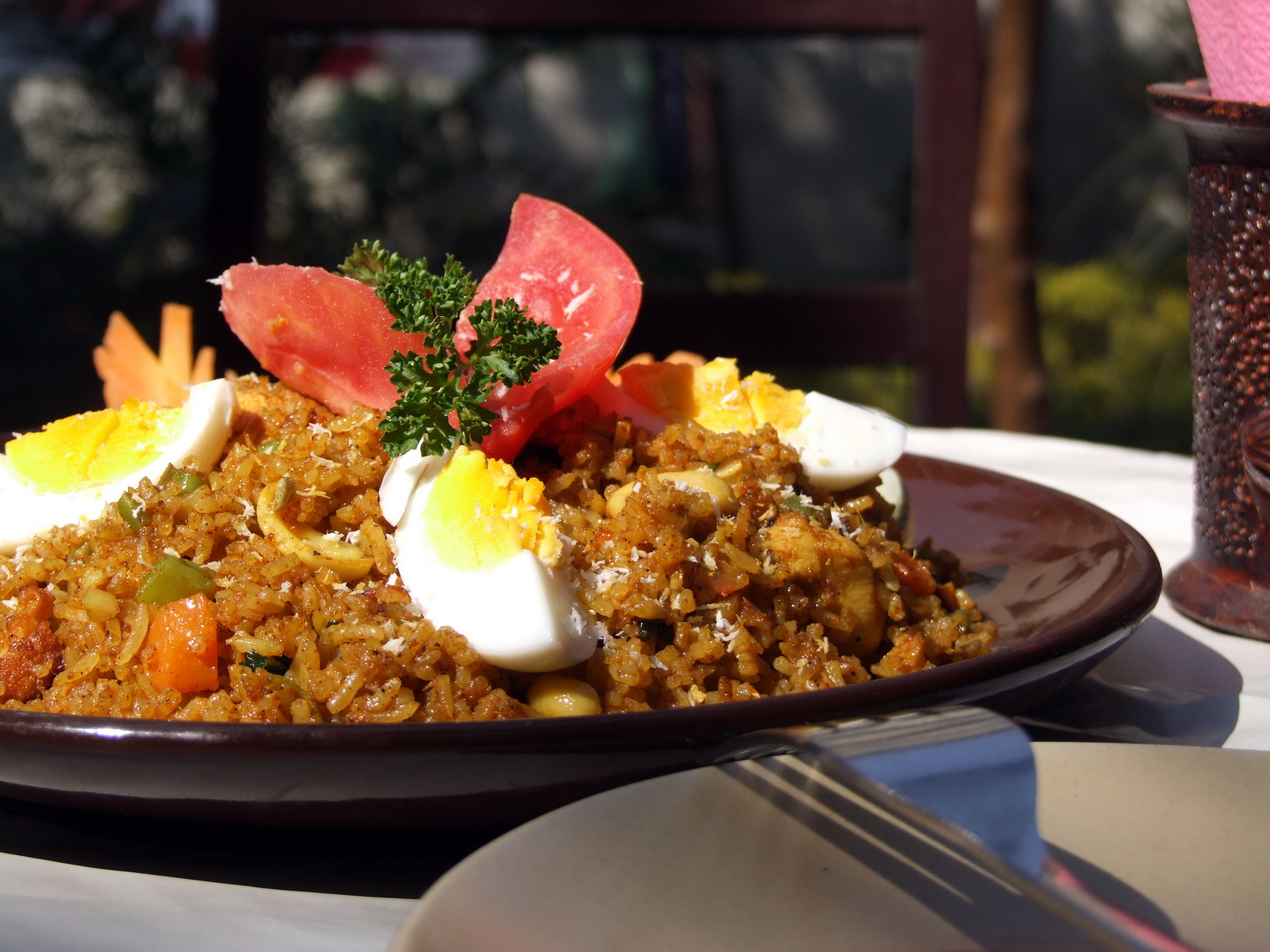 Chicken Biryani in Nepal
Perhaps this is my most frequently eaten rice based dish in Nepal. It's delicious, fast to order, not that spicy and quite nutritious! Perhaps more importantly it doesn't change that much between restaurants meaning you can have some regularity with Chicken Biryani.
There are however different types of Biryani ranging from mutton, fish and a popular vegetarian option.
What is Chicken Biryani made from?
With a huge and diverse history Chicken Biryani varies from country to country. In Nepal it's usually made with rice, chicken, cashew nuts, green beans, carrot with an added range of spices such as cardamom, bay leaves, coriander, ginger, onions, chili and garlic.
Tourist versions of Chicken Biryani in Nepal often add an egg or extra cashew nuts. While more moderate to local versions don't often have an egg and either have less cashew nuts or substitute them for another type of nut.
History of Chicken Biryani from Iran to Pakistan, India and finally Nepal
Biryani originated in Persia (Iran) where it's plainer but comes with side dishes like yogurt. Merchants and travelers pushed Biryani into the Indian subcontinent where it garnered many of it's more recognizable spices today. Making its way up north to Nepal Biryani quickly became a favourite of the Nepalese people who added their own zest to the dish.
Today due to its popularity Biryani can be found all over the world. With unique variations also appearing in countries like Brunei, Malaysia, Thailand, Burma and Sri Lanka.
What does Chicken Biryani taste like in Nepal?
I've tasted chicken Biryani in nearly all the above countries. The Nepali version seems to have added more fresh vegetables, cardamom and coriander. There is certainly a strong reliance on those spices but not in a hot way. Occasionally I do wish there was less spice but it certainly doesn't detract from the overall dish.
The most notable difference in taste between Biryani came from Iran where it's much plainer. That's not always a bad thing as sometimes when traveling starting off with something plain is good. Other exceptions were some very hot Biryani's in India and some plainer ones in Thailand.
Looking for something tasty and nutritious that's not too hot and spicy, give Chicken Biryani a try when you are in Nepal.
This is an additional article highlighting food from Nepal
 Find out the best places to eat in Kathmandu:
Looking for restaurants and places to eat great food in the rest of Nepal? Check out my guidebook below!
---
Get my Guidebook to Nepal & discover more than anyone else!
Looking for more insider tips and information like this? Get the most up-to-date, popular and dedicated guidebook to Nepal in the world. Over 617 pages & 984+ photographs of every temple listed, daily guides on all the treks listed and so much more.
Take a look below and you'll find out why this beats all other guidebooks!