---
Thamel and Paknajol are the best locations in Kathmandu for good budget restaurants in Kathmandu. The two areas are next to each other and walkable. There's really no need for a taxi or rickshaw. Due to the pandemic, some restaurants are low on staff or have shorter than normal working hours - do bear this in mind.
Beware of service charges & VAT!
There a mandatory 10% service charge and a 13% VAT charge added on to many restaurant bills in Kathmandu. That's a whopping great 23% extra added to your bill. Not all budget restaurants do this though, including many listed below. *Always ask, just in case!
---
The budget restaurants listed here offer affordable meals from US3.00 upward. Not including drinks nor taxes. There are cheaper places to eat but not all stay open year round nor have particularly good hygiene.
These restaurants are tried and tested personally. Enjoy!
---
Yangling Tibetan Restaurant
Yangling have been at the top of many budget traveler restaurant reviews for years. For a good reason too, the food is great and the place is clean.
The restaurant became known for their great momos (steamed dumplings). The buff momo in particular is probably the best you'll get in Nepal. They are also one of the few restaurants to offer pork momos. They also have chicken and veg momos. If you like spicy, the insider tip is to try the buff chili. It's not like anywhere else and it's good.
Other popular choices here include the chow meins, Thukpas and momo soups. All come in either meat or veg options.
The restaurant is over three mid-sized floors. The downside? Well, it's popular and has appeared in many guidebooks so tourists tend to flock to it. It's family run with no ego though. If you don't like crowds, simply get there by 6pm.

Location: Kaldhara Marg, Kathmandu 44600, Nepal
Telephone: +977 1-4257408
Opening hours: Mon-Sun 12 noon -9pm
---
Newa Momo
Newa Momo is a small restaurant run by husband and wife in Kawabahal Street. It's been open for years and remains one of the stellar budget restaurants in Kathmandu. Cleanliness and home cooking is what reigns supreme here. If you enjoyed your trekking food, you'll find the same sort of wholesome goodness served up.
Momo's rule here. Spinach and Cheese momos are the best in Kathmandu. Potato momos along with chicken are also great. Don't just delve into the delicious momos though. The large wall menu is worth looking and testing out Chapati, roti and an assortment of to your taste curries list as staples.
Dal Bhat is harder to get here and is served at typical early Nepali times of 11am. Don't be fooled by the plain tables and chairs, this is a good honest restaurant with wholesome home cooking. Speaking of which, they also running cooking classes.
Location: Kawabahal , Kathmandu 44600, Nepal ( just a few steps on from Rosemary Kitchen)
Telephone: +977 1-4219135
Opening hours: 08:00 - 21:00
---
Thamel Donar Kebab
Probably the best tasting kebabs and nicest staff in Nepal! Don't let the tiny kebab store front and single put you off, there's some nice seating downstairs. The chef is the owner and very friendly so if you have any questions, - just ask.
The main menu items are chicken kebabs and falafel kebabs. You can have either with regular hummus or their specialty avocado humus! All kebabs are served with a beetroot and carrot side dish. Also on hand are a bevy of beet juices and lassis.
The chicken kebabs are large and filling. The meat itself is fresh and has a wonderful juicy texture with a smoky taste. The falafel are crunchy good and freshly made. The chef will ask if you'd like no spicy, medium spicy or spicy. Unlike many other kebab places Thamel Donar Kebab raises the bar for great Kebabs in Kathmandu!
Location: Chaksibari Marg (north side), Kathmandu 44600, Nepal
Telephone: +977 984-1411215
Opening hours: Sun-Fri 10:30am-9:30pm
Prices start from: 200 rupees
---
Mc Donald Fast Food
Nope, it's not the famous burger chain. It's far better so long as you are used budget restaurants in Nepal! Mc Donald Fast Food Restaurant probably has the largest menu in any cheap local restaurant in Kathmandu. The Chicken Tikka is great along with the wide varieties of Naan on offer. All made in a genuine wood fired tandoor. The Tandoori chicken is pricey though!
There a huge list of curries to choose from. It's probably best to stick to the popular varieties though. This is one of the better budget vegetarian restaurant with Palak Panner is especially good here. The western options like pizza are probably best avoided. The staff are somewhat frantic and can often seem confused, but I've never had a wrong order. It's budget, so give them some slack.
It's well known among locals and tourists haven't quite caught on to it yet so it's still devoid of large crowds. If you are after a wider than normal menu with tasty food options then it's worth checking out.
Location: Devkota Sadak, Kathmandu 44600, Nepal
Telephone: +977 984-1030201
Opening hours: Mon-Sun 11 noon -9pm
---
Merhaba Turkish Halal Restaurant
Transferred from Pokhara in 2019 this incredible restaurant could easily top any category. The food is great, it's rock bottom on price and everything is freshly made.
The restaurant became known for their incredible Turkish menu (over 90 items). There's plenty of Nepali items on it too. Though if you have their Turkish set breakfast you may not have room for lunch it's so filling.
Lunch or Dinner items are also in large portions with a huge menu selection. Meat lovers can rejoice here as the lamb is fresh everyday, soft and has zero odor. It's used in The İskender kebab which is heaped high on a bed of cous cous (or rice - your choice) and if you want a vegetarian version it's available with ease. Pide or Turkish pizzas are delicious with either veg or meat toppings. Doners are filled to the brim with your choice of hummus, meat or veg, salads and chips. Kepabs come in all shapes and styles which will never leave you feeling hungry. Kofte (meatballs) are served with flavorsome gravy. While Karnıyarık meals make eggplant taste like nothing else in Nepal.
The restaurant has a downstairs sit on the floor style area while upstairs is a semi-covers area with full seating. Merhaba looks budget and it is. However some of the meals here can rival the very best restaurants in Kathmandu!

Location: Chaksibari Street, Thamel, Kathmandu 44600, Nepal
Telephone: +977 98-40931141
Opening hours: Mon-Sun 7am-10pm
Prices start from: 280 rupees
---
Thamel Square
You're getting about 3-4 restaurants all under one open yet roofed area in the middle of Thamel. It's stools, plain tables and an assortment of random restaurants surrounding them. One of the current popular restaurants here is Kizuna, a Japanese restaurant. Just don't expect Sushi. It's noodles and teriyaki budget style. Fast, tasty and cheap.
Opposite is a Thai restaurant that's strangely less popular. It might be the rather plain menu that doesn't quite make it the standard of your average Bangkok roadside eatery. But, if you are after some Tom Yum, it's here.
Other restaurants in this little area can include a kebab shop and a momo stall. They are all a bit random though so if you are after something to eat go there first to have a look see at what's still open, or what's just opened. Thamel Square may not be reliable, but there's always something worth checking out.
Location: Chaksibari Marg, Kathmandu 44600, Nepal
Telephone: N/A
Opening hours: Sun-Fri. 11am-8pm
---
Sandwiches, Burgers and Kebab stalls
Thamel has a bevy of Sandwich shops, Burger joins and a kebab stalls. Most are okay but nothing super special and not as cheap as you may first thing. The exception is Thamel Doner Kebab listed above. When looking at the rest the most important thing to beware of is hygiene. Open front shops tend to attract flies in the summer and water splashes in the monsoon season. Mayonnaise is rarely if ever refrigerated in Nepal.
The most famous places include The Sandwich point in Narshing Chowk which has been around since the 1980s. Cheese sandwiches are long-term favorites.
Chick´n Falafel and Thamel Doner Kebab are two of the more popular kebab places in Thamel. Avoid the mayonnaise and all should be okay. For burgers it's touch and go. There's a new Burger bar open in Narshing Chowk but it's hardly tasty. Burger House is perhaps a better alternate though not so cheap. Keep in mind beef is not a popular meat in Nepal.
Location: See the map below
Telephone: N/A
Opening hours: Mon-Sun 12noon - 1am
---
---
They are all listed in my guidebook to Nepal!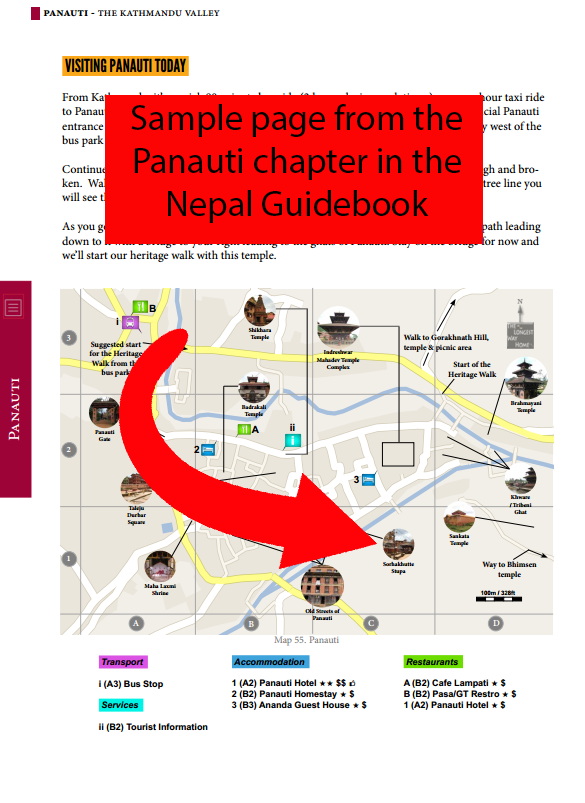 All the very best places to eat
From budget to mid-range all the way to fine dining. Discover the real insider places to eat in Thamel, Kathmandu and all over Nepal!
Here's a sample of what's included:
Every restaurant & hotel has been reviewed independently
All budgets are taken into account
Discover places the other guidebooks don't know about
Eat locally or eat internationally
Find places to eat from Kathmandu to Pokhara all the way to Bardia and the mountains.
Meanwhile, online, here are some more choices to help you fill up!
---
---
Full directions and reviews of budget, mid-range and high-end restaurants with better maps are available in my guidebook below.
---
---
Liked this page? You'll love my book!
Designed to help travelers get the most out their trip to Nepal with premium detailed guides, insider information, impartial hotel and restaurant reviews, complete trekking routes and much more ...
Available in print or digital - the best guidebooks for visiting Nepal.
---
Was this page helpful to you? If so please tell others!