---
Kathmandu has a great selection of dinner restaurants. Thamel remains a favorite for many in the mid-range bracket. Heading out to Naxal and the prices skyrocket for similar fare but nice surroundings. Due to the pandemic, some restaurants are low on staff or have shorter than normal working hours - do bear this in mind.
Let's look at some of the best places for an evening meal in Kathmandu!
---
Dinner in Kathmandu can be a rewarding experience with many new restaurants now competing with the old favorites. Meat dishes rule but virtually all restaurants have several tasty vegetarian options.
These restaurants have all been tried and tested personally throughout the year. Enjoy!
---
Third Eye Restaurant

Third Eye is one of the few real fine dining establishments in Thamel. It's an Indian, Nepali and continental restaurant but with an extensive menu for everyone.
The Indian meat curries are some of the best you'll get anywhere. They are not too spicy (you can ask for more spice) and are so very flavorsome. The mutton boti masala and the Chicken palak go great with their fresh naans or rice. Beef lovers will enjoy the epic beef shahlik oriental served up and long skewers.
It's worth noting that the service and attention to hygiene is excellent at Third Eye. It's been a popular place for years for good reason. There's a roof top roof balcony worth checking out during a warm evening otherwise the ambience is enjoyable inside.
Location: JP Road, Kathmandu 44600, Nepal
Telephone: +977 1-4260289
Opening hours: Mon-Sun 10am-10pm
Prices start from: 650 rupees.
---
Forest & Plate
With an extensive and original vegetarian menu along with chicken/steak meals Forest and Plate has quickly become established as one of the best places for dinner in Kathmandu.
All meals come with a free hors d'oeuvres of steamed pumpkin with chili and beets sauce. The appetizers worth checking out are the favorite cheese balls, side salads and beet dishes. Mains courses can be long side vegetable platters, pastas or meat dishes.
With a great ambiance, friendly staff and attentive owner a nights dinner here can be a welcome treat. Due to its rising popularity it's worth coming early.
Location: Mandala Street,Kathmandu 44600, Nepal
Telephone: +977 01-4701161
Opening hours: Mon-Sun 11am - 9.30pm
Prices start from: 450 rupees
---
Rosemary Kitchen
There are few places for dinner in Kathmandu where you'll see a queue to get in, Rosemary during peak season has one. The reason is simple, the food is excellent.
Try the namesake Rosemary chicken with fresh fillets sprinkled with rosemary and served With mashed potatoes along with salad. The vegetarian ravioli is has a lovely creamy sauce that's not too heavy and hits the spot for a evening meal. Steaks and lamp chops are again favorites though pricey for Nepal.
Rosemary Kitchen is one of those rare finds in Kathmandu that got their menu, kitchen and location just right though in recent years the prices have shot up During peak season at dinner time you might want to book a table in advance.
Location: Kawabahal, Kathmandu 44600, Nepal (due to the pandemic, they moved further down Thamel Marg inside Rosemary Hotel)
Telephone: +977 1-4267554
Opening hours: Sun-Fri 7am-10pm
Prices start from: 550 rupees
---
Yala Cafe
If you are looking for a small cozy cafe that's high on atmosphere but low on price then Yala Cafe might be the best new restaurant in Kathmandu for you.
The Yala Special Chicken consists of pan-grilled chicken fillet, mashed potato and a side of buttered vegetable. Want local? There's a delicious curry on hand that's not too spicy (ask and they will make it red hot).
Steaks, lamb, vegetarian and all with only 12 tables in a quite part of Kathmandu. To top it off the are local and very friendly to all their guests.
Yala Cafe is the type of restaurant where two people can for a relaxing evening in either the small patio area or the sheltered clean interior. Larger groups are also well catered thanks to the thoughtful management who will bring all the table together. Their motto is keeping it simple and in this case, it works well.
Location: Kawabahal , Kathmandu 44600, Nepal ( Next to Hotel Yala Peak)
Telephone: +977 1-4219135
Opening hours: 07:00 - 21:00
Prices start from: 280 rupees
---
Black Olives
When Black Olives first opened it quickly rose to be one of the best places to eat dinner in Kathmandu. Little has changed with the smart courtyard and live music keeping people happy.
Check out the specialties on the notice board before settling down to the main menu. They often serve up in season vegetables dishes like asparagus or if there's a new item like roast pork. Pastas are touch and go and much better as vegetarian options. The steaks here are good the pricey and served up with tasty mashed potatoes. The lemon chicken is also a favorite among many.
There's often live music here but if you don't like it you can retreat upstairs to the large open seated area. Otherwise the garden is a treat. The staff have recently become a little hit and miss, but the chef is still serving up good food.
Location: Thamel Marg, Kathmandu 44600, Nepal
Telephone: +977 1-4700956
Opening hours: Sun-Fri 8am-9pm
Prices start from: 550 rupees 
---
Places Restaurant & Bar
It's a vegan/vegetarian restaurant and in this case that's a good thing. Places has a great menu that you'll be hard presses to find in a European vegetarian restaurant. Mexican quesadilla, Pumpkin Momos, spinach salad and a host of meat alternatives has boosted this restaurant up the rankings in my guidebook for years.
The mushroom gnocchi is one example of a great tasting meal that you'll be hard presses to get elsewhere in Kathmandu. Add in the beetroot salads or shakes and you'll be in for a treat.
There's a floor sitting area and a seating area so the preference is yours. The biggest downside is that they do have a smoking section which not everyone will be happy with.
Location: Satgumti (7 corner street), Kathmandu 44600, Nepal
Telephone: +977 1-4700413
Opening hours: Mon-Sun 9am-11pm
Prices start from: 350 rupees
---
Fire & Ice Pizza
One of the most popular restaurants in Kathmandu for many years. Pizzas lovers have long called Fire & Ice the premier pizzeria in Nepal.
There's no doubting that Fire and Ice's pizzas are good. After twenty years of consistently good pizza you won't go wrong here. From margaritas, calzone or mushroom toppings with everything added from pepperoni to fresh vegetables the pizzas are indeed good.
The only thing about Fire and Ice Pizza that makes it a second thought is that by Kathmandu standards it's not cheap. It's frequented by NGOs, Nepali movie stars and everything thereafter. It's good for a treat or if you just want the best pizza in Kathmandu.
Location: TriDevi Marg, Kathmandu 44600, Nepal
Telephone: +977 4250210
Opening hours: Mon-Sun 11am - 10pm
Prices start from: 800 rupees
---
Mountain Steak House
Kathmandu has some of the best value steaks in Asia. Mountain Steak house is run by Chef Nor who was one of the original streak chefs in Kathmandu.
Mushroom steak, garlic steak, pepper steak, the list goes on. Nearly every type of steak is on offer here including 1 kilo steaks for those with a big appetite or who want to share the plate. This is a traditional Kathmandu steak house which is a favorite among trekkers and climbers alike. It's not over the top fancy, but the streaks are so good. They have some vegetarian options too.
Don't be put off by the small downstairs seating area, the main tables are upstairs where you can see the kitchen in action. Ask for any of the chefs to have your steak cooked just to your liking. There are several other steak houses in Kathmandu with better advertising, I've tried them all, this one come out top.
Location: Chhetrapati, Kathmandu 44600, Nepal
Telephone: +977 984-0052927
Opening hours: Mon-Sun 11am - 10pm
Prices start from: 650 rupees
---
---
They are all listed in my guidebook to Nepal!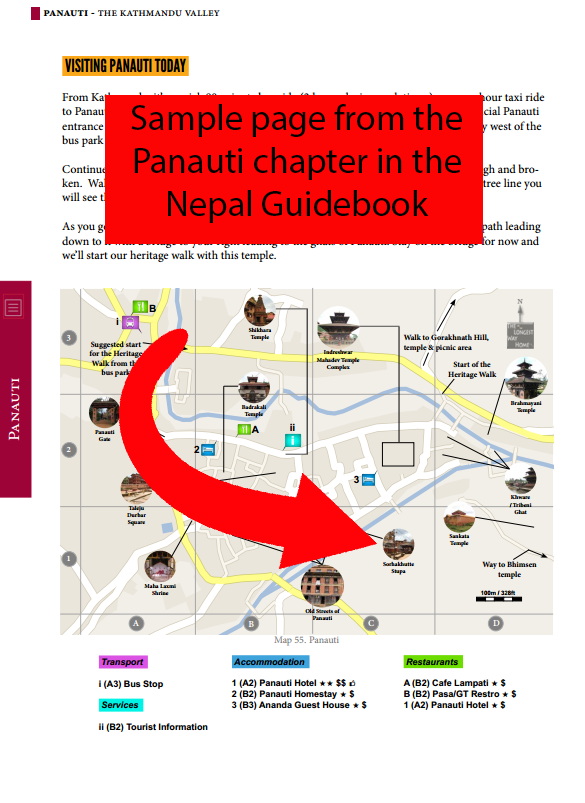 All the very best places to eat
From budget to mid-range all the way to fine dining. Discover the real insider places to have breakfast in Thamel, Kathmandu and all over Nepal!
Here's a sample of what's included:
Every restaurant & hotel has been reviewed independently
All budgets are taken into account
Discover places the other guidebooks don't know about
Eat locally or eat internationally
Find places to eat from Kathmandu to Pokhara all the way to Bardia and the mountains.
If the above lunch restaurants didn't do it for you, then you can also try out the dinner restaurants below who offer up more choices or the breakfast restaurants who often keep serving into the afternoon.
---
---
Full directions and reviews of dinner restaurants with better maps are available in my guidebook below.
---
---
Liked this page? You'll love my book!
Designed to help travelers get the most out their trip to Nepal with premium detailed guides, insider information, impartial hotel and restaurant reviews, complete trekking routes and much more ...
Available in print or digital - the best guidebooks for visiting Nepal.
---
Was this page helpful to you? If so please tell others!