---
Nepal does good good breakfasts with Thamel ranking as the best location in Kathmandu for great breakfast restaurants. Though in all cases 7am is about as early as most restaurants open for breakfast. Not all restaurants have good breakfasts so let's take a look at the ones that do! Due to the pandemic, some restaurants are low on staff or have shorter than normal working hours - do bear this in mind.
---
The breakfast restaurants listed here offer everything from pancakes to scrambled eggs on toast to fresh fruit with yogurt and more. Most but not all include freshly made tea or coffee. Surprisingly large hotels often don't have an espresso machine and also use tea bags. So keep an eye out for that.
These restaurants are tried and tested personally. Enjoy!
---
---
Mitho Restaurant
Recently renovated Mitho is no longer the local place listed in out of date guidebooks, it is a vibrant, modern and spacious place.
Mitho has a large breakfast menu on offer. Though take note that the prices are quite high for many dishes though the ingredients are fresh and the dishes have generous portions.
The mushroom omelette is a very good example of this with fresh flat mushrooms used. Served with two slices of toast and salad it's one of the more economical breakfasts here.
Larger appetites and budgets can go for the full breakfast or the various bacon combination breakfasts on offer with fried potatoes, toast, beans, salad and coffee.
Location: Chhetrapati, Thamel, Kathmandu 44600, Nepal
Telephone: +977-984-1219339
Opening hours: Mon-Sun 7am-11pm
Prices start from: 300 rupees
---
Yala Cafe
Opened in 2018 this small restaurant is quickly building a reputation for the best breakfasts in Kathmandu. There's a small quiet courtyard outside while inside are neat tables.
There rule of thumb is delicious but simple. The eggs Benedict is listed as famous and it's easy to understand why. Two poached eggs and sauteed ham gorged in creamy hollandaise sauce. It comes with a side of fresh vegetables with tea or coffee.
Other great options include the buck wheat pancakes with honey, eggs of your choice and fruit. It's one of the few breakfast restaurants to offer all this with fluffy pancakes - most just offer pancakes alone. They also offer continental breakfasts and Nepali style breakfasts. There's a new espresso machine and the coffee is Jalpa. Best of all it's all very reasonably priced and the staff are friendly.
Location: Kawabahal , Kathmandu 44600, Nepal ( Next to Hotel Yala Peak)
Telephone: +977 1-4219135
Opening hours: 07:00 - 21:00
Prices start from: 280 rupees
---
Chikusa
One of Kathmandu's oldest traditional cafes and coffee houses. It's popular with locals and those in the know.
The coffee is the main attraction here as it's probably the best in Kathmandu. It's highly ranked in the best places for a coffee in Kathmandu. For breakfast try the lemon crepes. Thin crepes are made up behind the breakfast bar before you and served with freshly squeeze lemon juice and large crystals of sugar.
Other favorite breakfasts include the large heavy pancake which could keep you going all day. They also serve large bowls of muesli and curd. French toast with honey. Or, simple boiled eggs and toast. The nice thing about Chikusa is that it's one of the only places which hand cuts fresh bread!
Finally here's the insider secret to Chikusa only locals and a few others here have known for years. The cloth filtered and hand blended coffee is made right in front of you and is very good. Suresh has worked here for years and still remains the best to ask for coffee. Go on, you can tell him Dave from The Longest Way Home told you!
Location: Amrit Marg, Kathmandu 44600, Nepal
Telephone: +977 1-4223216
Opening hours: Mon-Sun 6.30am-6pm
Prices start from: 260 rupees
---
Rosemary Restaurant
A top rated restaurant for a reason. With a nice potted garden style courtyard or a quiet seated indoor area Rosemary offers great filling breakfasts.

From bacon breakfasts, to pancakes and omelets there's an extensive breakfast menu here to choose from. Personal favorites for breakfast choices here include the bacon breakfast along with with the lighter fruit curd. Rosemary excels at cleanliness and the staff are friendly though the prices are now amoung the highest in Thamel.

Location: Chhetrapati, Kathmandu 44600, Nepal
Telephone: +977 1-4267554
Opening hours: Sun-Fri 7am-10pm
Prices start from: 460 rupees
---
Helena's
One of the longest running restaurants in Kathmandu also makes for a great place to have breakfast.  Helena's may also qualify for being the tallest restaurant in Kathmandu. There's a double rooftop patio making for great sunny mornings and also a floor with indoor seating.
The bacon breakfast here is one of the better options with a nice portion of bacon, eggs done in a style of your choice, toast, butter/jam, hash browns (potato) and coffee/tea. Their corn bread is not always available but when it is then you'll be in for a treat.
Otherwise the dedicated breakfast choice menu is quite extensive with one of the few offering a steak breakfast and a sausage breakfast. There's a bakery here too, so you'll know the pastries are fresh too. Best of all the prices are quite reasonable.
Location: Chaksibari Marg,Kathmandu 44600, Nepal
Telephone: +977 1-4266979
Opening hours: Mon-Sun 7am - 10pm
---
---
They are all listed in my guidebook to Nepal!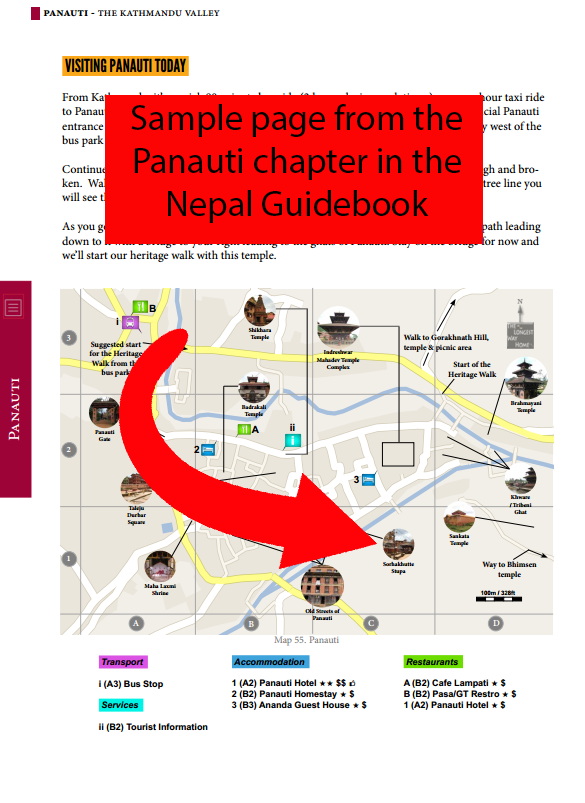 All the very best places to eat
From budget to mid-range all the way to fine dining. Discover the real insider places to have breakfast in Thamel, Kathmandu and all over Nepal!
Here's a sample of what's included:
Every restaurant & hotel has been reviewed independently
All budgets are taken into account
Discover places the other guidebooks don't know about
Eat locally or eat internationally
Find places to eat from Kathmandu to Pokhara all the way to Bardia and the mountains.
Meanwhile, online, here are some more choices to help you fill up!
---
---
Full directions and reviews of breakfast restaurants with better maps are available in my guidebook below.
---
---
Liked this page? You'll love my book!
Designed to help travelers get the most out their trip to Nepal with premium detailed guides, insider information, impartial hotel and restaurant reviews, complete trekking routes and much more ...
Available in print or digital - the best guidebooks for visiting Nepal.
---
Was this page helpful to you? If so please tell others!