---
Finding a good place for Lunch in Kathmandu is a little tricky compared to breakfast and dinner. While "everywhere" is open, Thamel and Paknajol are the most consistent for good lunches. The reason things slow down is that many tourists are out and about so things are quiet. 11am is also when many Nepali eat and just after this like to relax back a bit. Adding to this is was the pandemic which has meant far fewer tourists the result of which has been shorter opening hours and many restaurants closing or moving to smaller premises.
Let's look at some of the best places for lunch in Kathmandu!
---
Lunchtime in Kathmandu is a good opportunity to try something new. Vegetables are usually super fresh from the market that morning and rice is normally plentiful too. Try to make sure that the restaurant is busy and you'll be one step ahead in getting a great lunch.
These restaurants are all tried and tested personally throughout the year. Enjoy!
---
Places Restaurant & Bar
Places has been in my guidebook for several years now for a good reason. It's vegetarian but don't let that put you off as the food is excellent with much more than just salads!  
Cauliflower or Panner steak anyone? Yes, cauliflower or panner (cheese) ground up into a tasty steak alternative with lashings of potato, gravy and hot vegetables. Pumpkin with chili and chocolate momos? It may well be the first place to have them. Couscous with beets is also a good choice.
Hungry? Try the moussaka pie with baked potato. Add in some pizzas, oodles of spinach dishes and you'd be hard pressed to miss any meat. There are regular tables along with some shoe less sit down tables with plush cushions. The staff are are so so. But the food is good.
Location: Chaksibari Marg, Thamel, Kathmandu 44600, Nepal
Telephone: +977 1-4700413
Opening hours: Mon-Sun 9am-11pm
Prices start from: 350 rupees
---
Yangling
If you've read my best cheap eats in Kathmandu page then you'll know Yangling ranks high in terms of good food. Yangling is just the right place for a great lunch!
One of the best meals you can have in Kathmandu for lunch is Momo. Those famous little steamed dumplings make a great lunchtime meal. Yangling has some of the best momos around. The buff momos are probably the best in Nepal. They also have pork, chicken and veg momos.
Not a momo fan? No problem. Yangling offer a great range of noodle dishes, Thukpas (soups) and Dal Bhat. There are some curries on offer too, but sticking with the Tibetan side of things is a better choice. Yangling is also great value for money. The decor is simple, but the food is great.
Location: Kaldhara Marg, Kathmandu 44600, Nepal
Telephone: +977 1-4257408
Opening hours: Mon-Sun 12 noon -9pm
Prices start from: 200 rupees
---
Cafe Mitra
If you are looking for a quiet place to pass away the afternoon with a good lunch check out Cafe Mitra. It's got a pleasant balcony overlooking the newly reconstructed Ashok stupa.
There's an extensive menu at Cafe Mitra with the steaks being some of the best in Kathmandu. The Great Steak is just as they say, a prime cut cooked to your desire and served up with mashed potatoes and a side of vegetables. Other dishes worth trying are there humus and flat bread, avocado salad, tomato and cheese salad, lemon chicken and their fresh mint lemonade.
Cafe Mitra came under new management in 2017 from the team that used to run Black Olives. So, ignore the old reviews prior to then. Things have shaped up quite a bit and it's certainly worth it if you are looking for a nice chilled back place to pass away the afternoon.
Location: Ashok Galli, Thamel Marg, Kathmandu 44600, Nepal
Telephone: +977 1-4256336
Opening hours: Mon-Sun 7am-10pm
Prices start from: 400 rupees
---
Gilingche
Another restaurant that's been in my guidebook for quite a while now. It a local Tibetan style restaurant that's easy on the budget, offers a wide variety of great tasting meals and is clean.
Thenduk, Thukpa, Chowmein, Dal Bhat, Chopsuey, shabaley and momos are all hot and tasty here. There's a good choice of meat and vegetarian options. The secret meal is the shiitake mushroom. It's rare to get a fresh mushroom dish in Kathmandu and they have two. If spicy is not your thing, tell them and they'll cook everything with no chili.
It's set in a simple open area but don't let that put you off. It's smoking free with a small two table area outside if need be. It's a favorite among many locals who rank the momos as excellent. They are certainly very good however the menu is diverse compared to many other places so it's really worth trying something new here!
Location: Thamel Marg, Kathmandu 44600, Nepal
Telephone: +977 1-4410026
Opening hours: Sun-Fri 8am-9pm
Prices start from: 250 rupees
---
OR2K
OR2K has been a long standing favorite for many travelers to Kathmandu over the years. It's another vegetarian restaurant with a giant menu so meat lovers can still munch on some great food without missing out on much.
The hummus and tahini rule here along with the flat bread. The hummus comes with several options from garbanzo beans to mushroom and onion. It's all good. For big appetites or for sharing the Turkish combo platter offers up everything from egg plant to couscous and stuffed tomatoes.
To be honest, the only downside to OR2K are the staff who are not exactly excited to see you. The floor seating is not to everyone's liking either. Lunchtime at OR2K is a better option than in the evening as it can get crowded with tourists at night.
Location: Mandala Street,Kathmandu 44600, Nepal
Telephone: +977 1-4422097
Opening hours: Mon-Sun 7am - 10pm
Prices start from: 400 rupees
---
Forest & Plate
A relative new comer to the restaurant scene in Kathmandu Forest and Plate has very quickly risen to being one of the best.
Set on the top floor of the quiet Mandala street the ambiance is that of a natural one with potted planets and clean tables.
Primarily a vegetarian restaurant they also serve chicken meals all of which are made in a kitchen you can see through a large clean window. This style of kitchen in Kathmandu is rare but adds to the confidence in clean salads and meals.
The cheese balls are probably the best in Nepal. Coated in bread crumbs they are stacked high in a mini Pyramid. Choose from pasta dishes or an assortment of vegetable/chicken platters. Stuffed tomatoes, barbecue aubergine sticks and more great and tasty veggie options await here.
Location: Mandala Street,Kathmandu 44600, Nepal
Telephone: +977 01-4701161
Opening hours: Mon-Sun 11am - 9.30pm
Prices start from: 450 rupees
---
---
They are all listed in my guidebook to Nepal!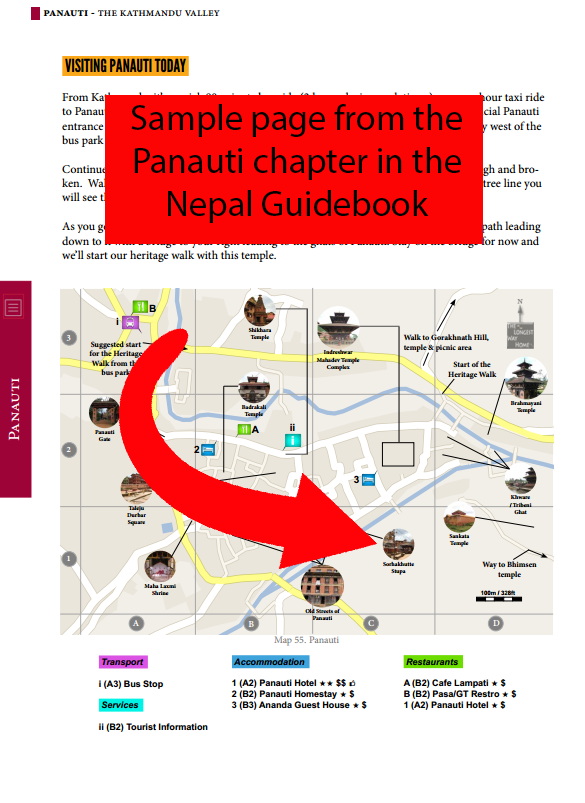 All the very best places to eat
From budget to mid-range all the way to fine dining. Discover the real insider places to have breakfast in Thamel, Kathmandu and all over Nepal!
Here's a sample of what's included:
Every restaurant & hotel has been reviewed independently
All budgets are taken into account
Discover places the other guidebooks don't know about
Eat locally or eat internationally
Find places to eat from Kathmandu to Pokhara all the way to Bardia and the mountains.
If the above lunch restaurants didn't do it for you, then you can also try out the dinner restaurants below who offer up more choices or the breakfast restaurants who often keep serving into the afternoon.
---
---
Full directions and reviews of lunch restaurants with better maps are available in my guidebook below.
---
---
Liked this page? You'll love my book!
Designed to help travelers get the most out their trip to Nepal with premium detailed guides, insider information, impartial hotel and restaurant reviews, complete trekking routes and much more ...
Available in print or digital editions - the best guidebooks for visiting Nepal.
---
Was this page helpful to you? If so please tell others!