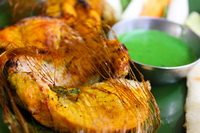 Chicken Reshami Kabab
I first discovered this incredible dish back in 2008. You can see the original photo below. It amazed me. Tender succulent chicken wrapped in sugar string like candy floss.
Served with a mint sauce and naan bread it's one of the nicest chicken dishes I've ever had.
The problem is I can find nothing out about this dish!! Read on …
My first encounter with Reshami Kabab in Kathmandu
I was randomly picking off new dishes from a popular local Indian/Nepalese restaurant in Kathmandu when I came across Reshami Kebab.
The waiter corrected my pronunciation, "Rash-eeee-me Kebab." 
Okay, fair enough. Let me have one of those without the added vowels.
What arrived at my table looked like small portions of yellow hairy chicken!
The yellowed chicken was in fact covered with a candy floss like ball of sugar string. Not being overly fond of sweet dishes I had my doubts. But the truth was that Reshami kebab is delicious!
What does Reshami Kabab taste like
Once you've broken through the candyfloss like sugar string  the chicken underneath is some of the most tender succulent chicken I've ever had in Nepal.
I've asked how it was made and am told it's marinated in butter, yogurt and masala. This explains the softness and subtle flavors.
What's really unusual is that there are also little sprigs of coriander on the chicken. Normally in Nepal this is dried or already a part of a dishes curry. Something special was going on with this Kabab!
A return to Reshami Kabab
On my return to Nepal one of the first things I wanted to try again was this Chicken Reshami Kabab. The staff had changed though. And so had the decoration on my Reshami Kabab. The wild sugar string was no longer a big thick ball. It was all a lot smaller. I explained to the very nice waiter about the previous kabab and he went off to scowl at the chef. Even showing him the previous photo I had taken.
Three nights later and we came to the conclusion the new chef just couldn't make the sugar string like the old one. The good news in all this is that the chef still made a really good Reshami Kabab in relation to taste. He really tried hard but  just couldn't make the eye candy work as well!
What is Reshami Kabab?
I know Nepalese kitchens misspell things on the menu. This is spelled precisely "Chicken Reshami Kabab". I've not seen it anywhere else. An internet search brings up "Reshmi kabab" which is not the same thing.
If you've every seen a dish that looks like this please let me know in the comments what you think or know it to be!
Meanwhile if you ever come across a dish like this in person my advice is to eat it! Chicken Reshami Kabab by any name is simply delicious!!
Find out the best places to eat in Kathmandu:
Looking for restaurants and places to eat great food in the rest of Nepal? Check out my guidebook below!
---
Get my Guidebook to Nepal & discover more than anyone else!
Looking for more insider tips and information like this? Get the most up-to-date, popular and dedicated guidebook to Nepal in the world. Over 617 pages & 984+ photographs of every temple listed, daily guides on all the treks listed and so much more.
Take a look below and you'll find out why this beats all other guidebooks!