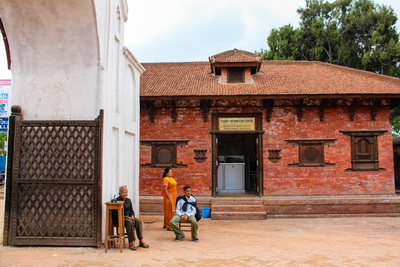 Should you pay an inflated entrance fee to a tourist area?
You head down to Kathmandu's Durbar square. The most famous heritage area among this old city's long list of cultural charms. Old Newari buildings stand beside red bricked temples, a palace, a goddess' house, a few places of worship and a giant public courtyard that's an intersection to many more important areas of the city.
A guard approaches you with the word "ticket?" Without one you are escorted to a little wooden hut whereupon another man starts to tear off a ticket stub before you can even ask how much.
"750 rupees!" (2016-2018 update- it's now 1000!)
At first you think the guards are trying to cheat you and keep a little cash for themselves. But no this is the official price to enter or pass through Kathmandu Durbar Square. To me it's a rip-off price with little to back it up. It's also going to get worse … unless we start asking questions. (update to this article on Kathmandu Durbar Square price is here)
The fast rise of official entry fees to heritage sites in Nepal
In 2007 a foreigner had to pay 200 rupees if they wanted to enter Kathmandu Durbar Square or even to cross over it to the other side. In 2009 – 300 rupees, in 2010 – 400 rupees, in 2011 it was Nepal's failed year of tourism which suspended prices increases, in 2012/2013 – 750 rupees, in 2016 it was raised to 1000 rupees! SAARC residents are 150 rupees and Nepali are free.
Pashupatinath is now a staggering 500 (1000) rupees for foreigners and you can't even officially visit inside the actual Pashupatinath temple. Free for SAARC and Nepalese.  While during Shiveratri it's 1000 rupees for all to enter!
Bhaktapur is whopping great 1500 rupees to foreigners or 100 for SAARC/ Chinese. (rumored to rise very soon)
Patan is 200 rupees for foreigners or  25 rupees for SAARC. in 2014 it went to 500. And in 2017 it went up to 1000 rupees.
Chitwan NationalPark is 500 (1,500) rupees per day. This price is currently undergoing an evaluation and set to rise soon with a new 3 day pricing tier.
Lumbini is 50 (200) rupees but doesn't include a camera fee or entry into the Maya Devi temple. In other words foreigners bring 200+ rupees. Indians and Nepalese pay token fees. (in fairness to Lumbini they do tell you it's a flat 200 rupees – rather than adding up all the little add-on's later)
Swayanbunath is 200 rupees for foreigners and Chinese while SAARC are charged 50 rupees.
It's worth noting that in 2015 13% VAT was added to all National Park fees in Nepal – who are supported with tax money anyway. There were no reasons given for this.
In 2018 new regional "tourist" taxes are appearing.
If you look closely at the fee structure there's a trend to always charge "foreigners" a greatly increased fee. With Chinese sometimes getting away with discounted fees. While SAARC get greatly discounted fees and Nepalese nearly always are free.
Strangely whilst recent "western foreigner" tourist numbers are on the decline in Nepal their fees are jumping up. While SAARC tourist numbers are on the increase their fees remain relatively low in comparison.
Do read on later as I'll let you know how to avoid paying some of these fees repeatedly and avoid them in other cases.
Are foreigners paying for the up keep of Nepal's national heritage sites?
I'll go back to Kathmandu's Durbar Square as a prime example of price hiking gone mad. Back in 2007 Durbar square looks exactly like it does today minus the 2015 earthquake damage. The same little white taxis zoom illegally through it along with a bevy of private cars and motorcycles. Small stalls are set up on battered temple steps selling everything from flowers to groceries.
Indeed it would seem on the outside that my 200 rupee 2007 fee & my 2012/2013 750 (2015/16 1000) rupee ticket still pays for … well not much of an upkeep to the area.
Perhaps they painted a temple while I was away? There's nothing to say they did but maybe they did something …
No, to be fair I have read about the discovery of ancient boxes and safes in Durbar Square. Please note these are not "excavations" but actually involved the unlocking of store rooms. So it's more about rooting around for keys than digging up ancient artifacts. Still I'm sure it cost a lot to bring in a locksmith.
Perhaps there are one or two less taxis parked in the square in the early morning than in 2007? Maybe not.
Maybe there's a new cordoned off area for tourists to pass through this main thoroughfare on the way to New Road? Or the southern quarter of the city without having to take a huge detour or pay the entrance fee to get through this public junction? No … you still have to pay.
Entry fees to fix earthquake damage?
Not as single word on that one. Kasthamandap, Kathmandu's first building, was tendered out to the lowest bidder to rebuild it until locals stopped this and demanded it be rebuilt traditionally. To get that far took 3 years before a single repair had been done.
Meanwhile Hanoman Dolka in (Royal Palace) 2018 is shrouded in Chinese scaffolding. There is zero evidence or reporting of ticket entry charges being used for the upkeep or rebuilding Durbar Square.
Now mirror this with say Bhaktapur Durbar square which remains relatively pristine since 2007 with an unchanged albeit high price. You also get a lot more for your entry fee than in Kathmandu. No traffic and a much, much larger area to explore. The official response on how entry ticket money is being used? The money from Bhaktapur's tickets are being use to repair the damaged temples. That is very clear.
In Patan Durbar Square the whole area seems covered in scaffolding in 2018. Much of this is being privately funded by the Kathmandu Valley Preservation Trust which has offices in the USA and Kathmandu.
Meanwhile, in Panauti, the local museum use the mere 300 rupee entrance fee to the Indreshwar temple to fund it's upkeep and pay their salaries!
Many tourists and locals think the Kathmandu Durbar square price hikes are an absolute rip-off
Who is paying for restoration and maintenance of Nepal's heritage sites?
Good question. And one that's got a hideous amount of answers. Basically the funding is coming from many different areas from government to private sector to overseas development funds. It all depends on the site, its background and who is involved.
A prime example of restoration through tourism funds comes from the Bhaktapur pricing structure whereby 1000 rupees goes towards the heritage sites restoration scheme. In Kathmandu 500 rupees is meant to be going from the new Kathmandu Durbar square pricing scheme into its restoration.
One just has to wonder where the other 500 rupees per tourist isgoing if not for restoration? Ah yes, "administration"
The problem is there's little documentation about these projects. You are simply asked to pay an increased fee with no indication on where the money is going.
Now couple that with independent groups like the Kathmandu Valley Preservation Fund (USA based) who have carried out a lot of restoration work in Patan. Or the recent restoration of Swayambhunath temple which was funded by the Nyingma Trust (USA based).
In Kathmandu Durbar Square there are many "sponsored" by or "construction by" signs from the Chinese. Are they paying for it? At what cost? Or, are they being paid for it? Again, at what cost?
Now the whole restoration process starts to get a little confused and crowded again. Who's paying for what, where, when and why?
And if all these "foreign" organisations are paying for the restoration of some of Nepal's heritage sites then what's with the entrance fee price hikes? Dare I even mention the excessive "foreigner" entry fees directed at the same people who have helped fund their very restoration!
A lot more explanation is needed by the powers that be in Nepal in regards to where exactly all this money is going?
Tourist prices or plain old rip-off prices for everyone?
Throughout all this I do however understand the whole "lower prices for Nepali" pricing structure.
Nepal is largely an impoverished country with the majority of people simply living day-to-day.
But this does not work by saying locals should not have to pay if you do not stand by this methodology.
During the Shiveratri festival everyone is charged 1000 rupees to enter the Pashupatinath temple.
Now 1000 rupees to enter a religious temple on a religious day of celebration to me is just wrong. It's kind of like charging Christians extra to go to church on Christmas day. India does not charge to visit Buddha's pilgrimage sites yet Nepal does. Why?
Moreover what average local can truly pay 1000 rupees? None. It's the rich Nepali and well to do that can afford this.
Someone is cashing in on this religious festival.
With the mindset that "rich" Nepali can afford 1000 to enter Pashupatinath. Why then are Nepali not charged for TIMS or these "new" regional taxes like Solukhumbu or indeed Nagarkot? The latter is surely a matter of safety if one is to account for its purpose?
An official stated in 2011 that the price hike was to discourage so many people from attending Pashupatinath and control numbers. This clearly has not worked with local Hindus still showing up and queuing to worship near the temple instead of inside it.
However the pricing still stands even though its methodology is a failure.
There's insult to injury here too if you are a Hindu foreigner wanting to visit Pashupatinath temple in which case your skin color alone will dictate whether you are allowed in or not depending on who's on duty that day. Ah yes, back to good old blatant discriminatory standards again. But let's not go there today.
Local souvenir vendors are also feeling the strain as tourists stay away from high-ticket priced sites like Durbar Square in Kathmandu (source).
Nepal's slippery slope of trying to cash in on tourists
In 2017 and 2018 there's yet even more "new" taxes being added to "foreigners" visiting areas.
The first was the USD $ 20 tax for Solukhumbu. Then in 2018 Nagarkot added a 339 rupees charge for "foreigners" entering the town … one they list as an "ancient heritage city". Sorry Nagarkot, but you are neither ancient nor a city.
Expect more "regional taxes" on tourists
In July 2018 Gandarki (Annapurna region) said it was going to charge "foreigners" USD $10. It's becoming a "catch-me-if-you-can" game of new prices when you have to list these on the most up to date guidebook to Nepal. I find myself, literally asking people on a constant basis if they are being charged.
There's no doubt these price hikes to tourist sites lack substance. They are controlled by local councils and municipalities rather than a single national heritage or tourism body. To be fair many of the latter are aware and say they are responding. But things work slowly in Nepal with few if any updates.
These "regional taxes" are said to benefit locals. Though nobody can actually show where or how beyond words
Moreover these "taxes" are not charged to Nepali who live outside the area which pretty more defeats the "local tax" moniker.
While places like Bhaktapur and Swayanbunath have seen maintenance and restoration others like Kathmandu Durbar square clearly have not whilst places like Chitwan are locked in entry fee debates for the past two years.
Local hotels and jungle trekking agencies in Chitwan have said they are constantly battling other groups who want to charge an entrance fee into Sauraha …. that's the town outside the jungle.
It all seems to boil down to how much local authorities can squeeze out of tourists and to a degree locals, alike before noticing a drop in numbers.
There's little doubt more and more of these regional taxes and entry fees will appear. It's all fine and good now. But when tourists this year start to question them and all the hidden costs that are mounting up … It will be very hard to get Nepal's tourism wheel moving again in the next few years when tourists simply opt to go elsewhere.
Complaints certainly don't get lodged or are "not found" that easily. Check out various travel forums about prices in Nepal and you will see people discussing how expensive Nepal is becoming. However look closer to the complaints and it's really more about the rip-off pricing structures than actually how expensive it's becoming.
After battling tour agencies who hike prices up for bus tickets to travel somewhere in Nepal as a foreigner, tourists must then settle for the indignity of paying more than anyone else to enter a public area that happens to be a heritage site.
Moreover there's a good chance its restoration money came from overseas in the first place!
Possible solutions to the ever-increasing tiered tourist fees in Nepal
1) Someone's got to take sole responsibility for all of this. No more local councils or municipalities dictating and bickering over fees. You have a heritage department – make the officials work and have them work out the maintenance costs of these zones and price accordingly. Keep it 3rd party and impartial.
2) Remove this discriminatory tier pricing. No more separate Foreigner/SAARC/Chinese/ Nepali terminology or fee structures. A simple Non-National(non-Nepali) and National(Nepali) terminology with a  local fee structure should suffice.
3) Explain on the ticket what percentage of the fee is going into the preservation of the heritage site. Likewise put up a plaque beside a restored building saying where the money came from to restore it. You never know, tourists might even want to donate more if they knew exactly where their money was going! Donating directly to Vatsala Durga's restoration is happening in Bhaktapur.
4) Want to get really technical? Charge wealthy Nepali above a certain income a heritage tax to preserve their own buildings. Use zonal residence or work permits or whatever. But there are wealthy Nepali who can pay. So when they drive up in their big SUV's honking people off the road and demanding attention let's be sure they are at least paying for the privilege of doing so.
A budget tourists solution to avoiding Nepal entry fees
If you really are a budget backpacker or tourist then you already know what to do in order to avoid a lot of these fees. If not then here are some basic hints and tips.
Go early. The ticket offices generally only open at 8am and close at 5pm. Before or after that you should be able to walk on in. It's not your fault the ticket office open late. You can always go back later and pay for that ticket.
If you are staying in Nepal or want to visit a heritage site more than once than go to the ticket office with your passport and a passport photograph. Your ticket can be stamped to allow you access to these sites for the duration of your visa. Just don't lose that ticket with your dates stamped onto them!
However the best thing a tourist can do is spend some time trying to contact the Heritage department (under Archaeology) and ask where exactly your money is going before you go.
There's also a feedback section on the Nepal tourism website (it keeps changing, so you might have to look around for it…) I've never had a reply –  maybe you'll get lucky.
The future of Nepal's heritage sites
It seems that since the first publication of this article the prices have kept going up with new fees constantly being added. I've updated the fees above as appropriate.
In 2018 the outlook does not look optimistic with places like Nagarkot now charging foreigners entry fees to a township alone.
All I can really advise is that the latest entry fee updates are in my guidebooks to Nepal. There are rumors that all of these "extra" fees and taxes have been noted. But, things work slowly in Nepal.
Meanwhile if you'd like to take a negative into a positive try this. When visiting these ancient sites in 2018-2020 there will be a lot of reconstruction going on. Unlike many other please in the world you can get up close to watch this happening.
Due to local's pushing for traditional rebuilds of old temples you cannot witness stone masons and wood carvers rebuild centuries old buildings like nowhere else in the world. That may just be a privilege worth a lot more than the entry ticket price.
 This is an additional article highlighting tourist entry fees and Nepali heritage sites
---
Get my Guidebook to Nepal & discover more than anyone else!
Looking for more insider tips and information like this? Get the most up-to-date, popular and dedicated guidebook to Nepal in the world. Over 617 pages & 984+ photographs of every temple listed, daily guides on all the treks listed and so much more.
Take a look below and you'll find out why this beats all other guidebooks!