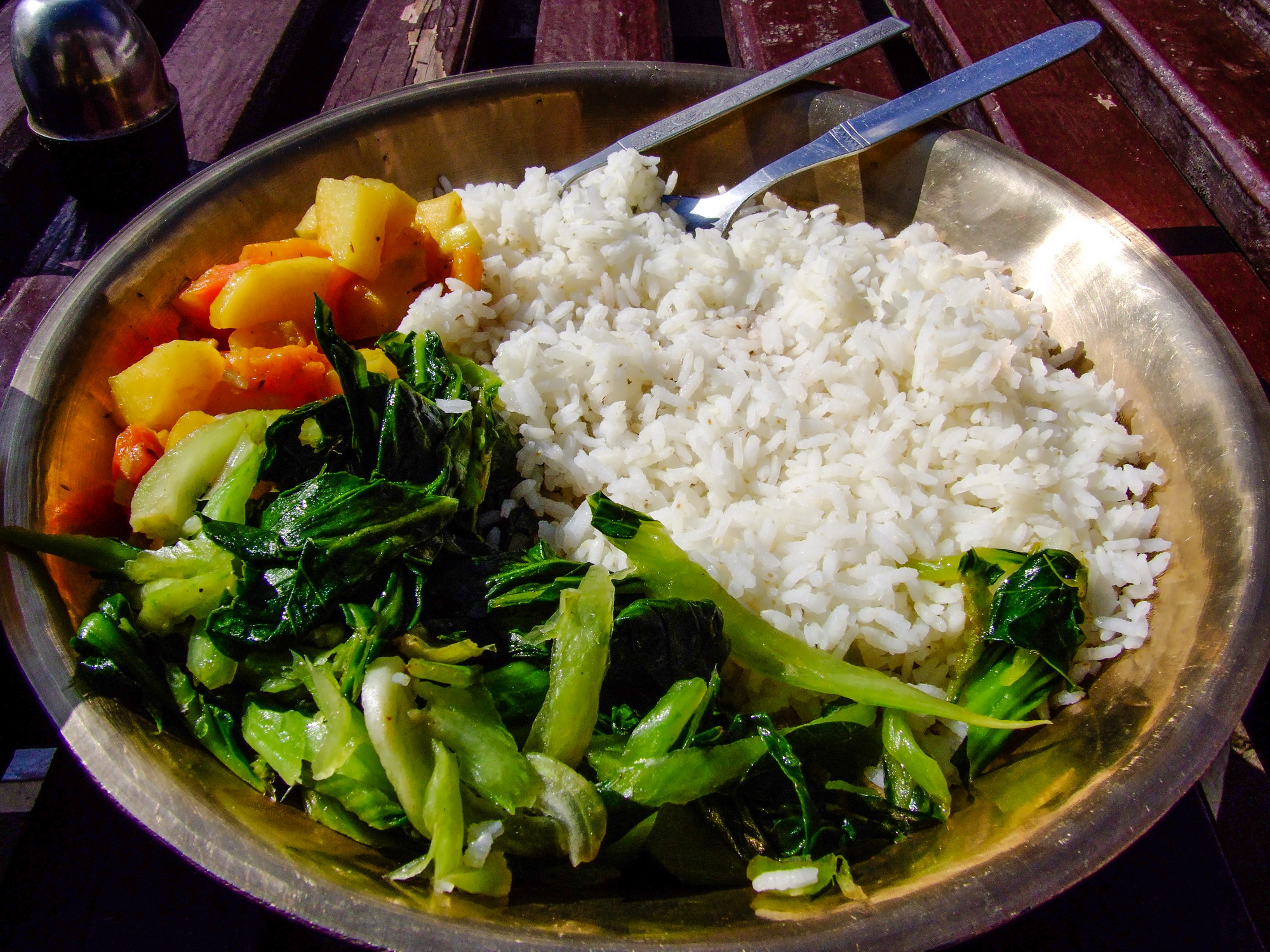 Dal Bhat from the mountains of Nepal
If you are looking for lovely touristy photos of Dal Bhat then please read this Dal Bhat (tourist version). Meanwhile as you read this I'm up a mountain and probably have been eating something similar to the Dal Bhat you see above!
The photo above is typical Dal Bhat that you will be served when trekking in Nepal.What is the main difference between this and the tourist version? Read on …
What's inside Dal bhat from the mountains
Dal bhat is Nepal's staple meal. If you've seen the tourist version then you'll know it looks magnificent and tastes great. If you've seen the local version you'll know it's nothing to get excited about.  When out trekking dal bhat changes again.
Gone are the ample chunks of meat and in come the extra portions of vegetable. Mainly depending on the season it's usually spinach that's on offer.
Inside a plate of trekkers Dal Bhat:
Dal – soup
Bhat – rice
Curry – curried vegetable(or meat if you are lucky)
Vegetable – main order of vegetable
Dal Bhat when trekking in Nepal
The price of dal bhat when trekking goes up the further away from the main city you go. It's to do with the transport of the ingredients. This is especially true if you want meat with your dal bhat. This alone can up the price by 200 rupees.
My advice is to avoid the meat versions when trekking.
A) you don't know how long it's been sitting around B) it's usually very bony or has chunks of skin and fat more than meat.
---
I carry a half kilo of Yak cheese with me when trekking and use that with my dal bhat to make up for the lack of meat.
---
There are other meals on offer when trekking. However Dal bhat is my number one choice for lunch everyday.
Why? Well, it's always available. It's super filling. And you get free refills!
Yes eat as much as you want. More rice, more vegetable, more pickle no problems.
This alone makes Dal Bhat the ideal trekking food for those burning up the calories in the mountains!
This is an additional article featuring food from Nepal 
Find out the best places to eat in Kathmandu:
Looking for restaurants and places to eat great food in the rest of Nepal? Check out my guidebook below!
---
Get my Guidebook to Nepal & discover more than anyone else!
Looking for more insider tips and information like this? Get the most up-to-date, popular and dedicated guidebook to Nepal in the world. Over 617 pages & 984+ photographs of every temple listed, daily guides on all the treks listed and so much more.
Take a look below and you'll find out why this beats all other guidebooks!