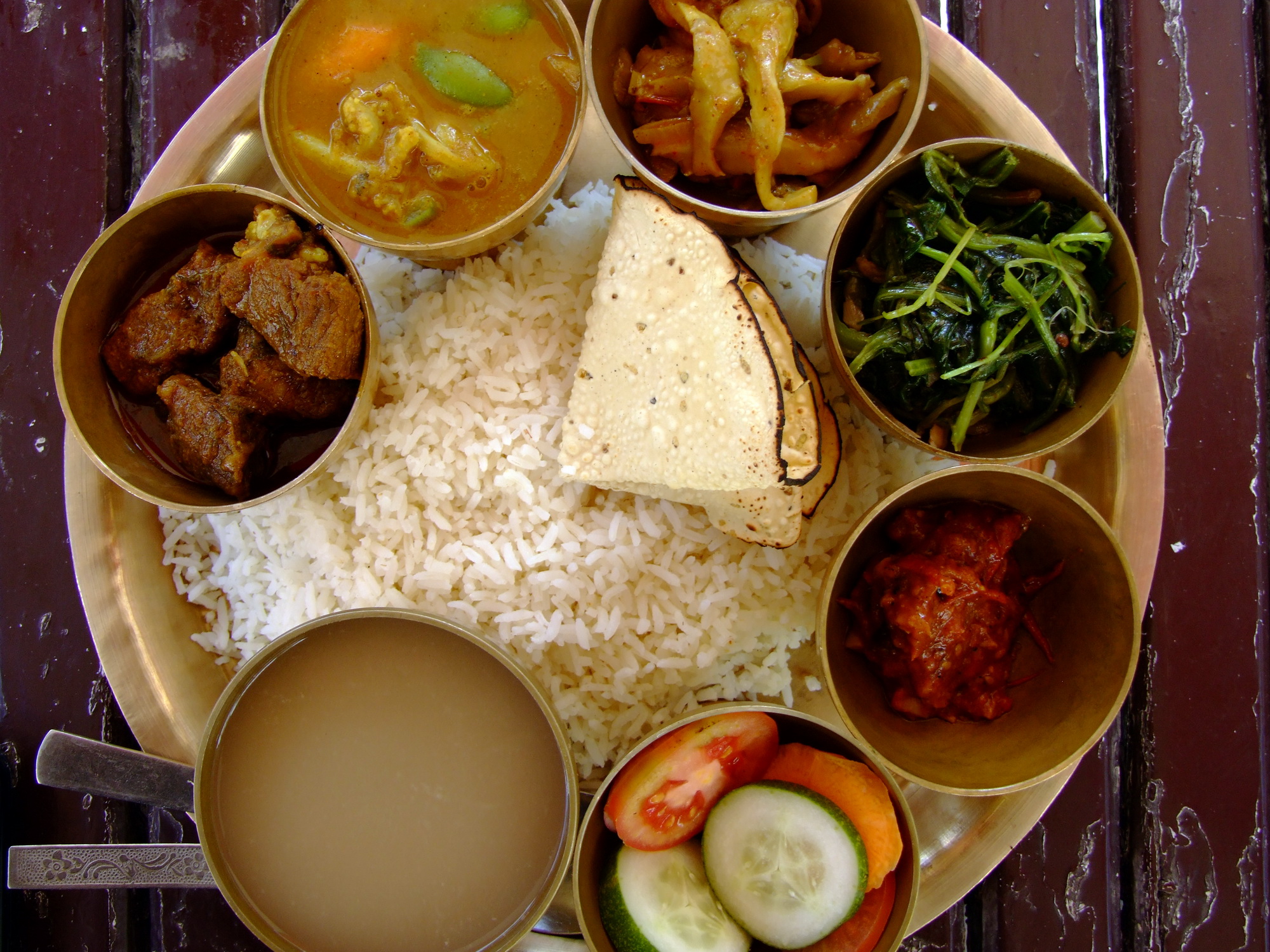 Dal Bhat is the most widely eaten dish in Nepal
It's on every menu in every place that serves food in Nepal. The Nepali eat it two or three times a day, every day. It's my favorite food in Nepal. It's Dal Bhat!
As I wrote previous only what is the food like in Nepal Dal Bhat is Nepal's staple dish. It is also known as Dal Bhat  Tarkari, or just Tarkari (curry) in many local restaurants. Yet no matter the restaurant, cafe or hotel you order it in the chances are it will never be exactly the same. But usually always very good and very filling.
The main ingredients of Dal Baht are Dal (lentil soup) and Bhat (rice).
What is "Tourist" Dal Bhat made from?
Over the course of this series of food in Nepal I'll introduce a few types of popular Dal Bhat that everyone encounters. In this case the Dal Bhat is very much the high-end tourist kind that comes with many additional extras.
The photograph of Dal Bhat above is "Mutton Dal Bhat".
Let's start with the Green/brown bowl of liquid at the bottom and work clockwise.
Dal, a soup made of lentils.
Mutton cooked in chilli.
Mixed vegetables consisting of cauliflower, carrot and green beans.
Pickled vegetables.
Spinach.
Chili (very hot).
A fresh selection of seasonal vegetables.
In the center is white rice and papad.
Make your own Dal Bhat with these ingredients
There are many different subtle changes to Dal Bhat as you can see above. Here are the base ingredients in case you want to make your own.
To make the Dal: 
Dal or lentils 1

½

cup

Water 4 cups

Salt to taste

Turmeric

½

teaspoon

Ghee (or oil)

Asafetida (not essecital, see below)

Cumin seed 

½

teaspoon

Garlic 1 glove – chopped
To make the Tarkari (curry):
1 Cauliflower – chopped

1 medium Potato – cubed

2 medium Tomato – chopped

1 cup Garlic – chopped

Cumin (to taste)

Coriander powder (to taste)

Red chili powder (to taste)

Salt to taste

Turmeric

½ teaspoon 

Oil

½

cup (or as needed)

Black pepper (to taste)

Fenugreek seed

¼

teaspoon 
Meats etc can be added to the Tarkari. Do note that Nepali Dal Bhat can be very spicy so take note of the "to taste".
There are also Dal Bhat pre-made spices available in many stores. Though it would be better to get fresher spices in Ason Market during a heritage walk in Kathmandu.
How much does tourist Dal Bhat cost?
Great question. Keep in mind that this is a high-end meat version of Dal Bhat and a tourist version. Prices range from 400 rupees USD$4.85 upwards. I have come across some tourists paying in excess of 800 – 1,200 rupees in high-class hotel restaurants.  I'll cover the cost of average Dal Bhat and local Dal Bhat in later articles. Suffice it to say, they are a lot cheaper.
What does Dal Bhat taste like? (tourist version)
Fantastic. The rice is fluffy, the vegetables are fresh and the meat is tender. There's usually far too much for one person to consume. And you should be really careful about the chili as it can be brutally hot. Usually there's a small bowl of curd with Dal Baht to help with the heat.
If you do have a big appetite, or enjoy fresh food, then Dal Bhat is a great dish to try out when in Nepal.
Find out the best places to eat in Kathmandu:
Looking for restaurants and places to eat great food in the rest of Nepal? Check out my guidebook below!
---
Get my Guidebook to Nepal & discover more than anyone else!
Looking for more insider tips and information like this? Get the most up-to-date, popular and dedicated guidebook to Nepal in the world. Over 617 pages & 984+ photographs of every temple listed, daily guides on all the treks listed and so much more.
Take a look below and you'll find out why this beats all other guidebooks!