Kinga Choszcz
Hitchhiking the world
Polish born Kinga Choszcz, aka Kinga Freespirit, has hitchhiked around the world with her partner Chopin.
Kinga sadly died in June 2006, in Ghana from complications due to cerebral malaria. In travel, she started off like a lot of other travelers on the India / Nepal route. Then in October 1998 with her life partner Chopin and $600 USD they set off to travel the world by hitchhiking. Free thinkers they traveled from Canada down through the U.S.A., Mexico, Central and South America. Over to New Zealand, Australia, Asia, Russia and back into Europe. Riding tractors in Tibet, and smuggling on board the smugglers cargo in Colombia, it was an adventure.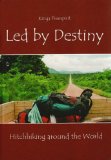 Kinga's book
They were meant to head south to Africa, but life never takes on a straight path. Africa would wait. Using her journals and their website updates she would write a book about their travels. In 2005 she set off alone to hitchhike through Africa. Her new website documented her travels through Europe, Morocco, Mauritania, Mali, Burkina Faso, Niger, Gambia, Senegal, Guinea, Sierra Leone, Liberia, and the Ivory Coast. From buying a camel to encounters with wild rebels she adventured once more.
Gone, but the legacy lives on
Like any traveler she moved on to Ghana and enjoyed her travels there. Then, malaria struck. She was admitted into a hospital and looked to be recovering. However this was not to be and sadly she passed away on
June 9th 2006 in Accra, Ghana.
I have read through their websites and by the end I would challenge anyone not to have a tear in their eye during the last few entries by Chopin.
There are many of us travelers out there. Some on holiday, others on quests. It is not that often we get to hear about a story like Kinga's. Sadly her website no longer seems to be working - Kinga Freespirit
Was this page helpful to you? If so please tell others!