Kathmandu's old city is one of its greatest sights. Few tourists get to experience the old city streets of Kathmandu which is a shame as they rival popular places like Durbar square by far.
Following the 2015 earthquake and the damage it caused to Kathmandu Durbar Square I went looking for alternative places in Kathmandu for my guidebooks to Nepal. Kathmandu's old city is a treasure trove of mystic areas, charming people and it's filled with temples. Best of all the heritage walks are completely free!

On this page you will discover a part of the first heritage walk that takes you from Thamel all the way to Basantapur (Durbar Square).
The heritage walk on this page is the most famous and you'll cross over Kathmandu's oldest markets, squares, temples and statues. Although it's been shortened for online viewing, you can still enjoy it.
There are many other heritage walks in my books that are far more detailed. Kathmandu city guidebook, Kathmandy Valley guidebook and my complete Nepal guidebook all contain easy and fun hertiage walks I created.
However if you really want to get the most out of heritage in the Kathmandu Valley then I suggest you get my dedicated and indepth book on heritage walks- Kathmandu Valley Heritage Walks - with over 28 original heriage walks it's simply the best you can get.
Did you know?
It's best to do a heritage walk in the early morning or on a Saturday. Traffic and congestion are low then and it's often like stepping back in time along the old streets.
---
---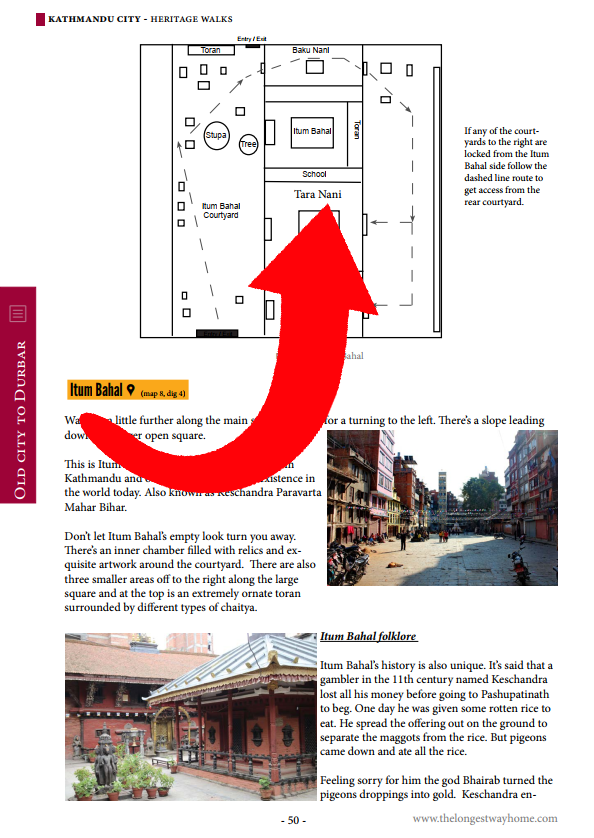 From the bottom of Thamel you'll enter Thahiti Chowk, a popular part of the old city filled with market streets, shrines and temples. Use the map below to make your way there. Or get detailed maps of all the heritage walks in the Kathmandu Valley from my guidebooks which are available in digital and print editions.
On this page is a summary of the heritage walk. Do please find full details on all locations on the following pages:
Heritage walk guide:
»

Kathmandu Heritage Walks (this page)


-

Thamel Heritage Walk


-

Thahiti Chowk


-

Ason Chowk


-

Jana Bahal / Seto Machchhendranath
- Indra Chowk


-

Kathmandu Durbar Square
The beauty of Kathmandu's heritage walks is that they are filled with charming local people. Mainly Newari, the first settlers in the Kathmandu Valley. Though the streets may seem narrow and have many junctions never be afraid to ask a local vendor for directions. Our first heritage walk can be Thamel which can be done at any stage. The less touristy and old city feel heritage walk begins in Thahiti Chowk!

---
---
Nearly every tourist visiting Kathmandu will enter into the commercial touristy area of Thamel when they arrive in Nepal. Though Thamel looks like it is nothing more than shops, restaurants, bars and trekking stores it's over 1000 years old and full of hidden temples.
If you plan on spending time in Thamel then you can do this heritage walk at your leisure. If you want to jump into the old city feel of Kathmandu then it might be better to skip the Thamel heritage walk until later and start from Thahiti chowk below.
In 207/2018 traffic was banned in Thamel. There are still streets where traffic is allowed but it makes for a better and more pleasant heritage walk than in previous years.
Here is the Thamel Heritage walk which ends in Thahiti Chowk below.
---
---
Walking directly south of Thamel's Narshing Chowk along Thamel Mark you'll pass many souvenir stalls. Keep going south until you come to a junction with a road sharply turning the left while straight ahead you'll see Thahiti Stupa.
Surrounding the stupa is a small fenced garden. Outside the fence there's a local vegetable market and at night a tea and food-stall market.
This 15th century stupa is said to be have been built over a hiti to hide it due to the fact that it produced gold coins. Across from the stupa is the Nateshwar temple.
Thahiti Chowk leads to many more heritage walks found in my Kathmandu city guidebook and Kathmandu Valley guidebook.
---
---
With six streets leading into Ason chowk it can be a bit overwhelming to get your bearings at first. One navigation location is the towering 3-storey Annapurna Temple.
From in front of the temple you can see the lively and historic market where people sell fresh vegetables from the valley, spices from around the Indian sub-continents and dried goods.
Across from the Annapurna temple is the 2-storey brass roof of the Ganesh temple. In front of it is the mysterious celestial stone fish surrounded by a small stone wall.
Directly south is a narrow street filled with metalware. Take this street and continue on south to Jana Bahal.
Do read my full free online guide to Ason Chowk to make the most of this heritage walk before continuing on below.
---
---
Jana Bahal is often overlooked by many visitors to Kathmandu city which is a shame as it's a beautiful courtyard with an interesting history.
After walking down from Ason Chowk past all the metalware stores you'll come to a junction with a 3-storey brick and wood Newari temple to your right (Luchhubhulu Ajima). This is area is Jana Bahal. Just past the temple to your right again is the remains of archway now filled with local stores. Behind it is the impressive Seto Machchhendranath temple.
In 2018 the area around Jana Bahal is undergoing renovation. The temple is still open, but you may have to look around the fencing for an offical way in.
Enter inside this courtyard in from of the temple to see a small gilded statue of a woman. It's said this statue is Maya Devi, though many say it's far too European to be her.
Inside the temple itself is the impressive Seto Machchhendranath statue.
Read more about this area on my free online guide to Jana Bahal.
---
---
Coming out of Seto Machchhendranath take a right to continue on south. The local market street here is a little wider than before. You'll soon pass a large black stone temple to Shiva.
This 18th century temple is unusual not just because of it's black stone but because the temple is designed similarly to a Krishna temple but is in fact dedicated to Shiva.
Continue on out into the main junction which is filled with rickshaws, pashmina sellers and the large Akash Bhairab Temple (Indra Mandir). Inside this rectangular temple is a statue of Bhairab on the second floor. While within the building is another statue of Indra.
Read more about Indra Chowk on my free online guide to Indra Chowk.
---
---
While facing the Akash Bhairab Temple take the small street immediately to the left
of the temple. Follow it all the way to the end. Although you can probably see the massive Taleju temple to your right behind a wall in Durbar Square, there's a smaller temple to visit immediately to your left in Makkahan Tole.
Once you are read follow the main road down to the ticket office of Kathmandu Durbar Square itself.
Do read my full free online guide to Kathmandu Durbar Square.
---
---
Map From Thamel to Ason Chowk to Jana Bahal to Indra Chowk to Kathmandu Durbar Square
---
---
It's okay to get lost! Kathmandu's old city is filled with small narrow market streets that are both fascinating and difficult to navigate. Always ask local vendors if you need directions.
Ignore the tour guides: Though most of the tour guides hang out in Thamel a few wander down here looking for lost looking tourists. While you are free to hire one there's no real need. It's better to ask a local shopkeeper for directions than a guide who will charge you money, tell you less than this guide and probably want to sell you something else. Many of these street guides are not local to the city. The Newari people are the best to ask, and my books are filled with their knowledge.
Bring water with you. There are plenty of shops selling bottled water along the way, but they can get crowded. Brining your own water saves time.
Start your heritage walk early! Traffic and congestion in Kathmandu is a problem. Early in the morning the markets are opening and there's less traffic so you'll get the most out of your walk. Better yet, go on a Saturday morning which is when it's quietest.
Heritage walk guide:
» Kathmandu Heritage Walks (this page)
- Thamel Heritage Walk
- Thahiti Chowk
- Ason Chowk
- Jana Bahal / Seto Machchhendranath
- Indra Chowk
- Kathmandu Durbar Square
Lastly, do consider buying my guidebook to either Kathmandu city or Kathmandu valley as this heritage walk and many others are written in much greater detail with much better maps!
---
---
Liked this page? You'll love my books!
100% independent guidebooks, with no sponsored trips or ads. Designed to help travelers get the most out their trip to Nepal with premium detailed guides, insider information, impartial hotel and restaurant reviews, complete trekking routes, dedicated heritage walks & much more ...
Available in print or digital editions - the best guidebooks for visiting Nepal.
---
Was this page helpful to you? If so please tell others!