The Grand Palace in Bangkok
---
---
---
The Grand Palace พระบรมมหาราชวัง, is a large complex of royal and religious buildings at the center of Bangkok, Thailand in an area known as 'Rattanakosin'. Together they form one of Thailand's most popular tourist destinations.
Since 1925 the royal family no longer live in the Grand Palace however it is still used for royal events. Today the Grand Palace is best visited on an early morning day trip to avoid crowds. Tour buses start to roll in after 10.30 am and the area gets quite hot under the sun. There are several sites within the Grand Palace grounds that hold merit as individual attractions.
Do remember to dress conservatively when visiting the Grand Palace. No shorts, arms should be covered and shoes removed when entering inside any chapels. There's more below about dress code which you should read otherwise you will not be allowed into the Grand Palace
---
Did you know?
There are over 100 individual sites within the Grand Palace. While many are off limits the vast majority of unique and interesting buildings can be visited by tourists.
---
Construction of the Grand palace began on May 6, 1782, by King Buddha Yodfa Chulaloke (Rama I, founder of the Chakri Dynasty ), when he moved the capital of Thailand from Thonburi to Bangkok. Construction of the initial palace was not complete until the late 1800s. While many additional buildings were added throughout the following years it was King Chulalongkorn (Rama V) 1853 – 1910 who was given credit for adding the most.
Architecturally the Grand Palace made up of a series of buildings, including government offices, monasteries and a museum with Ayutthaya, Thai and European styles. Upon entering the palace complex, one is in the outer court, which once housed government departments and now contains the famous Chapel of the Emerald Buddha,
The rest of the complex is divided into four sections called the inner, middle and outer courts along with the temple of the Emerald Buddha, most of the inner sections are out of bounds to the public. There are over 100 buildings within all sections of the Grand Palace.
Originally the Grand Palace was built entirely out of wood due to a lack of time and funds. Once king Chulaloke moved in he began replacing the wooden buildings with brick, stone and other materials. This included the impressive Royal Chapel which would later house the Emerald Buddha.
During this reconstruction period the king ordered builders to take bricks from the former capital Ayutthaya. While most of Ayutthaya kingdom were in ruins after the Burma – Siam war some palaces still stood. Bricks from walls and forts were ordered to be taken away, however it was not before even some of Ayutthaya's palaces were taken down. The one consolation is that the Ayutthaya palace design was used for the Grand Palace in Bangkok.
The location of the Grand Palace was not a random one. Sitting very close to the Chao Phraya River, it was easy to defend against possible invasions whilst also providing an excellent infrastructure for transport and government.
The area around the Grand Palace's was once inhabited by Chinese immigrants and traders who were moved to what is now known as Chinatown during the palaces construction.
---
---
The Grand Palace is much more than just one palace. For historians or culture lovers it could take days to explore it all. For more it's a half day trip. There's an audio tour guide available for rent at the main ticket office which is worth it if you want to spend some time there.
As you enter the main Gate of Glorious Victory in the middle of the north side wall. Continue on until you get to some turnstiles. It's here you must purchase a ticket. It's also here you need to make sure that you are appropriately dressed. If not, then you must 'borrow' some attire for a 200 baht deposit to cover up.
Outer section and Wat Phra Kaeo
Wat Phra Kaeo
The first temple to the left is actually a chapel lavishly decorated with elaborate roofing and stunning murals depicting the Hindu story of Ramayana when Ram rescued Sita. The bot here is also known as the Temple of the Emerald Buddha or Wat Phra Keow. No monks live here today and the area is incredibly well preserved with a 9m-high pedestal supporting the small yet majestic emerald Buddha itself taking center stage. Read more about Wat Phra Kaeo.
The Chapel of the Gandhara Buddha
Close to the entrance to the Emerald Buddha are scenes of turtles, fish and rice painted in gold on blue glass doors to the chapel of Gandhara Buddha. These represent fertility of rice terraces and fields. Meanwhile on the roof are naga serpents.
Royal Pantheon
To the north of the Emerald Buddha is Prasat Phra Thep Bidorn or the Royal Pantheon. Inside are life sized statues of all Thailand's kings in bronze and gold. Many of the buildings around this area are closed to tourists like the royal mausoleum, the porcelain viharn and the library.
Phra Mondop and Phra Si Ratana Chedi
Built by Rama I the Phra Mondop is used to house the Buddhist scriptures Tripitaka. It's other claim to fame include a mother of pearl cabinet with solid silver carpets inside. To the north is a scaled replica of Angkor Wat which during 1851-1968 was under Thai control. Finally at the western end you'll see the huge golden Phra Si Ratana Chedi to enshrine a piece of the Buddha's sternum. Middle section
There's an exit in the south-west corner of Wat Phra Kaeo which brings you into the palace proper. Some of this section is closed to the public.
Phra Maha Monthien
Behind an elaborate Chinese tiled gate is Phra Maha Monthien which was the grand residential complex of earlier kings. The main audience hall Phra Thinang Amarin Winichai at the front of the complex is open to the public and is still used for royal ceremonies today. The two thrones in the main room are from King Rama I. To the rear are off-limit buildings which are used during Thai coronation ceremonies. A new king will spend a night there to show a connection with past kings.
Chakri Maha Prasat
King Rama V hired an English architect to design this Neoclassical house though other members of the royal family insisted that three Thai spires be added. Chakri Maha Prasat was also where the elephant stables were once located. There are still red tethering posts along with bronze elephants as a tribute. Today tourists can enter the uninspiring weapons museum on the ground floor.
The Inner Palace (off limits)
On the left hand side of Chakri Maha Prasat is a gate leading to the inner palace. This was a mini-city unto itself when royalty lived here. There was an all-female police force, law courts, shops and a significant population. Queens, consorts, servants and daughters of dignitaries all lived here. Today it's a school for cooking and domestic science for the well to do.
Dusit Maha Prasat
To the west is Dusit Maha Prasat which is an audience hall built by Rama I. The red, green and gold roof tiers along with a spire shaped like the kings crown radiate Thai architecture. Inside the hall there is a mother-of-pearl throne. The hall itself is used when a senior Thai royal dies for lying-in-state. The body is placed in a huge urn with up to two years before cremation.
Wat Phra Kaeo Museum
In front of Dusit Maha Prasat is Wat Phra Kaeo, the royal mint which is now a museum housing a collection of artifacts donated to the Emerald Buddha. Other artifacts include costumes from the emerald Buddha, bones from several white elephants belonging to past kings. There are also some scale models of the Grand Palace.
---
---
You get a map of the Grand Palace with your ticket and there's a large free standing map near the ticket counter. However my advice is to download this free map. I've included directions to the Grand Palace on it along with some helpful tips.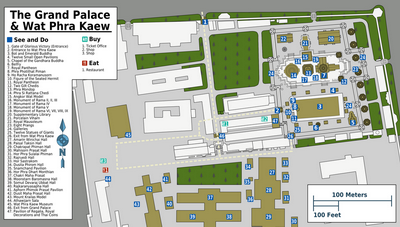 Map credit: Globe-trotter, based on map of Wikimedia user Heinrich Damm
---
---
There are several ways to the Grand Palace. Always remember that the Grand Palace is located right beside Wat Pho which make them both a great day out along with Wat Arun.
Skytrain (BTS): For many the most enjoyable way to the Grand Palace is by taking the BTS Skytrain to station Saphan Taksin and then take a Chao Phraya River Express boat to the Maharaj Pier. It is a short walk from pier to the palace. Simply exit the peer and walk out straight through a small market. The Palace will be across the road to your right with its corner wall clearly visible. If you took a right at the wall you'd come to Wat Pho. For the palace entrance walk across the road and along the wall you saw stretching out in front of you when you exited the market until you get to the entranceway along the same wall to the right.
Boat: This is one of the most popular ways to the Grand Palace. Take an express boat to Tha Tien (N8) along the Chao Phraya. Once you walk out of the pier walk past the food stalls until you get to a large road junction. In front (slightly to the right) is the Grand Palace. Take a right here and walk about 10 minutes until you come to Wat Pho which will be on the other side of the road. Otherwise get on a tuk tuk but they'll probably over charge a lot for this short distance.
If coming from the pier it might be worth it to pick up some refreshments as there's not much available once you are inside Wat Pho.
Taxi: For many the easiest way getting to the Grand Palace is via taxi. While nearly every driver will know where the Grand Palace is do insist they use a meter. Likewise if you are reasonably close by you could negotiate with a tuk tuk driver however do agree on a price first.
Tuk Tuk: Unless you are use to tuk tuk bargaining it might end up costing you more than a taxi to get there. If possible arrange a price beforehand with a little bargaining.
Bus: numbers 1, 3, 25, 44, 48, 91, 503, 508 and 512 all stop nearby the Grand Palace and Wat Pho.
Wearing a facemask is encouraged at the Grand Palace.
Grand Palace Address:
Na Phra Lan Rd, Khwaeng Phra Borom Maha Ratchawang, Khet Phra Nakhon, Krung Thep Maha Nakhon 10200, Thailand
Grand Palace Address is Thai: ถนน หน้าพระลาน แขวง พระบรมมหาราชวัง เขตพระนคร กรุงเทพมหานคร 10200
Telephone:+66 2 623 5500
Grand Palace Opening Hours:
Daily from 08:30 to 15:30 with the final tickets sold at 15.30.
There's a free English speaking tour 4 times a day just by the ticket counter and it is signed. Otherwise do expect some touts inside to charm you up for a private tour.
---
---
The current entrance fee into the Grand Palace is 500 baht.
The ticket price includes a map plus entrance into Dusit Park. There's an additional 200 baht fee for an audio guide that requires a credit card to be left as a deposit.
Do note that there's a 200 baht deposit required if you are deemed to be dressed in appropriately and have to wear a cloak – it's better to come dressed appropriately.
The entrance fee includes Vimanmek Palace and Abhisek Dusit Throne Hall
Telephone for the Grand Palace is +66 2 623-5500
---
---
No shorts, vests or see-through clothes are allowed. Men must wear full-length trousers while women must wear trousers or over-the-knee skirts. Sandals have had a mixed result over the years with some tourists being allowed in with them. However, all footwear must be removed before entering any temple or chapel within the compound.
---
---
There's no place to eat inside the Grand Palace though you can buy small bottles of water at the ticket counter. You might also come across an ice cream vendor on wheels but that's about it.
For more substantial places to eat near the Grand Palace try the restaurants opposite Wat Pho. There are several local places here along with street food stands and some nice air conditioned restaurants. Do however check menu prices before sitting down as some overcharge.
Budget eats can be found in front of the pier where there are some street food vendors.
---
---
A little bit of planning will take you a long way to making the most out of your visit to the Grand Palace as there's a lot to see and visit nearby which can make up a full day trip..