Wat Pho in Bangkok
---
---
---
Wat Pho or Wat Phra Chetuphon Wimonmangkalaram (วัดโพธิ์) has many claims to fame. Known also as The Temple of the Reclining Buddha for the largest reclining gold plated Buddha it is also the oldest wat and learning center in Bangkok.
It is dated to the 17th century. Located very close to the Grand Palace and across the river from Wat Arun.
The 80,000 square metre Wat Pho complex is split into several walled compounds two of which are covered under your entry ticket. To the west lies the reclining Buddha and to the east are several chapels and the famous Wat Pho massage school. To the south is the monks private (Tukgawee), which is a working Buddhist monastery and residence. 
Did you know?
Do remember to dress conservatively when visiting the Grand Palace and Wat Pho. No shorts, arms should be covered and shoes removed when entering inside any chapels. Outside in the compound dress code is not so strict. There's more below about dress code.
---
---
Wat Pho was built in 1788 as part of a restoration project of another earlier temple, Wat Phodharam.
Major restoration and extensions were added between 1824-51 by King Rama III.
Finally in 1982 there was another restoration which lead to the temple we can visit today.
It's said that the original site was the birthplace of the traditional Thai massage. Which carries on today with a massage school on site. Today it holds merit as one of the royal temples in Thailand.
---
---
There's a lot to see and do at the Wat Pho complex. Aside from the star attraction of the reclining Buddha both compounds offer sculptures, chedis, paintings and the massage school.
More over Wat Pho is a very pleasant place to spend an hour simply walking around and taking all the sights in.
Reclining Buddha:
Without doubt the main attraction of Wat Pho is the 15 meters tall and 46 metres long gold covered reclining Buddha. The statue is said to show the Buddha at his moment of death and ascension into Nirvana.
Of particular note are the Buddha's huge feet decorated with mother-of-pearl divided up into 108 panels. Each panel displays important symbols which identify the Buddha eg white elephants, dancers and flowers.
Around the reclining Buddha are 108 bronze bowls which indicate the 108 auspicious characters of Buddha. You will often find monks and devotees dropping coins into the bowls which is supposed to give good fortune. You may buy a small container of coins near the head of the Buddha and join in if you wish.
Note: Before entering you will have to remove your shoes. There's a large shelving area to leave them. Likewise if you are not dresses conservatively you will have to wear a provided shawl to cover yourself.
Wat Pho Grounds:
Outside the reclining Buddha there are 99 chedis of varying sizes covered in bright tiles. There are four large viharas (halls), and the main bot (vihara, Dhamma hall or central shrine) which contain over a 1,000 images of the Buddha.
Dotted around the compounds you are sure to notice several guardian statues with western like top hats on Chinese looking heads. These were brought over from China on chinese trading ships and used as ballasts.
At the rear of the eastern compound is a pavilion with the world famous Wat Pho massage school. You can also get a massage here to ease away all that walking you've been doing. There's more information on the Wat Pho massage school later on.
On the southern side of Wat Pho is the royal monastery with an elegant ubosot (ordination hall). Surrounding buildings are used as part of the school and monks residence. In the afternoons you can often listen to the monks chanting here while after 16:00 you can offer to teach the monks English with come conversational lessons.
---
---
Before Wat Pho and before Wat Phodoram this area was home to the very first Thai massage school. That traditional lives on today where Wat Pho is the national headquarters for the preservation and teaching of traditional Thai medicine and massage.
The massage area today is inside a pavilion. The interior massage area is communal which is important for people to know in case they were expecting private rooms. You remain with some clothing on and they will provide you with long trousers if you wish.
Thai traditional massages are a lot firmer than many people are accustomed too however you can ask them to go softer (say: Bow bow).
How much does a massage cost at Wat Pho?
Traditional Thai massage price at Wat Pho
420 Baht for 1 hour
260 Baht for 30 minutes
Foot Massage
420 Baht for 1 hour
280 Baht for 30 minutes
Opening hours of the Wat Pho Massage Parlor: Open Daily 08:00-18:00
Telephone: 02-221-2974 or 02-225-4771
There's no real need to book a massage unless you are pushed for time.
Doing a Wat Pho massage course
If you wish to do a course in massage at Wat Pho there are over 15 options open to you. A typical general massage course lasts for 5 full days or 30 hours. It will cost about 10,000 Baht.
Directions to Wat Pho traditional massage school
The actual school is located opposite Wat Pho. You can ask inside the massage area within Wat Pho for someone to help you find it.
Chetawan Wat Po Thai Massage School
Address: 392/25-28 Soi Pen Phat 1, Maharaj Road, Pranakhon, Bangkok (near Coconut Palm Restaurant). 
Opening Hours: Open Daily: 08:00 to 18:00
Tel: +66 (0) 2622 3533 
---
---
You can buy a map at Wat Pho and there's a large free standing map near the ticket counter. However my advice is to download this free map. I've included directions to Wat Pho on it along with some helpful tips.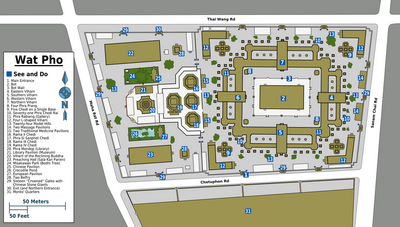 Map credit: Globe-trotter,based on map of Wikimedia user Heinrich Damm
---
---
There are several ways to Wat Pho. Always remember that Wat Pho is located right beside the Grand Palace which makes them both a great day out along with Wat Arun across the river.
Boat: This is one of the most popular ways to Wat Pho and the Grand Palace. Take an express boat to Tha Tien (N8) along the Chao Phraya. Once you walk out of the pier walk past the food stalls until you get to a large road junction. In front (slightly to the right) is the Grand Palace. Take a right here and walk about 10 minutes until you come to Wat Pho which will be on the other side of the road. Otherwise hop on a tuk tuk but they'll probably charge a lot for this short distance.
If coming from the pier it might be worth it to pick up some refreshments as there's not much available once you are inside Wat Pho.
Taxi: The simplest is to get a taxi though it can be expensive due to traffic and location.
Tuk Tuk: Unless you are use to tuk tuk bargaining it might end up costing you more than a taxi to get there. If possible arrange a price beforehand.
Bus: numbers 1, 3, 25, 44, 48, 91, 503, 508 and 512 all stop nearby Wat Pho.
Wat Pho Opening Hours

:

Opening Hours: Daily 08:00-17:00
---
---
The current ticket or entry fee into Wat Pho is 200 Baht per person.
Your admission fee to Wat Pho includes everything within all the compounds aside from the massage pavilion!
---
---
Technically everyone (men and women) should wear long sleeved tops and long trousers. All shoes should have the toes covered as well.
Realistically this only applies when you go inside the Reclining Buddha building and any of the bots (chapels). For the reclining buddha if you are exposing your legs shoulders you will be refused entry until you cover them up. Shawls are available on site.
Shoes have to be removed when entering to see the Reclining Buddha and any bot.
You might keep all this in mind if you also plan on visiting the Grand Palace where the dress code is adhered to a lot more strictly.
---
---
There's no place to eat inside Wat Pho though you can buy small bottles of water at the ticket counter. You might also come across the occasional rogue ice cream vendor on wheels trundling around inside.
For more substantial places to eat near Wat Pho try the restraunts opposite the road outside. There are several local places here along with street food stands and some nice air con restraunts. Do check menu prices before sitting down though as some can be a little overpriced (though not by much).
Another option is to walk back to the pier and try out the street food vendors there for some cheap eats.
---
---
A little bit of planning will take you a long way to making the most out of your visit to Wat Pho as there's a lot to see and visit nearby.