---
Hua Lamphong is the name of Bangkok's main railway / train station located in Yaowarat (Chinatown). Hua Lamphong is well connected with links to the MRT (light rail) which in turn is linked to the airport and BTS (sky train).
The railway is linked nationwide and also has a connection to Malaysia. The area around Hua Lamphong is spacious and open with little street or road congestion. There are several small tourist sights nearby with easy transport links to the entire city of Bangkok.
There are nearby cafes and restaurants along with some bars. There are nightly buses that stop off beside the railways stations that take people across the country. Likewise there are some travel agents in the area.
Staying near Hua Lamphong makes great sense if you are looking for a quieter more local place rather than the sprawl of Sukhumvit or the budget trappings of Khao San Road.
---
---
Hua Lamphong is Bangkok's main railway / train station. Trains leave and arrive here from all over Thailand 24 hours a day. Also trains
If you are arriving
late at night or departing early in the morning staying at a hotel near the station will save you a taxi ride and hassle as every hotel listed here is within 10 minutes easy walking distance from the train station.
Likewise if you are looking to stay in a quiet part of Bangkok yet still have easy access to the MRT/BTS to see the whole city then Hua Lamphong is a good choice. With lots of street food eateries, restaurants, cafes and the nearest wat a mere 20 minutes away on foot staying near the train station makes sense.
Did you know?
Many hotels claim to be "nearby" the train station but are in fact quite a hot, traffic heavy walk away.
Every hotel listed here has been visited and verified as being approx 10 minutes walk from the Hua Lamphong railway & MRT stations.
It's best to wear a facemask when entering a hotle in Thailand.
---
---
Bangkok Centre Hotel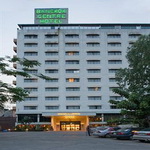 At 2,000 baht per night for a double I expected a little more than a standard hotel room from this 3 star hotel. The bathroom is a little dated and wifi is pay only at 365 baht per day! With a plush lobby and waiting staff these are the perks. Being honest I found the mid-range hotels better value. But if it's a hotel with all the service trimmings you are after then you won't go wrong with the Bangkok Centre Hotel.
| | | |
| --- | --- | --- |
| My Rating: | | Best high-end hotel in this area |
Check out the latest prices & book a room at the Bangkok Centre Hotel
---
Krungkasem Srikrung Hotel
A big hotel whose lobby and hallways look very old and dated. However the rooms are well kept, clean, ensuite with A/C. WiFi only in Lobby. Discounts available for long-term stays. Doubles start from 850 baht
| | | |
| --- | --- | --- |
| My Rating: | | Cheapest high-end in this area |
Krungkasem Srikrung Hotel website. Address 1860 Krungkasem Road. Tel: +60 2 2250132
---
---
@Hua Lamphong
Just outside the MRT station (exit 3/4) is this smart clean and modern hotel / flashpackers. While there's not much of a difference between the deluxe & double rooms they are both spacious with A/C, fridge, safe & wifi. Dorm rooms & singles available. The staff here are probably the friendliest on this this page. Reasonable tour packages and a cafe on site.
| | | |
| --- | --- | --- |
| My Rating: | | Best flashpacker / budget hotel in the area |
Check out the latest prices & book a room at the @Hua Lamphong
---
SK Boutique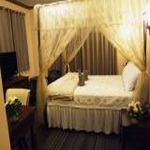 Plush old style decor gives SK a slightly higher class look. Reasonably priced doubles have very comfortable large beds & quality bedding. The deluxe double is probably the most plush & value for money room in the area considering the four-poster bed. A/C, fridge & wifi included. Family friendly rooms are also available. There's a cafe on site and the staff are helpful.
| | | |
| --- | --- | --- |
| My Rating: | | Lovely double rooms for couples |
---
At One In Hualamphong
A Chinese run hotel with some very nice rooms on offer. Double rooms are spacious with mini balcony's while singles are smaller and start at around 700 baht with free wifi. Doubling as a tour center there's no hard sell as I found the staff simply not interested in much - you might want to give that some consideration. Nevertheless the rooms are very nice.
| | | |
| --- | --- | --- |
| My Rating: | | Budget hotel with nice rooms but the staff? |
Check out the latest prices & book a room At One In Hualamphong
---
Chilli Bangkok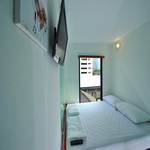 A new(ish) flashpacker type hotel that's clean and friendly. All rooms are ensuite with A/C, free wifi and free coffee all day long. The rooms are a little small but very, very clean. The staff were friendly and knowledgeable though the tours a little pricey (shop around). It's over a 10 min walk from the train station so it just barely makes it to this page in terms of distance but it is still walkable in 10 mins from the MRT station (Exit 4). Look out out the small signs down the narrow soi's when trying to locate it at the junction.
| | | |
| --- | --- | --- |
| My Rating: | | Flashpacker place with ensuite's |
---
---
Siam Classic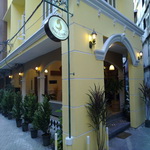 Freshly decorated hostel / guesthouse with fan and air-conditioned ensuite rooms available all with wifi. When I visited I was shown a clean room with a nice bathroom however there was a slight damp smell coming from it. Tours are available from the front desk. * this is a shoe removal hotel.
| | | |
| --- | --- | --- |
| My Rating: | | Backpacker accommodation 101 |
Siam Classic website (currently down) tel: 02-6396363 / 66990922738
---
YourPlace Guesthouse
Located at the end of the soi this guesthouse has a pleasant atmosphere and a few chairs outside making it a good place to meet people. The rooms are very clean with a highlight double A/C room containing a small balcony to sit out on. There are also fan rooms & dorms with shared bathrooms available. Wifi is available throughout & a basic breakfast is included. * this is a shoe removal hotel.
| | | |
| --- | --- | --- |
| My Rating: | | Nice backpacker guesthouse with pleasant staff |
YourPlace Guesthouse website - 336/17 Soi Chalong Krung, Rama 4 Road, Bangkok. Tel +(668) 1874-4945, +(66) 2639-8034
---
Baan Hua Lamphong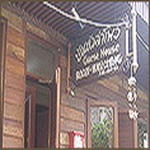 Going back to old school Thai accommodation this guesthouse offers basic air conditioned & fan rooms all with wifi from 700 baht. Long-term stays with discounts are available. Speak to Tommy for this.
| | | |
| --- | --- | --- |
| My Rating: | | Well worn backpacker guesthouse |
Baan Hua Lamphong guesthouse website (it's about 8 years out of date!) 336/20 soi Chalong Krung Rama4 Rd. Bangkok. Tel: (662) 02-6398054
---
The Train Guesthouse
Literally around the corner from the train station this guesthouse is under new management in 2018 but still offers a range of rooms from shared bathroom upstairs to double ensuite's downstairs. The guesthouse is under new management who have cleaned the place up a bit. Very suitable & safe for short stays. Free wifi, coffee & tea.
| | | |
| --- | --- | --- |
| My Rating: | | Clean, safe, short stay place |
The Train Guesthouse website ( take a left out side the main train station entrance then left down the road running parallel to the station. The Train Guesthouse is located about 2 min walk away across the road (it's lit up well). Tel :+66-2-215-43055 Mobile : +66-84-542-1946
---
Cozy Bangkok Place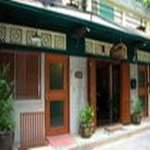 Backpacker style accommodation. All rooms have shared bathrooms but there are plenty of them on each floor (basically one for every room!). A/C or fan rooms available with free wifi at possibly the best rates this side of Kao San Road. The staff were friendly and the communal room was nice without being a total hangout joint. *shoe removal is mandatory.
| | | |
| --- | --- | --- |
| My Rating: | | Best backpacker place in the area |
Check out the latest prices & book a room at Cozy Bangkok
---
---
F.F. Guesthouse
All rooms here are fan with shared bathroom. Single rooms are 200 baht while doubles are 300. This is as rock bottom as it get's in this location. While the friendly lady owner is pleasant the guesthouse has an odor problem. The beds have well worn metal frames and even more worn out foam mattresses. The bathroom is very basic. Only stay here if you are used to the above! * this is a shoe removal guesthouse.
| | | |
| --- | --- | --- |
| My Rating: | | Cheapest in the area ... but |
Address: 338/10 Trok La-o Rama 4, Bangkok. Tel 08 2334168
---
Sri Hualamphong Hotel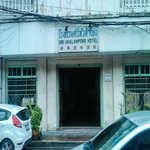 Used mainly by locals this is a big old school type hotel. Big very basic rooms with fan or A/C. Wifi downstairs. It closes early with big blue iron gates. Bargain hard to get a double for under 450 baht.
| | | |
| --- | --- | --- |
| My Rating: | | Close by but is it worth the price? |
Address: Thanon Rong Mueang Pathumwan Bangkok. Leave the main train station entrance and turn left. Turn left again to go down the road running parallel to the station. Hotel is across the road just after the travel agents.
---
Station Hotel
Offering 40 very basic double A/C & fan rooms 380/baht/380 or single fan rooms from 280 baht. The rooms are large and run down with thin mattresses on metal framed beds.
| | | |
| --- | --- | --- |
| My Rating: | | Closest to the railway but by no means the best |
Address: 518 Rongmuang, Patumwan. Tel +66 2214 2794. Walk straight out of the main railway station entrance. There's a tower building with this hotels name on it on the left.
---
---
Cozy Bangkok Place Get's the nod as being the best rated hotel near Bangkok's railway station. It's not as close as others and has a shoe removal policy. But it is great value for money, free wifi, very clean, has very nice staff (Sui) a good place to either meet people or do your own thing and close to both the BTS and MRT. Looking for an alternative to Kao San Road? Then think about staying here. Check out the room prices of Cozy.
@HuaLamphong: Jumping up in budget it's more a modern budget hotel / flashpackers with very clean rooms, ensuite's, free wifi, cafe, good value tours and very friendly staff. It's literally just beside the MRT so there's a good selection of travelers coming through its doors. Check out the room prices of @HuaLamphong
---
---
By walking: All the hotels above are marked out on the map below. They are approximately 10 minutes walk from either the main Hua Lamphong railway station or its adjoining MRT stations.
Tip: Do make use of the MRT stations underground walkways to avoid the heavy traffic above. There are 4 main exits though 3 & 4 are about the same. 1 inside the station, 1 across the junction. And exit 3 & 4 across from the previous one on the opposite side of Rama 4 road.
---
---
---
Was this page helpful to you? If so please tell others!