---
The Langtang trek or Langtang Valley trek is easily among the top five most popular treks in Nepal. Only a few hours from Kathmandu it's one of the great escapes from the capitals traffic and concrete. The lush Langtang Valley trek takes you along local villages through forests of bamboo then forests of rhododendron while looking up a white mountains. These mountains include Pemthang Karpo Ri, Langshisa Ri, Dorje Lhakpa and Gangchenpo are but a few of the mountains awaiting.
This is a low altitude trek with no technical climbing and it can be completed between 7-9 days. However the Langtang region also intersects with other treks such as Gosainkunda, Helambu and the Tamang Heritage Trail. Indeed the Langtang Valley trek and be joined with Gosainkunda to form the Langtang Gosainkunda trek which is also known as the Langtang Circuit.
Trekkers going upwards to Kayanjin on the Langtang Valley Trek
The average high pass on the Langtang Valley trek is 4,300 meters but you can trek to higher altitudes over different passes within the region. This is perhaps what makes Langtang a popular option for many trekkers. There are many view points and side treks to enjoy compared to other treks. However some caution should be heeded as these low passes and view points are battered by unexpectedly strong weather conditions and several independent trekkers have become lost. On this page you will discover a full guide to the Langtang trek but if you've never trekked before in Nepal and are alone it's advisable to take a guide.
The maps on this page are not to be used as physical trekking maps - they are here only to show the rough outline and region of a trek. There is a GPX trail which is accurate however do note that trails in Nepal can change yearly due to weather, environmental changes etc.
Trek Overview
| | |
| --- | --- |
| Difficulty: Easy | Days: 7-9 |
| Max Altitude: 4,300m | Distance: 79 km (49mi) |
| Accommodation: Lodge / Hotel | |
Distance shown is a return trek, the final distance will depend on side treks, extra days taken etc.. Acclimatization days should always be adhered to. You should assess your own fitness levels and assess each treks difficulty level yourself before trekking.
A fully detailed guide to the Langtang Valley trek with more details is below
.
Honesty counts!
Every travel guide on this site has always been 100% independent, unbiased & honest. I do not accept sponsorships, free treks or tours. I do not own a trekking company or business in Nepal. I pay my own way & in turn write
authentic guidebooks to Nepal
. Rest assured, this is a genuine travel guide that you can trust.
Trekking guides are now mandatory in Nepal:
In March 2023 Nepal Tourism Board announced that all trekkers (solo, couples, groups, etc.) must have a licensed trekking guide from a registered trekking company if they want to trek in Nepal. Freelance trekking guides are also no longer permitted and only guides registered to trekking companies are allowed. The ruling is controversial in many aspects. There are likely to be changes to this ruling over the coming months and indeed years. However, the reality is that you now need a trekking guide to do this trek. Find a registered guide in my
Trekking in Nepal Guidebook
or use my
Find a Nepal Trekking Guide Service
.
---
The Langtang trek is in Langtang National Park located north of Kathmandu in the Langtang region of Nepal's central development region that borders with Tibet. The start of the trek can be reached by a relatively new road from Kathmandu in 6 hours (depending on the weather).
There are several treks within Langtang National Park. The most popular is the short Langtang Valley trek which is relatively low altitude. This trek can then be extended to the
Langtang Gosainkunda trek
which brings you around in a circuit. Tamang Heritage Trail and Helambu are also accessible from the Langtang trek.
The Langtang area including the trek were severely damaged in the 2015 earthquake. For several years the trek remained underdeveloped with caution advised regarding possible landslides in the area. Throughout the preceding years I've monitored the Langtang Valley and as of 2019 am happy that it has once again reached safe standards.
New teahouses have been built up along the area and trekkers are once again enjoying this great trek. However I would advise trekkers to avoid the Langtang Valley during the monsoon season due to the danger of landslides due to the heavy rains.
Buses or jeeps will take you to the trail heads where you'll start your trek in the village of Syabrubesi before quickly moving alongside the Langtang Khola (river) passing pleasant tea houses along the way. The trail is obvious and continues into farmlands surrounded by forests. From here you make a slow ascend up into pristine forests, bamboo forests and rhododendron forests while continuing into the valley.
The Langtang trek is at its heart a valley trek. Throughout your trek you'll have the steep mountainous valley wall with snow capped ridges and mountains to enjoy. While straight ahead larger snowy mountains beckon you closer.
If you've never been trekking before, have limited time, have small children or are looking for a more moderate trek then the Langtang Valley trek can be ideal. The new road makes it easy to reach from Kathmandu. The villages, bamboo and rhododendron forests along with some great mountain valley views all make Langtang an ideal choice for a short time framed trek. For those who want a longer trek it's easy to extend the Langtang Valley trek into the Langtang Gosainkunda trek.
---
---
This map shows you the most popular Langtang Valley trekking route.
Please note this map should not be used as a practical trekking map. The Langtang Valley trekking route is available as a GPX download. Weather conditions, time of year, natural events and physical changes do happen to the trek paths. Detailed trekking maps can be obtained in Nepal at very low costs and in my own trekking in Nepal guidebook.
---
---
The Langtang Valley trek is popular among tourists and trekkers due to its close proximity to Kathmandu. However, trekking guides are not always so keen on going. The main reason is that it's short and they can make better money on longer treks. Independent trekkers have also favored the Langtang Valley as it's fairly straightforward. However it must be pointed out that many of the passes and look out points have strong weather conditions. It is not advisable to trek Langtang alone unless you have prior trekking experience in Nepal.
Highest point of the Langtang Valley trek
At 4.300 m (14,107.6 feet) Kyanjin Ri marks the highest point on the trek. However, there are other look out points you can reach on day trips. These include Menchhyamsa Ri (4650m) and Tserko Ri (4984m). There's also one of Nepal's popular trekking peaks which is two days away - Yala Peak at (5,500m).
The top of Kyanjin Ri
Highest sleeping point on the Langtang Valley trek
The highest sleeping point is at Kyanjin Gompa (3830m). The lowest point of the trek is Syabrubesi is 1,633 meters.
Total distance of the Langtang Valley trek
The full distance trekked on the Langtang Valley trek is about 79 km (49mi). This includes a side trek to Kyanjin Ri and the return journey. You can of course cover a lot more ground with more side treks and taking a different route back.
How long have people been trekking the Langtang Valley route?
This entire Langtang National Park has about 4,500 people inhabiting it. The Gosainkunda lakes are sacred to Hindus and the Kyanjin Gompa is a pilgrimage site for Buddhists.
The valley itself is not known as a major trading route. It's likely to have had farming and mountain inhabitants for several centuries. Due to the terrain few archeological digs have occurred.
The name Lang come from the Tibetan meaning following and Tang meaning Ox.
Is there any wildlife to see on the Langtang trek?
Langtang National Park is filled with wildlife and there is a strict level of protection over the ecosystem. Himalayan black bears, Himalayan tahr (mountain sheep), rhesus monkeys, musk deer and red pandas are frequently encountered.
What mountains can you see from the Langtang Valley?
Langtang Lirung 7,234 m (23,734 ft), Langtang Ri 7,205 m (23,638 ft), Dorje Lakpa 6,966 m (22,854 ft), Loenpo Gang 6,979 m (22,897 ft), Changbu 6,781 m (22,247 ft), Yansa Tsenji 6,690 m (21,950 ft), Kyunga Ri 6,601 m (21,657 ft), Dogpache 6,562 m (21,529 ft), Langshisha Ri 6,427 m (21,086 ft), Gangchenpo 6,387 m (20,955 ft), Morimoto 6,150 m (20,180 ft), Tsogaka 5,846 m (19,180 ft) Yala Peak 5,520 m (18,110 ft) are visible from within Langtang National Park.
For those on the Langtang Valley trek most of these will only be visible from one of the viewing points near Kyanjin Gompa.
---
---
Highlights of the Langtang trek include:
A short distance by road from Kathmandu
Short trek of only 7-9 days
Low altitude
Wildlife can be seen
Large valley capped in snow
Village Trails
Friendly locals
Can be extended
---
---
Arranging a regular Langtang Valley trek
Most guides and trekking companies will want to try and extend the Langtang trek by mentioning untold places to visit along the way. The reason for this is to add on days that they can be paid. It's therefore prudent that you research a little to understand the trek and what you'd like to see before going.
Package treks & tours bought online
Package treks & tours to Langtang bought online generally have a fixed itinerary usually for 9 days or more. Though the trek can be done in 7 days at a rush agencies will frequently try to upsell a minimum of 9 days. Secondly many will try to sell the Langtang Gosainkunda trek which is about 15 days. Again, know what you want before asking.
It's important to understand what you can accomplish before fixing the numbers of days. If you have not trekked before, have a need to go slow, have small children with you or simply want to relax a bit more then a 9 day trek is a good option.
Package tours usually include food, porters, accommodation and permits. Costs can be from USD $650+
Pro's of a package tour to Langtang include that everything is done for you ahead of time. You need very little organizing and there's little scope for anything to go amiss.
Con's include paying above the average price and you won't know who your guide will be. A lot of online prices have additional hidden costs, examples include guides transport fees, meals, your meals etc.
Package treks bought in Nepal
Those with a couple of days in Kathmandu can arrange their own package trek to Langtang. The main problem will be listening to trekking companies and guides try to upsell the trek by adding days or locations to it. If you read this page completely then you'll have a great head start in sticking to your guns on what you want.
If purchasing a local trekking companies package tour it's important to know what's included.
It's vital you make sure that both you and the trekking company agree on what's included in the total price. Accommodation, permits, bus fees, meals etc.
Langtang has new but limited accommodation. There's not a lot of choice in terms of comfy beds etc. So avoid the trekking agents upselling better accommodation. Prices will vary wildly as will the options of bus transport or private to the trailhead.
Pro's of a local package trek tour include meeting your guide before your trek. You'll also have the ability to ask questions in person and somewhat customize your trek. Treks can start from $570 per person.
Con's include having to spend a day or two listening to guides and trekking companies upsell everything.
If you'd like to take the hard work out of this before you arrive then do try my Find a Trekking Guide Service.
Hiring a local Langtang Valley Guide yourself
There are many local guides that can take you to Langtang Valley. Hiring locally means it's a great way to help the local economy while also maintaining a degree of trekking Independence. You'll basically be hiring an independent guide whom you just pay a daily rate to. You then pay for your own accommodation, food and permits. While the costs do indeed come down you'll need to do more.
This starts in dealing with tea house and lodge owners yourself in terms of pricing and payment. It's quite easy to do this on the Langtang trek so long as you know the rules like always eating where you stay. Owners inflate prices during the peak season. So, you'll need to do some walking around if you are on a budget. Moreover if there are big groups you will be relegated to the bottom of the queue for a bed.
Pro's here include a slightly cheaper trek with more trekking independence. You can stop and stay where you like.
Con's include having to bargain a price for your own room in an area well used to tourists. You'll also have to order your own food which must be eaten in the same place you stay - otherwise the accommodation prices increase dramatically. You'll also need to find a qualified reputable guide on your own which is not that easy in Kathmandu as there are many fake street guides. Avoid street guides at all costs as many use underhanded tactics to get money from you including claiming an injury and hospital fees. You can also use my Find a Guide Trekking Service.
Independently trekking the Langtang Valley trek yourself:
This is no longer possible. In March 2023 Nepal Tourism Board banned solo trekking in Nepal. You must now hire a guide for this trek.
If you are looking for a guide for the Langtang trek I recommend you read my article on How to find a trekking guide in Nepal. Langtang Valley also has it's own chapter in my book Trekking in Nepal.
You may also use my Find a Guide Trekking Service.
---
---
Nepal's traditional peak seasons offer the best months for trekking the Langtang region. However, do note that due to Langtang's relative low altitude cloud cover can occur. Having an extra spare day is useful to outlast the cloud. It's important to note that the low altitude can also effect winter trekking more so than other treks. Similarly unlike other treks monsoon weather can be problematic in the Langtang Valley due to landslides and trekking at that time of year should be avoided there.
Langtang Weather by month
Avg. Temperature
(°C)
Avg. Temperature
(°F)
Precipitation / Rainfall
(mm)
January
-0.6
30.9
14
February
0.6
33.1
16
March
4.4
39.9
27
April
7.3
45.1
23
May
9.6
49.3
25
June
11.6
52.9
93
July
12.1
53.8
182
August
11.8
53.2
176
September
10.6
51.1
92
October
7.7
45.9
35
November
3
37.4
3
December
0.7
33.3
3
Important extreme cold winds and cloud can rush at the viewpoints, passes and peaks around Langtang. It's important to not veer off the main trail areas.
The above weather chart will give you an idea of the average highs and lows throughout the year in Langtang. However it does not take into account wind chill which can drive temperatures down by -10 or more.
Months with the best weather to trek Langtang
Mid Sept-October - November/(early)December: Nepal's peak and best time to go trekking to Langtang.
February-March-April: this is the end of the dry season in Nepal and the second best time of year to go trekking to Langtang. This time of year also has the added advantage of the surrounding countryside in full bloom..
December to January/February: the skies are clear but it can get very cold. It's rare for Langtang to close though and asides from being cold but the high passes do close due to snow.
May - June: The hot pre-monsoon season means things get uncomfortable and humid. In Langtang Valley grasses are green and it's starting to bloom with flowers. It's probably best to go with a guide at this time of year to help you during down pours etc..
June - Mid September: this is Nepal's Monsoon season and the least popular time to go trekking to Langtang Valley. The risk of landslides is evident and trekking is discouraged. The views are nearly always obstructed .
For more details please see my guide on the best time of year to go trekking in Nepal
---
---
If you are on a package trek or tour to the Langtang Valley then your guide or trekking agency will and should take care of all your permits for you. For independent trekkers you'll need to do it yourself. In all cases here's what permits you need and how to get them for the Langtang trek.
You need two permits for the Langtang Trek
Langtang National Park Permit
Trekker Information Management System (TIMS Card)
Both or these permits can be bought in Kathmandu at the Tourist Information Center. The offices are open between 10am - 5pm however it is better to arrive an hour or so before closing time. Do note there are no TIMS checkpoints established on the trek.
Get the Langtang National Park Permit
An Langtang National Park Permit covers all of the Langtang National Park.
The permit is only valid for one entry and one exit. However, so long as you don't exit, you can use it for as many treks as you want including the Langtang Valley Trek. It is a mandatory permit.
Fill out the permit form
Hand over the completed form, your passport and 2 passport photos (they are taking photographs for free at the moment but bring a set just in case)
Pay the 3,000 rupees (only payable in Nepali Rupees)
Get your Langtang National Park permit
Get the Trekker Information Management System Card (TIMS)
The Trekkers Information Management System Card (TIMS) is meant to help protect trekkers through registration checkpoints along a trek including Langtang National Park. The fees also go towards guide and porter insurance. The current TIMS office is closed in Langtang but the permit is still officially required.


*
Do note that the TIMS Card is now a flat 2,000 rupees
and a trekking company is the only one that can apply for it.
Both the Langtang National Park Permit and TIMS card can be used for all applicable treks until they receive an exit stamp.
Once either permit have an exit stamp they cannot be used again
. Do be careful about this if combining the Langtang Valley trek with another trek. If you get exit stamps and try to enter/leave again there is a hefty 6,000 rupee on the spot fine!
Where are permits checked?
Dhunche on the way to Syabrubesi is where the first permit check is. Syabrubesi has another checkpoint. Ghoda Tabel has one more checkpoint.
Important: the checkpoint in Dhunche requires the searching of all bags, including trekkers. This is to prevent the trafficking of wildlife.
---
No specialized equipment is needed for the Langtang Valley trek. Trekking gear will depend on the time of year in regards to clothing and equipment. The following are usually necessities:
A pair of boots or shoes suitable for off-road walking
A wind cheater style jacket
Long sleeve shirts
Trekking pants
Shorts
Socks
Rubber sandals
Water bottles
Water purification system)
Map
Sunglasses
Sunblock
Additional equipment considerations are a pair of trekking poles which can help if you have knee problems.
Regular bottled water is available along with filtered water. It's better to bring your own water filtration system and boil the water. A pair of good quality heat resistant water bottles are essential. The use of a Steripen or Lifestraw (does not protect from fecal matter) is also useful though do note they do not remove viruses and all bacteria.
Please note the above is a very basic list. For a full comprehensive list please see my article on trekking equipment you need for Nepal
---
---
The Langtang Valley trek is known as an easy to moderate trek. The moderate end comes into effect depending on if you trek to any of the high passes. It will also be relative to your own lifestyle and fitness levels. In general the vast majority of people complete the Langtang trek.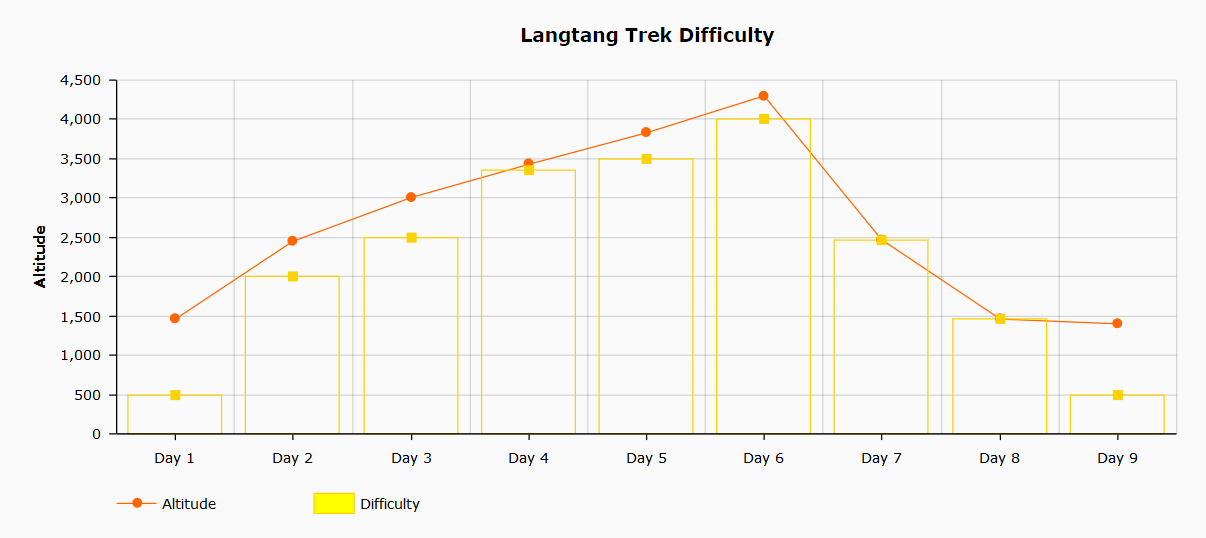 The Langtang trek is relatively easy unless you take the steep route to Kyanjin via Wangal. However this route skips several well serviced tea houses. The easier less steep route is listed below.
There's a steep route up to Rimche, but going slow will get you there.
Day five involves several hours of alternating steep trails on the way up to Kyanjin.
Day six is likely to be your side trek to Kyanjin Ri
Day seven to ten is returning back with ups and downs followed by your vehicle back to Kathmandu.
Prayer flags on the Langtang Valley Trek
The hardest part of the Langtang trek, weather pending, are the side treks from Kyanjin Ri. However, the treks are not that long and the altitude is still quite low.
Throughout the trek there is a fair amount of rocky terrain to clamber around.
Langtang has a reputation as being one of the best short treks close to Kathmandu. With low altitude passes and plenty of tea houses it's also known as great trek for all the family.
---
---
Fitness for the Langtang Trek is like any other trek and relative to your fitness levels. It's not considered a very "strenuous" trek. In many cases you should be able to trek 5-6 hours a day.
As always I would advise anyone going trekking to see a doctor before they go for a check-up and to talk about dealing with altitude sickness.
Keeping the Langtang Valley trek to 9 days will make it a lot easier. Shortening it to 7 days will be make it more challenging.
Guides and trekkers generally break the treks up into early mornings of 3-4 hours and after lunch of 3-4 hours.
While the Langtang Valley trek is not particularly high in Altitude if coming from sea level or below you may well feel some strain. As a precaution do read about altitude sickness in Nepal.
---
---
Due its location near the Kathmandu Valley the Langtang region has a good supply of food and products. Teahouses are well used to serving hungry trekkers and the menus are quite varied.
Most teahouses offer typical Nepali trekking food like Dal Bhat and fired noodles, pancakes and momos. You can also get chicken sizzlers and even steaks. Vegetarian options are also plentiful as are curries.
This is a plate of typical Dal Bhat on the Langtang Trek - rice, curry, pickles and soup
Most of the food is either locally sourced or brought up from Kathmandu. As with all trekking routes in Nepal Dal Bhat is the staple meal on the trek. For those wanting a little variety pastas, pancakes, chow mien, momos and chop suey are also available.
| Item | Price |
| --- | --- |
| Porridge with milk | 400-450 Rupees |
| Fried eggs (2) | 200-300 Rupees |
| Cheese Omelet | 450-500 Rupees |
| Vegetable Momo | 350-400 Rupees |
| Dal Bhat (Meat) | 450-1000 Rupees |
| Dal Bhat (Veg) | 400-700 Rupees |
| Chicken Tikka with chapatti | 900-1200 Rupees |
| Fried Noodles (Veg) | 300-400 Rupees |
| Fried Potatoes with Cheese | 450-600 Rupees |
| Pasta with sauce | 450-600 Rupees |
| Tea/Coffee | 50/100 Rupees |
| 1 liter beer | 600+ Rupees |
| Soft Drinks (Coke, Sprite etc.) | 120-150 Rupees |
| 1 liter boiled water (for filtering) | 50 Rupees |
Please note that bottled water is available in the Langtang region. The installed water filters for local water around the Langtang region are not maintained. It's strongly advised you use your own water filtration system. Filtered water costs between 50-70 rupees - it is not boiled.
Beer, soda, coffee, tea and hot lemon are also widely available.
Chicken tikka and chapatti on the Langtang Trek
Chocolate, sweets, biscuits and candy bars are widely available in teahouses throughout the trek but do check the best before dates and be sure to ask the price before agreeing to buy as prices fluctuate.
As with all treks in Nepal the golden rule is that you must eat in the restaurants of the tea house you stay at when trekking in Nepal. Langtang Valley is well known for seriously overcharging trekkers for accommodation if they do not eat in the teahouse where they stay.
---
---
Accommodation along the Langtang Valley trek is good. Many teahouses and lodges have been rebuilt after the earthquake. There's a range of typical shared bathroom tea houses along with comfortable lodges with a few private bathrooms, Wi-Fi and hot showers.
Again there have been several reports of some lodges dramatically overcharging solo trekkers who eat outside of the teahouse where they are staying.
Over the course of 2018-2019 I have been carefully monitoring this situation since it's come about. The areas effected are Lama Hotel and Langtang. It's also directed towards solo trekkers with little experience. If you are trekking alone between these two villages then exercise some caution and show due respect to all teahouse lodges. It seems most of the conflict occurs due to a mix of bargaining and communication issues.
Minimum costs for a room range from 400 rupees to 600.
If you are going with a guide make sure to let them know what type of accommodation you expect. They will adjust the price beforehand for you. Otherwise many of the trekking companies will place you in the most affordable to them.
Read more and see what trekking accommodation is like in Nepal.
List of teahouses & lodges on the Langtang trek
| Tea House/Lodge Name | Location |
| --- | --- |
| Yak Hotel | Syabrubesi |
| Old Hotel | Syabrubesi |
| New Bridge Guest House | New Bridge |
| Domen River View Hotel | Domen |
| Namaste Guest House | Pairo |
| Bamboo | Tibet Guesthouse |
| Hotel Langang View | Rimche |
| Hotel Ganesh View Lodge | Rimche |
| Friendly Guest House | Lama Hotel |
| Sherpa Hotel and Lodge | Riverside |
| Hotel Ganesh View | Riverside |
| Lovely Lodge | Ghortetabela |
| Hotel Tibetan | Ghortetabela |
| Tashi Delek Guest House | Langtang |
| Buddha Guest House | Langtang |
| Yeti Guest House | Kyanjin Gumba |
| Hotel Sherpa | Kyanjin Gumba |
Teahouse & Lodge owners are welcome to get in contact to have their accommodation listed. Those name here are not endorsed nor recommended but may help trekkers.
---
---
Costing for the Langtang Valley trek is subject to duration of the trek more than anything else.
You will need to pay for the following permits:
A Langtang Valley permit which is 3,000 rupees.
TIMS Card (Tourism Information Management System) which is USD $20 for solo trekkers or USD 10 if you are with a group. Both available via trekking agents and through the official Nepal Tourism Board offices in Kathmandu.
Working out your trekking budget
Package tours bought overseas are the most expensive for those looking for a guide. Package tours for Langtang trek bought within Nepal are next most expensive. Going with just a guide is next. And finally going it alone is the cheapest (however, keep in mind that accommodation can go up in peak season).
Online package tours for ten days can cost between to USD$$650+pp. Not including water or a porter. This does include a guide, accommodation, permits and meals. Personally speaking, I don't think these are good value. Many only offer a 2 person minimum but hide this criteria.
Ignore packages offering 12 or more days unless they take you on the Langtang Gosainkunda trek.
In country package tours to Langtang Valley for 9 days can cost $650-750 pp. This includes a guide, porter, permits, meals and accommodation. Not having a porter will reduce the cost.
Guide only services can cost from $27 to $50 per day. The more you pay, the more experience your guide should have.
Porter fees are roughly USD $20 per day.
Langtang Valley does get very busy during peak seasons with both international, independent and domestic trekkers. While there is accommodation the best rooms and teahouses tend to get booked out quickly with short notice. With a guide or package trek trekkers have the advantage of not worrying about this aspect.
If you are looking for a guide for the Langtang Valley Trek then I recommend you read my article on how to find a trekking guide in Nepal. Alternative use my Find a Trekking Guide Service.
Average 9 day trek cost to Langtang
| | |
| --- | --- |
| Item | Cost USD $ |
| Permits (Langtang National Park Permit, TIMS) | 40 |
| Guide x 9 days | 243 |
| Accommodation x 9 (shared) | 50 |
| Meals 3x5 | 180 |
| Water 4 liters a day (filtered & boiled) | 36 |
| Transport (public-RTN) | 5 |
| Total | 554 |
Extras: Don't forget to include a tip for your guide 10%. Any soft drinks, sweets, hot drinks etc. you may want to purchase along the way.
The cost of an average teahouse with shared bathroom is 300 rupees in the off season and 500 in peak for a shared bathroom. For a private bathroom they are about 1000 rupees.
Bottled water is available. The cost of one liter of locally filtered water is 50-80 rupees (not boiled) but when boiled ends up costing more than bottled water.
The cost of a plate of Dal Bhat starts at around 450 rupees and climbs to 600+ rupees.
Travel insurance should be included and do make sure you are covered for trekking! Here is my recommendation for travel insurance when in Nepal.
How to reduce your budget on the Langtang Valley trek
The primary expense is a guide. However if you have not trekked before in Nepal or are alone then a guide is very much recommended for both your safety and to help you gain experience.
Many trekkers bring their own water filtration system. This can save some money. However if you have a delicate stomach or indeed have a medical condition who may also want to consider boiling your water along with filtering or treating it.
One thing to note when comparing prices. Many local package treks include a porter in the price. Save money by not taking a porter. But keep in mind that you will have to carry everything. Porters are great for those who want the freedom to roam around more without the pressure of carrying their backpacks.
---
---
There is a fairly standard set route for the Langtang Valley Trek. However there are other treks in the region and many trekking companies offer different stop overs.
Alternative overnight stop-overs that differ from the itinerary will change if the ten day trek is shortened. Or indeed if you have a flexible guide and itinerary. Realistically, any changes are minimal as the route is already proven and very enjoyable.
If you are coming from other trekking routes like Helambu then you may start from another area, or you could very easily start at the classic Langtang Valley starting point which is recommended and listed below. Langtang trek starts from Kathmandu via vehicular transport to the trail head which usually takes about 6 hours.
Langtang Valley
Here is a typical nine day Langtang Valley trek route itinerary
Day
Route
Distance (km)
Highest Altitude
1
Kathmandu to Syabrubesi
80 km (bus/car) (6 hours avg)
1,460 m
2
Syabrubesi to Rimche
5-6 hours avg
2,450 m
3
Rimche to Ghoretabela
4 + hours avg
3,008 m
4
Ghoretabela to Langtang
4 + hours avg
3, 340 m
5
Langtang to Kyanjin Gompa

*

5-6 hours avg
3, 830 m
6
Kyanjin to Kyanjin Ri
4-5 hours avg
4,300 m
7
Kyanjin to Lama Hotel
4/4 hours avg
2,470 m
8
Lama Hotel to Syabrubesi
19/20 km (4/4 hours avg)
1,460 m
9
Syabrubesi to Kathmandu
80 km (bus/car) (6 hours avg)
1,400 m
* Day treks to Tserko Ri can be added here to extend the trek to 10 days
Day one - Kathmandu to Syabrubesi
A nine day Langtang Valley trek route starts from Kathmandu where you take a bus or private transport to the trail head at Syabrubesi. This is where your trek starts from.
The bus leaves near Gongabu bus station at Machhapokhari in Kathmandu at 6am. The road is now black topped (tarmacadam) and has improved greatly compared to what you might read online or in out of date guidebooks. Granted the annual weather can damage the road every year.
Day two - Syabrubesi to Rimche
The first full day of trekking starts with permits checks and then it's a steep trek up to your first Chorten.
The trail veers of to the right away from Wangal as the steep trail continues. If you are trekking during a flowering season you'll soon get wafts of sweet flowers. This is rhododendron forest and bamboo forest territory and you'll hopefully see their beauty. The mountains of Kurphudanda and Chilimi offer your first snow capped views. Khangjim village is your lunch time stop unless you came straight from Syabrubesi on day one.
After lunch it's a long uphill haul. Ganesh Himal comes into view along with more forest. You'll trek past Sherpagaon village. It's here the scenery becomes quite spectacular as you trek along a cliff looking down at the fauna below. It's here you are likely to come across some local wildlife. By afternoon you'll arrive into the village of Rimche.
Day three - Rimche to Ghoretabela
Charming forest surrounds the start of your trek on day three as you soon pass the unusually named village known as Lama Hotel. Glimpses of Langtang Lirung are seen as you climb upwards while the river tumbles below. Ghumnachowk is the next village followed by Chunama before you finally enter to Ghoretablea.
Day four - Ghoretabela to Langtang
Day four sees a departure from forests into meadows where you may be lucky enough to spot a herd of yaks.
Chortens and mani prayer walls become more common place as the trek takes on a more Buddhist look. There's an army camp here and it's best now to point a camera near it. Passing the village of Thyangshyap there's a hefty 2 hour hike to Chyamki while a little further on is Gumba Village.
Past Gumba Village and you will pass though the old Langtang Village which was completely destroyed in the 2015 earthquake. After 10 minutes or so the first new lodges of "New Langtang Village" appear. Many lodges here are newly built.
Day five - Langtang to Kyanjin Gompa
This is the first day where altitude needs to be take seriously.
The trail is deceptively steep and slightly difficult to trek over. Gangchenpo comes into view after ran hour or so before the Langtang river roars alongside the trail. You'll soon come across and old white Gompa that is the landmark for the Langtang Lirung basecamp. Continue on an other hour and you'll reach Kyanjin Gompa which rather ironically lacks a large Gompa of note. However, you are at village where there are many spectacular side treks to enjoy.
Day six - Kyanjin Gompa to Kyanjin Ri
Day six is the highest altitude day of the trek as you trek up to the sharp rock covered in prayer flags. The trail itself is contains some sharp bends up to the ominous prayer flags above. This is actually known as Prayer Flag Look Out Point which has great views of the surrounding mountains. Kyanjin Ri itself is still further ahead.
The premier view of Langtang Lirung is what brings most people to Kyanjin Ri. Naya Kang, Gangchenpo and the Ganja La pass. The route down to Kyanjin Gompa is often obscured by cloud and caution is advised as trekkers have become lost here.
It's worth noting that if you spent a second day in Kyanjin Gompa you could attempt and even higher climb to Tserko Ri which is at 4,984m but takes about 8 hours return.
Day seven - Kyanjin Ri to Lama Hotel
A day of descents means you can make it to Lama hotel albeit under some knee strain. It's best to take ones time and have a guide call ahead to ensure a room is waiting for you. It's two hours from Kyanjin to Langtang following by another hour to Ghoretabela.
The final trek to Lama Hotel gives the weary trekker the final challenge of being uphill.
Day eight - Lama Hotel to Syabrubesi
More rapid descents start with a 20 minute jaunt to Rimche and a two hour stretch through to Bamboo. Along the way forests reinvigorate a trekker with fresh scents and the odd deer. Passing the raging river and Pairo you emerge into Syabrubesi for a welcoming dinner.
Day nine - Syabrubesi to Kathmandu
The trekking is over. There's no more to do than sit back in a bus or private vehicle and enjoy the ride back to Kathmandu. Before settling back to much be prepared for a long luggage search at Dhumre from the army in search of wildlife traffickers.
* Shortening the trek Some people on limited time shorten this trek by going straight to Rimche on day one. Similarly it's possible to arrange private transport from Syabrubesi to Kathmandu to make it a 7 day trek to Langtang.
For more short treks here's a list of Treks in Nepal
---
---
For alternative treks do read my list of treks in Nepal which is continually being added to based on popularity or request.
If looking for a trekking guide I recommend you read my article on
How to find a trekking guide in Nepal
or you can use the
Find a Guide Service
.
---
Get my Trekking in Nepal Guidebook
---
Liked this page? You'll love my trekking book (which includes this trek)! It's a hands-on, fully comprehensive trekking guidebook that's better than the rest. Yes, really!
In the book, I cover over 28 treks in Nepal with step-by-step accuracy using scalable maps, photographs and travel-tested up-to-date trekking information.
Just like my other guidebooks to Nepal you can download it instantly now or order a paperback copy. An up-to-date guidebook like no other.
---
Was this page helpful to you? If so please tell others!