---
Located at the far eastern side of Bhaktapur Durbar Square at the end of the Palace of 55 Windows is the Siddhi Lakshmi Temple, a favorite of many visitors. It's also known as Lohan Dega, Siddhi Lakshmi, Siddhi Laxmi or simply Stone Temple.
Though still standing after the 2015 earthquake, in 2017 it was taken down to be entirely rebuilt in 2018. More details below.
A popular place for photographs, there's an unwritten rule that tourists here should queue up opposite the temple and let those in front take a photo in front before having there own taken.
Though it withstood the 2015 earthquake there was a lot of internal damge done and it needs to be rebuilt. The Digital Archaeology Foundation have digitally preserved this temple in 3D so people will be able to see a "before and after" version. In late 2018 the Siddhi Lakshmi Temple was fully restored.
Did you know?
Nearly one-third of Bhaktapur's temples and buildings were destroyed in the 1934 earthquake. Many were restored but some were lost forever. In 2015 several temples were also destroyed but most were left standing and have now been fully restored.
---
In 2017 the Siddhi Laxmi temple was "deconstructed" systematically so that it could be rebuilt again to repair internal damage from the 2015 earthquake.
Reconstuction was to take over two years due to the masonary work involved. It's interesting to note that nearby the Vatsala Durga temple also underwent similar stone reconstuction. The Digital Archaeology Foundation has posted some 3D reconstruction photographs of what the temple used to look like.
Meanwhile other photographs of the temple before and after it was taken down can be found on this page. The two constuctions were to look identical. As the original buildings damage was mostly internal the reconstuction work was faster than expected and completed in mid-2018. It's very pleasing to note that the temple looks identical to when it was taken down for repair. Over the number of years the weather has worn away any "new" look the temples stone or masonry work was cited over.

Today the Siddhi Lakshmi temple has returned to its former glory. Temples restored in Bhaktapur have been done traditionally. Whilst in Kathmandu city controversy has occurred as several buildings were restored using concrete.
---
---
Stone guardians protect the temple. In pairs they appear on either side of the central staircase on surrounding platforms leading to the small shikhara styled temple at the top.
What's interesting here is that you will notice that the first pair of male and female human guardians are each holding a child by the hand and a dog on a leash. The children seem to be sheltering slightly while the dogs look eager.
The successive platforms have pairs of horses, rhinos, man-lions and camels made from the same pale stone as the rest of the temple.

---
---
There is no charge for visiting the Siddhi Lakshmi Temple as it is covered under Bhaktapur's main entrance fee.
---
---
Liked this page? You'll love my book! It's a guidebook that's better than the rest. Yes, really! In it I cover all of Bhaktapur's attractions with well researched information, photographs and travel tested walking tours.
It's an interactive & printable guidebook like no other.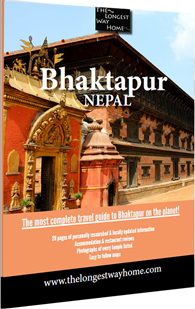 Find out more!
Looking for more? Try my
Nepal Guidebook
, or for heritage lovers my
Kathmandu Valley Heritage Walks
---
Was this page helpful to you? If so please tell others!