---
Built inside a part of the old Royal Palace in Bhaktapur's Durbar Square this could easily be the best gallery and museum in Nepal.
The main attraction here are the old Thangka paintings during the time of the monarchy. 14 the century chronicles and manuscripts along with stone and woodwork.
Most trips abroad dedicate a visit to at least one museum or art gallery. In Nepal your best choice is the National Art Gallery though the one in Panauti is also worth visiting.. You'll know it is the museum as there will be two stone lions outside guarding the entrance. Beside them are statues of Hanuman and Vishnu.
If you are into museums or art galleries then it's worth bringing a torch as the National Art gallery is quite dark.
Did you know?
Save your ticket! It will also give you access to the wood work museum and brass work museum in Bhaktapur's Dattatreya Square.
---
Highlights inside the National Art Museum include an impressive collection of paintings, tapestries and murals. This is especially true of Thangka's which depict many Buddhist observations over the years.
The god Bhairab is featured heavily throughout. So too are several erotic images and carvings so you might want to keep that in mind if visiting with children.
The second floor is filled with manuscripts and paintings from the royal lineage. It gets a little cramped after a while. However there is a wonderful opportunity to look out old wooden windows overlooking the inner-courtyard gardens.
The museums exterior is due for renovation in late 2020 but as of yet it has not effected the opening of the building.
---
---
The National Art Museum is not covered under Bhaktapur's main entrance fee. It costs 150 rupees for a ticket to the National Art Gallery however this ticket also gives you access to the woodwork museum and metalwork museum in Dattatreya Square.
---
---
Liked this page? You'll love my book! It's a guidebook that's better than the rest. Yes, really! In it I cover all of Bhaktapur's attractions with well researched information, photographs and travel tested walking tours.
It's an interactive & printable guidebook like no other.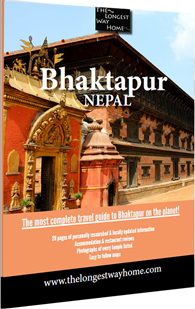 Find out more!
Looking for more? Try my
Nepal Guidebook
, or for heritage lovers my
Kathmandu Valley Heritage Walks
---
Was this page helpful to you? If so please tell others!