---
Kathmandu has a large selection of restaurants serving everything from traditional Nepali cuisines, Tibetan, Chinese to Indian and international dishes.
Best of all there's a restaurant to suit every budget in Kathmandu.
Popular international cuisine like Italian pastas and pizzas along with standard Chinese fare are readily available. So too are beef steaks, fried chicken and kebabs. Vegetarians will also be pleased that Kathmandu has a plentiful supply of vegetable only meals including vegan.
There are however some cravats to be aware of. Many restaurants in Kathmandu have put their own style or flair to well known international meals. Meaning not every pizza will be the same and the standards will often differ greatly. As for that pesto - well it may have no basil in it.
On this page I'll show you where and how to get a great meal in Kathmandu along with reviews and further pages on this site with specific types of restaurants.
If you already know what you want, then here are some dedicated pages with restaurant reviews:
---
There are four options for finding good quality restaurants in Kathmandu.
The first area is the tourist hub of Thamel which offers the largest selection of budget, mid-range and high-end restaurants in the entire country.
The second area is Paknajol next to Thamel (north-west) and easily walkable. This area sides more with budget restaurants and a few up and coming places. It's not brimming with places to eat, but it can offer some gems.
The third area is around Naxal/Lazimpat in east Kathmandu. This is largely a high-end area catering to expats, NGO workers and diplomats. Restaurants here can be pricey. The service is usually good along with nice surroundings. You'll need transport to get there and back.
The final option is in south Kathmandu along Jhochhen or Freak street. It's mainly budget but there is also a booming little cafe scene here if you want to get away from the crowds.
Due to the pandemic many restaurants in Kathmandu are barely hanging on. A lot of menus have changed to local items. Do take this into consideration when visiting.
---
---
---
There is/was a 10% service charge and a 13% VAT charge on all meals and drinks served at restaurants in Kathmandu. In 2019 the tax was removed, then reinstated and then removed again. The end result is that some places are charging the tax and others are not. There's usually a mention of the charges at the bottom of the menu.
The service and VAT charges are usually added up and added to the bill which is then presented to you. Many budget restaurants do not implement this but do ask just in case you get a surprise on your bill.
---
---
If there is a 10% service charge on your bill, then no you do not leave a tip!
This may seem very strange if you are from a country that leaves tips. But, in Nepal this is the way it's done. The service charge is the tip. There have been many legal cases to ensure staff get their service charge money at the end of the evening or week.
If on the other hand you do not see a service charge then the choice is yours. Tipping is not a Nepali custom. So it is not expected. Though tourism has made many expecting it.
---
---
There's no need to book a table ahead. Even if you do, there's no guarantee it will be reserved. Exceptions to this are if you know the restaurant personally. Thamel is also semi-pedestrian free, so forget about taking a taxi. It's easy to walk around though.
Restaurants in Thamel can easily be divided up into breakfast restaurants, lunch restaurants and or dinner restaurants.
Some of the best restaurants to eat at in Thamel include:
Forest & Plate: have great vegetarian and chicken meals served in a clean and fresh environment.
Rosemary Kitchen: Offering great breakfast and dinner options from pancakes to grilled chicken and steaks.
Third Eye: A fine dining Indian with fantastic curries, naan and kebabs.
Black Olives: Another open courtyard restaurant with pastas, roast chicken and continental delights.
Merhaba Turkish Halal Restaurant: just moved from Pokhara they serve some of the best value and tasting meals in Nepal - it's a secret, you heard it here first.
Mitho Restaurant: recently renovated this restaurant has improved greatly over the past few years.
Yala Cafe: Breakfasts are their thing, head here for some eggs Benedict.
Himalayan Steak House: The original steak house chef still sizzles up beef to your order.
Places: Vegetarian and proud with delicious meals that won't have you missing meat at all.
Gilinche: Tibetan restaurant with a nice variety of food you won't find elsewhere
Newa Momo: On a budget? Hands down this is where you go for great momos.
For full reviews of the above and more check out my pages on the best restaurants for lunch in Kathmandu and the best restaurants for dinner in Kathmandu.
---
With a population of Hindu, Buddhist and Newari finding vegetarian and Vegan meals in Kathmandu is not a problem.
Some of the better options for Vegetarian restaurants include:
Places: Vegetarian and proud with delicious meals that won't have you missing meat at all.
Merhaba Turkish Halal Restaurant: with 90 menu items the vegetarian options are plentiful. In fact it's one of the few places that you can truly fill up on veggies!
Forest and Plate: from cheese balls to vegetarian platters of toasted tomatoes, aubergine and mint lemonade this is a great choice.
OR2K: One of the longest running restaurants in Kathmandu with oodles of hummus and veggie options.
Green Organic Cafe and Farmers Bar: Serving up great salads, pastas and even vegan meals.
---
---
Do be careful in Kathmandu if you are a vegan. The term is not always fully understood. Explaining it will likely get you a waiter nodding their head thinking of a vegetarian option. A secret method to getting around all this that you might have come across before is to mention you have egg, cheese and butter allergies.
Speaking with the restaurant manager may also help. It's probably best to stick with dedicated vegetarian restaurants when seeking out vegan meals. Likewise sticking to mid-to high-end restaurants may get you better results.
Some of the better options for Vegan restaurants include:
Places: The menu is extensive here. Do ask the waiter about egg and milk products before ordering.
OR2K: The staff here are not the best. Use you own discretion when ordering.
Forest and Plate: this may well be the best place for vegans to get a wide variety of dishes.
Green Organic Cafe and Farmers Bar: One of the few places where they know what a vegan wants.
Again, the term vegan is not always understood in Nepal or is misinterpreted. Staff also change a lot so use due diligence.
---
---
Meat has become a popular mainstay in many Nepali diets over the past few years. Popular meats include Buff (buffalo), Chicken, Mutton and pork. Despite being a mainly Hindu nation Kathmandu has a choice selection of restaurants serving beef steaks.
Off all the meats buff or buffalo is one of the more popular red meats in Kathmandu. Buff steaks are best avoided though as they are tough. The best buff choices are momos, shabaley and buff chilly.
Some of the better options for Meat Lover restaurants include:
Mountain Steak House: The original Everest Steak House now runs this famous steak house which includes half kilo steaks along with 200 gram steaks.
Yangling Restaurant: this Tibetan style restaurant has some of the best buff momo and buff chili in Nepal.
Merhaba Turkish Halal Restaurant: like lamb, go to Merhaba. There is simply no better place for Turkish style lamb in Nepal.
Black Olives: offer nice steak with potato options along with chicken and pork dishes.
Rosemary Restaurant: offer pricey but good chicken fillet dishes, pork and steak meals.
---
---
If you want a good meal in Kathmandu taste is not the only thing to keep in mind. Hygiene in Nepal is not the best. In recent years it's certainly improved. The advent of 24 hour electricity returning in 2016 helped a lot. However disinfectant usage, cleaning with hot water and using filtered water on dishes and when cleaning food is not always adhered to.
When choosing any restaurant in Kathmandu do take a look around first. Take not of the waiters and staff and if they are well presented. Clean tables, cutlery and table cloths are another indication of a restaurant that's adhering to cleanliness.
While outdoor seating may seem nice, do ensure that it's not near a busy road, running water source or building site. Food contamination in Kathmandu can often come from dust or water landing on tables fro the streets outside. Do read about avoiding street food below for more.
---
---
Over the past couple of years there have been a bevy of fake and paid restaurant reviews appearing on TripAdvisor, Google Maps and other online review channels. These reviews are the product of restaurants buying positive reviews from online content farms to boost their rankings. Food bloggers have also been witnessed getting free or heavily discounted meals in exchange for positive online reviews.
As is standard practice these days take "overwhelmingly" positive reviews with a grain of proverbial salt. If reviews are important to you, then scan through a few pages and pay attention to the middle ratings rather than the top or lowest ones (some rival restaurants also write negative reviews on their competitors and bloggers whose free meals pleas are rejected tend to bite back with negative reviews).
As with anything on The Longest Way Home everything here has been 100% paid for with no restaurant being made aware that they were being reviews. This is content you can trust!
---
---
Don't do it. Kathmandu's street food carts are not safe at all. Especially the meats. They are not refrigerated and usually recooked several times over.
The deep friend breads and samosas offer a 50/50 chance of a bad stomach afterwards. Ignore the YouTube videos and blogger posts where they try the street food they are mainly paid for promotions sponsored by tour agents.
Most Nepali living in Kathmandu don't eat the street food aside from the deep fried roti, breakfast donuts or fried sweets in large markets. Even then, the oils are rarely changed. Local stomachs are also used to it but even then the odd bout of bad stomach is surprisingly common. Street food in Nepal is not the same as the rest of Asia. The best option for street food is do as most locals do and eat at local restaurant or cafe. In this case, do read about cheap restaurants in Kathmandu.
---
---
Here are some insider tips about restaurant opening hours in Kathmandu that catch many people out.
During the off-season restaurants tend to close up by 9pm. During peak season they like to close up then too but on average they'll take an order at 10pm. By 11pm the staff can generally be found to be nodding off. Late night eating is not popular in Kathmandu!
It's hard to get a breakfast before 7am too. If you have an early start pre-order a cold breakfast the night before at your hotel or pick something up at one of the many bakeries the night before.
The good news is that many restaurants will serve breakfast all day long!
During the pandemic many restaurants closed or changed their opening hours. Today things have settled. However, due to loans, and tourism numbers remaining low one should expect restaraunts to close permentatnly or for new ones to open more frequently over the coming few years.
---
---
They are all listed in my guidebook to Nepal!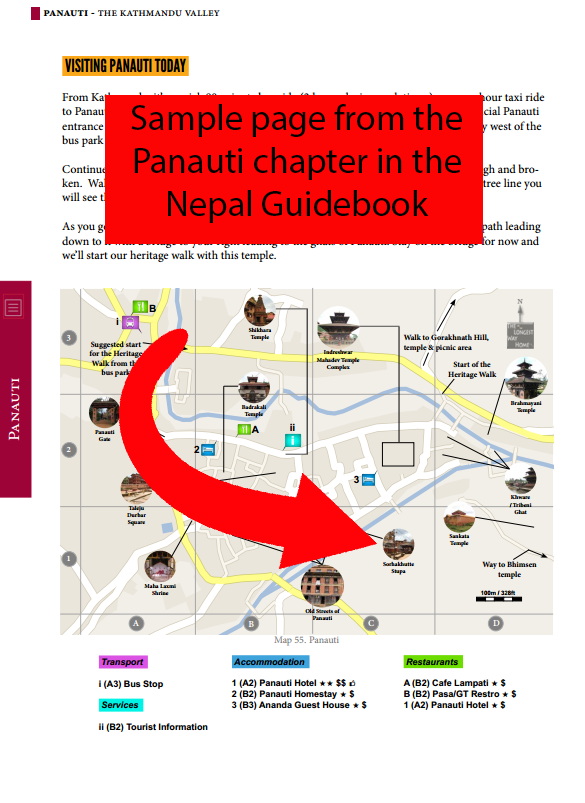 All the very best places to eat
From budget to mid-range all the way to fine dining. Discover the real insider places to have breakfast, lunch or dinner in Kathmandu and all over Nepal!
Here's a sample of what's included:
Every restaurant & hotel has been reviewed independently
All budgets are taken into account
Discover places the other guidebooks don't know about
Eat locally or eat internationally
Find places to eat from Kathmandu to Pokhara all the way to Bardia and the mountains.
Meanwhile, online, here are some more choices to help you fill up!
---
---
Full directions and reviews of restaurants with better maps are available in my guidebook below. Yellow indicates breakfast restaurants, green are lunch restaurants, red are dinner restaurants and blue are budget restaurants.
---
---
Liked this page? You'll love my book!
Designed to help travelers get the most out their trip to Nepal with premium detailed guides, insider information, impartial hotel and restaurant reviews, complete trekking routes and much more ...
Available in print or digital editions - the best guidebooks for visiting Nepal.
---
Was this page helpful to you? If so please tell others!