---
The Manaslu trek or the Manaslu circuit trek is a 10-18 day trek half way between Pokhara and Kathmandu in an area with several mountainous passes and incredible vistas. Trekking from low altitude up to 5160m around the worlds 8th tallest mountain is a challenging, exciting and worthy accomplishment for all trekkers.
Many people liken the Manaslu Trek to the Annapurna circuit of 20 years ago. Other than have a circuit style, I disagree. Manaslu is more challenging than the Annapurna Circuit. More permits are needed and there are mandatory guides needed. Harsher weather conditions and remoter areas make planning a Manaslu trek slightly more intensive. The rewards however are twofold in exploring a lesser known trek with impressive views.
Trekkers on top of Larkya La Pass in Manaslu
The highest pass on the Manaslu circuit trek is 5,160m in an open dramatic mountain area which is actually a rare double pass of sorts. Despite its beauty fewer trekkers have "discovered" Manaslu so you shouldn't encounter large groups there. The extra permits often put people off which is a great thing if you want to really enjoy this wild region!
There are several maps on this page. Please note that many trekking agents and tours offer slightly differing routes to boost up the prices - the truth is the Manaslu trek is a circuit following the same route. The difference is that there are several side treks or extensions you can do depending on the type of trekking challenge you want, your budget and the number of days you have. Do take note of the extra permit requirements for Manaslu below for some routes. It can all get confusing and overwhelming - but rest assured you'll get a straight answer here.
On this page I'll let you know clearly the costs, routes and what you can expect!
Trek Overview
| | |
| --- | --- |
| Difficulty: Moderate-Difficult | Days: 10-18 |
| Max Altitude: 5,160m | Distance: 170km (105.6 mi) |
| Accommodation: Lodge / Teahouse | |
Distance shown is the full circuit without side treks. The final distance will depend on side treks, how far you drive at the start/end, extra days taken etc.. Acclimatization days should always be adhered to. You should assess your own fitness levels and assess each treks difficulty level yourself before trekking.
A fully detailed guide to the Manaslu Circuit trek with more details is below
.
Honesty counts!
Every travel guide on this site has always been 100% independent, unbiased & honest. I do not accept sponsorships, free treks or tours. I do not own a trekking company or business in Nepal. I pay my own way & in turn write
authentic guidebooks to Nepal
. Rest assured, this is a genuine travel guide that you can trust.
Trekking guides are now mandatory in Nepal:
In March 2023 Nepal Tourism Board announced that all trekkers (solo, couples, groups, etc.) must have a licensed trekking guide from a registered trekking company if they want to trek in Nepal. Freelance trekking guides are also no longer permitted and only guides registered to trekking companies are allowed. The ruling is controversial in many aspects. There are likely to be changes to this ruling over the coming months and indeed years. However, the reality is that you now need a trekking guide to do this trek. Find a registered guide in my
Trekking in Nepal Guidebook
or use my
Find a Nepal Trekking Guide Service
.
---
The Manaslu Trek is located in the Gorkha district of Nepal in Manaslu National Park. Mount Manaslu is 8,163 meters (26,781 ft) and part of the Mansiri Himal of the Himalayan Mountain Range. The Manaslu Circuit trek crosses into several national parks including Manaslu National Park, Manaslu Restricted area, the Annapurna Conservation Area and Tsum Valley (if you do a side trek).
Some trekkers opt to do the Manaslu Circuit in reverse. However doing so would require you to have already acclimatized before starting due to the sudden ascent. The vast majority of trekkers opt for the established and safer anti-clockwise circuit.
Due to large scale of the Manaslu circuit and its location it's possible to lengthen your trek by combining it with the Annapurna circuit thereby having two high passes. However time constraints and the endurance needed for Manaslu usually mean trekkers stick to the one circuit.
Camping used to be popular and the only way of completing the Manaslu trek. These days there are plenty of tea houses all around the trek and camping while still possible is rarely done. The Manaslu Circuit is a fully fledged teahouse trek.
Buses, mini-vans or jeeps will take you from Kathmandu to the trail head in the village of Arughat. This has been where the Manaslu Trek has traditionally started from.
There is now a dirt road from Arughat to Soti Khola which can be taken by a jeep. where can start your trek.
The circuit starts low with villages and light forest before the forest and steep valley ridges become more lush. At Jagat your first side trek become available with the Tsum Valley option. Once you reach Lho on the circuit the big mountain views begin and your test of endurance starts before and over Larkya Pass. There's a steep decline through vast valley's and mountain ranges to keep you motivated for the completion of the circuit.
For those looking for a trek that's more challenging than the Annapurna Circuit or want to meet less trekkers then the Manaslu Circuit certainly ticks all the boxes. A fantastic combination of forests, valleys, rivers, passes and mountain views in a part of the Himalayas few get to experience!
---
---
This map shows you the most popular Manaslu Circuit Trek.
Please note this map should not be used as a practical trekking map. My guidebook publisher has released a trekking map for Manaslu below. Detailed trekking maps can be obtained in Nepal at very low costs and in my own trekking in Nepal guidebook.
Map of Manaslu Region
---
---
The Manaslu trek is popular among trekkers who are looking for a less touristy trek with some endurance in it. Manaslu has the added benefit of many side treks and some great scenery if you want to extend it.
Highest point of the Manaslu Trek
At 5,160 m (16,929 feet) Larkya La Pass marks the highest point on the circuit.
Sign at Larkya La Pass on the Manaslu Circuit
Highest sleeping point on the Manaslu trek
The highest sleeping point is at Larkya Phedi (4,460 m). The lowest point of the trek is Arughat at 608 meters.
Total distance of the Manaslu Circuit
The full distance trekked on the Langtang Gosainkunda trek is about 170 km (105.6 miles). However if you were to take in some side treks it could easily reach 220km.
How long have people been trekking the Manaslu route?
Manaslu Base Camp was first visited by H. W. Tilman in 1950 as part of a team to map the Himalayan range. In 1956 a Japanese team saw Toshio Imanishi and Gyalzen Norbu reach the summit.
Trekkers first starting camping along the Manaslu trek in 1991 as there were no tea houses particularly around Larkya Phedi. In the Manaslu became a full teahouse trek in 2010.
Is there any wildlife to see on the Manaslu trek?
Wildlife is found throughout Manaslu National Park and many of them are highly endangered. These include snow leopards and red pandas. Other animals found in the region include lynx, Asian black bear, Asian grey wolf, Himalayan musk deer, Himalayan tahr and blue sheep to name but a few. Trekkers should beware that pony's and yaks are often cited as being the most dangerous along narrow trails. Give them a wide berth.
What mountains can you see on the Manaslu trek?
From Larkya Pass you will get full views of Manaslu (8,163 meters), Himlung Himal (7,140 meters), Annapurna II (7,937 meters) and Kangguru Himal (6,981 meters). Keep in mind that you will also be seeing the entire Mansiri Himal of the Himalayan Mountain Range over the stretch of your trek.
---
---
Highlights of the Manaslu Trek include:
A circumnavigation of the world's 8th tallest mountain
A blend of Buddhist and Hindu cultures
Dramatic suspension bridges
Deep valleys
Larkya La Pass
Mountain lakes
Tall Valleys
River crossings
Remote village trails
Less tourists
Can be extended through several routes
---
---
It's important to read the requirements for the Manaslu trek including needing two people plus a mandatory guide.
A trekking guide is mandatory for the Manaslu Trek
The area between Jagat to Bimthang is restricted and not only needs a special permit to pass through but you also need a guide and be with one other person. The guide mandatory and there's no getting around that as is the permit. A second trekker and licensed trekking agency are needed to get the restricted permit but this can often be a "ghost permit" if you are alone.
Many trekking agencies will obtain another passport so there will be two people applying for the Manaslu permit while on the trek there will only be one trekker and a guide - do note this is not an official practice. If you are two or more people then one guide is needed.
Arranging a regular Manaslu trek
When searching for a trekking agency or guide do keep the above in mind about permits and the minimum number needed. You will in all cases need at least morning in Kathmandu to get the restricted permit arranged.
Secondly do watch out for "too good to be true" prices. Manaslu seems to suffer from plenty of online sites offering cheap all included packages. The truth is many try to package people up into larger groups or "leave out" a permit or indeed skimp on accommodation and meals. Personally, I prefer to arrange treks directly with local trekking agencies and guides.
Package treks & tours bought online
Package treks & tours to Manaslu bought online usually have a fixed itinerary usually for 16 days or more and often with fixed departure dates. Though the trek can be done in 10 days as shown on this page you'll miss out on quite a bit. 14 days is a better choice. Many online operators will also hide the fact they require a minimum of two people to confirm a price or charge supplemental fees for solo trekkers.
Package tours usually include food, accommodation and most permits. Costs can be from USD $1100+
Pro's of a package tour to Manaslu include that everything is done for you ahead of time. However you will need an extra morning/afternoon in Kathmandu for permits. You need to do very little organizing with a package tour.
Con's include delving into a mass of online confusion trying to work out what's included or what's not included. Worse yet is when you arrive you'll be told something was not included or "changed". A case of - let the buyer beware.
Package treks bought in Nepal
For those with a couple of days in Kathmandu things get easier. The downside will be listening to trekking companies trying to upsell a trek or adding on things you don't need. Do read this page completely so you'll be prepared for them.
When purchasing a local trekking companies package tour it's important to know what's included.
Make sure that both you and the trekking company agree on what's included in the total price in writing. Accommodation, permits (all), transport fees, meals etc.
Pro's of a local package trek tour include meeting your guide and the trekking company staff before your trek. Being able to customize your trekking itinerary. Treks can start from $1100 per person for a 14 day trek. Again, opting for public transport or no porter will lower the price which you opt for on this type of trek.
Con's include spending a day or two visiting trekking companies who like to upsell everything in stead of exploring Kathmandu.
If you'd like to take the hard work out of finding a guide for the Manaslu trek before you arrive then do try my Find a Trekking Guide Service.
Hiring a local Manaslu Guide yourself
Be careful. Officially you need a registered trekking company and a registered guide to apply for your restricted area permit. Ignore all street guides or individual guides who claim they know somebody that can do this for them. It's basically like getting off to a bad start and not knowing where it's going to end. Stick to registered trekking companies!
If you are looking for a trekking company for the Manaslu Circuit I recommend you read my article on How to find a trekking guide in Nepal.
In my guidebook to Nepal are several well vetted trekking agencies you can choose from.
You can also save some time by using my Find a Guide Trekking Service.
Trekking Manaslu without a guide
This is illegal. From Jagat to Bimthang is a restricted area with an army and police presence. There is a lot of effort being made to thwart illegal wildlife traders. Local teahouses and other guides are also known to report trekkers without guides in this region. It's not worth it. Moreover, there are many exposed areas on the Manaslu trek where having an experienced guide is vital.
If you are looking for a guide for the Langtang trek I recommend you read my article on How to find a trekking guide in Nepal.
You may also use my Find a Guide Trekking Service.
---
---
The Manaslu trek has small windows of opportunity for trekking. While many travel guides will tell you it can be trekked at any time of the year asides from winter I think you'd prefer to see some mountains.
A lot of the Manaslu region is surprisingly low in altitude. Clouds tend to form in this area an obscure views quite easily. Take note of Nepal's peak seasons and use the months wisely.
Ultimately I would prefer to trek Manaslu in October, November and if winter has not started early December. Manaslu is best avoided in the winter due to fierce cold winds and snow.
Do note that the Manaslu Circuit covers a vast range of weather conditions so the chart below should only be used as rough guide of averages at 4,300 meters.
Manaslu Weather by month
Avg. Temperature
(°C)
Avg. Temperature
(°F)
Precipitation / Rainfall
(mm)
January
-10
14
3
February
-13
8.6
10
March
-10
14
5
April
-3
26.6
12
May
1
33.8
35
June
8
46.4
50
July
12
53.6
190
August
12
53.6
240
September
10
32
100
October
4
39.2
10
November
-4
24.8
0
December
-6
21.2
2
Important: extreme cold winds and cloud can rush in around several areas on the Manaslu trek particularly above 4,000 meters during winter. Trekking in peak seasons is recommended!
The above weather chart will give you an idea of the average highs and lows throughout the year on the Manaslu trek at an average altitude of 4,400 m. However it does not take into account wind chill which can drive temperatures down by -10 or more.
Months with the best weather to trek Manaslu
October - November/(early)December: Nepal's peak and best time to go trekking to the Manaslu region. Do note that September is excluded due to a high chance of cloud.
February-March-April: this is the end of the dry season in Nepal and the second best time of year to go trekking to the Manaslu Region. This time of year also has the added advantage of the surrounding countryside in full bloom. However, cloud coverage can be an issue along with mountain views.
December to January/February: the skies are clear but it can get extremely cold. Passes on for Manaslu Circuit are likely to have snow on them, accommodation in Larkya Phedi is usually closed.
May - June: The hot pre-monsoon season means things get uncomfortable and humid. All around the Manaslu region grasses are green and starting to bloom with flowers. Clouds can likely will obscure a lot of views.
June - Mid September: this is Nepal's Monsoon season and not a popular time to go trekking to the Manaslu Region. The risk of landslides is high and trekking is discouraged. The views are nearly always obstructed by cloud.
For more details please see my guide on the best time of year to go trekking in Nepal
---
---
There are several permits needed for the Manaslu Trek. If you take a side trek to Tsum Valley then you'll need one more. To make matters a little complicated the Manaslu Conservation permit has two different prices depending on the time of year you go. Let's clear everything up on what you exactly need.
You need four permits for the Manaslu Circuit
Restricted Area Permit for Manaslu
Manaslu Conservation Area Project (MCAP) permit
Annapurna Conservation Area Project (ACAP)
Trekker Information Management System (TIMS Card)
(5) If you plan a side trek to Tsum Valley you will need a permit for Tsum Valley on top of the above permits.
The restricted Area Permit for Manaslu can only be obtained by a licensed trekking company at the immigration office in Kathmandu, Nepal. Your actual physical passport needs to be present, not a copy. The same is true for Tsum Valley. All the other permits can be arranged by a guide in advance of your arrival.
Restricted Manaslu Permit
The restricted area of Manaslu National Park starts in Jagat and ends in Dharapani. The permit is only available at the department of immigration in Kathmandu and Pokhara. Only a fully licensed trekking agency can obtain a restricted permit and
two non-Nepali trekkers with physical passports are requirements
.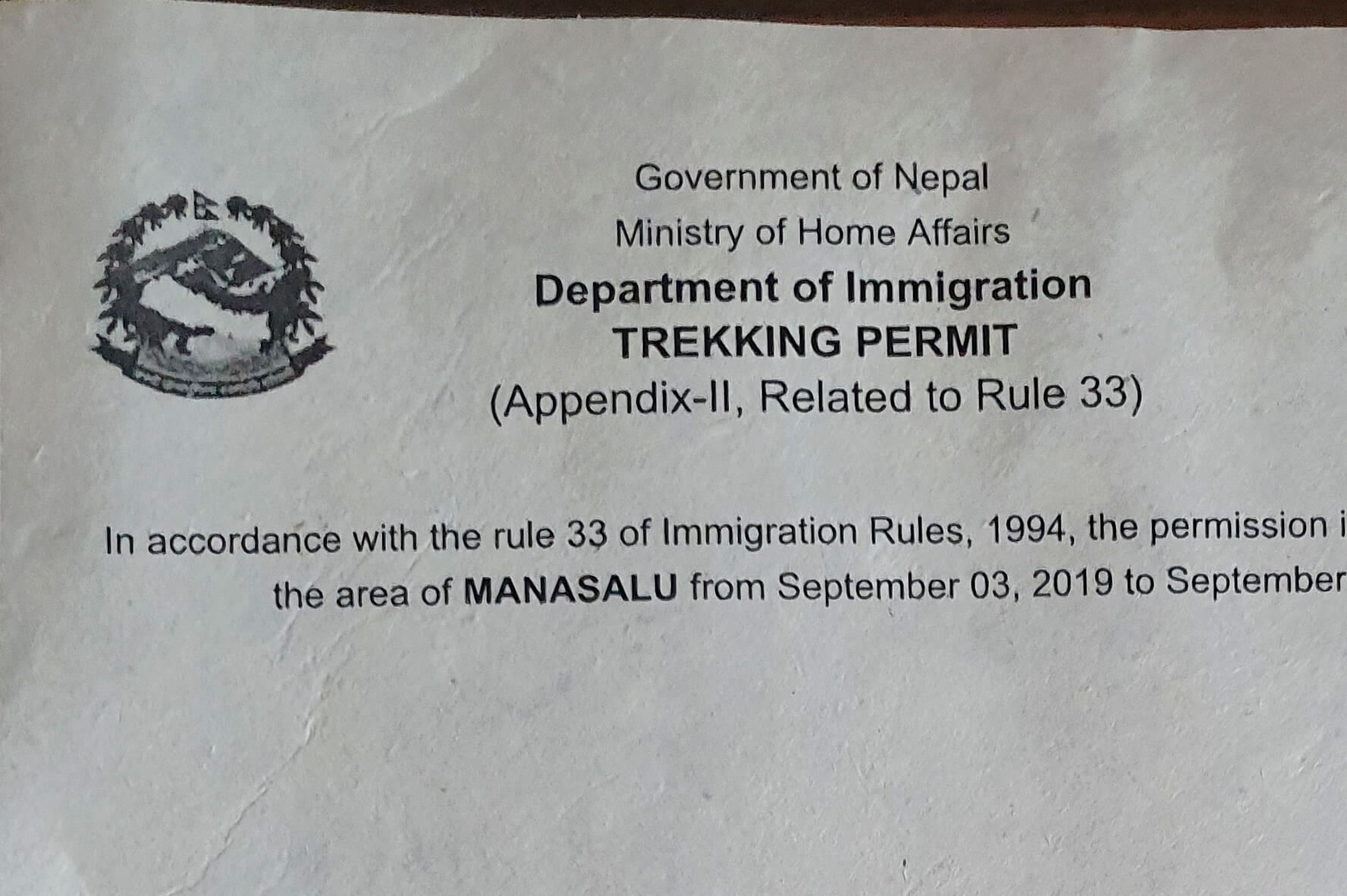 Manaslu Restricted Area Permit Prices:
From September to November a 7 day restricted permit costs USD $100. For each additional day it costs $15. The pricing is per person.
From December to August a 7 day restricted permit costs USD $75. For each additional day it costs $10. The pricing is per person.
As noted earlier, there's a two person minimum requirement to get the restricted permit. While it is possible to get "ghost permits" whereby a trekking agency uses another passport to get the second permit for you, it can only be done one week before the trek. After that, you are free to trek alone with your guide.
Can you get a restricted permit before you arrive in Nepal?
No and yes. Officially the department of immigration will only issue a restricted permit for Manaslu and / or Tsum valley once you are in the country with your physical passport that has a visa stamp - this is also the easiest way to get it done. However, if you have obtained a Nepali visa from a nearby consulate or embassy then you can send both your passport ID page and Visa stamp copy (scanned or photo) to a trekking agency who will then get your restricted area permit for you. This is usually done due to public holidays or long Nepali festivals that means the immigration office is closed - so they will issue them. This can also occur "if" your flight schedule is tight. If you are only one person, this would also mean another person would need to do the same thing if you are hoping to go alone with a guide. Meaning you could have a friend also apply for a Nepali visa, and then use their passport and pay for their permits.
There are some important notes here including the fact that the department of immigration will only issue these "advance" permits a week before the trek is due to start. It may also cost you a little more as the trekking agency will have to make several trips to get the permits. Finally, if you opt for getting a restricted area permit in advance it has to be with the same company you are going trekking with. All in all it's easier to have it done when you arrive in country, but there is this option if you get stuck. This applies to both the Manaslu Restricted Area permit and the Tsum valley permits.
Again, if you need help finding a trekking company or guide you can try my use my Find a Trekking Guide Service.
Manaslu Conservation Area Project (MCAP) Permit
The Manaslu Conservation Area Project (MCAP) permit covers all of Manaslu National Park.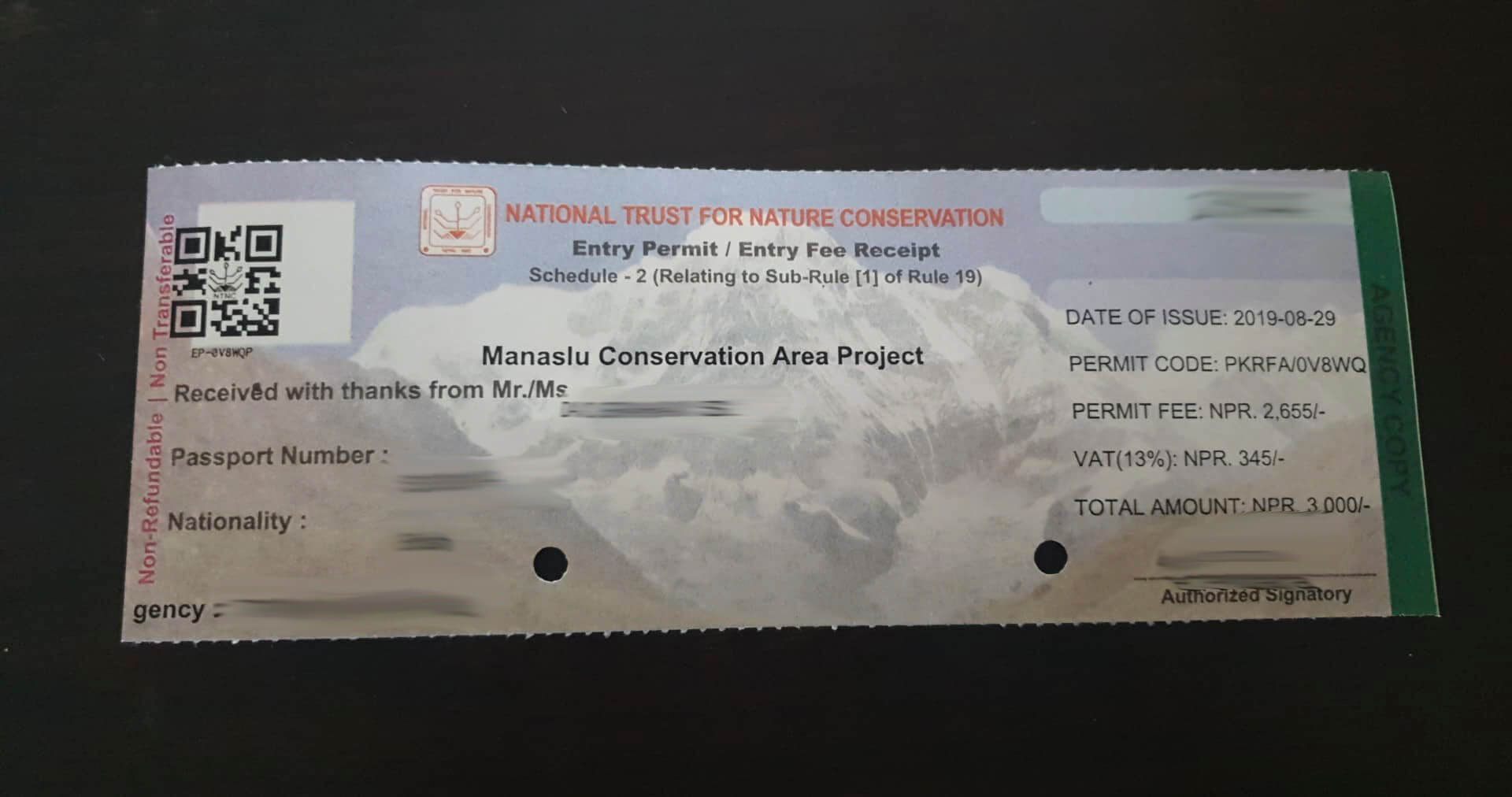 You may apply for the permit yourself, or as a guide is mandatory then it's far more efficient to allow your trekking guide to apply for you before you arrive to help speed things up. Otherwise it can be done on same day as your restricted area permit but in a different location. MCAP permits are available at the tourism board in Kathmandu.
Fill out the permit form
Hand over the completed form, your passport and 2 passport photos (they are taking photographs for free at the moment but bring a set just in case)
Pay the 3,000 rupees (only payable in Nepali Rupees)
Get your Manaslu Conservation Area Permit
Annapurna Conservation Area Project Permit (ACAP)
The Manaslu Circuit crosses into the Annapurna Conservation Area at Dharapani and down to Kudi so you will need an Annapurna Conservation Area Project Permit. Again, as a guide is mandatory in the Manaslu Area then they can arrange the ACAP for you either ahead of your arrival to save time or on the same day as your Manaslu Restricted Area Permit. ACAP permits are obtained at either the Kathmandu or Pokhara tourism offices (same place as the Manaslu Conservation Area Permit)
Right next to the Kathmandu permit office is the TIMS card office.
Fill out the ACAP form
Hand over the completed form, your passport and 2 passport photos ( do note the office taking photos for free at the moment)
Pay the 3,000 rupees (only payable in Nepali Rupees)
Get your ACAP permit
Trekker Information Management System Card (TIMS)
The final bit of documentation for the Manaslu Circuit that you'll need is the Trekkers Information Management System Card (TIMS). It's meant to help protect trekkers through registration checkpoints along a trek including along the Manaslu Circuit. The fees are also used to towards guide and porter insurance.
Right next to the MCAP/ACAP permit office is the TIMS card office.
Fill in the TIMS card form
Have your photograph taken by a member of staff (bring 2 extra passport photos just in case).
Pay 2000 rupees

*

Get your TIMS Card

*
Do note that TIMS cards can only be issued via a trekking company.
Tsum Valley Restricted Permit (optional)
If you decided to do the Tsum Valley side trek which starts at Jagat then you'll also need a Tsum Valley Restricted Permit. It has similar restrictions as the Manaslu Restricted Area Permit. A licensed Trekking Agency is the only one allowed to apply for it and there is a need for two trekkers before a permit can be issued.
Tsum Valley Restricted Area Permit Prices:
From September to November a 7 day restricted permit costs USD $40. For each additional day it costs $7. The pricing is per person.
From December to August a 7 day restricted permit costs USD $30. For each additional day it costs $7. The pricing is per person.
Where are permits checked?
There are several checkpoints throughput the Manaslu Circuit starting at Arughat. At Jagat there are several checkpoints including one for the Tsum Valley.
---
While no specialized equipment is needed for the Manaslu trek you should pay attention to the time of year you are going. Trekking during the winter can be very cold with fierce winds. All year around trekkers should bring some form of windproof jacket.
A pair of trekking boots or trekking shoes suitable for off-road walking
A wind cheater style jacket
Long sleeve shirts
Trekking pants
Shorts
Socks
Rubber sandals
Water bottles
Water purification system
Map
Sunglasses
Sunblock
Additional equipment considerations are a pair of trekking poles which can help for the pass and coming down which is quite steep.
Dressing in layers will help with the lower altitude warmer temperatures and the high pass colder, windier conditions.
Regular bottled water is not always available and locally filtered water may not meet world health organization standards. It is a good idea to bring your own water filtration system and boil your drinking water. A pair of heat resistant water bottles are quite essential for this trek. Using a Steripen or Lifestraw (does not protect from fecal matter) can also be useful though do note both do not remove viruses and all bacteria.
Please note the above is a very basic list. For a full comprehensive list please see my article on trekking equipment you need for Nepal
---
---
The Manaslu Circuit trek is known as a moderate to challenging trek. There's a slow ascent which helps greatly with altitude. The lower altitude areas are generally warm. Things gear up a bit from Lho onwards with some steeps days until you cross the double pass. The descent is then fairly rapid.
Many trekkers note Manaslu's difficulty as being endurance related. Winter trekkers have called Manaslu difficult to near impossible. So the time of year you go is important.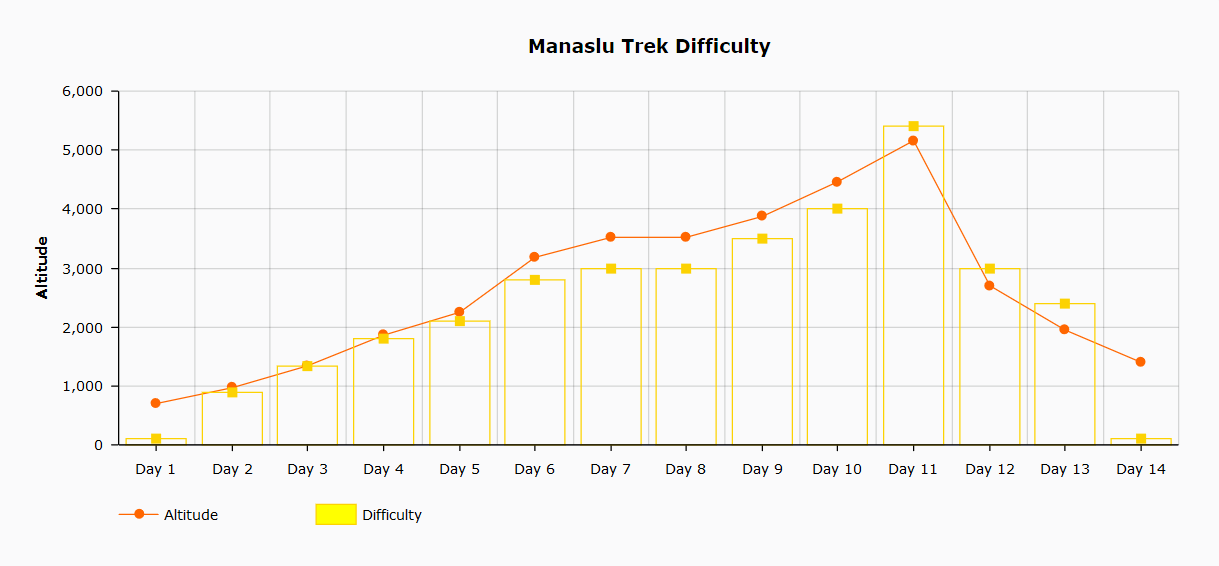 The Manaslu trek has a gradual ascent which is normally very good for acclimatization. However a combination of a sudden increase before Larkya La Pass, some basic accommodation the night before and a 10 hour trek make it a challenging couple of days.
While days one to five are relatively low or moderate in altitude it doesn't make it easy going. The weather is surprisingly warm and humid in the valleys.
Day six is the start of the higher altitude, it should effect many people but it is noticeable.
Day seven is a moderate day of trekking to Samagaon where you do some day treks if you want.
Day eight is an acclimatization day which can be easy or if you are up for it a side trek.
Day nine is where the increase in altitude is really first felt. Slow and steady get you through.
Day ten is tougher with altitude and rough terrain.
Day eleven is the big one and the most difficult. 10 hours of trekking over a high pass and down over a thousand meters on the other side.
From days twelve to fourteen it's largely downhill through forests. Many people enjoy taking day twelve off as a recovery day. It be decided that morning.
It's important not to use up all your energy at the start of the Manaslu trek, it's a trek that requires endurance and stamina
The hardest part of the Manaslu trek is from Larkya Phedi to Bimthang. However many trekkers who do not like heat or humidity say the first few days before Lho can tire one out quickly before reaching Larkya Phedi and up to the pass. This seems to be the conclusion to Manaslu, go slow at the start and hydrate well if it's warm and humid - keeping your energy reserve for Larkya Phedi and up to the pass and down to Bimthang.
It's important to trek sensibly in Nepal. If there is snow or heavy/prolonged rain then consider hiring a guide, asking local advice, consider postponing your trek, check missingtrekker.com for any alerts and do check the local weather reports. Trails in Nepal are not well maintained so please exercise due diligence before embarking on a trek. Each trek in Nepal will have it's own challenges relative to your experience, the current weather conditions and the current condition of a trail.
---
---
Fitness for the Manaslu trek is relative to your own fitness levels. It is however important to remember it's considered a moderate to challenging trek. On many cases you will have to trek 5-6 hours a day and be able to trek up steep trails.
As always I would advise anyone going trekking to see a doctor before they go for a check-up and to talk about dealing with altitude sickness.
If you are worried about your fitness level then aim for taking longer to complete the Manaslu Circuit by taking up to 15 days. This will make it a lot easier. If you feel like you are fitter than you thought, then you can use up the extra days on a side trek or two. Shortening it to 11 days will certainly be more challenging and reduce some of the side trek options.
Guides and trekkers generally break up a day into 2-3 hours trekking in the morning and 2-3 hours trekking in the early afternoon. Trekking days start at around 7.30am and finish at 3-4pm. Lunches are usually quite early.
As a precaution do read about altitude sickness in Nepal.
---
---
Meals and menus are surprisingly good on the lower portions of the Manaslu trek. However, once you reach Larkya Phedi things get basic very quickly until you go over the pass. Food prices also increase after Larkya Phedi.
Teahouses now cover the circuit and offer typical Nepali trekking food like Dal Bhat, pasta, fried rice and pancakes. You can also get fried chicken meals and momos at lower altitudes. Vegetarian options are available throughout as are curries.
Plate of Dhal Bhat in Manaslu
Dal Bhat is by far the staple meal on any trek for trekkers and guides alike. Rice, soup, vegetables, potatoes and an assortment of mild curries. They usually have different variations at each tea house but it will always have the same staples. It's good to keep your energy levels up!
| Item | Price |
| --- | --- |
| Porridge with milk | 400-450 Rupees |
| Fried eggs (2) | 250-300 Rupees |
| Cheese Omelet | 400-500 Rupees |
| Vegetable Momo | 350-400 Rupees |
| Dal Bhat (Meat) | 450-1000 Rupees |
| Dal Bhat (Veg) | 400-700 Rupees |
| Tibetan bread | 300-400 Rupees |
| Fried Noodles (Veg) | 300-400 Rupees |
| Fried Potatoes with Cheese | 500-600 Rupees |
| Pasta with sauce | 500-600 Rupees |
| Tea/Coffee | 40/80 Rupees |
| 1 liter beer | 600+ Rupees |
| Soft Drinks (Coke, Sprite etc.) | 120-150 Rupees |
| 1 liter boiled water (for filtering) | 50 Rupees |
Please note that bottled water is available in the Manaslu region. The installed water filters for local water around the Manaslu region are not maintained well (particularly in higher areas). It's advised you use your own preferred water filtration system. Filtered water costs between 50-70 rupees, but it is not boiled.
Beer, soda, coffee (powder), tea and hot lemon are also widely available throughout the region.
Plate of fried potatoes on the Manaslu trek
Chocolates, sweets, biscuits and candy bars are widely available in teahouses throughout the trek but do ask the price before buying as it can be quite high. Many trekkers take a stash of chocolate with them for the high pass day to keep energy levels up.
In Nepal the golden rule on treks is that you must eat in the restaurant of the tea house you stay at when trekking. If you do not do this, then your room price increases.
---
---
Accommodation around the lower portions of the Manaslu Circuit is good and has improved over the recent years. However do not expect as much choice as you would on popular treks like the Annapurna Circuit.
Accommodation in Larkya Phedi is basic as is everywhere else until you cross the pass.
Minimum costs for a room range from 400 rupees to 500 rupees.
Many trekking companies will try to offer mid range accommodation on their trek around Manaslu. Such accommodation does not exist. Accommodation in general is however of a good clean standard similar to other treks. Moreover Manaslu's accommodation is largely in the teahouse category rather than lodge or hotel. As such you'll be getting to stay in more authentic trekking accommodation.
Read more and see what trekking accommodation is like in Nepal.
---
---
Working out a cost for the Manaslu Circuit comes down to duration and permits.
You will need to pay for the following permits:
A Manaslu Restricted Area permit which is U

SD $100/75.

A Manaslu Conservation Area Permit is USD $30.
A Annapurna Conservation Area Permit is $30.
TIMS Card (Tourism Information Management System) which is USD $10 if you are with a group. Both available via trekking agents and through the official Nepal Tourism Board offices in Kathmandu.
If you take a side trek to Tsum Valley then it will cost $40/30.
For exact permit prices please see the section on Manaslu Permit Costs.
An average trek will cost you USD$170 in permits. It may seem permits eat into your budget more than other treks but accommodation and meals are lower as are the transport costs. You're also trekking in an area where fewer people go so you get the benefit of experiencing a non-touristy remote area!
Working out your trekking budget
Package tours bought overseas are the most expensive for those looking for a guide to Manaslu and have the added problem of not always including everything that needs to be paid for the trek. Package tours bought within Nepal are next most expensive. As we know, you cannot trek the Manaslu circuit alone so you have to have a guide. Each of the two options offer their own pro's and con's.
Online package tours for 14 days can cost USD$$1200+pp. This does not include water or a porter. This does include a guide, accommodation, all permits and meals. Personally speaking, I have found many of these treks to have hidden fees. For example many don't mention there's a two person minimum and will then add in a supplemental restricted area permit charge.
There are also some fixed itinerary Manaslu circuit package treks which are offering lower prices but again the itineraries are fixed and you'll be with a large group. This might not seem bad at the time of booking but when you are out trekking you'll need to either keep up with the group or stay behind with them. You'll basically lose a lot of independence.
Finally with online package tours it's very difficult to arrange any of the side treks which are available on the Manaslu Circuit. And these are often some of the highlights of the trek.
In country package tours for the Manaslu Circuit are easier to arrange if you are two people. Prices need to be looked at carefully as they will often include a porter and some side treks. 14 days can cost $1100 pp. This includes a guide, permits, porter, meals and accommodation.
If you need to cut costs then you don't have to take a porter. Likewise if they are offering private transport then opt for public.
If you are alone then do note you'll need to pay for the "ghost permits" yourself but you can easily arrange this and trek just with a guide.
Guide only services for the Manaslu Circuit can cost from $27 to $50 per day. Generally speaking the more you pay the more experienced your guide should be.
Porter fees are about USD $20 per day.
Hiring a guide only has to be done through a trekking agency so they can get the restricted area permit for you. After that, you'll need to pay for your own permits, accommodation, meals and transport. The savings you make are not that great compared to a package trek bought in Nepal.
If you are looking for a guide for the Manaslu Circuit Trek then I recommend you read my article on how to find a trekking guide in Nepal. Alternative use my Find a Trekking Guide Service.
Average 14 day trek cost for the Manaslu Trek
| | |
| --- | --- |
| Item | Cost USD $ |
| Permits (Restricted, MCAP, ACAP, TIMS) | 170 |
| Guide x 14 days | 378 |
| Accommodation x 14 (shared) | 56 |
| Meals 3x$5 | 210 |
| Water 4 liters a day (filtered & boiled) | 56 |
| Transport (public-RTN) | 12 |
| Total | 882 |
Extras: Don't forget to include a tip for your guide 10%. Any soft drinks, sweets, hot drinks etc. you may want to purchase along the way.
The cost of an average teahouse with shared bathroom is 300 rupees in the off season and 400 in peak for a shared bathroom. Privates are available only in the lower part of the trek.
Bottled water is available but not always. The cost of one liter of locally filtered water is 50-80 rupees (not boiled) but when boiled ends up costing more than bottled water.
The cost of a plate of Dal Bhat starts at around 450 rupees and climbs to 700+ rupees.
The additional cost of a porter is about USD $20 per day.
Travel insurance should be included and do make sure you are covered for trekking! Here is my recommendation for travel insurance when in Nepal.
How to reduce your budget on the Manaslu trek
As you can tell the costs of Manaslu circuit are quite reasonable compared to other treks despite the extra permits needed. However, do note the above is just the Manaslu circuit and does not include side treks aside from the acclimatization day.
To lower your costs you can use your own water filtration system. But the savings are minimal and in places like Larkya Phedi it's best to filter and boil your water.
The above budget for Manaslu does not include a porter. Unless you are very fit and are used to carrying your own gear then a porter can be a big help on this trek.
---
---
When looking at Manaslu trekking itineraries it's really important to note the full circuit is only about 14 days. It's the side treks that can add on to both your treks enjoyment and length
To make things clearer I'm adding on side treks under the main itinerary so you can work out which ones you'd like to include and add them on to the overall itinerary.
While it is possible to do the Manaslu Circuit in reveres (clockwise) it's not recommended due to acclimatization issues.
Arughat is about 7 hours from Kathmandu by bus on the much improved road. From Arughat you can trek to Soti Khola or take a jeep. Both have pros and cons. The jeep is bumpy but saves you time, while the trek is along a dirt road.
Mountains around Larkya La Pass
14 Day Manaslu Trek itinerary
Day
Route
Distance (km)
Highest Altitude
1
Kathmandu - Arughat - Soti Khola
6 hours + 2 hours avg
700 m
2
Soti Khola to Khorlabesi
5-6 hours avg
970 m
3
Khorlabesi to Jagat

*

5-6 hours avg
1,340 m
4
Jagat to Deng
6-7 hours avg
1,860 m
5
Deng to Ghap

**

4-5 hours avg
2,250 m
6
Ghap to Lho
7-8 hours avg
3,180 m
7
Lho to Samagaon (Sama)
4 hours avg
3,520 m
8
Samagaon Acclimatization day

***

4-5 hours avg
3,520 m/4,800 m
9
Samagaon to Samdo

****

4-5 hours avg
3, 875 m
10
Samdo to Larkya Phedi (Dharamsala)
5-6 hours avg
4, 460 m
11
Larkya Phedi to Bimthang

*****

8-10 hours avg
5160 m/ 3,590
12
Bimthang to Kharche

******

3-4 hours avg
2,700 m
13
Kharche to Dharapani
4-5 hours avg
1,950m
14
Dharapani to Kathmandu/Pokhara

*******

6 hours avg
1,400 m
* Jagat is a large village with checkpoints including MCAP this is where all your permits are checked. Tsum Valley side treks start here via Lokpa.
** 3 day side trek to Serang Gompa starts here. There's also a day hike to Kal Chhuman lake from here.
*** An acclimatization day is needed here. There's a 5 hour side trip here to Pungyen Monastery. There is also a day trip to Manaslu Base Camp (4800 m) though it's often blocked with snow.
**** If you did not take an acclimatization day in Samagaon then one is certainly needed here. There's a short trip to Samdo hill and the Tibetan Villages.
***** This is the day you cross Larkya La Pass.
****** There is a day trek from Bimthang to Ponkar Lake
******* Dharapani is where the Manaslu Circuit meets up with the Annapurna Circuit. From Dharapani there are jeeps to Besisahar while some go to Kathmandu or Pokhara. From Besisahar there are buses to both Pokhara and Kathmandu. You could also trek from Dharapani along the dirt road to Chame (4 hours) and then trek a further 2-3 days Chame - Jagat - Syange - Ghermu - Bahundanda - Ngadi Bazaar - Bhulbhule - Besisahar. Most people these days simple take the jeep to Besisahar, spend the night and the next day take a bus to Pokhara or Kathmandu.
Shortening the trek It's possible to shorten the Manaslu trek to 10 days. However it substantially moves the trek into the challenging category with much longer days.
Some dubious trekking companies advertise 10 day Manaslu treks but be warned they do not include an acclimatization day and your life can be at risk!
For those interested and fit enough for the challenge here is a 10 day Manaslu itinerary with an acclimatization day. Once again, this is a very rushed harsh itinerary and the above 14 day itinerary is much better.
11 day Manaslu Trek itinerary
| | | | |
| --- | --- | --- | --- |
| Day | Route | Distance (km) | Highest Altitude |
| 1 | Kathmandu - Arughat - Soti Khola | 6 hours + 2 hours avg | 700 m |
| 2 | Soti Khola to Machha Khola | 6-7 hours avg | 900 m |
| 3 | Machha Khola to Jagat | 6-7hours avg | 1,340 m |
| 4 | Jagat to Deng | 6-7 hours avg | 1,860 m |
| 5 | Deng to Namrung | 6-7 hours avg | 2, 630 m |
| 6 | Namrung to Samagaon | 8-9 hours avg | 3,525 m |
| 7 | Samagaon Acclimatization day | 4 hours avg | 3,525 m/4,800 m |
| 8 | Samagaon to Larkya Phedi | 8-9 hours avg | 4, 460 m |
| 9 | Larkya Phedi to Bimthang | 8-10 hours avg | 5160 m/ 3,590 |
| 10 | Bimthang to Dharapani | 6-7 hours avg | 1,950m |
| 11 | Dharapani to Kathmandu/Pokhara | | |
Again, the above is very challenging and you will miss out on side treks. The Manaslu circuit is best enjoyed over a 14-16 day period by adding on some of the side treks listed above which have spectacular views in isolated remote areas. Otherwise the 14 day Manaslu Circuit is ideal if you just want to do the circuit.
Detailed Manaslu Trek Itinerary
The following is a detailed day by day itinerary from day one to day fourteen on the full Manaslu Circuit.
Day one - Kathmandu to Arughat to Soti Khola
Today is all about getting to the trail head to start this great trek.
Buses leave near Gongabu bus station at Machhapokhari in Kathmandu at 6.30am-and again at 8.30am. It's best to take the first bus. The road to Arughat is now black topped (tarmacadam) and has improved greatly compared to what some out of date guidebooks say. The journey takes 6-7 hours. There's a checkpoint here for permits. You can trek or preferably transfer to a jeep to Soti Khola for 2 hours to avoid trekking on the dirt road. Unfortunately Soti Khola doesn't have a great selection of accommodation so be prepared for it.
Day two - Soti Khola to Khorlabesi
The first full day of trekking sees you enter a green valley following the river Soti Khola.
The trail is surrounded by many waterfalls and suspension bridges joining them all together.
It's warmer here than many people expect. Crossing over with water nearby can be slippery. Many trekkers stop at Machha Khola for the night. If you prefer some peace there's a lodge up further at Khorlabesi.
Day three - Khorlabesi to Jagat
If you stayed in Khorlabesi last night instead of Machha Khola you'll be ahead of any groups. Today's trek is much the same as the previous days following the tumbling river. The green valley trek is more difficult than it seems due to the heat and humidity.
Day four - Jagat to Deng
Jagat is a large busy village. There are checkpoints here for your permits. It's a fairly long day.
From Jagat the trail descends into rock strewn area. You'll make your way up to Salleri and climb up to some mountain views. Dipping again you'll enter Sirdibas before ascending to Ghatte which has several water powered mills.
After a suspension bridge you'll climb steeply until you reach Philim for an early lunch. There's junction for Tsum Valley nearby to Lokpa. Up ahead is the steep climb to Pewa. There's no let up as you continue on to Deng.

Day five - Deng to Ghap
It a rapid decent to the river for the days start! The trail is continues with ups and downs for the first half of the morning which can be tiring. You'll pass a mani wall and a Buddha statue. Shortly after you'll pass high breathtaking cliffs to keep you close to the trail. Soon the village of Bihi provides a nice rest stop.

Continuing on you'll make your way by the Serang Khola before ascending once more. Small tea houses dot this high valley area. Buddha is represented in these parts quite strongly as you may notice from various markings. You'll soon reach the village of Ghap where there are multiple side treks to choose from.
Day six - Ghap to Lho
There is a day hike from Ghap worth considering. Kal Chhuman Lake offers, ridges and of course Kal Chhuman Chho itself which has mountain views around it.
On the main Manaslu circuit we continue on up through the pine forests around Ghap that are dotted with tough stone steps. Further one the towering ridges are a sight to behold. Namrung is one of the first villages to descend through where many people stay instead of Ghap. Nearly and hour and half later and you'll reach Lihi and an old Chorten.
Going up once more for another hour sees you entering into Lho. From here there are great views of Sauli peak and of course Manaslu.
Day seven - Lho to Samagaon (Sama)
It's down and then up at the start of day seven along with some river crossings. Two hours later and you'll come to Shyala which has several lodges spotting views of Ngadi Chuli.
The trail ascends after Shyla before descending to a river and ascending once more. There's a junction here for a side trek to Pungyen monastery. Now it's nearly all down hill to Samagaon or Sama as it's often referred to. Samagaon has fields surrounded by stone walls and stone pavements making it very rustic. There's quite a few places to stay in Samagaon which is great as it makes a wonderful place to have a day of acclimatization.
Day eight - Samagaon acclimatization
There are three day trip options in Samagaon for you acclimatization. The first is a short trip up to Samagaon monastery which is up on a hill. The second option is a trek back up the trail for the 5 hour trek to Pungyen Monastery.
It's an interesting route with chortens, prayer flags, mani stones and vivid rock faces. Pungyen monastery itself is about 2.5 hours from Samagaon and offers a gompa at the bottom of rugged cliff. The final option needs some special thought as it involved the rather difficult task of trekking to Manaslu Base Camp. The issue with climbing up to Manaslu Base Camp is that the pass is often blocked by snow and ice. Without equipment to tackle it the venture is dangerously difficult. Asking for the latest condition at Samagaon will help to make a decision.
Day nine - Samagaon to Samdo
It's a relatively short day today but the altitude is increasing so it's important to keep going in increments. Thankfully the terrain is relatively easy to manage.
Birch trees and rhododendrons share your view of Samdo Peak ahead. A final incline is tough as altitude once again reminds you that it's increasing steadily.

Samdo is a fairly old village with house made of stone. Yaks will be found here among the mountain settlers. You are really are entering the tough mountain town so enjoy your night in Samdo.

If you feel like a second day of acclimatization or want a side trek then Samdo Hill is nearby. There are some chorten here and an great view of the village below.
start to climb up through the tall tree woodland area.
Day ten - Samdo to Larkya Phedi
It's another tough day as you start a slow ascent from Samdo. Streams criss cross your path and the ground often gives way. Take a slow and steady approach.
Steep ravines jut upwards. Five days ago they would be manageable but with the altitude difference they seem all the tougher in among thorn bushes.

Glaciers and mountains surround you like never before on the Manaslu circuit.

Arriving into the down known both as Dharamsala (Pilgrims rest house) and Larkya Phedi is a relief. Sadly the idea of a rest house is anything but restful. Accommodation in Larkya Phedi is limited and rough. Beds are immediately off common areas which have a fire. The food is quite basic too. It is however important to eat up and rest early. Tomorrow will be both long and tougher still!
with mountains to your side and finally Saraswoti Kund appears. You'll also come across a shrine to Ganesh and Saraswoti. The next lake will be Bhairab Kund followed by the Gosainkunda lake. This is where Shiva is said to have parched his thirst after drinking poison that had threatened to destroy the world. You can stay in Gosainkunda an extra day for a side trek up to Surya Peak (5145 m).
Day eleven - Larkya Phedi to Bimthang
This is the big day. You'll cross the double Larkya La Pass and make your way down to Bimthang. You'll need to bring lunch and snacks with you.
Most people set off well before dawn to avoid the strong winds. 4am to 4.30 am on average. It's a tough climb so go slowly.

There's a small meadow after Larkya Phedi with a shelter. Glaciers start to appear. Larkya Himal imposes a hefty wall as peaks begin to appear.
It's upwards for 3 hours at a minimum. More lakes appear alongside giant boulders as your ascend an even steeper trail.

Rocks lie strewn across the area as another small lake appears with winds whipping around you. Up ahead is Larkya La pass. The views are stunning. Larkya Himal, Himlung Himal and Chao Himal rise like icy beckons. As you walk across the pass it soon dawns that this is a double pass of sorts as the odd prayer flag flaps alongside you.

Finally the descent begins and it can be slippery so make sure to use your trekking poles. The moraine is long and step. Care is needed not to slip. Ahead Ponkar lake comes into view next to mighty glaciers. It takes about 2 hours to tackle the moraine until you make it to a flat grassy area by late afternoon.

Here things are not so steep after an hour Bimthang will come into view. The final jab is a rocky out crop as you walk into Bimthang village most likely in the dark. Thankfully the teahouses are quite good and the dal bhat will be excellent.

Day twelve - Bimthang to Kharche
If you want to rest in Bimthang there's a side trek to Ponkar Lake. Otherwise it's onwards quite early to catch the views of stunning mountains as you descend down another small moraine.
The views of Manaslu here are some of the best. But soon disappear behind thick forests of oak, cedar and pine. In the spring rhododendrons are blooming and nature seems to be showing off to you.
There's some ascending needed over some slopes as the rivers flow alongside the forests. You'll reach Kharche where even better accommodation awaits.
Day thirteen - Kharche to Dharapani
You'll soon be reaching the point where the Manaslu Circuit meets the Annapurna Circuit.
You'll notice the air warming up as you descend down the forested trails.

A few river crossing are needed and villages seem to become larger with school children appearing. You'll pass through Thinje which has a monastery.

Dharapani is a large village which signals the end the Manaslu circuit and the continuation of the Annapurna Circuit.

Many will be happy with a good nights sleeps.
Day fourteen - Dharapani to Besisahar to Kathmandu
There are regular jeeps from Dharapani to Besisahar. There are also occasional jeeps that go direct to Kathmandu or Pokhara. If you are headed to one of the cities then a jeep would certainly make things more comfortable.
Otherwise it's a jeep to Besisahar where buses will take you to Pokhara or Kathmandu.
If you want to trek along the dirt road for 2 more days to reach Besisahar you can. Chame - Jagat - Syange - Ghermu - Bahundanda - Ngadi Bazaar - Bhulbhule - Besisahar.


---
---
For alternative treks do read my list of treks in Nepal which is continually being added to based on popularity or request.
If looking for a trekking guide I recommend you read my article on
How to find a trekking guide in Nepal
or you can use the
Find a Guide Service
.
---
Get my Trekking in Nepal Guidebook
---
Liked this page? You'll love my trekking book (which includes this trek)! It's a hands-on, fully comprehensive trekking guidebook that's better than the rest. Yes, really!
In the book, I cover over 28 treks in Nepal with step-by-step accuracy using scalable maps, photographs and travel-tested up-to-date trekking information.
Just like my other guidebooks to Nepal you can download it instantly now or order a paperback copy. An up-to-date guidebook like no other.
---
Was this page helpful to you? If so please tell others!