---
Located just outside the western gates of Bhaktapur Durbar square these twin temples to Shiva and Shiva Parvati have a lot going on in their carvings. The two temples are historicaly known as Anantalingeswar & Uma Maheshwar temples.
Though it should be noted these temples are really shrines and smaller than most people expect!
Take a look at the roof struts on the first temple and you'll see several animals depicted in various forms of copulation. The most famous are the elephants whose trunks are romantically intertwined.
Did you know?
It's not just this temple that has depictions of a sexual nature. Many temples within the Kathmandu valley show intimate scenes along the roof struts of temples.
---
A good question that few truly know the real answer to. Many a local guide tell the story that it's to scare away the bashful god of lightning. The truth is more likely a little more down to earth.
Some historians have hypothesized that they were simply placed there to show the cycle of life.
The majority seem to feel it's much more likely erotic images where placed on temples as a form of artistic expression during the Malla reign which encouraged artists to be bold!
So read more about this with the story about the artist who lost his hands in Bhaktapur.
---
---
There is no fee to enter The Erotic Elephant Temple as it is outside Bhaktapur Durbar square and the ticket offices.
Discover hidden heritage walks in Bhaktapur with my book Kathmandu Valley Heritage Walks.
---
---
Liked this page? You'll love my book! It's a guidebook that's better than the rest and the only one that's kept updated. Yes, really! In it I cover all of Bhaktapur's attractions with well researched information, photographs and travel tested walking tours.
It's an interactive & printable guidebook like no other.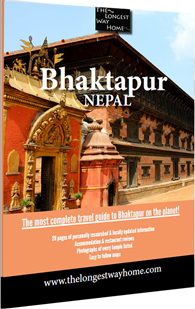 Find out more!
---
Was this page helpful to you? If so please tell others!