---
Kathmandu city is over 2,000 years old resting 1,400 meters (4,600 ft) above sea level within a valley surrounded by four mountains. The city was once one of three royal city's that made up the Kathmandu Valley. This valley is historically important as it was once known as being "all of Nepal".
The city is a blend of ancient Newari, Hindu and Buddhist architecture, narrow streets and temples along with a developing sector of larger roads and modern buildings.
The population of Kathmandu city numbers well over 2 million. The majority of people are largely Hindu followed by Buddhist. Newari people were the first to settle in the city though their population is declining due to intercultural marriages.
The 2015 earthquake took its toll on the city. Since 2016 there has been an increase in unfinished road and infrastructure building which has taken its toll on both pollution around the city. Electric vehicles are slowly being introduced to combat this along with a new water supply said to be finished by 2020.
Throughout this page to Kathmandu city are several more detailed travel guides to individual sights within Kathmandu city such as the popular tourist areas of the city like Thamel & Kathmandu Durbar Square. Individual sights like the monkey temple or day activities like Kathmandu heritage walks. For day trips out of the city do see my online guide to the Kathmandu Valley.
For more details, maps and things to do I highly recommend my Kathmandu city guidebook or for heritage enthusiasts this book on Kathmandu Valley Heritage Walks. For now, let's discover more about Kathmandu city below.
---
Table of Contents
---
First impressions of Nepal's capital city are of traffic, dust and pollution. The saying "don't judge a book by its cover" applies to Kathmandu city. This once pristine Himalayan royal kingdom has become an eclectic smorgasbord of ancient buildings, diverse monuments and ramshackle modern development.
However, there are many layers to this historic city which are worth discovering. Despite the new exteriors there's an addictive charm to Kathmandu that once discovered has captured the hearts of many travelers.
There's lots to see and do in Kathmandu city and indeed around the Kathmandu Valley. It's often a lot faster to see Kathmandu city by walking so after looking through these highlights do see my suggested travel itineraries below.
Get to grips with making your way around Thamel, the hustling and bustling tourist district of Kathmandu city filled with souvenir stores, hotels and cafes.
Visit the near never ending amount of trekking gear stores and Nepali woollen craft stores. Most are located in Thamel but the local ones are near Ason Chowk and Indra Chowk.
Visit Kathmandu Durbar Square, one of the oldest squares in the world.
Take a break and chill in 60s style Freak Street.
Climb the full 365 steps to the top of Swayambhunath also known as the monkey temple.
Visit the King's former palace which is now a museum.
Shop along Kings Road for designer goods and some Nepali star spotting.
Visit one of the monasteries around the city.
Stop at the many smaller temples and stupas around Kathmandu city like Kathesimbhu Stupa.
Visit Boudhanath one of the worlds largest stupas.
Eat until you can eat no more in the massive array of restaurants and cafes around the city.
Take a taxi (or long walk) out to Pashupatinath to see the burning ghats.
Take a free old city heritage walk in Kathmandu.
For more check out things to do in Kathmandu.
If you are fan of heritage do check out my exclusive book on Kathmandu Valley Heritage Walks.
---
---
Internationally there is only way to enter Kathmandu city and that is to fly into Kathmandu's international airport. Once in Kathmandu city transport to the rest of the Kathmandu valley is easily accessible via road. Either by taxi or bus.
The domestic airport in Kathmandu city has multiple flights from across Nepal. The domestic airport is located beside the international airport. This is also where there are flights departing for Everest view flights and flights to Lukla. For a detailed description on what it's like arriving here check out my blog post about arriving into Kathmandu airport.
If flying from outside Nepal save some time and check out the new flight routes and rates using my search tool below:
Try my custom flight search for the lowest priced flights to and from Nepal!
From the main tourist destinations of Pokhara and Chitwan there is a daily tourist bus from / to Sorhakhutte near Thamel in Kathmandu city.
The rest of Kathmandu city is services by buses from Ratna Bus Park and Gongabu Bus park among several other smaller bus parks. In 2022 a train service from India to the southern region of Nepal was meant to come into service. It is still a long way off reaching Kathmandu.
The main destinations within the Kathmandu valley are all within one to one and a half hours drive of each other. The only hiccup is the increased congestion along the main roads. Traveling before peak traffic times is advised.
For those traveling by land check out my overland guide to Nepal.
---
---
Documentation of Kathmandu only really began during the 4th century Licchavi period though there is evidence of prior settlements. Records show the Licchavi's defeated the Kirats and took the Buddhist monastery near the old villages of Yambu and Yangala. The building known as Kasthamandap in Kathmandu Durbar Square was said to be the first building in Kathmandu city where the latter two towns met.
It was during this period that the first permanent Buddhist monasteries of Kathmandu were built creating the basis of Newar Buddhism. Today Newar Buddhism is the only surviving Sanskrit-based Buddhist tradition in the world. Much of this was promoted during the Malla era of Kathmandu.

After being attacked by Muslims from the south the Mallas fled to the Kathmandu Valley which offered shelter. Over time the Mallas married with royalty which led to one of the greatest periods in Kathmandu history.
The Mallas are accredited for the unique style of architecture around Kathmandu city and the entire Kathmandu Valley.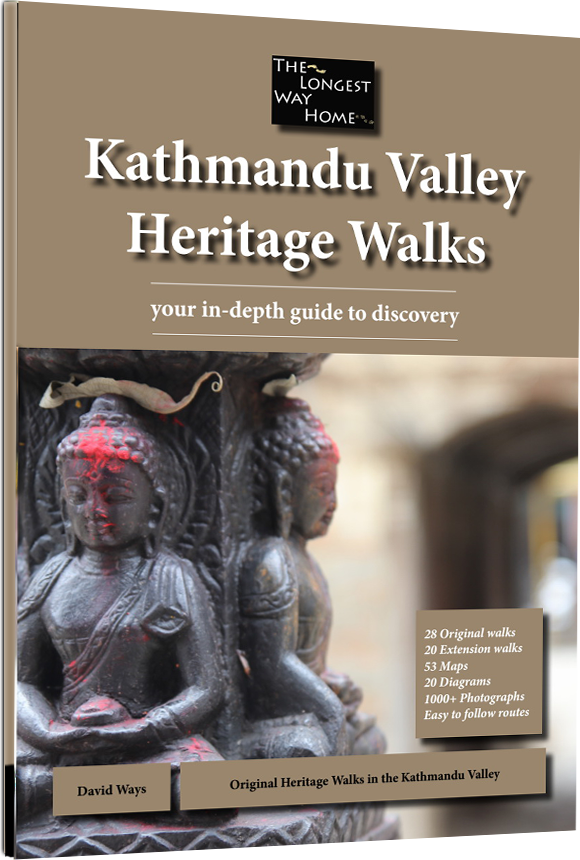 For the very best details on Kathmandu city's history do read this book on Kathmandu heritage walks.
---
---
Kathmandu city has a diverse amount of hotels, guesthouses and in recent years hostels to choose from. It's important to note that "star" rating in Nepal do not match international standards.
Where you stay should depend on both budget and traffic. Gridlock in Kathmandu often means it's easier to walk around the city than take a taxi. Thamel remains Kathmandu cities iconic tourist hub for a good reason. It caters to tourists with a vast range of hotels, restaurants, travel agents and offers transport outside of the city.
I've written up a dedicated page to recommended accommodation in Kathmandu city from budget to luxury class hotels and the districts to find them in. Meanwhile if you'd like a quick search try my search tool here to find the best rates:
Search for Hotels in Kathmandu
To see individual hotel reviews, user ratings and pricing visit my dedicated page on hotels and guest houses in Kathmandu city.
---
---
Kathmandu city has a surprising variety of restaurants and menus on offer. Dishes range from continental cuisine, Chinese, Tibetan, Indian, Nepali and of course local dishes. Fast food restaurants have burst onto the scene in recent years offering hamburgers, friend chicken and kebabs.
Most of the good restaurants catering to tourists are located in Thamel. Please see my guide to Thamel for details on the recommended places to eat in Kathmandu.
Likewise if you'd like to see what type of food you'll be eating in Kathmandu check out my series on food in Nepal.
Over the past few years the standard of restaurant food in Kathmandu has increased dramatically. This is largely in part from overseas workers returning home with new skills and the now near 24 hour electricity becoming available in the capital.
Coffeehouses and cafes are also becoming more popular in Kathmandu do check out the best places to get a coffee in Nepal. For tea lovers here's the best place to buy tea in Nepal.
Street food is not recommended in Kathmandu! Though plentiful, the little pushcarts filled with barbecue meats are not at all sterile. "Local street food" is better eaten at a mid level or budget restaurant. If you do try to eat at a food cart then make sure they cook the food very well and it's very hot when you get it! Meat really should be avoided on these street carts as both its source and refrigeration is highly dubious.
If you are looking for recommended places to eat then try these lists of reviewed places to eat in Kathmandu.
Finally here is the latest list of the best restaurants in Kathmandu.
---
---
Getting around Kathmandu city has become a problem over the past few years due to congestion and bad roads. As a tourist it's often easier to walk or take a taxi early in the morning or after rush hour in the evening. Taxis are plentiful and relatively cheap while also being easier to manage than the cities poor public transport systems.
City buses rarely have stops that can be easily identified and all destination naming is in Nepali. New electric buses and the new "green" buses often promoted are also in reality harder to spot than to actually catch.
More common public transport methods are mini-vans which are also called "micros". Again, you'll need to ask them where they are going before jumping in. These micros ply the ring road around Kathmandu city and also head to the suburbs. Most can be found staring from the junctions around Rani Pokhari.
Tempos are three-wheeled gas powered vehicles (rickshaws) which are meant to drop people on planned routes around the city. Both micros and tempos are cheap but can get crowded during rush hours.
Motorcycle taxis are illegal but still exist. There are two motorcycle (taxi) companies running apps called Pathao and Tootle.
Walking is possible from Thamel to Lazimpat or Swayambhunath with relative ease. However in 2018 fines were being issued to anyone not using a pedestrian crossing. The problem is vehicles pay no attention to pedestrian crossing which themselves are very faded. In 2023 the "fines" have relaxed a little but care should be taken when crossing a road in the city.
In 2023 a new hop on hop off bus is expected to be launched linking Kathmandu Durbar Square, Boudha, Swayambhu and Pashupatinath. However the pricing is two-tier which has drawn a lof of condemnation. The cost for non-Nepali is 1000rps. Plans have yet to be formalized.
For more information on transport do see this article on getting around Nepal.
---
---
What to do in Kathmandu city? Walking day trips to week long stays here are my recommendations.
One-day itinerary for Kathmandu city
Only got one day in Kathmandu city? Make the most of it with a few well placed taxi rides. Wake early to hearty breakfast of Nepalese pancakes to fill you up. Depending on where you are either walk or take a taxi to Swayambhunath monkey temple, avoid shopping at the top just enjoy the view on a fine day. Making your way back down the steps hail a taxi to Durbar Square for a few hours of temple spotting. Enjoy a traditional lunch of Dal Bhat to keep your energy levels up. Now experience Kathmandu city by taking a walk back to Thamel. Stop along the way at the countless souvenir stores selling everything from paintings, to singing bowls and trinkets. Wind off your evening with either a light meal of Nepalese momos or take in a massive Everest Steak. For a late evening try out one of the many live bands in Thamel that seem to have been playing the same tunes since the 80's.
Two-day itinerary for Kathmandu city
With an extra day you can fit in a lot more. Enjoy a more leisurely version of the one-day itinerary spending more time in Durbar Square by visiting the museum there, or the side temples and markets surrounding it. On the way back to Thamel stop off at the many smaller stupas along the way such as Kathesimbhu Stupa. On your second day enjoy a slap up bacon and egg breakfast with Nepalese hash browns - it's the most filling breakfast in the country. Bargain well with a taxi for a trip out to Pashupatinath. While you are not allowed into the main temple, you can wander around the burning ghats and other temples in the area. Mixed this in with mysterious sadhu holy men known to hang out there - it's a good trip. Grab a taxi and head straight out to Boudhanath stupa which is relatively nearby. Enjoy another lunch of dal bhat but try to find some royal curd for dessert if possible. Then spend some time exploring the stupa and Thamang Monastery opposite it before taking a taxi or if adventurous a micro van back to Thamel for the evening.
Three-day itinerary for Kathmandu city
You'll have plenty of time to get everything in. Try the one and two day itineraries. On your third day try an Everest mountain view flight in the morning. Book these flights the day before and be prepared for a cancellation due to weather just in case. You should be back by lunch-time so treat yourself in Thamel before winding off your day with some last minute shopping for cashmere, kukri knives or singing bowls.
What to do in Kathmandu with additional days?
Got more time to spare around Kathmandu city? Great, it's time to venture out into Kathmandu Valley. Spend a day or more in Bhaktapur or spend a full day out in Patan. For those who want to explore a little bit more try a quick trip to Kirtipur just 20 mins from the city or for a full day trip try visiting Panauti.
Take some Kathmandu city tours
If time is against you or you want to plan ahead it's worth noting that Kathmandu has plenty of tours originating from it. Do check out this list of adventure tours in Nepal.
Enjoy a heritage walk
With over 12 heritage walks in Kathmandu city alone do check out my book on Kathmandu Valley Heritage Walks.
---
---
Give the city a chance
Don't let first impressions turn you off Kathmandu city as there's a lot to explore and do. If it all seems too dirty and congested for your liking then get up at dawn and head south from Thamel into the old city (between Thamel and Durbar Square). This is the old Newari quarter where you can quickly peel back the layers of history and explore Kathmandu's heritage. After 8.30am the traffic will start to build but you'll already be wandering the smaller side streets by then!
Traffic is crazy
With very little concern for rules of the road. Where possible walk (with caution) or take a taxi. There are old rickshaws for hire if you wish to be environmentally friendly!
The one positive aspect in all this is that in late 2017/18 parts of Thamel were made vehicle free. It means a more leisurely walking experience in this area albeit just a two streets. Unfortunately in 2019 the traffic police seem to have abandoned their stations along this road and traffic is slowly creeping back again.
Hopefully the old city will one day be vehicle free too. Meanwhile, Saturdays are quietest if you want to take a heritage walk.
Wear a dust mask
Pollution is high in Kathmandu so many people where face (dust) masks to protect against high levels of dust and pollution (especially in the dry season). These are available in most supermarkets in Thamel. Avoid the surgical masks as they do little. Purchase one that covers your nose and mouth completely. Yes, you might look strange but it will protect you from heavy dust particles which can lead to respiratory infections.
Electricity blackouts
Electricity shortages are frequent in Kathmandu and is known as Load Shedding. In 2016 load shedding was greatly reduced, but don't expect electricity to always be there. In 2023 many electrical pole companies are cutting cables to reduce the weight being levied onto them and in process cutting power cables by accident. Bring a torch (head torch is good) and don't get frustrated. There's a load shedding time table printed every week if things get bad again. Otherwise you can download an app with loadshedding timetables.
Bad Internet
Kathmandu's internet is very slow. Though many guest houses and hotels promise 24 hour Wifi it doesn't always work well. When it does, the internet is woefully slowand often cuts off. The best option for those who need to be connected is to purchase an NCELL sim card which has data packages up to 16GB. It's still not going to be super fast though. Do read my guide to WiFi and Internet in Nepal for more.
Personal safety in Kathmandu
Kathmandu and Nepal as a whole are very safe city's. While India has a bad reputation among solo travelers and women, Nepal's reputation is very safe. Most thefts happen in budget backpacker hostels among travellers themselves!
That said, don't let your guard down. Kathmandu is changing and Thamel is becoming a place where nightclubs along with late nights are all the rage these days. Sadly petty crime is on the rise so do take care in the evenings walking back to your hotel.
Solo female travel in Kathmandu
Solo female travelers to Kathmandu will be glad to know it's a very safe city for traveling in. It's a conservative society so just like men shouldn't wear "short shorts" or revealing clothes women shouldn't either. Feminine hygiene products (pads) are easily available in Kathmandu but tampons are hard to get. Women should be careful about Casanova like Nepali men who do try very hard to charm the ladies! It's not dangerous per se, but broken hearts are commonplace these days. Do read my guides on solo travel in Nepal and solo female travel in Nepal.
Travel out of Kathmandu
Do read each section of this travel guide to Nepal for transport to different areas of Nepal. Meanwhile for the most popular route there's a guide on how to take a bus from Kathmandu to Pokhara.
Accommodation in Kathmandu can be good no matter what people say
Over the years Thamel has gotten a bad reputation for being a noisy dirty place to stay in. The truth is there are many really good places to stay in Thamel for budget, mid-level and high-end accommodation. No matter where you are in Nepal most budget and mid range hotels struggle with international standards.
Noise is an issue if your room faces the main road. So do ask for a room not facing the main road! Dog's barking at night is an issue everywhere in Nepal. The more remote the area the worse it seems to get. Thamel is actually quieter than most.
There are other areas you can stay than Thamel. Paknajol and Kaldrea are blossoming into a new backpacker accommodation zone. The Freak Street area south of Durbar Square has several good budget options. Boutique hotels are popular in Patan while many people often choose to stay in Bhaktapur!
Do see my pages on accommodation in Kathmandu for more.
Bad roads are everywhere in Kathmandu
Nepal suffers from terrible infrastructure and bad roads. Many are not sealed and very dusty - hence the need for dust masks. There's no getting around any of this other than to leave early in the morning if you are taking a trip somewhere. There are new taxis in Kathmandu and old Suzuki taxis, though they won't like it you can ask the new taxis to turn on the air-conditioning - they'll probably add a surcharge to this!
Don't hire a bicycle unless you are going out to the Kathmandu Valley
Hiring out a bicycle in Kathmandu city is not a good idea. The pollution plus the bad roads and crazy traffic can make it incredibly stressful, unhealthy and borderline dangerous. Save the bicycle idea for getting out into the countryside on a mountain bike!
Two tier pricing or over charging is normal
Kathmandu still has a quasi barter and a bargaining system that's been around for a thousand years. Just because someone gives you a price doesn't mean it's the actual price. This is very true in Kathmandu's souvenir stores. Shop in a few and get a rough price or shop in a place you don't plan to buy and see how far they will bargain down. The one exception to this is taking things too far.
Kathmandu's taxis have a meter but they don't use them
Don't bother asking for a taxi to put on the meter as they won't often do this. Though it is a legal requirement for a taxi to have a meter few of them actually "use" the meter. If by some miracle you do come across a taxi who will use it the cost will be a lot more than that bargaining method. To take a taxi simply ask them how much? If you don't know the prices ask at your hotel the approximate price to a destination before leaving. Then decline your hotels offers to get you a taxi because it too will be inflated. Just get the price, go outside, flag down a little white Suzuki taxi and ask them. Now do some math and figure out who is cheaper? The hotel price taxi or the taxi in front of you. If there's a huge difference bargain your taxi price down.
Free things to do in Kathmandu
Many people don't realize it but there are lots of free things to do in Kathmandu. While popular attractions like Durbar Square, Swayambhunath and Boudhanath all charge entry fees there are so many places that don't. Do see my heritage walks in Kathmandu page as an example of things to see and do that don't cost a thing. Likewise places like Kirtipur can make for great days out.
---
---
In the map below I've marked out the main highlights of Kathmandu city. See the recommended itineraries below for more.
More maps: Here are some more detailed and dedicated maps for places around Kathmandu city:
---
---
Liked this page? You'll love my books!
100% independent guidebooks, with no sponsored trips or ads. Designed to help travelers get the most out their trip to Nepal with premium detailed guides, insider information, impartial hotel and restaurant reviews, complete trekking routes, dedicated heritage walks & much more ...
Available in print or digital editions - the best guidebooks for visiting Nepal.
---
Was this page helpful to you? If so please tell others!