---
The Panchase trek or Panchase Peak trek is located very close to Pokhara in the Annapurna region. It's an age old local trekking and panorama viewing route that doesn't require any permits and is relatively well marked.
A pleasantly enjoyable low altitude trek it takes you up through a forest area, through rich farmlands, back through forests and up to several look out points.
Buffalo, farmlands, forests and mountains are the highlights of the Panchase trek
This is a teahouse trek with at least three villages you can stay at on the way.
The Panchase trek can be completed between 2-3 days depending on your requirements.
Panchase is an ideal trek for those who want to test out their trekking abilities before going on a longer trek. For those looking for a nice short trek. Or For those looking for a budget trek. Review ratings are 3.0 out 5. Compared to other longer treks you don't get "dramatic mountain views" however the views, villages, farms and ease of this trek should rate Panchase higher than the likes of Nagarkot or Dhulikhel in terms of short treks with mountain views. Read on to learn more about this great "panoramic trekking trail".
Trek Overview
| | |
| --- | --- |
| Difficulty: Easy | Days: 2-3 |
| Max Altitude: 2,500 m | Distance: 26.60 km (16.5 mi) |
| Accommodation: Teahouse | |
Distance shown is a return trek.
A fully detailed guide to Panchase with more details is below
.
Honesty counts!
Every travel guide on this site has always been 100% independent, unbiased & honest. I do not accept sponsorships, free treks or tours. I do not own a trekking company or business in Nepal. I pay my own way & in turn write
authentic guidebooks to Nepal
. Rest assured, this is a genuine travel guide that you can trust.
---
Panchase is located to the north-west of Pokhara's Lakeside area in the province of Gandaki Pradesh. Technically it's possible to drive halfway way to Panchase but the road is bad and you can bypass it when trekking.
The trek route starts like many other in Nepal along the dirt road. However after only an hour you reach a lush farmland area along a ridge. This is where the real trekking begins. You make your way through pristine forest along stone steps, forest paths and grassy hills.
Quiet farmhouse and buffalo sheds dot the mountainside and you'll encounter friendly locals. With good weather you see the valley's bellow as you make your way up to around 2,000m where you can stay the night in a town called Bhadaure. The next morning you can trek up to another village called Bhanjyang which is where most people spend the night before the next morning climbing a set of steps up to Panchase peak itself for a great sunrise view.
At 2,500m Panchase peak is relatively low in altitude but it does offer great panoramic views of Machhapuchhre, Dhaulagiri, Annapurna, Lamjung and Manaslu. There are several look out points available to see these mountains which we'll cover here. It's also possible to stay at Panchase peak however it's more comfortable to stay in the village below.
---
---
This map shows you the most popular Panchase trekking route.
Please note this map should not be used as a practical trekking map. While the main Panchase route remains the same there are variations depending on side trails, the road, weather conditions, time of year, natural events and physical changes to the trek paths. Detailed trekking maps can be obtained in Nepal at very low costs.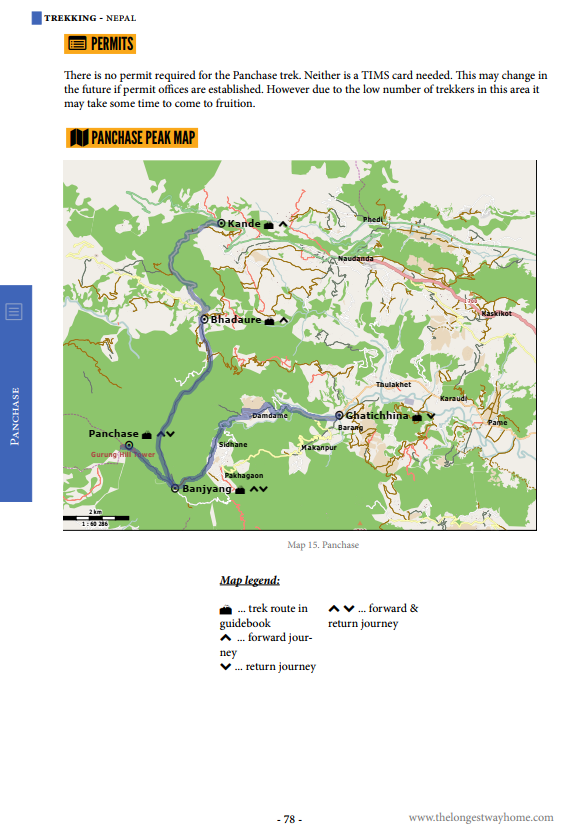 The above map of the map of the Panchase Trek is from my First Time Trekking in Nepal Guidebook & Nepal Guidebook - the map can be zoomed right in to display the trails up close in the digital editions. In the paperback version there are additional maps.
---
---
The Panchase trek is a well known area. However, most facts are less certain in regards to the many "trekking routes" to or back from Panchase. Due to this, it's better to stick with the well known trekking routes.
Highest point of the Panchase trek
At 2,500 meters (8,202 ft) Panchase Peak marks the highest point of the Panchase Trek.
Highest sleeping point on the Panchase trek
The highest sleeping point along the Panchase trek is at the very top of Panchase Peak which is 2,500 meters (8,202 ft). However better accommodation is available at Bhanjyang at 2,000 meters (6,561.68 ft).
How long have people been trekking the Panchase route?
The Panchase area has always been a popular local area. The route was once a camping only area. In the past decade teahouses have opened up in the hope that the area would become popular. Trail signs were places along the route going up but none on the way down. Since 2015 the road development has taken priority. However the trails easily divert around the road still making it a pleasant route.
Trekking permits have never been needed for Panchase. That's not to say they won't ever be required. It's likely if the road is ever completed then Panchase will popular with day trekkers and an entry fee eventually come into effect.
What mountains can you see from Panchase?
Panchase has panoramic views of the Annapurna mountain range from the top. In particular Machhapuchhre (6,993 m), Dhaulagiri (8,167 m), Annapurna (7,010 m), Lamjung (6,822 m) and Manaslu (8,156 m). These are best seen at sunrise. However, early mornings can also have great views. On clear days the views can be seen in the afternoon.
---
---
Highlights on the Panchase trek include:
Easy trek to see the Himalayan mountains
Short trek of only 2-3 days
No permits needed
Visit rural farming villages
Few tourists
Forest Trails
Village Trails
Friendly locals
Budget friendly
---
---
Panchase offers quite a few options to trekkers in the Pokhara area. Although it's an official trek there are no permits needed. Unfortunately over the years many people have tried to capitalize on the short trek and a mass of trekking routes to Panchase have come about. Some are from guides who want to add on days so they can make a little bit more money and others are from day trekkers/backpackers who've been trying to make their own unique route to Panchase.
As it stands getting to Panchase can be a direct short trek. Or a hob-nob round-about stitch of day hikes. Personally I recommend two of the main routes to get the most out of the Panchase trek without getting lost or tackling landslide areas. The preferred Panchase routes are listed in the itineraries below. Meanwhile let's look at whether you need a guide or not.
There are many places to see the sunrise on the Panchase trek
Arranging a regular Panchase trek
There are many options for a regular trek ranging from package tours to independent trekking. Booking online is not recommended for this trek as it can be very expensive. Treks to Panchase can easily be arranged in Pokhara or done by yourself. Prices below are based on a two night, three day trek.
Package tours bought online:
Package tours to Panchase bought online usually have additional days added on to them. Most of these "extra" days are not necessary and are only placed onto the trek to bump up the price by using a guides fee by day.
Package tours usually include food, porters and accommodation. Costs are around USD $300-600
Pro's of an online package tour is that everything is done for you ahead of time.
Con's include it greatly increases the cost of the Panchase trek which doesn't really have to be booked online. You can basically arrange a guide on the same day you leave Pokhara should you wish.
Package tours bought in Nepal:
If you want to buy a package trek to Panchase when in Nepal, then do it from Pokhara and not Kathmandu. You can easily arrange a package trek along the Panchase route yourself. If you have time then try to visit a few trekking agents to compare prices.
Permits are not required so basically all you need is a guide, accommodation and food. Trekking agents tend to pass off new guides for this trek as it's not very profitable for them. Do make sure you are comfortable with your guide before agreeing on anything.
Ensure that you understand what's included in the total price of the trek. This should include accommodation, food, bus/taxi fees etc. There are no flights involved with the Panchase trek unless you are coming from Kathmandu to Pokhara (where the trek starts).
You could break down your package trek just for a guide, transport and accommodation. Looking after the food yourself. Just remember its protocol when trekking to eat where you stay. Costs are around USD $160 for a three day trek which includes transport, food and accommodation.
Pro's with a package trek include meeting your guide before hand and being able to talk or ask questions in person. Buying a package trek from Pokhara to Panchase is much cheaper than online.
Con's include trekking agents trying to add extra days to the Panchase trek. At best the trek is 3 days. However many will include "side treks" to other villages. These are the types of villages you'll encounter on the 2-3 day trek anyway. During the busy peak seasons you may also find it difficult to find a qualified guide who has the time for such a short trek. It's just a matter of patiently asking around trekking agents.
Hiring a guide for Panchase yourself:
Perhaps the best option for Panchase is to hire an independent guide yourself rather than a paying extra for a package tour. It's a very short and uncomplicated trek so there really is not need to pay over the odds for an all inclusive package trek.
If you go with just a guide then you'll need to pay for accommodation and meals yourself. This is not hard as the reality is you only have about 5 tea houses to choose from. Menu prices are fairly set too. Costs will be around USD $80 for the guide and $90 for you your transport, accommodation and meals.
Pro's with just having a guide include saving money and being more independent.
Con's include having to deal with a the odd rogue teahouse owner who may try to overcharge. In this case, you just walk next door to the next teahouse.
Independently trekking to Panchase yourself:
Lastly your could try trekking to Panchase yourself. The route is fairly well marked out on the way up. However if you elect to come down a different route then the trail is not marked at all. Naturally if you've never trekked before or are not used to the outdoors it's safer to take a guide. Costs will be around USD $90 (private accommodation/transport).
Pro's here include independence and a very low budget.
Con's include having to navigate the trail yourself and deal with teahouse owner. It's important to note that people have had accidents and become lost coming down from Panchase using unmarked trails. The often mentioned "world peace stupa trail" should be avoided due to lack of use, no markers, places to buy water.
Please note: Some rogue online and even local trekking agents will try to include the cost of an Annapurna Conservation Area Permit and TIMS onto the trek. These are not needed. If a guide insists and you are still happy to go with them then make sure you actually see your permit and TIMS card.
If looking for a guide for the Panchase Trek yourself then I recommend you read my article on how to find a trekking guide in Nepal. Alternative use my Find a Trekking Guide Service.
You may also contact me if you wish to have my personal recommendation however it would be appreciated if you purchase one of my guidebooks as they also list my recommendations and keep this site going.
---
---
Panchase has the same weather climate as Pokhara although in winter at 2,500m it will be cooler than Pokhara due to the elevated altitude. However snow call is rare.
Due to this mild climate Panchase is open for trekking year round. Do note however that it can be one of the wettest areas in the Annapurna region. There are peak seasons which suit this trek and the following months have traditionally been used as a guide for preferred times of the year to do the Panchase trek.
Panchase Weather by month (Pokhara)
Avg. Temperature
(°C)
Avg. Temperature
(°F)

Precipitation / Rainfall (mm)

January
13.1

55.6
28
February
14.9

58.8
24
March
19.5

67.1
52
April
23

73.4
106
May
24.1

75.4
312
June
25.2

77.4
626
July
25.3

77.5
876
August
25.2

77.4
807
September
24.1

75.4
491
October
21.6

70.9
140
November
17.5

63.5
6
December
13.8

56.8
6
Do note that at 2,500m Panchase will be a little cooler than the above temperatures - particularly at night. It's also worth paying attention to precipitation as it is a wet part of Nepal.