---
Bhaktapur Durbar Square is a part of the ancient Newari city of Bhaktapur (Bhadgaon or Khwopa-Newar ख्वप ). The square contains a royal palace that took center stage as one of three royal capitals during the 15th century in the Kathmandu Valley.
Today Bhaktapur Durbar Square is just one of four main attractions within the old city known as "Bhaktapur".
It was during the reign of the Mallas that Durbar Square acquired most of its beautiful buildings and prominence as a great city in The Kathmandu Valley when it garnered the nickname "city of devotees".
Once one of the capitals of Nepal in the 15th century, today it's Nepal's third largest city and renown as being a city of culture, temples and craft work. It's common that most tours or travel agents only focus on "Bhaktapur Durbar Square" however the city is much larger than it's most famous attraction.
If you have time it's worth spending a few days and nights in Bhaktapur. However if you are short on time then it's an easy day trip. Either way a trip to Nepal would not be complete without visiting this magnificent ancient city filled with many things to see and do.
If you plan on buying many Nepali souvenirs to take home, make sure you visit Bhaktapur before buying anything. It's reknown for producing pottery, puppets, masks and cultural handicrafts.
Sunsets in Durbar Square are best seen from the eastern end where there just happens to be a restaurant! Although you can also just perch yourself on a temple like the locals and watch the sun go down.
Did you know?
King Ananda Malla lived in Bhaktapur Durbar Square and helped to create a place renown for culture and art.
Durbar Square is completely traffic free making it a pleasant change from the rest of Nepal!
Bhaktapur Durbar square was one of the least affected historical areas during the April 25th 2015 earthquake in Nepal however most of the older temples are now fully rebuilt!
---
---
One cannot write a summary about the history of Bhaktapur Durbar Square without including all of Bhaktapur which can be found in the book Kathmandu Valley Heritage Walks.
Founded in the 12th century by King Ari Malla (Ari Deva) of Banepa from a kingdom just outside of the valley. He moved the capital of his kingdom to Bhaktapur's Dattatreya Tole (the oldest square in the city).
King Ari was the first to adopt the Malla name which means "wrestler" in Sanskrit indicating power, strength and skill. Throughout Bhaktapur you will find stone statues of wrestlers.
Between 1200 AD and 1482 was the golden era for the Malla kings. Bhaktapur ruled the valley kingdom and it prospered well. After the death of King Jayayakshya Malla in 1482 Malla the valley was divided up into three kingdoms for his sons (Bhaktapur, Patan and Kathmandu). This period became known as "The period of the three kingdoms".
From then until the mid 18th century Bhaktapur and the valley saw many skirmishes and battles.
However it was during this period that also saw a great rise in culture, trade, temple construction, artistry, architecture and language. Indeed it was during this period that the Nepali language was formed.
Today Bhaktapur as a whole retains it's wonderful historic beauty and culture. However it is so very important to realize that Bhaktapur Durbar Square is only one small part of Bhaktapur city itself. All of which can be explored!
There's a lot to discover in Bhaktapur so many people opt to stay here for a few nights which really can make you feel like you are sleeping in another time period.
---
---
If you are visiting Bhaktapur Durbar Square I highly recommend you download my guidebook to heritage walks in Kathmandu. It includes fantastic walking tours of the square and photographs of every temple so you'll never be confused as to what's what again!
Bhaktapur Durbar Square contains a lot of temples and places of interest as you can see. There are local guides who can be hired from as little as 1500 rupees. Do be aware that they don't always know as much as they claim and very rarely show you anything beyond the 4 squares.
If you get my downloadable guide to Bhaktapur it contains every temple in the square and beyond: all laid out in a great walking tour. Get my Bhaktapur guidebook here.
---
---
Yes, but it's only the immediate Durbar Square area. So from the entrance gates to the Siddhi Laxmi Temple no traffic is allowed.
After the 2015 earthquake Durbar Square was opened up to traffic to help with aid. But in May 2016 traffic was once again stopped from entering the square. Contrary to some guidebooks this traffic-free area is only applied to Durbar square and not the other squares.
To learn more on who and why this happened do read about the history of Chyasalin Mandap or better yet get an up to date premium guidebook to Bhaktapur!
---
---
Heritage buildings in Bhaktapur Durbar Square were hit by the 2015 earthquake with all sustaining some damage and only one completely collapsing.
Vatsala Durga was completely restored in 2021 and was the last of the squares temples to be reconstucted. Much older temples are now being concentrated on that need to be rebuilt using old photographs.
The museum's exterior and interior is due for renovation once the main temples have been reconstructed.
Bhaktapur Durbar Square is a wide open square that's been well maintained over the years. The heritage committee in Bhaktapur concentrated on repairing and rebuilding each damaged temple in Durbar Square individually. The result has mean tourist have been able to enjoy scaffolding free temples and barely even get a hint of the damage there in terms of heritage.
Compared to Kathmandu Durbar Square, and Patan Durbar square it was Bhaktapur Durbar square that was recently listed as the best in Nepal! Bhaktapur Durbar Square is also home to the first temple that is open to donations from the public. The difference is the transparent funding in the repairs of the famous Vatsala Durga temple.
---
---
I strongly suggest you get my guidebook to Nepal where you'll find the very best high resolution off line maps to Bhaktapur Durbar Square. Meanwhile here is a map showing the temples and highlights of the great square.
Get a better map! Get my guidebook to Nepal and experience the best maps to Bhaktapur and all Nepal!
---
---
The current fee for foreigners into Durbar Square is 1800rps while SAARC members pay 500rps.
This ticket covers all of Bhaktapur city including Pottery Square, Taumadhi Square and Dattatreya Tole.
If you are planning to stay in Bhaktapur show your passport at the ticket office and you can get the same ticket extended for one week with no extra cost.
Ticket booths are located at all the main entrance streets into the old city of Bhaktapur and there are random "ticket inspections" so do hold on to your ticket!
Between March 17th to 21st 2020 is a new Bhaktapur festival. It will show traditional Bhaktapur dress, customs, food and folklore. It's well worth spending a night in Bhaktapur to see this.
---
---
There are only a few hotels very near Bhaktapur Durbar Square. Most of the hotels are scattered across all of Bhaktapur. Do get my guidebook to Bhaktapur for full reviews and recommended places to stay.
---
High-end hotels in Bhaktapur Durbar Square
There are none! Most hotels in the square are of a mid-level quality so don't let anyone tell you differently.
---
Mid-range: USD $20-80 per night
Khwapa Chhen Restaurant and Guest House - Located just outside the main gates of Durbar Square in a big Newari style house. It caters mainly to Chinese guests but worth the effort for one of those balcony views!Book here ★★★☆☆

+ Location

+ Views

Vajra Guest House -Close to Durbar Square this guest house is clean and modern. Again they are tour group oriented but staff are good. Book here ★★★★☆

+ Service


Shiva Guest House - Probably offering the best sunset views this guest house is located in Durbar Square at the eastern end. The ground floor restaurant is one of the better places to eat too! Book here ★★★★☆

+ Best Choice!

+ Location

+ Price

Golden Gate Guest House - Offering 22 rooms in a secluded courtyard off Durbar Square rooms here have both shared and private bathrooms. Sticking with privates over shared is a good idea. Book here ★★★☆☆

+ Clean

+ Service
Budget hotels in Bhaktapur Durbar Square: USD $5-20 per night
Mountain View Guest House - This budget guest house is quite new and very clean. With only 4 rooms it can get booked out though. Located off the north east corner of Durbar Square the rooftop views are great. With a nice owner to match budget travelers can do well here. Tel: +977-1-6617371

+ Location

+ Service

Looking for more accommodation in Bhaktapur Durbar Square? Try my hotel search below for the best rates.
---
---
Liked this page? You'll love my book! It's a guidebook that's better than the rest and the only one that's kept updated. Yes, really! In it I cover all of Bhaktapur's attractions with well researched information, photographs and travel tested walking tours.
It's an interactive & printable guidebook like no other.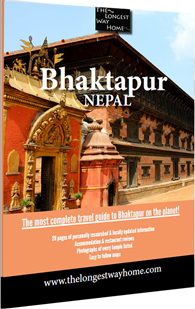 Discover more guidebooks!
---
Was this page helpful to you? If so please tell others!