---
Bhaktapur is an ancient city about 12km outside of Kathmandu city within the Kathmandu valley.
Once one of the capitals of Nepal in the 15th century, today it's Nepal's third largest city and renown as being a city of culture, temples and craft work. It's common that most tours or travel agents only focus on "Bhaktapur Durbar Square" however the city is much larger than it's most famous attraction.
If you have time it's worth spending a few days and nights in Bhaktapur. However if you are short on time then it's an easy day trip. Either way a trip to Nepal would not be complete without visiting this magnificent ancient city filled with many things to see and do.
If you plan on buying many Nepali souvenirs to take home, make sure you visit Bhaktapur before buying anything. It's reknown for producing pottery, puppets, masks and cultural handicrafts.
Did you know?
There are more temples per foot in Bhaktapur than in either Kathmandu city or Patan.
Bhaktapur (भक्तपुर) means "city of devotees" in Nepali. However it does have some other translations meaning "Ancient Newari Town."
Founded in the 12th century by King Ananda Malla Bhaktapur rose to be a city renown for culture, crafts and trading due to being a part of the ancient Indian trading route through to Tibet. .
---
---
Bhaktapur's old city is broken up into four main areas. The most famous is Bhaktapur Durbar Square. Followed by Pottery Square and Taumadhi Square. The last square is also the oldest, Dyattraya Tole.
If you are visiting Bhaktapur I highly recommend you download my guidebook to Bhaktapur or better yet the full Nepal guidebook. or if you really want to see places in Bhaktapur not written about anywhere else, the book Kathmandu Valley Heritage Walks. Both include fantastic walking tours of the whole city and photographs of every temple that you won't find anywhere else!
Meanwhile here is a list of things to see & do in Bhaktapur:
Bhaktapur Durbar Square: one of the largest ancient squares in Nepal filled to the brim with temples, cultural carvings and buildings
Basantapur Chowk: two famous sculptures that cost a man his hands
The Palace of Fifty-five Windows: a masterpiece of wood carving
The Golden Gate: one of the most intricate and well decorated gates in the world
Pashupatinath Temple: impressive wooden temple




Nyatapola Temple in Taumadhi Square in Bhaktapur city Nepal

under renovation 2022/2023
Vatsala Durga Temple & Taleju Bell: Stone temple with bell built by King Jagat Prakash Malla
Siddhi Laxmi Temple: A stone temple built in the 17th-century.
Pottery Square: Watch Bhaktapur's famous pottery as it's made in this idyllic traditional square filled with potters and their wares.
Royal Curd: Take a time out and eat some of Bhaktapur's famous curd
Side streets of Bhaktapur: Spend hours wandering off down the side streets of the city enjoying local handicraft stores, artisans, local cafes and countless ancient buildings
Taumadhi Square: a huge square with the tallest temple in Nepal
Nyatapola Temple in Taumadhi Square: with a five-tier roof and an ornate exterior stone staircase the Nyatapola Temple is one of the tallest in all Nepal.
Dattatreya Square: the oldest royal square in Nepal filled with things to see and do.
Dattatreya Temple in Dattatreya Square: Smaller but much revered three-tier temple.
The Peacock Window: One of Nepal's most precious woodcarvings and national art treasures - there are several craft stores along the same street worth visiting.
Bhaktapur is a huge ancient city with narrow streets that do not allow normal traffic to go through it quite as much as any other large city in Nepal. There still is traffic, but it's reduced. Walking around Bhaktapur is therefore a lot less stressful and enjoyable than it is in Kathmandu!
Bhaktapur Durbar Square today
---
---
Heritage buildings in Bhaktapur were hit by the 2015 earthquake but they did not sustain as much damage as other parts of Nepal. Indeed if you visit in 2023 it will be difficult to see much damage at all apart from some poles holding up older buildings.
Bhaktapur's approach to rebuilding has been different than the rest of Nepal. They have concentrated on repairing and rebuilding each damaged temple one at a time (roughly). It meant faster repairs. Further to this, it's been community driven in regard to funding so there's been no waiting for national funding.
During a recent review Bhaktapur Durbar square was listed as the best in Nepal! You can also read more about how Bhaktapur has initiated the transparent funding for the repair of the famous Vatsala Durga temple.
---
---
The current fee for foreigners is covered under the main Bhakapur entrance fee(1500 rupees) and covers all areas. The fee is due to increase once temple reconstruction is complete..
If you are planning to stay in Bhaktapur then when purchasing your ticket show your passport and you can get the same ticket extended for one week with no extra cost. You can read more about Bhaktapur ticket prices in the link above.
There are several back streets with no ticket booths into the old city however if you want to enter the museum or several other buildings you might be asked to show proof of entry.
Don't bother arguing with the ticket counter staff that you are staying overnight in Bhaktapur - you still need to buy a ticket - but the extension is free for the length of your visa.
Bhaktapur city will be having a new festival from March 17-21st 2020 which will largely be taking place in its Durbar Square. Featuring many traditional highlights that are only found in Bhaktapur.
---
---

There's enough to see and do in Bhaktapur for several days if you enjoy getting lost and exploring. However if you are in Kathmandu the following walking itinerary would make for a great full day out in Bhaktapur.
Start your day in Kathmandu with a hearty breakfast. Avoid rush hour traffic and set off via taxi at 9am or by bus from Ratna Park at 9am. Arrive either at the West Entrance or East Entrance (bus). Follow the blue line in the map below making your way through Bhaktapur. Do ensure you visit Bhaktapur Durbar square, taking in the museum, and a side trip through the Golden Gate. Make your way south along the street marked for "Arts and handicraft stores" for some shopping before making your way to pottery square to look at some traditional pot making.
Loop back around to Bhaktapur square for lunch, or back out the west gate for a cheap local eat. After lunch take a final look around Durbar Square before making your way east towards Taumadhi Square.
Climb up the stone steps of Nyatapola Temple for a great view before later walking around the square for some souvenir shopping. Continue east through a maze of back streets and enjoy getting lost in amongst ancient streets, buildings and courtyards on the way to Dattatreya Temple in Dattatreya Square. Either continue east towards the main east gate to catch a taxi or a return bus to Kathmandu.
Bhaktapur is easily walkable as there is no traffic allowed in the old city. Thus making it a one of the most enjoyable cities to walk in all of Nepal. From the west entrance to the east entrance usually takes a good 35 minutes without stopping. So do take your time and loop around the city to truly make a day of it.
I've also written a free walking tour of Bhaktapur.
For a fully interactive walking tour of all Bhaktapur download my guidebook.
---
---
There are dozens of online tour operators offering walking tours of Bhaktapur, Patan and Kathmandu in a day. My best advice is to avoid tours offering all three in one day. It's simply too much and you'll miss out on a lot.
Bhaktapur is worthy of a full day or overnight stay for heritage enthusiasts. For casual enjoyment a solid half day will deliver plenty. Unlike Kathmandu or Patan the heritage found in Bhaktapur is still very much a self supported "living" heritage site.
Unlike Kathmandu, Bhaktapur is much more laid back with less traffic and still retains a wonderful "step back in time" feeling.
Get a dedicated heritage walks guidebook to discover incredible places not found anywhere else in Bhaktapur.
While most guides will take you on a walking tour to Bhaktapur Durbar Square, Taumadhi Square and even Dattatraya square they do not take you to the hidden side streets nor other squares in the area. This is okay for a half day walkabout. Or again, if you want to save some money you can use my free walking tour of Bhaktapur.
However, if you really want to explore Bhaktapur I would recommend you get a dedicated guidebook to heritage walks in the Kathmandu Valley.
---
---
By bus: There are many buses going to Bhaktapur from Kathmandu City. The easiest and most central bus leaves from Bhaktapur Bus park which is just before the old Ratna Park bus stop in Kathmandu. The cost of this bus to Bhaktapur is 25 Rupees, however foreigners are charged 50 rupees. Simply show up inside the bus park and ask a driver. The bus drops you directly at the Bhaktapur bus park in Bhaktapur near the main entrance. Alternatively you could go to Ratna Bus Park in Kathmandu and head to any of the buses and start asking for where the Bhaktapur bus is. The Ratna buses do not always stop at the main Bhaktapur bus park though, they often stick to the main road which results in a not so easy walk to main ticket counter. In all cases board the bus and pay when a ticket collector comes up to you. It takes about 45 minutes to an hour depending on traffic.
By taxi: Taking a taxi to Bhaktapur is very easy from anywhere in Kathmandu city. However you will be paying upwards of 900 rupees and closer to 1200 rupees to 1500 rupees starting fee. Bargain hard.
---
---
Luxury:
Hotel Heritage - WiFi, well decorated and serviced hotel. However it is a little out of Bhaktapur center and well over priced.
Hotel Peacock - Boutique style hotel with charming rooms, a little restaurant & a quaint courtyard.
Mid-range:
Vajra Guest House & Restaurant - WiFi, laundry service, LCD televisions (cable). Beautiful Garden, restaurant on site and a very close to Bhaktapur's attractions.
Bhadgaon Guest House Bhaktapur - WiFi, parking, laundry service, child minding Restaurant.
Budget:
Nepa Guest House - WiFi, well run and very clean, right in the center of Bhaktapur.
Shiva Guest House 1 & 2 - WiFi, traditional looking clean guesthouse with restaurant. Close to Bhaktapur Durbar Square.
Nyatapola Guest House - WiFi, traditional guesthouse and craft store. Aside from the mandatory sales pitch for their goods it's located in the very interesting Pottery square area.
Looking for more accommodation in Bhaktapur? Try my hotel search below for the best rates.
---
---
Liked this page? You'll love my book! It's a guidebook that's better than the rest and the only one that's kept updated. Yes, really! In it I cover all of Bhaktapur's attractions with well researched information, photographs and travel tested walking tours.
It's an interactive & printable guidebook like no other.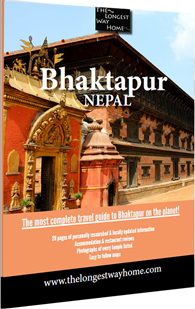 Discover more guidebooks!
---
Was this page helpful to you? If so please tell others!