---
Located on the eastern side of Bhaktapur Durbar square Chyasalin Mandap is a small two storied wooden pavilion. It's is pronounced "Chee-ass-a-lin". Interestingly guidebooks and the tourism sector have often labeled it a temple which is incorrect. It is fact a pavilion. The name mandap means small temple which was written into some books incorrectly in the past and the name stuck.
Chyasalin "Pavilion" Mandap was originally thought to have been built in the 17th century under the Malla Kingdom. Its main purpose was to deflect a powerful force coming from the nearby Shiva temple known as the Bhaktapur Pashupatinath temple. It was later used as a meeting place, a platform to watch plays / poetry and as a tax office.
During the 1934 earthquake Chyasalin Mandap was completely destroyed. It was restored during the 1980's and completed in 1990. It survived the 2015 earthquake with no damage.
Did you know?
Chyasalin Mandap was rebuilt using metal frames to help it survive another earthquake. This was proved to help as during the 2015 earthquake the pavillion showed no damage. The metal can still be glimpsed at today inside.
There's a staircase inside the pavilion that leads to the second floor which offers great sunset views. Sadly the hatch leading to the top is nearly always locked for reasoning that locals would use it for drug selling and romactic encounters - despite and armed presence near the golden gate. Never-the-less the pavilion is still a beautiful structure worth some time on a visit to enjoy.
King Bhupatindra Malla Originally had Chyasalin Mandap built to protect the 55 window place not from war but from another temple. The pavilion provided a barrier between his palace and the Shiva Temple which was then opposite it. Apparently local custom dictated that the Shiva temple had a powerful force emanating from it.
The pavilion was built with eight sides which means Chyasalin. This was done as it was thought that the octagonal sides would deflect the Shiva temples emanating force from hitting the palace.
Chyasalin Mandap's most prominent claim to fame is recorded on a stone plinth beside it. The inscription tells of a poetry competition held there between Bhupatindra Malla and his court.
---
---
After the 1934 earthquake Chyasalin Mandap was completely destroyed. In the late 1980's the then Chancellor of Germany Helmut Cole was due for a state visit. Protocol dictated a gift should be given to Nepal. Funded by Germany, architects Götz Hagmüller and Niels Gutschow set about rebuilding this lost treasure of Durbar Square.
Work was set about to find old photographs and remains from the original building. Eight of twelve pillars were found along with many other items. Duplicates were made and the building was reconstructed with metal frames in the event of another earthquake.
An interesting side note is that the restored Chyasalin Mandap building was the catalyst to preventing heavy traffic from entering the square and damaging other buildings. The resorted building essentially blocked them. Soon after legislation was passed banning all traffic from the historic square. This then spread to Kathmandu and Patan Durbar Squares but has not been enforced by local authorities.
Götz Hagmüller is also credited with rebuilding the Garden of Dreams in Kathmandu along with the Patan Museum.
For a full heritage walk surrounding Chyasalin Mandap and all of Bhaktapur get my book Kathmandu Valley Heritage Walks.
---
---
On April 25th 2015 the 7.8 earthquake that hit Nepal put Chyasalin Mandap to the test. While other temples were literally obliterated Chyasalin Mandaps earthquake resisteant structure helped it survive with minimal damage.
The metal framework swayed with the earthquake and held the wooden struts in place. Right beside the pavilion the Vatsala Durga temple collapsed in a heap of rubble.
There are serious implications here that need to be addressedquickly. Nepal has the physical resources to rebuild its lost temples. Woodcarvers, designers and stone masons can complete this task. What's lacking is architectural skill, engineering prowess, long-term sustainability and, of course, money.
Rebuilding Nepal's temples after the earthquake will involve not just Nepal but an international long-term effort. Chyasalin Mandap can be used as a prime example of what can be done to preserve Nepal's temples for future generations. Nepal sits on a siesmic fault line, rebuilding temples without taking this into account would be very foolish.
As of 2022 most of Nepal's slow cultural heritage reconstruction has not included Chyasalin Mandap as a proven way to be earthquake resistant. Instead, the reconstuction has focused on traditional builds. While this is certainly better than initial concrete rebuilds the longevity and lack of maintenance on these traditional builds is questionable.
---
---
There is no charge for visiting Chyasalin Mandap as it is covered under Bhaktapur's main entrance fee. While there is a hatch leading to the first floor of the building, it remains locked. However, to see inside due to the gaps in the wooden balcony.
---
---
Liked this page? You'll love my book! It's a guidebook that's better than the rest and the only one that's kept updated. Yes, really! In it I cover all of Bhaktapur's attractions with well researched information, photographs and travel tested walking tours.
It's an interactive & printable guidebook like no other.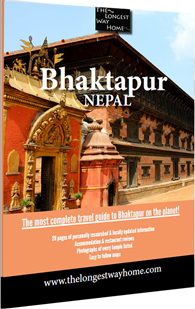 Find out more!
---
Was this page helpful to you? If so please tell others!