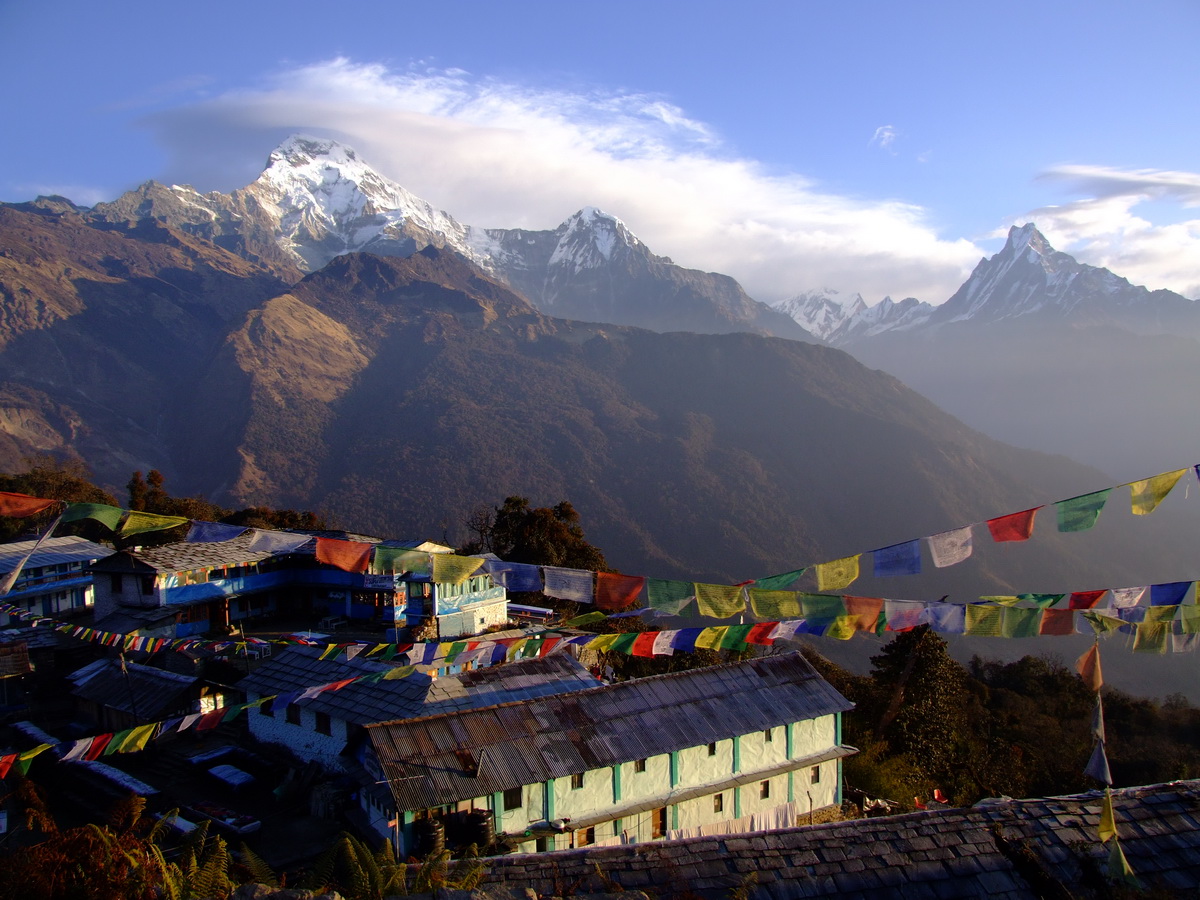 Is there enough to do in Nepal for a month or more?
Long trips to Nepal are the best way to enjoy this great country. However it is not always possible to take that much time off work. I've already written a popular one week itinerary for Nepal and a great two week itinerary for Nepal.
With 30 days or more you'll be in a different league with a vast amount of options open to you!
Mainly due to trekking, volunteering, relaxing or study you can of course spend several months in Nepal with ease. I've spent years coming to Nepal for extended stays and still come back and find new things to do.
So, if you are looking for a long holiday or you are wondering just what there is to do in Nepal for such an extended stay – read on.
Always start planning, with the time of year
There is no doubt in my mind that picking the right time of year to visit Nepal is of the utmost importance. Nepal has a four (five is you include the long monsoon) season temperate climate which will affect what you can do there and what you can see. Let's start with the best time to go and work from there.
September to late November is the tourist peak season. This season starts just after monsoon season so the air is clear and usually free of clouds. This is said to be the perfect time for visiting Nepal for trekking and other outdoor activities.
December, January & February are very cold winter months throughout Nepal. It doesn't snow in any of the main non-trekking cities in Nepal like the Kathmandu Valley but it does hit zero degrees. Load shedding or power-cuts are frequent at this time of year.
February to April is Nepal's second peak season and the second busiest tourist season of the year. Spring brings warmer temperatures throughout the country. There will be outbreaks of showers. It's a great time of year to see Tigers in Bardia or to go trekking.
May to June is the beginning of the monsoon season. Short, frequent and long showers mean flight delays are get more common. It can get very hot and humid.
June to August is when monsoon season is at its wettest and you should be prepared for heavy rains. Leeches become common in the forests, jungles and trekking routes. Flight delays are very common.
The above should give you a good idea on what to expect weather wise in Nepal. There's more detailed information about the best time to visit Nepal here and there's more on Nepal weather here.
For trekkers here's a complete monthly look at the best time of year to go trekking in Nepal:
Festivals in Nepal
An important step in planning your trip to Nepal is to know when festivals happen. Why? Well, Nepal has more festivals per year than many other countries in the world.
If you are not prepared for something like the Holi festival and having bags of color thrown at you then it's a good idea to come prepared!
Likewise if you want to see huge celebrations then you could try to plan your trip to Nepal around a festival like the Indra Jatra Festival. Whereas if you are into cultural heritage then arriving during Daishain is great as most people have returned to their villages and the main cities are relatively empty.
So do check out my list of festival dates in Nepal and see if there's anything important happening when you will be in Nepal.
What type of extended holiday do you want in Nepal?
With 30 or more days in Nepal you can cover a lot of areas. But, if you are planning to do an extended trek like the Annapurna Circuit or Gokyo Lakes and Everest Base Camp then that will cut into your time in Nepal significantly.
A little planning on what you want to do in Nepal helps to make this easier. Nepal's main attractions are: culture & history, trekking, jungle activities, adventure sports & relaxation.
There's no reason you can't mix and match some of the above. But don't expect to fit everything in. Meanwhile here are some outlines for people looking only to cover one aspect of Nepal.
Trekking: Taking to the epic trails around the Himalayas for trekking is one of the most popular activities in Nepal. With 30 or more days you can easily visit Everest Base Camp, conquer the Annapurna Circuit or even combine them with some other famous treks like Annapurna Base Camp. Just remember that monsoon season is not the best time for views!
Culture & History: The Kathmandu Valley is Nepal's main area for culture. Yes there is more around the country but do start here first! Weather planning tip: the Kathmandu Valley is accessible all year round.
Jungle activities: Wildlife and jungle lovers will have several options with 30 days. Nepal has several national parks and no limits on the amount of time you can spend in them. From photographing the elusive royal Bengal tiger to taking jungle safaris everything is possible in a month. Weather planning tip: monsoon season can get incredibly hot in the jungles of Nepal.
Adventure sports: From paragliding to canyoning, white water rafting, bungy jumping and climbing there's a lot of adventure sports in Nepal. Weather planning tip: monsoon season makes white water rafting and paragliding difficult depending on the days weather.
Spirituality, meditation, yoga and relaxation: Lumbini is the birthplace of the Buddha and thousands visit every year to see the Maya Devi temple along with the sacred garden. Meditation courses and yoga sessions take place in Kathmandu, Pokhara and Lumbini. While in Kathmandu and Pokhara there are more bars, cafes and restaurants to more than keep you busy for a month.
Budget travelers and backpackers should be aware that prices in Nepal have been creeping up over the past few years. For more on how to shoestring things out checkout my budget travel guide to Nepal and of course my overall  extensive travel guide to Nepal.
We've now covered the basics of what can be done in Nepal.
Now, lets look at specific itineraries for 30 days or spending over a month in Nepal.
30 Day trekking Itineraries in Nepal
You can do a lot of trekking in Nepal with 30+ days. Most people take on two short or medium treks with this much time rather than one super long trek. That said, there's nothing quite like taking to the mountains for a month!
The good news with 30 days is that you have time on your side. Meaning, you can easily extend a shorter trek by a day or two. This is great if you have never been trekking before. The biggest mistake I always see people trekking in Nepal make, is rushing their trek. It is far, far better to add days than subtract them. The more days you spend surrounded by majestic mountains the better.
With time on your side choosing a guide will be easier and you should be able to meet more than one to interview them with ease. If you want a recommended guide then you can contact me and I'll send you their details. Meanwhile here's my article on how to choose a trekking guide in Nepal.
With a month at your disposal and if you've never been trekking before you could easily start off your trekking trip with a short hike or trek to get in training!
Short treks in Nepal
Nagarkot Dhulikhel Trek

Starting point: Leaving from Kathmandu
Highlight: Everest Mountain range
Duration: 3 days 2 nights

Sarangkot

Starting point: Pokhara
Highlight: Annapurna mountain range
Duration: Day trek

Dhampus Village Trek

Starting point: Pokhara
Highlight: Annapurna mountain range up close
Duration: 2 days 1 night

Royal Trek

Starting point: Pokhara
Highlight: Annapurna mountain range
Duration: 3 days 2 nights

Ghorepani Trek (Poon Hill)

Starting point: Pokhara
Highlight: Hot springs, trekking + Annapurna Mountain range
Duration: 4 days 3 nights

Dhulikel

Starting point: Kathmandu
Highlights: A hill hike, Namobuddha hike & culture mixed into one
Duration: 1 day+ hikes with 1 day+ of culture
Most of the short treks listed here are Pokhara based. Pokhara is a 7am – 2pm bus trip from Kathmandu (allow for an extra hour or so). Or a 30 minute flight. Or a 6 hour car trip. There's no rush to get there. All permits for the region are available in Pokhara and it's walkable from the center of the town (Lakeside).
Culture and history lovers who also want a short hike will be happy in Nagarkot or Dhulikhel
Nagarkot is close to Bhaktapur and it's easy to do both. Spending 2 or more nights in Bhaktapur and 2 nights in Nagarkot is a great choice in Nepal.
Don't forget Dhulikel for a combination of culture and hillwalking both of which can be extended.
Do see the side bar on this page for free guides to all these locations and more on the best travel guide to Nepal.
Medium and long treks in Nepal
Mardi Himal Trek

Starting point: Pokhara
Highlights: High altitude trekking and mountains
Duration: 6 days 5 nights

Annapurna Base Camp Trek (Annapurna sanctuary)

Starting point: Pokhara
Highlights: Valleys and a spectacular mountain view at the end
Duration: 8 -10  days

Jomsom to Muktinath Trek

Starting point: Pokhara
Highlight: Part of the Annapurna Circuit. You will be taking a flight to/from Pokhara/Jomsom.
Duration: 9 -10 + days

 Everest Base Camp Trek

Starting point: Kathmandu/Lukla
Highlight: The Everest Mountain Range
Duration: 12+ days

Everest Base Camp / Gokyo Trek

Starting point: Kathmandu/Lukla
Highlight: The Everest Mountain Range
Duration: 18+ days

Annapurna Circuit

Starting point: Pokhara
Highlight: Full Annapurna Mountain range
Duration: 15-20+ days
Everest Base Camp is a hugely popular trek for many people traveling to Nepal. Do read my dedicated Everest Base Camp Trek guide for more information. The EBC can easily be accomplished within 12 days though with the extra time you can afford to take on 1 or 2 more days. If you really wanted to make the most out of trekking in Nepal then you could also add in the Gokyo lakes which can take between 18-20+ days to complete.
The other popular long-duration trek in Nepal is the Annapurna Circuit. Today there's a road on the western side that many people rightfully dislike. However it can be avoided with the NATT (New Annapurna Trekking Trails) but personally I would give them a skip and try to squeeze Annapurna Base Camp into a trekking itinerary.
The above options really will use up a lot of your one month itinerary in Nepal and are pretty hardcore trekking expeditions to take on. As such many people opt to do two medium or short treks in Nepal and split them up with another activity in the middle.
An example of this would be to do Everest Base Camp trek then go to visit Chitwan National park before going to Pokhara and then doing another medium length trek like Annapurna Base Camp or Mardi Himal. The choice is yours to pick and choose!
If you really want a close up view of Everest there are also plenty of daily Everest mountain flights that will take you close to Mount Everest.
Here's my detailed list on the above short treks in Nepal
For all these treks plus the best in perpetration and planning then I recommend you get my Trekking in Nepal Guidebook.
Cultural and Historic Itineraries in Nepal
With an idea on trekking itineraries in Nepal let's move onto cultural and historical itineraries. It's very easy to add a cultural itinerary on to either the start or end of a trekking itinerary or even in the middle if you go on short treks. Alternatively if you are not trekking then you could mix in a jungle activity itinerary, meditation or adventure sport activity.
10 Day Cultural and Historic Itineraries in Kathmandu, Nepal
You can spend months examining the fine temples, monuments and artwork in the Kathmandu Valley. The cultural and Historic itinerary below is spread out over 7 days which is about right to give everything justice. However you can easily break it up into two and put a trek in the middle or jungle activities or adventure sports. Again, the choice is yours.
Keep in mind that if you enjoy the culture and history of the Kathmandu Valley then you can always extend your time there with ease.
Day 1: Arrive, check into your hotel take a look around Thamel to get your barrings and relax.
Day 2: Take a very early morning taxi out to Boudhanath stupa to watch the monks get up while chanting and walking around the great stupa. If you want to make a full day of it then there are maps available showing over 20 monasteries that you can visit. From there you can walk or take a taxi to Pashupathimet where cremations take place. Take a taxi back to Thamel.
Day 3: Walk out to Swayambhunath then visit the three Buddha park and then hike up to Osiling Monastery before heading back to Thamel.
Day 4: Take a taxi to Patan for some temple sight-seeing not forgetting to visit the Living Goddess. Make a full day out of your visit to Patan by visiting the history northern section and southern section before heading back to Thamel.
Day 5: Enjoy a heritage walking tour in Kathmandu city on the way to Kathmandu Durbar Square all of which is enjoyed best on a Saturday morning when there is less traffic.
Day 6: Take a bus or taxi out to Bhaktapur, if you have time do make the effort to stop off at Thimi for an hour or two on the way. Bhaktapur is a wonderful location to spend a night or two if you enjoy Nepali culture.
Day 7: If you spent the night (or more) in Bhaktapur then you could take an early morning bus to Nagarkot for mountain views or a short day hike. Many people stay here for a night or two for the sunrise and sunsets along with a forest hike.
Day 8: From Kathmandu you could make a day trip out to the wonderful preserved heritage town of Panauti. It's pricey with a taxi but there are regular buses.
Day 9: If you are in Bhaktapur or Kathmandu a taxi or bus out to the quite historical town or Dhulikhel makes for a nice day trip. Better yet is to spend at least one night here to see the sunrise over the hills and in the distance the Himalayan mountains which includes a faint glimpse of Everest.
Day 10: The final day in Kathmandu could be spent in Thamel or checking some of Kathmandu's lesser known sites like the Kathesimbhu stupa or chill out at the Garden of Dreams (here's a list of things to see and do in Kathmandu).
None of the above is written in stone. If you don't want to spend a night in Bhaktapur, Dhulikel or Panauti, you don't have to. Instead you could spend more time learning about Buddhism or meditating in Boudhanath and the monasteries around it. Check out my newly updated travel guide to Boudhanath.
If you
Likewise the above Heritage itineraries can be broken up by taking a jungle trip, trekking expedition or adventure sport activity somewhere in between them.
Jungle visits and tiger watching itineraries
Nepal has amazing opportunities for those looking for wildlife or jungle safaris. Royal Bengal tigers top the list along with one-horned rhinos, elephants along with hundreds of game life, birds, reptiles and fauna. From Kathmandu there are daily buses to Chitwan National Park and Bardia National Park.
Itineraries in Chitwan are quite flexible and can be pre-planned. However, I don't advise pre-booking anything in Chitwan aside from your guest house or hotel. Jungle treks never book out and you can literally book one the night before.
Chitwan National Park Itinerary
Day 1: Arrive into Chitwan (Sauraha) check into your hotel and then take a walk through Sauraha village before (pre-book your activities for the next day) heading to the new river "promenade" for dinner alongside it (aim for sunset).
Day 2-4: Jungle treks in Chitwan can either be for a day or several days. It's really up to you though do read my guide to Chitwan to learn about what you can expect from each activity. The further you go into the jungle the more chance you have at spotting wildlife but it cantake longer.
Additional days in Chitwan: There are few other things you can do in Chitwan but it's mostly to do with jungle activities. These include an elephant breeding center, elephant washing, ox cart rides to local Tharu villages along with long sunsets on the rivers.
Bardia National Park Itinerary
Day 1: Arrive into Bardia: It's a long 16 hour bus ride to Bardia from Kathmandu or Pokhara and you'll usually end up arriving at 4am. It's best to spend your first day in Bardia catching up on some sleep and taking a stroll along the Tharu village area.
Day 2-10+: Jungle treks in Bardia: Royal Bengal tigers are easier to spot in Bardia than Chitwan. But, you'll need to pay attention to the time of year and how you do it so read my guidebook to Bardia. There is nothing else in Bardia other than wildlife spotting by foot or jeep which is the beauty of this area. Many people spend at least 3 nights here to ensure a better chance at spotting wildlife. Other people spend up to 30 days in Bardia alone.

Paragliding in Nepal is one of many adventure sports you can take part in – or if you have 4 weeks you can easily do instructor course in Paraglising or white water rafting (travel guide to Pokhara)
7 day adventure sport activity itinerary in Nepal
There really are only two places in Nepal for adventure activities. Kathmandu for white water rafting, kayaking and bungee jumping (arranging) or Pokhara for white water rafting, kayaking, day treks, mountain biking, canyoning, zip-lining boating and paragliding.
So Pokhara is the premier location in Nepal for adventure activities.
1-7 days adventure itinerary in Kathmandu: the Last Resort offers the only bungy jumps in Nepal and it will take you a full day to accomplish this. After that you can arrange a single day or one night and two-day white water rafting trip or anything up to a week (in peak season) from an agent in Thamel. You could also try archery or wall climbing in Kathmandu!
1-10+ days adventure itinerary in Pokhara: everything from paragliding, parahawking, white water rafting, zip-lining, canyoning and day hikes can all be arranged the night before from a travel agent along Lakeside.
Classic travel itineraries in Nepal
Over the past few years I've tried to engrave the notion of naming some of Nepal's classic or more popular itineraries to help people get an instant idea of what they are. Here are a few:
14 Day "Golden Loop" Itinerary
A great mixed itinerary where you can fit in a lot of  Nepal's sights and activities:'
It includes a mix of heritage walks and visits in Kathmandu city, Bhaktapur and Patan. A journey to Pokhara for some sporting activities including a trek which can of course be combined with one from the trekking itineraies on this page. A trip to Chitwan for jungle activities. A visit to Lumbini to see the birthplace of the Buddha before returning to Kathmandu. Do see some adventure tours in Nepal to get an idea of everything you can accomplish.
14 Day "Silver Triangle" Itinerary
An itinerary that takes you to the cities of Pokhara, Chitwan and Lumbini for adventure activities, trekking, jungle safaris and some spirituality 
The silver triangle is for sporting and adventure seekers along with those seeking some spirituality. It is the same as the Golden Loop but leaves our the Cultural Heritage side of things. A trip to Pokhara kicks things off for some sporting activities including a trek or two which can of course be from one from the trekking itineraries on this page. There's journey to Chitwan for jungle and wildlife activities. And finally a visit to Lumbini to see the birthplace of the Buddha before returning to Kathmandu.
There's lots more detail on these classic Nepal itineraries on the two weeks in Nepal itinerary page.
Expanding your 30+ day itinerary in Nepal
There's so much exploration in Nepal no matter your passion that it can go beyond 30 days with ease. Trekkers can explore more mountains, culture enthusiasts can uncover hidden heritage in places like Pokhara's Newar Bazaar or the terai region. While wildlife lovers can set about making remote jungle camps to try and spot the rarest of wildlife in Nepal.
For real adventure, culture and spirituality seekers there's eastern Nepal to discover. No other guidebook covers eastern Nepal other than my guidebook to Nepal.
Wrapping it up: your 4 week stay in Nepal
When you arrive into Kathmandu airport your world will change! You'll need to have passport photos and USD in hand for your visa just in case the new fancy ATM visa machines aren't working. Check out my post on arriving into Kathmandu airport for more. Believe me, it will save you some time having them ready.
Nepal is an epic country filled with activities for everyone no matter their interests. You really can spend more than 30 days here and not cover everything. But 4 weeks is one of the best ways to experience Nepal!
However, if you only have 7 days, then check out my one week travel itinerary for Nepal or my two week itinerary for Nepal.
Otherwise to help you further try out my page on how to plan a trip to Nepal or for those needing some to hire someone to help organize their trip my Nepal trip planning services.
Get my Guidebook to Nepal & discover more than anyone else!
The most up-to-date, popular and dedicated guidebook to Nepal in the world. Take a look below and you'll find out why!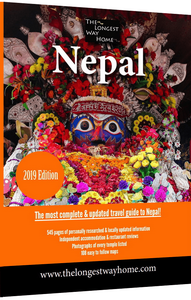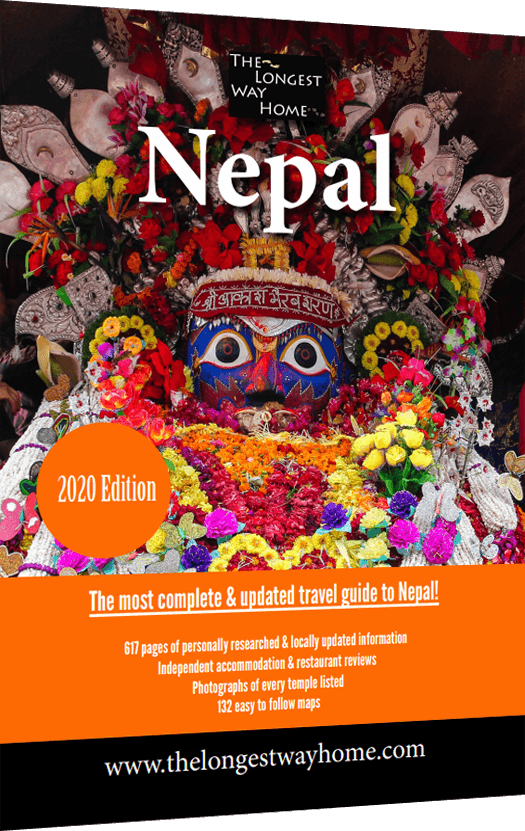 Find out more here!