---
The Poon Hill trek is one of Nepal's most popular classic short treks often referred to by it's full name the Ghorepani Poon Hill trek". It's called this as Ghorepani is the trekking village just beside Poon Hill where you stay the night before going up the hill in the morning.
The Poon Hill trek trek can be completed between 4-5 days depending on your requirements. It's a low-altitude trek with a maximum altitude of 3,210 m (10,531.5 feet) at the top of Poon Hill. However, Ghorepani has an altitude of only 2,874 m (9,429 ft) which is where you'll be sleeping so there's little change of altitude sickness on this trek. Ghorepani itself is large water source for livestock. Historically it's name comes from "Ghore" horses, and "Pani" water. A place where horses were once watered.
Do be careful when researching your Poon Hill trek as there have been changes in 2018. Every trek on this website is kept up to-date and in my guidebooks, however other sites are maybe not be so accurate anymore.
The maps on this page are not to be used as physical trekking maps - they are here only to show the rough outline and region of a trek. More detailed maps, recommending trekking agents, where to buy trekking equipment in Nepal and a far more detailed trekking guide to Poon Hill are available in my trekking in Nepal guidebook.
Trek Overview
| | |
| --- | --- |
| Difficulty: Easy | Days: 3-5 |
| Max Altitude: 3,210 m | Distance: 55 km (34.10 mi) |
| Accommodation: Lodge / Hotel | |
Distance shown is a return trek, the final distance will depend on side treks, extra days taken e.t.c. Acclimatization days should always be adhered to. You should assess your own fitness levels and assess each treks difficulty level yourself before trekking.
A fully detailed guide to the Poon Hill trek with more details is below
.
Honesty counts!
Every travel guide on this site has always been 100% independent, unbiased & honest. I do not accept sponsorships, free treks or tours. I do not own a trekking company or business in Nepal. I pay my own way & in turn write
authentic guidebooks to Nepal
. Rest assured, this is a genuine travel guide that you can trust.
---
Do note that because this is a popular trek many trekking agents will have slightly different stops along the trek. The route is basically the same though. Ignore trekking companies trying to sell "homestays" or the like. They are simply buzz-words for tea houses (trekking lodges) that have been there for decades - they just rebranded a few and put the price up..
Poon Hill is located to the north-east of Pokhara in the north central area of Nepal. The hill itself is beside the village of Ghorepani in Dhaulagiri. It takes about 4 days to reach Poon Hill from Pokhara, though many guides will extend this to 5 days for some extra sightseeing in the area.
Buses or jeeps will take you to the trail heads where you'll start your trek on either rough paved roads or off roads before quickly moving into farmlands surrounded by forests. From here you ascend up into pristine forested areas surrounded on all sides by either valleys or trees.
If you are looking for "rural" Nepal then this trek may not suit your needs as it's well discovered and one of the most popular in all Nepal. Thusly there are many tourist like facilities en route which can suit some people (better food, nicer for small children etc). For those looking to get away from all this a good guide will help you avoid the huge crowds during peak season.
If you've never been trekking before, have limited time, have small children, or are looking for a more relaxing trek Poon Hill can be an ideal trek. Villages, farmlands, rhododendron forests and some a great mountain views all make Poon Hill an ideal choice for a short time frame.
---
---
This map shows you the most popular Poon Hill trekking route.
Please note this map should not be used as a practical trekking map. While the main Poon Hill route leads to Ghorepani and remains the same there are variations depending on side trails, weather conditions, time of year, natural events and physical changes to the trek paths. Detailed trekking maps can be obtained in Nepal at very low costs.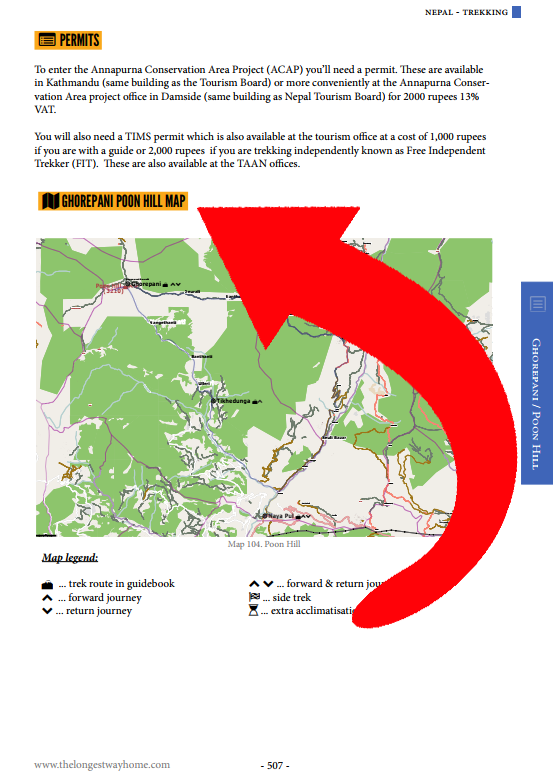 The above map is a sample from my Nepal guidebook - the only guidebook with trekking maps that can be zoomed right into - even for the smallest of trails!
---
---
The Ghorepani Poon Hill Trek is very popular and there is a bevy of information about it. However, some trekking agencies tend to "over" exaggerate aspects of it. There's also a bevy of "positive" "sponsored" blog posts about it out there. Let's keep an honest head here and explore what you can really expect.
Highest point of the Poon Hill trek
At 3,210 m (10,531.5 feet) the top of Poon Hill itself marks the highest point of the Poon Hill Trek. There's a viewing tower at the top of the hill if you want another 20 or so feet. This is where you go after a night in Ghorepani for a sunrise view of the mountains.
Highest sleeping point on the Poon Hill trek
The highest sleeping point along the Poon Hill trek is at Ghorepani which is 2,874 meters (9,429 feet). The lowest point of the trek is Low camp is 1,488 meters (4,881.89 feet). The morning views from Ghorepani are also very nice. A mix of traditional tea houses to the front and the majestic snow capped mountains to the rear.
Total distance of the Poon Hill trek
The full distance trekked on the Poon Hill trek is about 55 km (34.10 miles). Though side treks and extra days can add or subtract from the distance. In terms of hours most people trek for over 35 hours in total - again however do note that distance and time on this trek is relative to your own stopping points etc. The above are averages.
How long have people been trekking the Ghorepani Poon Hill route?
This entire area was once part of the Pokhara to Tibet trading route. It wasn't a large route and many traders in the 17th century settled in the area to become farmers.
Poon Hill itself is just that - a large hill with 360 degree panoramas of the Annapurna Mountains.
Ghorepani's history lies in being a popular fresh water source for livestock, farming and people. In particular horse traders. The name Ghore means horse while Pani means water. Hence the village got it's name.
Is there any wildlife to see on the Poon Hill trek?
Bird and butterfly watching is very popular on the Poon Hill route. White capped river chats and colorful song birds are plentiful. Rhododendrons when in bloom bring out the butterflies.
Large animals like Yaks and leopards are not in this area. Locals still tell tales about tigers but nobody has actually seen one in many a decade. Donkeys and mules ply the trekking route transporting food and produce to the tea houses. Do watch your step when they are passing and give them full right of way. The little bells around their necks will warn you when they are approaching.
All in all, colorful birds are probably going to be the most interesting wildlife you'll come across. Bring a good zoom lens if you are into photography.
What mountains can you see from Poon Hill?
Both the Annapurna mountain range and the Dhaulagiri mountain range are visible from Poon Hill. The view at sunrise is quite breathtaking compared to other short treks. Views include Annapurna I 8,138 meters (26, 700 ft), Annapurna South 7,218 meters (23, 684 ft) along with the world's seventh highest mountain Dhaulagiri 8,167 meters (26,794 feet).
For those who don't want to go up the hill, the view from Ghorepani is also very nice. Offering a mix of village buildings and lavish mountains.
---
---
Arranging a regular Poon Hill trek
Due to the longevity and popularity of the Poon hill trek it is a very easy trek to arrange. Booking online can be significantly more expensive than booking in person when in Nepal. However, online tours to Poon Hill are readily available with little complication.
Package tours bought online:
Package tours to Poon Hill bought online have a fixed itinerary usually for 5 days. Though the trek and be done in 4 days agencies will frequently trey to upsell a 5th additional day. If you are fit and have trekked before you will probably find this fifth day unnecessary.
If you have not trekked before, have a need to go slow, are with small children or simply want to relax a bit more then the fifth day makes for a good choice.
Package tours usually include food, porters, accommodation and permits.
The Pro's of a package tour to Poon Hill include that everything is done for you ahead of time. There's very little organizing involved with little scope for anything going amiss. Con's include paying above the average price, you won't know who your guide will be. Some large trekking agencies may also try to bundle you with other trekkers.
Package tours bought in Nepal:
For those with a couple of days in Nepal then you can arrange a package trek along the Ghorepani Poon Hill route yourself. Again, the main issue usually surrounds either completing the trek in four days or five days. Do remember to consider your days transport to Pokhara which many trekking agencies assume you know about. This does not include the trekking days but sometimes they will try to upsell this with a complementary bus ticket. It's not a big deal, just remember to count all your days.
If purchasing a local companies package tour it's important to know what's included.
Do make sure that both you and the trekking company are on the same page with what's included in the total price. Accommodation, permits, bus fees, meals etc. There are no flights involved with the Poon Hill trek unless you are coming from Kathmandu to Pokhara (where the trek starts).
Poon Hill is one of the few treks that can offer a range of accommodation. Package tours to Poon Hill will largely vary in price due to this. High priced Poon Hill treks may well include private bathrooms. Do ask. If you are okay with shared bathrooms then the price will be lower.
The pro's of a local package trek tour include meeting your guide before your trek, having the ability to ask questions in person and local package treks to Poon Hill are much cheaper than online. Con's include having to spend at least one day listening to trekking agents trying to sell you the trek.
Hiring a local Poon Hill Guide yourself:
There are many local guides that can take you to Poon Hill. It's a great way to help the local economy while also have a degree of trekking Independence. It basically means hiring an independent guide whom you just pay a daily rate to. You then pay for all the accommodation and food yourself. While the costs do come down you'll need to do more.
You'll need to deal with tea house and hotel owners yourself in terms of pricing and payment. It's quite easy to do this on the Poon Hill trek though because its popular hotel owners inflate prices during the peak season. So, you'll need to do some walking around if you are on a budget.
Pro's here include a cheaper trek with more trekking independence. You can stay when and where you like. Con's include having to bargain for your own room in an area well used to tourists. You'll also have to order your own food, which is not hard. However, do remember that you need to eat whereever you stay. This is a trekking rule in Nepal. The best place to hire a guide for Poon Hill is in Pokhara as most are from that area and know it well - more below.
Independently trekking to Poon Hill yourself:
If you have some trekking experience you may want to do a solo trek to Poon Hill. The Poon Hill Trek is well marketed and accommodation is not hard to find. You may however lose out in learning about the area, the forests, wildlife and mountains.
Pro's on going to Poon Hill independently include complete independence and saving money on not taking guide. Con's here mean having to do everything yourself from permits to lodging. During the Peak Season you may find some villages booked out in terms of accommodation. While you won't go without shelter for the night, it may affect your budget more than you'd think.
If your are looking for a guide for the Poon Hill trek I recommend you read my article on How to find a trekking guide in Nepal.
You may also contact me if you wish to have my personal recommendation however it would be appreciated if you first purchase one of my extremely detailed guidebooks to Nepal (they also list reviewed trekking agents for all budgets).
---
---
Weather along the Poon Hill trek is subject to change:
Nepal's traditional peak seasons offer the best months for great views from both Poon Hill and Ghorepani. However, due to Poon Hills low altitude it means that the winter season also makes this trek relatively accessible. It's important to realize that just because Poon hill is an easy trek doesn't mean that you'll be guaranteed a great view. During the peak season there's simply a greater likelihood of a great view.
Mid Sept-October - November/(early)December: Nepal's peak and best time to go trekking to Poon hill.
February-March-April: this is the end of the dry season in Nepal and the second best time of year to go trekking to Poon Hill. This time of year also has the added advantage of the surrounding countryside in full bloom..
December to January/February: the skies are clear but it can get very cold. It's rare for Poon Hill to close though and asides from being cold is still a good time of year to go.
May - June: The hot pre-monsoon season means things get uncomfortable and humid.. The valley around Poon Hill are starting to bloom with flowers though. It's probably best to go with a guide at this time of year to help you during down pours etc..
June - Mid September: this is Nepal's Monsoon season and the least popular time to go trekking to Poon Hill. The risk of leeches and heavy rain increases greatly. The views are nearly always obstructed too.
For more details please see my guide on the best time of year to go trekking in Nepal
---
---
If you are on a package trek or tour to Poon Hill then your agency will give you a list of things to bring for your trek.
If not then when taking a trek along the Ghorepani Poon Hill trek in Nepal you'll need the following:
Trekking permits you will need include the Annapurna Conservation Area Project (ACAP) and TIMS Card (Tourism Information Management System) available at agents and through the official Nepal Tourism Board offices in Kathmandu and Pokhara (trekking guides can usually take care of this for you). Costs of all these permits are listed below.
Extra fees* In July 2018 Gandaki (state that the Poon Hill Trek is in) announced an additional USD $10 tax to "foreigners" entering the area - which has not yet been implemented. This is similar to the charge placed on trekkers to Everest last year. This is an ongoing situation that is not supported by many organizations in Nepal. There is also the possibility that the 11 sub-regions within Gandaki may also try to implement similar charges. These "fees" are paid when entering the area. As of this update, only the USD$10 charge exists, but it is not being collected. Updates as and when they come will be here. Meanwhile, keep in mind these extra fees and always ask for a receipt.
---
No specialised equipment is needed for the Poon hill trek. The rest will depend on the time of year in regards to clothing and equipment. The following are usually necessities:
A good pair of hiking boots
A wind cheater style jacket
Long sleeve shirts
Trekking pants
Shorts
Socks
Rubber sandals
Water bottles (water purification system)
Map
Sunglasses
Sunblock
Additional equipment considerations are a pair of trekking poles. If you have any knees problems or are trekking in the monsoons seasons then trekking poles can be a great help. They are available cheaply in Kathmandu and Pokhara.
Please note the above is a very basic list. For a full comprehensive list please see my article on trekking equipment you need for Nepal
---
---
Fitness for Poon Hill like any other trek should be a consideration. It's not considered a "strenuous" trek. This is particularly true if you do it over five days. If you are doing the trek over four days then things pick up in pace a bit, particularly on the third day. In all cases a certain level of fitness is required. Surprising many is the fact that a lot of the trek has stone paving between villages.
As always I would advise anyone going trekking to see a doctor before they go for a check-up and to talk about dealing with altitude sickness.
While Poon Hill is not particularly high in Altitude if come from sea level or below you may feel some strain. Likewise for those doing the trek in 4 days there is at least one day of 8 hours trekking . Generally speaking there are about 4-6 hours of light trekking every day. As a precaution do read about altitude sickness in Nepal.
The hardest part for many people are the early mornings. The Poon Hill trek views are best at dawn. Nepali trekking guides make it a point to get people up early for this. Breakfast on the Poon Hill day is usually after you climb up Poon Hill just before dawn.
Poon Hill has a reputation as being one of the best short treks in Nepal for good reason. Many people with a range of fitness levels, age and ability enjoy the Poon Hill trek. During the peak seasons there is no harsh weather to consider. Even during the off-season seasons the trek is relatively easy to do. The exception being monsoon season due to heavy downpours.
---
---
Due its popularity tea houses on the Poon Hill Trek have adapted well to tourists menus. While most places offer typical Nepalese trekking food you can also get chicken sizzlers, fresh fish and even steaks. Vegetarian options are also plentiful though not always listed in a separate menu.
Most of the food is locally sourced or brought up form Pokhara. As with all trekking routes in Nepal Dal Bhat is the staple. For those wanting variety pasta, pancakes, chow mein and chop suey is also readily available. It won't be up to the same standard as Kathmandu or Pokhara restaurants but it's still good.
This is what Dal Bhat looks like on a trekking route.
Again, beer, soda, coffee, tea, hot lemon and water are also widely available. Being a popular trekking route water refill stations are more frequent here for those conscious about reusing bottles.
Chocolate, sweets, biscuits and candy bars are widely available via small stores in villages. Do check the best before data and be sure to ask the price before agreeing to buy as prices fluctuate.
It is common practice to eat in the restaurants of the tea house you stay at when trekking in Nepal. In the past accommodation owners have added supplemental charges to anyone who eats elsewhere. Think of it like a trekking tradition to eat where you sleep. .
---
---
Accommodation along the Ghorepani Poon Hill trek is quite good. There's a range of typical shared bathroom tea houses along with comfortable hotels with private bathrooms, wifi and hot showers.
In recent years commercial hotels have begun opening up outlets under different names along this trekking route. You'll notice them by the large stop-up in price.
Similarly do be careful about accommodation being listed as "homestays" or "community homestays". Many of these are being run or pushed by commercial tour companies. Typical family run tea houses still exist on this route, but they won't be the ones advertising online etc.
Finally if going with a guide do make sure to let them know what type of accommodation you expect to have before leaving on the trek. They will adjust the price beforehand for you.
Read more and see what trekking accommodation is like in Nepal.
---
---
This trekking route is one of the easiest in Nepal. Some of the trails are not paved with rocky, gravel like terrain. It's an undulating trek, meaning you will trek up for a while, then down, then flat then up etc. It's not all up nor down.
Along village areas and in between many of them are stone paving slabs. There are also areas with stone steps. Surprisingly many people find these can be difficult on the knees. However, there is plenty of time so going slowly helps tremendously.
The stone steps and some grassy areas on the trek can get slippy if it rains.
The hardest part of the Ghorepani Poon Hill trek is getting up early for the 45-60 minute trek from Ghorepani to Poon Hill for sunrise and back down. Usually you leave before dawn and breakfast. Trek up to Poon Hill and then back to Ghorepani for breakfast. Take snacks.
Similarly for those doing the Ghorepani Poon Hill trek in four days. After the Poon Hill sunrise it's usually a long day of trekking ahead while the five day trekkers get a shorter day.
---
---
Costing for the Ghorepani Poon Hill trek is subject to many things.
You will need to pay for the following permits:
An Annapurna Conservation Area Project (ACAP) permit which is 3,000 rupees.
TIMS Card (Tourism Information Management System) which is USD $20 for solo trekkers or USD 10 if you are with a group. Both available via trekking agents and through the official Nepal Tourism Board offices in Kathmandu and Pokhara.
Again, in July 2018 controversy broke out when the region said it would begin charging tourists a regional tax. This is still under discussion and has not been implemented. If it does push through expect it to be around USD$10.
Additional fees:
Poon Hill Entry fee: 100 rupees
Working out your trekking budget:
Package tours bought overseas are the most expensive for those looking for a guide. Package tours for Poon Hill trek bought within Nepal are next most expensive. Going with just a guide is next. And finally going it alone is the cheapest (however, keep in mind that accommodation can go up in peak season).
Online package tours for five days can cost between to USD$400-500+ pp. Not including water. This does include a guide, accommodation, permits and meals. Personally speaking, I don't think these are good value.
In country package tours to Poon Hill for 5 days can cost $320-400. This includes a guide, permits, meals and accommodation.
Guide only services can cost from $20 to $50 per day. The more you pay, the more experience your guide should have.
Two or more people traveling together can make things cheaper if you take a guide. You are essentially halving the cost of guide and accommodation. Something to consider if budget is an issue.
Porter fees are roughly USD $18 per day.
The cost of an average teahouse with shared bathroom is 200 rupees in the off season and 300 in peak for a shared bathroom. For a private bathroom add about 800 rupees to the room cost.
There are some commercial hotels charging USD $20 for rooms with views over the mountain range.
The cost of one liter of water reaches a maximum of 100 rupees at Ghorepani. It starts at around 40-80 rupees.
The cost of a plate of Dal Bhat starts at around 450 rupees and climbs to 600+ rupees.
Many people with trekking experience often consider a guide-porter as they are cheaper than a regular guide. However it should be noted that these are trainee guides and may not have a lot of English.
There in another additional charge of 100 rupees to go up Poon Hill. This fee is used to maintain the steps and surrounding area.
If you take a guide, you may want to tip them so factor that in too. However, do note that tipping in restaurants is not a cultural normality in Nepal.
Travel insurance should be included and do make sure you are covered for trekking! Here is my recommendation for travel insurance when in Nepal.
Please note trek prices here are rough estimates and do fluctuate depending on the time of year, weather conditions and domestic situations in Nepal. However they should give you a rough idea on budgeting your trek to Ghorepani / Poon Hill.
---
---
This is a very popular question. Most people are looking for a quite pristine rural treks in Nepal. Treks like Everest Base Camp and Poon Hill are popular routes and not the tupe of place you go to experience alone time.
Poon Hill at certain times of the year can be very crowded at sunrise. However, this is similar to "luck of the draw". Everyday during peak season there are people arriving. You may get lucky on a quiet day or you may arrive when everyone else does.
I've been on Poon Hill alone and where there's a huge crowd and only days apart.
My advice is if there is a large crowd there and in particular noisy groups just move away a little to a quieter area of the hill.
With no offense meant, large Indian, Chinese and Nepali groups tend to be the noisiest. So if you are making your way up the hill and you do want some quiet time but see a lot of people around on the way up you may want to ask your guide to avoid the look out tower area.
Poon Hill is a great short trek with fantastic views. The accommodation and facilities are of a better standard here than on other short treks. So, there's a little give and take. Again, if there is a crowd on Poon Hill, just walk a little away from it. There's little difference in the view and you can still get a peaceful sunrise.
There's one more nearby location that's great for a quiet sunrise. But, I'm keeping that location for my guidebook to Nepal!
---
---
There are is a fairly standard set route for the Poon Hill trek. Some alternative overnight stop-overs do happen depending on the time of year (bookings) and some trekking agencies preferred places to stay. Realistically, any changes are minimal as the route is basically the same.
The Ghorepani Poon Hill Trek route starts from Pokhara where you take a bus to the trail head at Nayapul. This is where your trek starts from. From Nayapul you trek to Tikhedunga / Hilli passing streams and forest areas.
Day two has you reaching Ghorepani along the way you'll be on what's considered standard off road trekking trails which go up and down. These include nearly two hours of stone steps to climb via the village of Ulleri!
Day three will start very early with a pre-dawn trek up to Poon Hill itself at 3210 meters. You then wither go back to Ghorepani for breakfast or on to Tadapani.
Day four is from Tadapani to Ghandruk which is filled with valleys and farm lands.
Day five is Ghandruk back to Nayapul where you take a bus to Pokhara.
The second route adds in Australian camp. The second route is nice if you have an extra day or want to extend the Poon Hill trek to Mardi Himal.
Doing the trek in four days: If your do the Poon hill in four days you literally need to rush off Poon Hill on the third day and make your way straight to Ghandruk or Tadapani with a rush to Nayapul the following day. See the Poon Hill Itinerary below for more.
Here is a typical Ghorepani Poon Hill trek route itinerary:
Day
Route
Distance (km)
Highest Altitude
1
Pokhara to Nayapul to Tikhedunga/Hilli  
20 km (bus/trek) (4/5 hours avg)
1,488 m
2
Tikhedunga/Hilli to Ghorepani
13 km (6/7 hours avg)
2,875 m
3
Ghorepani to Poon Hill to Tadapani
20 km (5/7+ hours avg)
3,580 m
4
Tadapani to Ghandruk
7 km (5 hours avg)
1, 990 m
5
Ghandruk to Nayapul to Pokhara

*

19/20 km (4/4 hours avg)
1,885 m
* Shortening the trek Some people on limited time shorten this trek by going straight to Nayapul on the 4th day. This is a very long day and tiring day. It is not recommended if you are not used to trekking. If you are on a budget, this is not a way to make a trek cheaper as you may be arriving late into Nayapul and need to pay extra for late afternoon transport back to Pokhara.
---
---
Ghorepani Poon Hill is just one of many treks in Nepal. It's an easy and popular trek offering forests, valleys along with tea houses surrounded by famous mountain views once you reach Ghorepani.
For alternative treks do read my list of treks in Nepal which is continually being added too based on popularity or request.
If looking for a trekking guide I recommend you read my article on
How to find a trekking guide in Nepal
.
You may also contact me if you wish to have my personal recommendation or check out my list of trekking tours to Nepal.
Here, you can read through my own day by day trek along the Mardi Himal.
On the following pages below I've compiled detailed articles on the specifics of trekking in Nepal that may be of use to you.
You will find them to be a great place to research your whole trekking trip to Nepal - be sure to bookmark them so you don't forget!
You might find my following free guides helpful:

My guide on trekking in Nepal

Check out my guide on equipment & gear needed for trekking in Nepal
Check out my list of treks to do in Nepal complete with maps
Check out my guide on how to travel overland into Tibet for a lot more!
How to choose a trekking guide in Nepal
My Day by day account of trekking to Everest Base Camp in the off season (winter)
Check out my How to travel overland into Nepal guide
Check out my country Guide to Nepal
---
Download my Trekking in Nepal Guidebook
---
Liked this page? You'll love my trekking book! It's a hands on trekking guidebook that's better than the rest. Yes, really!
In the book I cover all the popular treks in Nepal with step-by-step accuracy using scalable maps, photographs and travel tested up-to-date trekking information.
Just like my other guidebooks to Nepal it's an interactive & printable guidebook like no other.
---
Was this page helpful to you? If so please tell others!