---
The Three Passes Trek is in the Everest region of Nepal and is often called Gokyo Three Passes, Gokyo Lakes Trek or Everest Three Passes. The trek is known for being challenging with three main passes to trek and the benefit of fewer trekkers with spectacular views. It's essentially the Everest Base Camp Trek plus three high passes which makes it even more appealing for those looking for extra adventure and true top of the world incredible vistas.

There are several routes for the Three Passes trek with nearly all adding Everest Base Camp in or taking it out (depending on the number of days you have). This Three Passes trek takes 17 days to complete and includes EBC. The passes are Kongma La (5,550 m / 18,209 ft /), Cho La (5,420 m / 17,782 ft), and Renjo La (5,360 m / 17,560 ft)
There's no more camping involved and there are plenty of tea houses along this trek.
Chola Tsho lake on the Three Passes Trek
There's some confusion over the names of various "Gokyo" treks, so let's clear that up here.
The Gokyo or
Gokyo Ri
or Gokyo Lake Trek is a separate trek to the Three Passes
- it is, however, often bundled with EBC and
it is part of the Three Passes Trek
.
The Gokyo Lakes Trek is the same as the Three Passes Trek
but may include some side treks to smaller lakes in the region.
Trek Overview
| | |
| --- | --- |
| Difficulty: Challenging | Days: 17+ |
| Max Altitude: 5,643 m (18,514 ft) | Distance: 178.63 km (111 mi) |
| Accommodation: Teahouse | |
Distance shown is the main Three Passes Trek which includes Everest Base Camp.
Honesty counts!
Every travel guide on this site has always been 100% independent, unbiased & honest. Rest assured there are no sales pitches for treks here & no hidden sales links. I have included plenty of options & resources for you to find the best trekking guides who know this area well. I do not accept sponsorships, free treks or tours. I do not own a trekking company or business in Nepal. I pay my own way & in turn write
authentic guidebooks to Nepal
. Rest assured, this is a genuine travel & trekking guide that you can trust.
---
The Three Passes Trek is located in Sagarmatha National Park which is in the north-central area of Nepal. The national park is home to Mount Everest and the Everest Base Camp Trek. The three passes trek follows an anti-clockwise trek around the region.
The Three Passes Trek starts from Lukla much like the Everest Base Camp Trek and continues to Namche Bazaar and on to Dingbouche. From here the first pass starts with a climb up Chhukung Ri and crossing Kongma La pass. Following this, it's on to Everest Base Camp.
Following a trek to EBC, it's a trek to Dragnag and then Cho La pass. Then it's on to Gokyo and a climb up to Gokyo Ri before trekking over the final pass Renjo La Pass. Trekkers then make there way back to Namche Bazaar and Lukla.
A common question often asked is can you do the Three Passes Trek in a clockwise direction? The answer is yes, but it's much harder as you'll be going straight into high passes.
Going clockwise can also mean difficulties coming down Cho La as it can be very slippery. All in all, going anti-clockwise is the preferred route for many.
Skipping Everest Base Camp is an option some trekkers want. It means fewer days. However, it will also mean no close-up view of Everest. That means something to some, and not much to others. Only you can decide on that one. Gokyo offers magnificent sprawling views of the mountains while Everest Base Camp offers close up views. There is a difference depending on what you like!
---
---
This map shows you the Three Passes Trek with Everest Base Camp.
Please note this map should not be used as a practical trekking map. Detailed trekking maps can be obtained in Nepal at very low costs and in my own trekking in Nepal guidebook.
---
---
The Three Passes is one of Nepal's premier treks in the Everest region. As many people opt for the Everest Base Camp trek it can be a completely different experience to take on the Three Passes trek which has far fewer visitors.
Highest point of the Three Passes Trek
At 5,643 m (18,514 ft) the Kala Patthar near Gorak Shep is the highest part of the trek. Kongma La (18,209 ft / 5,550 m) is the second highest area and also the highest pass.
Everest Base Camp on the Three Passes Trek
Highest sleeping point on the Three Passes Trek
The highest sleeping point on the Three Passes Trek is at Gorak Shep which is 5,164 m (16,942 ft).
Total distance of the Three Passes Trek
The full distance of the Three Passes Trek is 178.63 km (111 mi) which includes EBC and all three passes.
How long have people been trekking the Three Passes?
Once the British surveyors in the 19th century began mapping the world's highest mountains they would have crosses or discovered the Three Passes.
Most of this would not have been done in the interest of trekking per se but in officially measuring the highest mountain on earth.] Andrew Waugh, the British Surveyor General of India, James Nicolson and Radhanath Sikdar (India) are accredited with most of the early surveying.
For trekkers, the Three Passes came much later in the 1950s onwards when those looking for great viewing points of the glaciers, lakes, and the world's highest mountains listed them down.
In a twist of irony, the Three Passes were never claimed by anyone trekking company as a trek. Unlike today when trekking companies seem to make up their trek names at the drop of a hat adding to confusion on what's official and what's not.
Is there any wildlife to see on the Three Passes Trek?
Being high altitude the Three Passes are not known for much wildlife. Though in existence the chances of spotting any Snow Leopards are about akin to spotting a Yeti. That said, Himalayan Thar, yaks kestrels and the odd smaller mammal are plentiful.
What mountains can you see on the Three Passes Trek?
Given the area covered there are a spectacular number of mountains to be viewed. These include Cho Oyu, Gyachung Kang, Lhoste, Everest, Makalu, Lhotse, Nuptse, Pumori, Lingtren, Khumbutse, Ama Dablam, Kangtega, and Thamserku.
---
---
Highlights of the Three Passes Trek include:
Three of the world's best high passes
Stunning views of the Himalayas from different points
Mount Everest
Spectacular high altitude lakes
Fewer trekkers or groups (Gokyo)
More than just EBC
---
---
Arranging a Three Passes Trek
A Three Passes Trek is easy to arrange with few obstacles when you are actually out in the mountains other than the weather and challenge. However, the biggest obstacle people come across is getting the Three passes trek mixed up with Gokyo Ri trek and the various ad-lib itineraries trekking companies come up with.

My best advice to you is to understand what the Three Passes Itinerary on this page involves and decided if you want to visit Everest Base Camp or not. Then see if you feel you can do it in the recommended 17 days or not. Ignore the trekking companies bloated itineraries until you feel comfortable looking at the map here and know exactly where and what you want to see. The 17 days basically covers it.
Package treks & tours for the Three Passes Trek bought online
Package treks & tours to the Three Passes Trek are available online. However, they often bundle you with other groups for this trek. There are also hidden fees. Namely, the first price you see is not the final price. Solo trekkers often get hit with extra solo fees and porters are not included. Sharing rooms is pretty common and menus are often fixed. For trekkers, the hardest part of online packages is lack of flexibility with itineraries.
Package tours on the Three Passes trek online range from USD $1400-1500 per person. They usually include all permits, a guide, accommodation, and meals.
Pro's of a package trek to the Three Passes Trek include having everything ready for you when you arrive.
Con's include inflexible itineraries, hidden extras, unsure shared accommodation, and fixed meals.
Package treks bought in Nepal for the Three Passes Trek
It's important to do some research on the Three Passes Trek before going out pricing it in person. It's a popular trek so there are plenty of prices around. Do read itineraries closely and look at a map to work out if any extra days are really needed or not.
Use the information on this page to work out the costs and days needed!
Pro's of a local Three Passes Trek include meeting your guide before leaving. Being able to go over the costs with the trekking company.
Con's include being overwhelmed with names of places and different routes. Including and extra day or two to do this.
If you'd like to take the hard work out of finding a guide or package trek with experienced guides for the Three Passes trek before you arrive then do try my Find a Trekking Guide Service.
Hiring a local Guide for the Three Passes Trek
The Three Passes Trek is a challenging trek. I strongly advise you to not skimp on costs in hiring a good guide and reputable trekking company.
If you've not trekked in Nepal before now is not the best time to take a porter-guide or trainee guide. You'll be seeing some of the most stunning mountains over several high passes - your guide should be exceptional.
Trekking companies in Kathmandu will be better options to find a licensed guide and trekking company for this trek. This trek is over 17 days so do carefully consider taking a porter. Conditions are not always the best on this trek so having someone to help carry the load leaves you free to enjoy the mountain views.
If you are looking for a local registered trekking guide for the Three Passes Trek I recommend you read my article on How to find a trekking guide in Nepal.
In my guidebook to Trekking in Nepal there are several well-vetted trekking agencies you can choose from that hire out local guides.
You can also save some time by using my Find a Guide Trekking Service to get a local guide.
Trekking the Three Passes Trek without a guide
Caution is advised if you have not trekked in Nepal before. There's plenty online about people who trekked EBC alone and even the Three Passes. All is not always as it seems. Some are highly experienced trekkers. Others have experience trekking in Nepal and make out it's easier than it actually is. Quite often people aren't quite as alone as they seem - bloggers or vloggers in particular.

The Three Passes Trek covers an unpredictable isolated area in Nepal. Strong and changeable weather conditions also mean a clear danger for anyone trekking alone. If you've never trekked alone in Nepal before then this is not the trek to try it out - go with a guide. If you have trekked in Nepal before then do your due diligence and be prepared. Always ask yourself what will I do if I accidentally step on a rock, twist or break my ankle on a high pass? How will you cope?
If you are looking for a guide for the Three Passes Trek I recommend you read my article on How to find a trekking guide in Nepal.
You may also use my Find a Guide Trekking Service.
---
---
Special attention should be given to the weather conditions on the Three Passes Trek. The weather over the high passes can be difficult to predict with cold strong winds often arriving with no notice.
Many people can do the Three Passes with little more than regular gear and trekking shoes - but that will involve some luck. On average, pack and be prepared for the worst just in case. Off-season trekking is not recommended due to snow blocking the passes. Even in the peak season, it's wise to pack some light crampons or spikes for the ice slopes on Cho La.
It's also important to note there are no permanent weather stations aside from Gorak Shep which is not always operational. All this being said, it's simply wise to trek in season and be prepared.
Temperature and precipitation table for Three Passes Trek (Gorak Shep)
| | Avg. Temperature (°C) | Avg. Temperature (°F) | Precipitation / Rainfall (mm) |
| --- | --- | --- | --- |
| January | -10.9 | 12.4 | 7 |
| February | -10.1 | 13.8 | 5 |
| March | -6.8 | 19.8 | 8 |
| April | -3 | 26.6 | 9 |
| May | 0.6 | 33.1 | 9 |
| June | 4.5 | 40.1 | 37 |
| July | 5.3 | 41.5 | 103 |
| August | 4.8 | 40.6 | 116 |
| September | 3 | 37.4 | 45 |
| October | -1.8 | 28.8 | 21 |
| November | -6.6 | 20.1 | 1 |
| December | -8.9 | 16.0 | 3 |
It's very important to note that wind chill is not calculated into the temperatures above. Wind chill over the passes, in particular, can drive temperatures down -10 to -15 degrees with ease depending on conditions.
The above temperature chart shows approximate highs and lows on the Three Passes Trek Circuit year-round based on conditions at Gorak Shep. Again, do note it does not take into account wind chill which can drive any of the above temperatures down -15 to -20.
Months with the best weather to trek the Three Passes Trek
Due to the high-altitude, high passes, and terrain of the Three Passes Trek it's important to consider the right time of year to trek there. Off seasons (winter) and monsoon seasons are not recommended at all due to extreme weather conditions that can occur in the region. The passes are often closed once the first snows appear in the winter.
Mid October - November/(early)December: Nepal's peak and best time to go trekking the Three Passes.
February-March-April: this is the end of the dry season in Nepal and the second-best time of year to go trekking the Three Passes. However strong winds can occur on the trek and clouds can move in quickly which not only hamper your views but also make spotting the trail difficult. Ice and snow may well still be there in the earlier months so do check with your guide for reports.
December to January/February: the skies are clear but the weather on the high altitude parts of the trek can be extremely unpredictable with strong gales/winds, icy conditions and heavy snow. It is not recommended to go trekking the Three Passes during this period.
May - June: The hot pre-monsoon season means things get uncomfortable and humid at lower altitudes on the trek. At higher altitude winds can still be strong and thick cloud can move in quickly blocking the trail paths. It is not recommended to go during this period.
June - Mid September: this is Nepal's Monsoon season. The risk of leeches and heavy rain will increase at lower altitudes. At higher attitudes high winds, cloud and rain make it nearly impossible to trek the Three Passes safely. It is not recommended to go during this period.
For more details please see my guide on the best time of year to go trekking in Nepal.
---
---
There are only two permits needed for the Three Passes Trek - though do note that the TIMS card might come back at any given moment!
permits:
Sagarmatha National Park Entry Permit
Solukhumbu Regional Permit (available in Monjo or Lukla only)
TREK Card - only needed if you are trekking alone (available in Monjo or Lukla only) and it replaces the Solukhumbu Regional Permit for solo trekkers.
Additional: Trekker Information Management System (TIMS Card)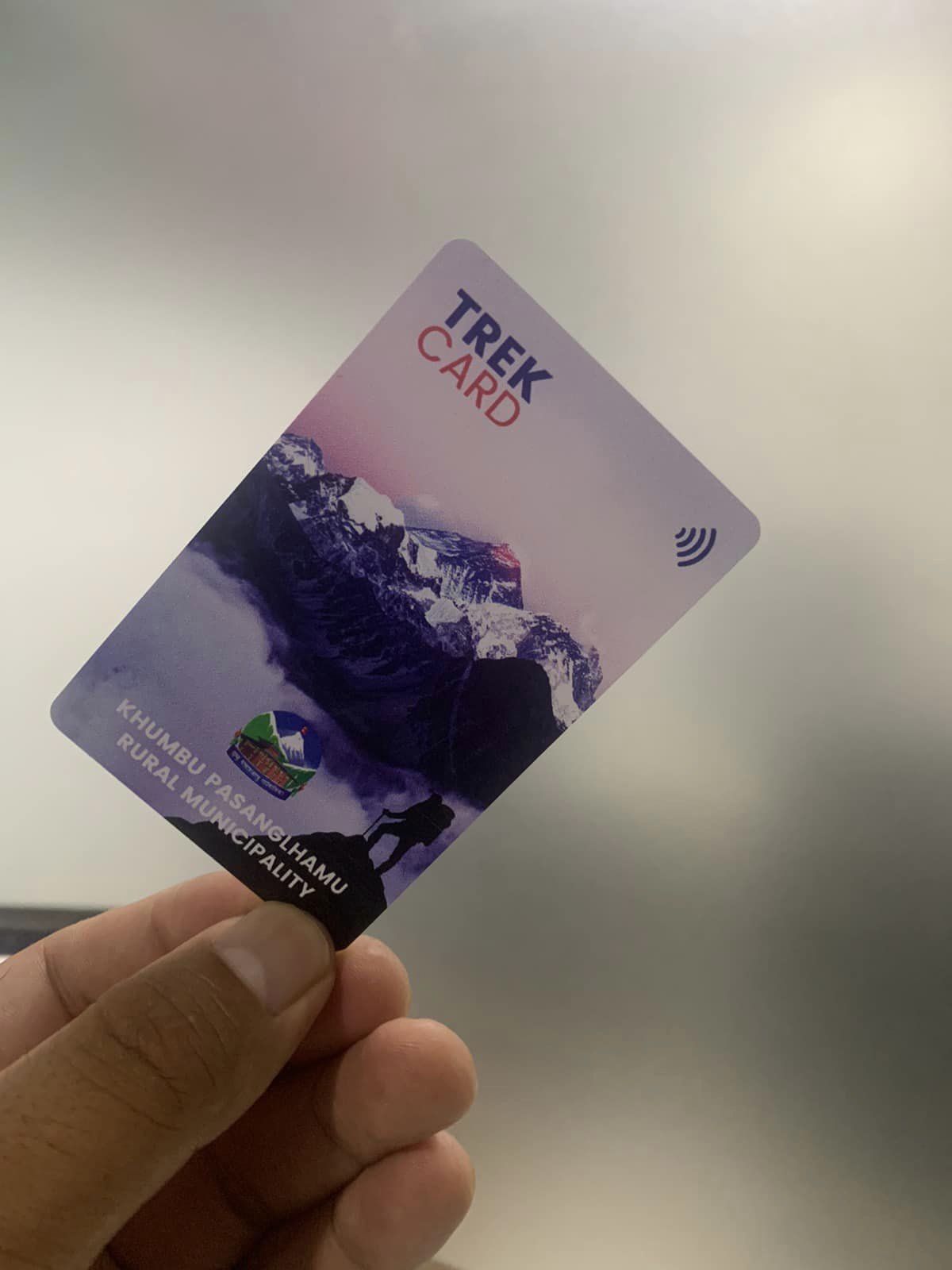 - Not currently required (2023) for solo or group trekkers to the Solukhumbu region. However Nepal Tourism Board are still selling them -
you don't need one
as it has been replaced by the Solukhumbu Regional Tax and/or the TREK card (for solo trekkers).
The Solukhumbu Regional Permit is available from a counter at Lukla and Monjo. It costs 2,000 rupees. Get a receipt.
The Sagarmatha National Park Entry Permit can easily be purchased in Kathmandu at the Tourist Information Center for 3,000 rupees. Or at Monjo (on the trek between Lukla and Namche). The permit offices open between 10 am - 5 pm. Do keep in mind national holidays and festivals in Nepal as the offices often close early then.
The Solukhumbu Regional Permit is also available from a counter at Lukla. It costs 2,000 rupees. Get a receipt.
How to get a Sagarmatha National Park Entry Permit
If you are trekking with a guide then they will most likely get your permit for you as part of their role. Good guides and trekking companies will even get them ahead of your arrival in Nepal.
Independent trekkers can get their Sagarmatha National Park Entry Permit at the Tourism Office in Kathmandu. There is another permit office at Monjo (a village just past Namche Bazar on the trek).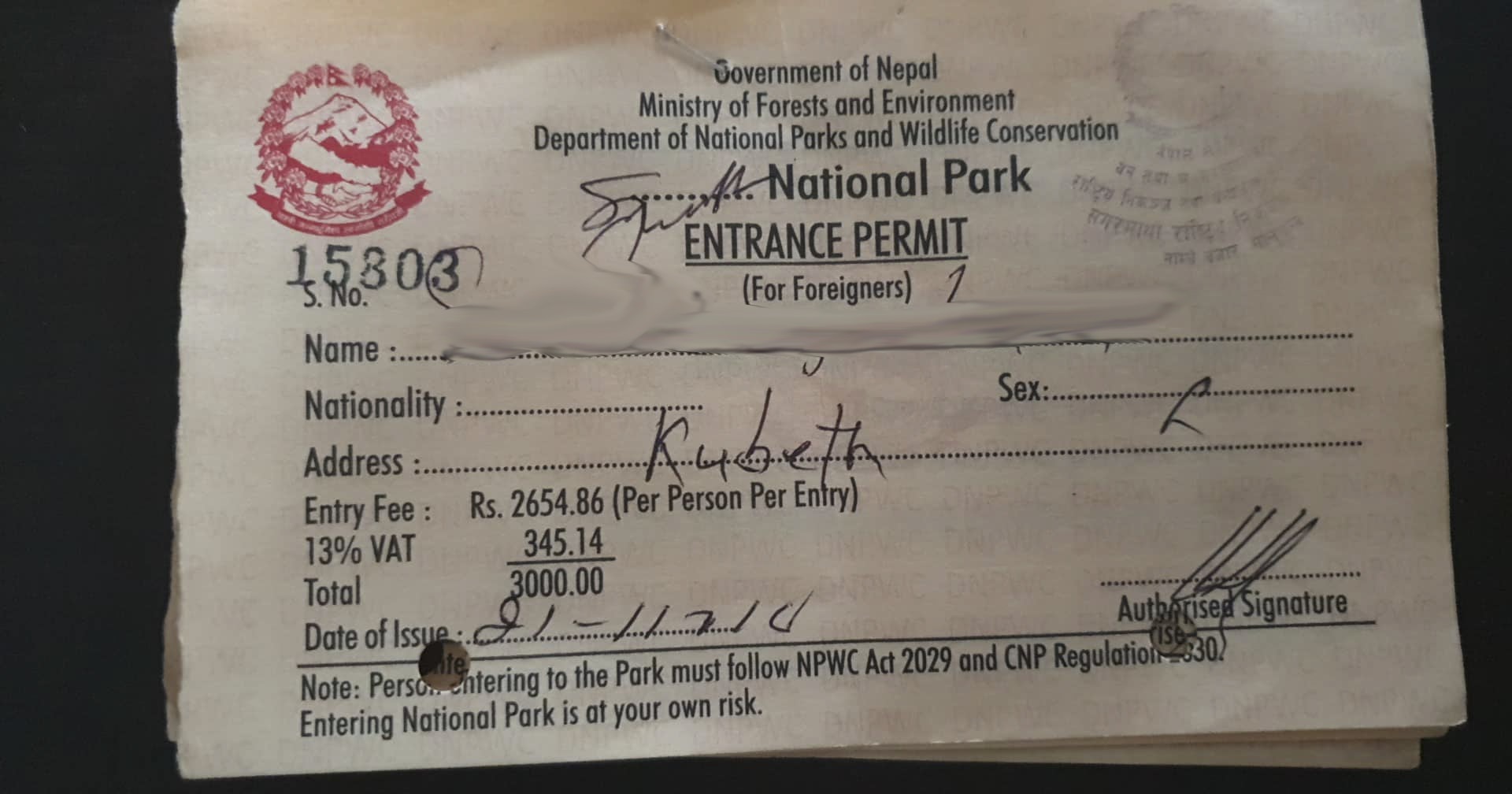 The permit is only valid for one entry and one exit and covers all of the Three Passes area. It is a mandatory permit.
Fill out the Sagarmatha National Park Entry Permit form
Hand over the completed form, your passport and 2 passport photos
Pay the 3,000 rupees (only payable in Nepali Rupees) - there is no tax added.
Get your permit
In 2020 there's a new (ish) digital camera (webcam) in use at the office so passport pictures are not needed - however it's wise to bring them just in case the systems are not working.
How to get a Solukhumbu Regional Permit
Solukhumbu region (Everest/Three Passes) has a 2,000 rupee regional fee to all trekkers.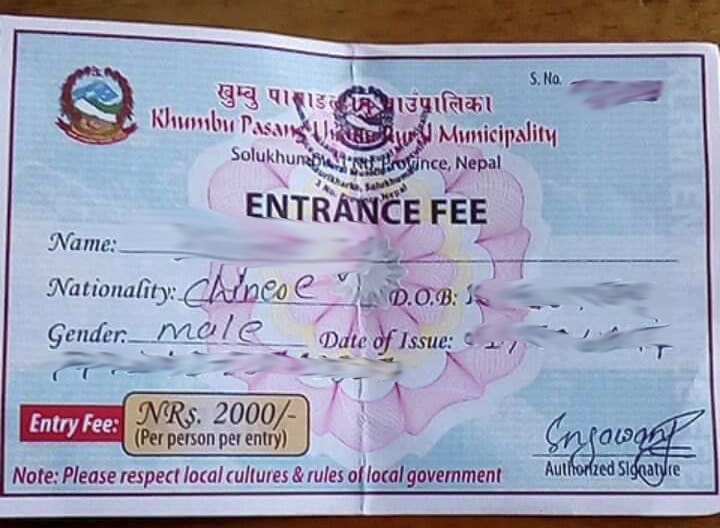 This is payable within the region itself.
The Solukhumbu permit can only be obtained in Lukla (while you are on the trek). The counter is at the end of Lukla Village.
Pay 2000 rupees
Get your Solukhumbu Regional Permit

Get a receipt and keep it safe!
No more TIMS Cards needed for the Everest Region
Once the Solukhumbu region started issuing their own permits in 2017 they stated there was no need for a TIMS card. However the Tourism Office who oversees the issued permits disagreed and throughout 2017-2018 they both went back and forth. This meant trekkers were often paying an extra 2000 rupees. You can read more about the details on
additional Solukhumbu fee information
.
As of 2019-2023 TIMS cards are still no longer necessary. This may however change at a whim as it did previously. If it does then TIMS cards cost USD $10 with a guide or $20 if you are trekking independently. They are available at the tourism board (where they sell the Sagarmatha permits). Again, they are not currently needed for the Three Passes trek.
Here's a fully up to date list of National Park entry permits and TIMS fees for trekking in Nepal.
---
Specialized equipment can be used for the Three Passes Trek.
Generally speaking, there's little additional gear you need on the Three Passes trek than on the EBC trek. However, the trek is longer, is more exposed and spikes for Cho La are helpful!

A good pair of trekking boots with strong grips. If snow is expected crampons can help.
Spikes to help deal with slippery ice
An expedition jacket
Fleece
Long sleeve shirts
Trekking pants / shorts
Base layers for the cold
Underwear
Socks
Gloves
Sun hat
Night hat (warm)
Sleeping mat
Quick dry towel
Washing powder
Toiletries
Wet Wipes
Trekking poles
Water bottles
Water purification system
Map
Head torch
Sunglasses
Sunblock
Chapstick
First Aid Kit
A sleeping bag is a good idea for this trek. There will be blankets but depending on how you handle the cold a sleeping bag is a comfort. Trekking poles are also very helpful for the passes.
Crampons (light) or spikes are often the most noted additional equipment brought for the trek. They are not compulsory nor "needed" if there is no ice. So early season trekkers should be okay without them. Exceptions here are those trekking in colder periods when there is ice. Late in the peak season or indeed early in the first season is likely when there will be ice.
Good trekking companies may supply an emergency satellite phone as there is little mobile reception on this trek.
17 days eating Dal Bhat twice a day can get tiring. Bringing some extra food or treats is often something people like on this trek.
For a single person or two people and a guide then a porter can make this trek much more enjoyable.
Please note the above is a basic list. For a full comprehensive trekking list please see my article on trekking equipment you need for Nepal
---
---
The Three Passes is challenging. It's tougher than the Everest Base Camp trek but not as tough as Dhaulagiri. Due to the popularity of the region, many people underestimate the trek due to its online coverage. Respecting this trek is the best way to approach it. Research the trek well as you are by reading this page and it can be the experience of a lifetime.
There are three high passes on this trek so they are your challenges in combination with altitude, duration, stamina, and terrain. If you've trekked Everest Base Camp then you'll know the standard of food and accommodation. Now add a week to this plus three high passes. If you've trekked the Annapurna Circuit imagine doing Thorong La three times with not as nice accommodation or food.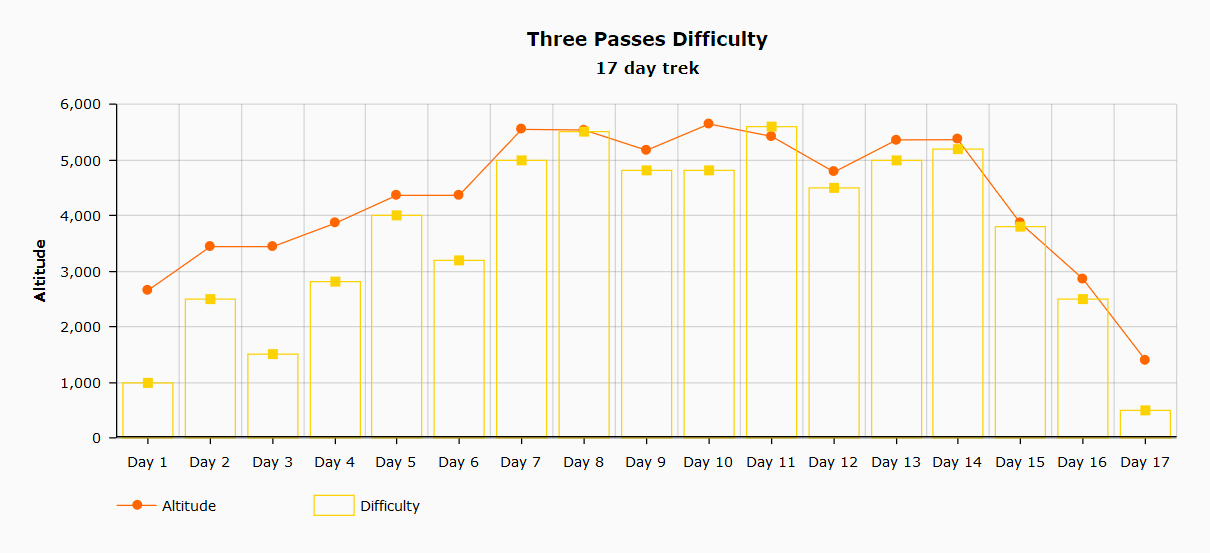 By far everyone's toughest day is crossing Cho La. It's a toughy and many people don't do Gokyo Ri afterward. It saps you at this altitude when energy rarely returns easily.
Trekkers going up Renjo La Pass
Take your time early on in the trek and keep a slow steady pace is key to completing it. Take an extra day if need be to rest. You are there to enjoy the trek, not just to prove a point. In my book trekking in Nepal there are trek difficulty charts showing how difficult each day will be.
---
---
Fitness for the Three Passes Trek will be relative to your own fitness levels. However, do remember the trek is noted as being challenging. There are three high passes and several days at high altitude.
As always I would advise anyone going trekking or hiking to see a doctor before they go for a check-up
If you are sedentary before the trek then you may want to reconsider embarking on the Three Passes Trek. Active trekking of up to 8+ hours a day will be required for 17 days. These days will be at altitude.
You don't need to be a triathlon athlete nor do you need to even be an athlete. But being realistic about your own ability is important. Can you currently walk for 8 hours without being sore the next day? If not, then perhaps some training would be good before you take on a trek like this.
If you have concerns about the weight of your bag then do consider a porter to help. A porter can really make all the difference between a tough trek and a fantastic experience depending on your own fitness levels and experience.
---
---
Tea houses and lodges along the popular Lukla to EBC route have good menus with plenty to chose from. Off this route and things get a little bit more basic. Not greatly, but Dal Bhat will certainly be the most popular item on the menu.
Dal Bhat is the trekking staple in Nepal and on the Three Passes Trek which consists of rice, potatoes, vegetables, and lentil soup. The free seconds help. It fills you up well and gives you the energy you'll need to keep going. It can get a little repetitive though but do read on for a warning.
17 days is a long trek in this region. I've come across multiple trekkers who have had a bad stomach for a day or two. From what I can tell this is usually down to veering off the staple menu items - particularly when off the main EBC trail where not all food items are not often consumed. Pizza, lasagna and the odd "yak steak" are comfortable regulars to a trekker's digestive woes. Cheese in the mountains is an urge many trekkers are called to. However, it's all locally made, high in bacteria and rarely refrigerated. It's a colons worst idea of a filling meal at 5000 meters. My advice - avoid the cheese on this trek and stick with dal bhat.
Bring a few cans of tuna, nuts or even protein bars with you to make up for the loss of cheese. I often bring powdered milk or malt drinks which help tremendously. So far, I've not had a dodgy stomach yet.
Plate of Dal Bhat at EBC
Water is also an important consideration on this trek. Bottle water in the mountains is becoming scarce as environmentalists rightfully highlight plastic pollution. However, the filtered water in this region is not always sanitary. Filters are rarely changed and hand sanitization is practically nonexistent. Boil your water and treat it with your own filtration system. Everything from iodine, water filtration drops, steripens and lifestraws can be used. Do read up on the pros and cons of all of these can make a choice. I alternate a mix of three every day. Plus, I boil everything.
| Item | Price |
| --- | --- |
| Pancakes | 300-600 Rupees |
| Fried eggs (2) | 250-500 Rupees |
| Porridge | 400-600 Rupees |
| Tibetan Bread | 200-400 Rupees |
| Dal Bhat (Meat) | 500-1200 Rupees |
| Dal Bhat (Veg) | 450-900 Rupees |
| Boiled Potatoes | 400-600 Rupees |
| Fried Noodles (Veg) | 450-600 Rupees |
| Fried Potatoes with Cheese | 550-900 Rupees |
| Pasta with sauce | 500-800 Rupees |
| Tea/Coffee | 100-400 Rupees |
| 1 liter beer | 1000+ Rupees |
| Soft Drinks (Coke, Sprite etc.) | 200-500 Rupees |
| 1 liter boiled water (for filtering) | 100-300 Rupees |
---
---
Again the main EBC route has plenty of lodges and tea houses to choose from. There's rarely a short supply though standards are lower if you've already been on the Annapurna side.
Accommodation is also more in this region with a bizarre 500 rupee minimum charge being quasi-implemented unofficially these days. Prices are often 700 rupees to 1100 rupees for a room. More so if you want a private bathroom.
There are also extra costs that few places mention. These include hot showers which can run up to 500 rupees. And charging of any device which can be 500 rupees to 1200 rupees per device. The higher the battery capacity the more it costs to charge. So power banks are costly to charge. Bring a solar charger if you can to save on this.
Outside of the main EBC trail and accommodation becomes a little lower in quality but you will have the added benefit of friendlier people and fewer crowds.
Sleeping bags are an important consideration and worth bringing. You'll need to know the time of year you'll be trekking and take the weather into consideration. When in doubt, ask your guide before going. However everything is a weight consideration.
Read more and see what trekking accommodation is like in Nepal.
---
---
The Three Passes Trek's cost will depend on how many days you are going for plus if you want a porter or not. After that, it's pretty much about a package trek vs independent trekking.
Working out your trekking budget
The Three Passes itinerary needs to be looked at carefully. The biggest issue as mentioned earlier are package treks bundling you in with other people and/or skimping on accommodation and food. Make sure you are familiar with the Three passes trekking route. I've highlighted the four main areas to make it easier for you on the map. Then calculate the days you have and keep a day or two in reserve when booking your flight tickets.
Finally, do consider hiring a porter along with your guide. If you don't, then you'll need to be fit, strong enough and experienced enough to carry a light load.
Online package tours can range from USD$1400-1500+pp. These include a guide, accommodation, meals, permits and local transport.
However as mentioned earlier many of these package treks have additional extras
In country package treks for the
Three Passes Trek Circuit bought in Nepal brings down the price by a little. However, the benefits outweigh the cost. Namely, knowing the agency in person. Meeting the guide. Being sure of who and where you are going.
A 17 day Three Passes Trek can cost from USD $1200 pp to $1300 per person. These include a guide, accommodation, meals, permits and local transport. Keep in mind that although it may look similar in price you'll be getting a lot more bang for your buck in terms of being able to customize your itinerary and rest assured you'll be getting accommodation, meals, and service.
My Find A Guide Service can help you out here but do try to get in contact before arriving in Nepal.
Guide only services for the Three Passes Trek are a little bit more tricky. You'll often have to negotiate the guides plane fees in and out of Lukla. You'll also need to carry a bundle of cash to deal with accommodation and meals. Finally, you'll need to get your own plane tickets and permits. It's all possible if you have the time.
It is, however, vital you hire your guide from a trekking agency and not from the street for this trek. There are plenty of guides offering cheap services in Kathmandu but if they are not registered then they are not insured and you will be liable if anything happens to them on the trek. The cost of a guide on this trek can range from USD$35 per day to $50 per day.
Trekking the Three Passes Trek by yourself again, it is possible but if you've not trekked before in Nepal then caution is advised. Pay particular attention to the time of year you are going. Likewise, if there's only one person going then you'll really need to take extra care as the region is isolated and if you do something as simple as twisting an ankle then you could be in a very serious situation.
Do note that just taking porters to act as guides is not legal in Nepal. There have been several recent cases of trekkers getting charged with this as other guides or teahouses report them. Porters are also required to be registered otherwise if something happens to them then you will be responsible for their medical bills including any evacuation.
Do remember that this is a challenging trek and taking a guide is highly recommended more so if you've not trekked in Nepal before.
If you are looking for a guide for the Three Passes Trek then I recommend you read my article on how to find a trekking guide in Nepal. Alternatively use my Find a Trekking Guide Service.
Average 17 day trek cost for the Three Passes Trek
| | |
| --- | --- |
| Item | Cost USD $ |
| Permits (Sagarmatha, Khumbu) | 50 |
| Guide x 17 days ($35) | 595 |
| Porter ? | |
| Accommodation | 119 |
| Meals (tea house) | 357 |
| Water 4 liters a day x9 (the rest is filtered) | 68 |
| Transport (flights/airport) | 380 |
| Total | 1569 |
As you can see the above trek can easily outmatch a package trek cost. There's a cravat though. If you are two, then accommodation and guide prices are halved. But still, you might well want to consider a package trek from a local trekking company for the sheer convenience of the flight booking, accommodation booking, and permits.
Indeed if you are two people the Three Passes Trek is one of the very few treks in Nepal where a package deal that includes all could well be better value!
Extras:
Solukhumbi is renown for its extras. Not included in the above are hot shower and battery charging.
Travel insurance should be included and do make sure you are covered for trekking. Here is my recommendation for travel insurance when in Nepal.
How to reduce your budget on the Three Passes Trek
Costs that cannot be reduced are flight fees and permits.
Savings can be made on meals but not by much and its important not to go hungry on this trek. Water costs are based on boiling your water.
You may well be able to get a cheaper guide for this trek - though I do recommend you go with an experienced guide from the region. Try my Find a Trekking Guide Service.
---
---
This page shows you several itineraries for the Three Passes Trek. It's important to read through them carefully to understand acclimatization days and transport days to and from Kathmandu.
Many Nepali trekking agents will add in extra days like the "Gokyo Lakes". These lakes are often seen on your approach to Gokyo. There are six lakes in total with Gokyo Lakes being the most spectacular.
Trekker near Gokyo Lake
17 Day Three Passes Trek itinerary
Day
Route
Distance
Highest Altitude
1
Kathmandu - Lukla - Phakding
3-4 hours/8 km
2,651 m
2
Phakding to Namche Bazaar
5-6 hours/11 km
3,438 m
3
Namche Bazaar (acclimatization day/side trek)
3 hours/6 km
3,438 m
4
Namche Bazaar to Tengbouche
5-6 hours/10 km
3,860 m
5
Tengbouche to Dingbouche
5-6 hours/9 km
4,360 m
6
Dingbouche (acclimatization day/side trek)
3 hours/6 km
4,360 m
7
Dingbouche to Chhukung (climb Chhukung Ri)

**

6-7 hours/14 km
4,750m/5,546m
8
Chhukung to Lobuche (Kongma La Pass)

*

6-7 hours/10 km
4,940m/5,535m
9
Lobuche to Gorak Shep to visit EBC
6-7 hours/13 km
5,170 m
10
Climb Kala Patthar, trek to Dzongla

**

8-9 hours/13 km
5,643m/4, 830 m
11
Dzongla to Dragnag (Cho La pass)

*

6-8 hours/6 km
4,700m/5,420m
12
Dragnag to Gokyo
2-3 hours/3 km
4,780 m
13
Gokyo, climb Gokyo Ri

**

3-4 hours
4,780 m/5, 357 m
14
Gokyo to Marlung (Renjo La Pass)

*

7-8 hours/11 km
(4,210m/5,360m)
15
Marlung to Namche Bazaar
5-6 hours/15 km
3,860 m
16
Namche Bazaar to Lukla
6-7 hours/19 km
2,860 m
17
Lukla to Kathmandu (flight)
N/A
1,400 m
* High Pass
** High Climb
16 Day Three Passes Trek itinerary
Is it possible to do the Three Passes Trek in 16 days? Yes. You'll have to be fairly hardcore in your trekking though. Simply don't climb Gokyo Ri. Likewise, you could eliminate any of the high climbs to claw back another day. But the reality of doing this means you'll miss out on some of the best aspects of the trek and you'll be trekking non-stop. Both of which are not recommended. The 17-day trek really is the minimum number of days needed to make the most of the Three Passes Trek.
18-22 Day Three Passes Trek itinerary
More rest days! That would be nice. In actual fact, it's a little like that Three Passes treks over 17 days. Gokyo is the home to many lakes and day treks. If you have the time it's worth it to add a day or two here to take everything in.
Many trekking companies shorten the trekking days to 3-4 hours of trekking to add on days. This is up to you, your fitness levels and your budget.
Personally speaking a 17-day trek on the Three Passes with a day or two in reserve for flight delays or bad weather makes it an ideal number of days. Most local trekking companies can easily facilitate these reserve days without charging you extra. Do see my Find A Trekking Guide Service for more.
Detailed Three Passes Trek Itinerary
The following is a detailed day by day 17 day itinerary from day one to day seventeen on the Three Passes Trek. Keep in mind the weather, time of year, how experienced you are, your age and who you are with will greatly influence your trek! The following is written in a practical sense for all trekkers.
Day one - Kathmandu to Lukla to Phakding
A first flight helps a lot here as you are bundled into a little twin-prop to Lukla. From the historic trekking village which makes a good place for breakfast it's an easy trek up to Phakding.
The day is all about getting your trekking feet under you and getting into practice with packing / unpacking your bag. Treating your water and settling into a lodge for the first time.

After that it's about your first experience on the trails, seeing mountains and recovering from that little flight!


Day two - Phakding to Namche Bazaar
The first full day of trekking here. There's plenty of suspension bridges to get your going.
Passing through the village of Toktok you'll come across the first huge boulders that you'll need to overcome.
You'll find the entrance to Sagarmatha National Park here before a short ascent to cross the Dudh Kosi on the way to riverside Jorsale which makes for a good lunch stop.

There's one more big suspension bridge before you climb up into the famous village of Namche Bazaar.
Day three - Namche Bazaar (acclimatization)
It's acclimatization day which means another night in the village of Namche. While some people prefer sitting around I would advise taking full advantage of where you are and get up to see something.
The most popular day walk is to Everest View Hotel where from the hill you can see Mount Everest. Though you'll be getting better views later the view of Ama Dablam is even better.
The purpose of an acclimatization day is getting your body used to less oxygen. A hike up to 3880m will really help even if it's cloudy!
Day four - Namche Bazaar to Tengbouche
After an initial hike it's nice and flat for a while. If the weather is good the mountains mixed with green forests make for some nice scenery to trek through.
There's a decent before it becomes all uphill to Tengbouche. Many trekkers reach Tengbouche early and want to continue to Pangbouche. Due to the Three Passes duration and what's ahead, I think staying a night in Tengbouche conserves one's energy and helps with acclimatization a little more.

There's a monastery in Tengbouche which you can visit. It's a quiet village as trekkers on the EBC trek often speed on at this stage. Enjoy the views and settle in for some rest before what's to come.

Day five - Tengbouche to Dingbouche
Things start out with a nice downward trek before it evens out. As you near 4000m the tree line becomes more obvious as above 4,000m there are far fewer trees. This area is particular makes this obvious.
Passing Pangbouche offers up a side trek few trekkers ever take on. The full-day trek to Ama Dablam base camp. It's not for this trek, but worth pointing out.
The trek continues on as you go uphill all the way to Dingbouche which is generally seen as quite manageable.
Day six - Dingbouche (acclimatization day)
This acclimatization day, like all the others, is important. Your at 4,410m which is quite a high altitude as it is. What's to come in the next 9 days will be higher so take full advantage of this day to get through the next 9 days of the Three Passes!
If you'd like to get out and about around Dingbouche there are plenty of hillside chortens to visit.

The views of Ama Dablam are also quite spectacular here. Today is also a good day to do a little washing, charging and preparation for the next few days.
Day seven - Dingbouche to Chhukung
For the first time on the Three Passes Trek, you'll be veering off the main EBC trail. Welcome to the start of the Three Passes!
It's a windy walk uphill with stunning scenery of Chhukung. Though the trek is relatively short it's worth reaching Chhukung early so you can get climbing after lunch!

The route up Chhukung Ri starts easily with mountain streams and typical moraine terrain. It's here that you are really going to get an idea of what trekking at altitude is like as many people start to slow down. Each step feels like an effort. Keep hydrated!

It's worth stopping every 10-15 minutes to catch your breath and look around at the incredible mountains surrounding you. Hopefully, the previous acclimatization days will pay off here and you won't be feeling too bad but all the same watch out for signs of altitude sickness. Trekking poles will help with the decent.

Chhukung is also the village where EBC mountaineers and Island peak mountaineers come too.


Day eight - Chhukung to Lobuche (Kongma La pass)
It's a big day, the first big pass on the Three Passes trek. It's a long day whereby you'll be bringing your lunch and water with you - so extra load.
The first part of the trek puts you at ease as the gradual uphill is quite easy with stunning views. Then the real uphill starts and the high altitude kicks in. The day can take people up to 10 hours.

Trekking up to Kongma La pass can be like climbing a wall from a lower vantage point. There are no two ways about it. Don't be put off. Try to keep up a rhythm of one foot in front of the other. Stop every 10 or 5 minutes if need be. Enjoy the mountains around you. It's rare to see such beauty.

The final stretch up Kongma La is the hardest. Be wary of loose rocks and boulders. Again, take your time, catch your breath and just take one step at a time to the top. The views are breathtaking. Eat your packed lunch and rest well. Going down is hard too.

Scree, lose rock and glacier terrain does not make things easy here. Trekking poles help incredibly well. The barren land can often make you feel as if you could get lost. The stone cairns mark the way. The real slap in the face is that it's not all downhill. Your approach to Lobuche will mean going uphill as well. It's pretty brutal. Those hard sweets in your pocket or mountain bars help to keep you fueled as you scramble over the glacier boulders which are the last obstacle to Lobuche.

Arriving in Lobuche get checked in and hydrated. Eat well and sleep well. That's one of three passes done!


Day nine - Lobuche to Gorak Shep
It's the day for Everest Base Camp! Eat a good breakfast as yesterday was tough and you'll need a good meal to get going.
There's no let-up in the terrain. Big boulders, rocks, and incredible landscapes. It takes about 3 hours to reach Gorak Shep. It may not seem like long but the altitude is high and you'll be walking slow.

It's best to check into a lodge at Gorak Shep when you arrive. Big groups can arrive with no notice when you are at base camp so take the worry away.
The trek to EBC after lunch is a long haul but one you should do.
The Khumbu glacier is not a slippery mass of ice like so many things but a torrent of scree, stone, and rock. It's difficult to traverse but you'll make it to base camp.
Day ten - Gorak Shep to Kala Patthar to Dzongla
Black rock or Kala Patthar can be done for sunrise. Personally, I think a double breakfast is a good idea here. If the wind is strong then climbing Kala Patthar is tough. Harder still if it's near winter. The view from the top is amazing to say the least. It's better than EBC for sure and you'll get some amazing photos. Return back to Gorak Shep for breakfast you have got a long day ahead still.
You'll get a striking view back at Kongma La pass on your way which is worth patting yourself on the back for conquering before.

The trail is narrow and windy along the route to Dzongla. Remember to look back for photos as the views are spectacular. At the top, you'll get vast views of Ama Dablam, Periche village, the Khumbu glacier, Mount Taboche, and the turquoise Cholatse Lake.

The route to Dzongla is relatively flat here on in but it is a long stretch. More distracting is the huge ice mountain in the distance which is Cho La. Don't worry, you'll make it!
Day eleven - Dzongla to Dragnag (Cho La Pass)
It's one of the toughest days on the Three Passes trek. A lot of today's "toughness" will be down to the weather. If there's wind, cold and ice then it will make things more difficult. If you are lucky and the weather is with you then it makes things easier.
It's usually a 6 am wake up call but I usually try for 5 am and a double breakfast. The first section is not as tough as it looks from afar. Then, the steep section begins and it's tough. Rocks and boulders add to it all.

Cho La glacier is a welcome distraction. It's always important to remember you are here for the views. Spikes or light crampons come in handy here if there's ice but this will depend on the season you go. Ignore the online pundits who scoff at the notion - if you slip remember where you are and the lack of facilities. The route up the pass can be daunting if there are people ahead of you. More mountain than pass.

At 5420 m the top of Cho La Pass is one of the highlights of the Three Passes trek. Celebrate with your packed lunch and plenty of photos. The descent to the west is steep. Be prepared with your trekking poles and be sure to watch your footing. The pressure on your knees here can take its toll - so try to go slow as you still have a few more days to go.

Many people skip Dragnag and go on to Gokyo. I prefer the early rest in a nice village.

Day Twelve - Dragnag to Gokyo
It's a welcoming short day from Dragnag to Gokyo and you can try to have a lie in during the morning.
The toughest part is crossing the Ngozumba glacier which can take up to 3 hours. The first part is the descent into the icy glacier.

The area is grey and desolate. Ice, stone, rock, and sand cover the area like a lunar landscape. It's tough terrain to cross.

The route up is narrow, winding and difficult. At the top, you'll be reward with one of the best views on the trek. Gokyo Lake and village are a spectacle in such an incredible landscape.


Day thirteen - Gokyo Ri
Many guides like to call today a rest day. The truth is it's a climb up to Gokyo Ri. That said, if you are not up for it nobody will begrudge you a simple walk around the lake.
Alternatively, you could do a hike out to one of Gokyo's other high altitude lakes.
For those climbing Gokyo Ri it's a good 3-4 hours up and down.

The terrain is similar to the passes. Take your time as you still have a few days left.
Day fourteen - Gokyo to Marlung (Renjo La Pass)
Today is the last of the high passes on the Three Passes trek. It's on this day that many people find the toughest mentally. Physically the pass is considered easier though technically it's harder to follow. The pass has had work done on it in recent years and the terrain is easier to cross. It's the only one of the three passes that Yaks can cross. That said take extra caution if there is cloud around as it can be hard to follow.
Start early with a hardy breakfast. Continue straight past the route up Gokyo Ri. Maintain your steps one after the other in a gradual incline. The route alternates between steep and lower inclines.

The final area zig zags and takes a bit of push to get up. At the top Everest and Makalu await in stunning glory. Smaller peaks like Cholatse and Taboche stand below and the panorama stretches on. It's one of the greatest viewpoints in the world. Take it all in.

The Decent is steep. Trekking poles have a huge benefit here. It's all downhill from here.
Arriving into Lungden you can stay the night if you are late or tired. Though continuing on to Marlung is an advantage for the next day.

Day fifteen - Marlung to Namche Bazaar
Things become decidedly easier on this stretch of the trek as you rapidly descend. There's some truth to the fact your red blood vessels are filled once again with oxygen and everything seems easier as the weight of altitude is lifted.
There are side treks to monasteries here if you have an extra day. Dig Tsho and Thame are hot spots for those looking for an extension to their treks.

Namche Bazaar welcomes you back with hot showers and diverse menus once again.


Day sixteen - Namche Bazaar to Lukla
You've trekked this path before on the way up. It's still familiar and perhaps you'll see some familiar faces coming and going along here.
Today's trek is relatively easy and downhill. Most people enjoy taking in the green areas, mountain villages, people and lifestyle. It's your last full day in the mountains so make the most of it.
At Lukla, you can have one last big dinner in the mountains!
Day Seventeen - Lukla to Kathmandu
Hopefully, you have a first flight booked. If not, sleep in or enjoy a relaxing breakfast. It's worth eating a big breakfast in Lukla as flights are often delayed or at a whims notice. All that remains is the exhilarating flight from Lukla to Kathmandu before you'll be back in the hustle and bustle of the capital again.
---
---
For alternative treks do read my list of treks in Nepal which is continually being added to based on popularity or request.
If looking for a trekking guide I recommend you read my article on
How to find a trekking guide in Nepal
or you can use the
Find a Guide Service
.
---
Are you ready to trek in Nepal? If so, then you'll love my trekking books!
---
These guidebooks are a hands on trekking guidebooks that are better than the rest. Yes, really!
The books contain day-by-day guides with accuracy using scalable maps, photographs and travel-tested up-to-date trekking information. Just like my other guidebooks these have been proven to be the best interactive, or paperback guidebooks to Nepal available anywhere today.
So what are you waiting for? Get your hands on these guidebooks and start trekking in Nepal today!
Discover more guidebooks to Nepal!
---
Was this page helpful to you? If so please tell others!