---
Located through the Golden Gate in Bhaktapur Durbar Square to the rear of the courtyard outside the Taleju Temple.
Built in 1678 by Jitamitra Malla from a natural spring the Naga Pokhari (Royal Bath) is also considered a hiti as water pours from a gilded stone water spout into a sunken basin.
You can't help but notice the huge snakes that encircle the bath. These are Nagas which are deities that take the form of water serpents.
You are allowed to walk down into the bath which contains some great words of art surrounding it. The hiti was featured in the film "Little Buddha".
Did you know?
A "Hiti" is a water basin that is filled from a natural spring through a spout.
Back in 1678 the Royal Bath was a part of a much larger compound which has disappeared through the years.
---
The Naga (water serpants) are carved into the stone surrounding the bath before rising up in the center. They are there to protect it. The detail shown on them along with the bath itself is some of the best proportional work in Nepal.
Naga are traditionally called "snakes" and are often associated with water. They appear in Hinduism, Buddhism and Jainism. By default they also appear in traditional Newari architecture.
If you walk down into the bath take a close look at the well crafted stone water spout which was added in 1688. It used to be fully gilded but time has taken its toll here.
Above the spout are small replicas of original statues of various deities that have been stolen over the years.
---
---
There is no fee to see Naga Pokhari in Bhaktapur as it's covered under the main Durbar Square ticket.
---
---
From Bhaktapur Durbar Square locate the Golden Gate along the main old Royal Palace wall. Pass through it into the inner Royal courtyards to the Taleju temple. Simply enter the compound to the Royal bath from the small gate to upper left-hand side of the Taleju Temple entrance if it is directly behind you.
---
---
Liked this page? You'll love my book! It's a guidebook that's better than the rest. Yes, really! In it I cover all of Bhaktapur's attractions with well researched information, photographs and travel tested walking tours.
It's an interactive & printable guidebook like no other.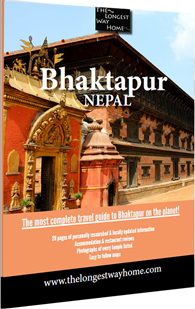 Find out more!
Looking for more? Try my
Nepal Guidebook
, or for heritage lovers my
Kathmandu Valley Heritage Walks
---
Was this page helpful to you? If so please tell others!