---
Take a left from behind Chyasalin Mandap and walk past the hiti beside it until you see the large two-roofed Pashupatinath temple across the square. This was once regarded as being part of the royal palace.
Built in 1475 by King Yaksha Malla as a respected replica of the main Pashupatinath temple in Kathmandu.
Locals often site on the lower platform of the temple. Though to beware of the od unoffical guide trying to charm you into hiring him.

The restaurants around the Pashupatinath temple are some of the better ones in Bhaktapur.
Did you know?
The two temples of the same name look nothing like each other. They seem to share only the same name. The Pashupatinath temple in Kathmandu is regarded as being far more prestigious.
---
While the Pashupatinath temple may not look like more than a two-tier wooden building it's got something else going on for itself. Walk up close to it and look up at the wooden struts leading to the first roof. They are filled with erotic wooden carvings.
The carvings here depict scenes that make the karma sutra seem quite amateurish. Included in all these is a water vessel being held under one person. I'm not sure what's going on. But you'll certainly be joined by other onlookers trying to work the same thing out.
Do watch out for "tour guides" sitting around this temple as it's one of their favorite spots to start a conversation - the end goal is to charge you money for their information. Be polite but stern in declining them.
The carvings are even more visual than the erotic elephants near the main gates.

---
---
There is no entrance fee comes under the general fee for Bhaktapur Durbar Square.
---
---
Liked this page? You'll love my book! It's a guidebook that's better than the rest. Yes, really! In it I cover all of Bhaktapur's attractions with well researched information, photographs and travel tested walking tours.
It's an interactive & printable guidebook like no other.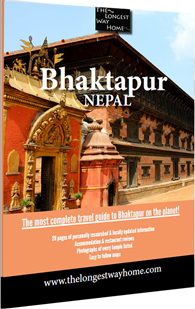 Find out more!
Looking for more? Try my
Nepal Guidebook
, or for heritage lovers my
Kathmandu Valley Heritage Walks
---
Was this page helpful to you? If so please tell others!