---
Located past Bhaktapur city, 20km from Kathmandu city, just before the village of Sanga.
The Kailashnath Mahadev Statue (कैलाशनाथ महादेव) is the worlds tallest statue of the Hindu god Shiva which stands at 143ft/44m. It is also the world's second tallest Hindu statue.
Built between 2004 and 2011 under the funding of Indian born Kamal Jain who now resides in Nepal. A weekly team of engineers was brought in every week to help secure the building project due to its hilltop location. It is constructed from mainly concrete, with copper, zinc, and steel.

The Kailashnath Mahadev Statue is very popular with Hindus both from Nepal and India. Though numbers of 5,000 to 10,000 visitors per week are highly suspect weekends do see an influx of visitors.
Did you know?
Kamal Jain also owns the ajoining Hilltake spa and resort. The only nearby accommodation.
---
Though the Kailashnath Mahadev Statue itself is not directly at fault the surrounding hill on which it stands has become covered giant advertisements. Spurred on by domestic tourists, businesses have hired out huge frames covering much of the hilltops side with banner advertisements.
The once pristine hilltop is now an unsightly mess as you approach it. International tourists have remarked that it certainly takes away from the statue's presence. Further to that questions have been raised in regards to the environmental damage such large signs are having on the trees, fauna and wildlife on the hill.
Below all this is Kathmandu Fun Valley - a water park/ fun fair. It's primarily frequented by Nepali at the weekends. Most arrive by car.
---
---
For most tourists there's not a lot to see at the statue. While tall, you cannot climb up the statue. There's a small garden surrounding it. There is also a set of steps leading up to the statue that contain 12 Shiva lingams including the Kailashnath Mahadev Shiva lingam.
The statue is easily visible on the main road from Kathmandu to Bhaktapur where most tourists simply admire it from a distance. It's certainly worth keeping a look out for it. Taking a private tour to the statue is probably of little interest to anyone other than for religious proposes. Or, for those looking to partake in the nearby spa.
---
---
While there is no official entrance fee for Kailashnath Mahadev Statue there are some catches. If you enter from the easy to reach Hilltake spa and resort side to the rear of the statue you will be charged 100 rupees. This charge is for admission to the resorts "parking" and "amusement park" entrance fee.
Meanwhile if you take the broken path to the left of the resort to the front of the statue there's meant to be no entrance fee at the gate into the statue. However, if you ask anyone at the gate then they'll charge 25 rupees. It's best not to say a thing and just walk on in.
Opening hours: 7:30am-6pm. However, you can walk up for sunrise if you park outside the parking area.

---
---
By taxi: A short taxi ride from Bhaktapur is the easiest form of transport. It will cost around 800 rupees. From Kathmandu it's over an hour away with good traffic at a cost of around 2000 rupees.
By bus: from Kathmandu's Ratna bus park catch a bus heading to Sanga (80 rupees), you need to tell the driver or ticket collector you want to be dropped off at "Shiva Statue. Kailashnath Mahadev" or "Hilltake resort". A second option is to take a bus to Bhaktapur and transfer there to a local Sanga bound bus. In either case you will have to walk up the hill to the statue from the road.
Map to Kailashnath Mahadev Statue
---
---
Liked this page? You'll love my book! It's a guidebook that's better than the rest. Yes, really! In it I cover all of Bhaktapur's attractions with well researched information, photographs and travel tested walking tours.
It's an interactive & printable guidebook like no other.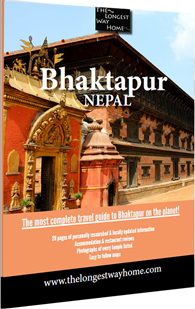 Find out more!
Looking for more? Try my
Nepal Guidebook
, or for heritage lovers my
Kathmandu Valley Heritage Walks
---
Was this page helpful to you? If so please tell others!