---
The Accessible Trail (Deurali Danda) in Nepal was opened in April 2018. It's offers people with physical disablities a short paved trail nearby Pokhara with mountain views. The trail is designed for differently-abled people and elderly people with different needs.
Upon it's opening the trail was noted as being the first accessible trail in Asia. However, it should be seriously noted the trail is still not finished! There is still about 1 km of the 1.2 km not paved and a large area before the the all important viewpoint with no trail. The best mountain views are currently from the hotel resort beside the trail. Nepal Tourism Board funded the project with the sum of 1.9 million Nepali Rupees (USD $16,696). The trail is managed by the NTTCC (National Transit Transport Coordinating Committee).
Sunrise at the Accessible Trail from the resort gardens
There is a handrailing along the majority of the trail however it is made of bamboo and large segments have already rotted away. Likewise with the bamboo seating. At best the accessible trail offers a resort hotel with nice views and a short strip of pavement in a forst area that quickly turns into a dirt trail strewn with rocks. Let's hope the trail is finished and maintained soon.
Please note: the maps on this page are not to be used as physical trekking maps. However the accessible trail is very short and getting lost is not an option so long as you stick to the stone pavement by the restort.
Trek Overview
| | |
| --- | --- |
| Difficulty: Easy-Difficult | Days: 45-60 minutes or an overnight stay |
| Max Altitude: 1,568 m | Distance: 1.78 km (1.11 mi) |
| Accommodation: Resort | |
Distance shown is the full trek one way but does not include driving distances to and from the trail heads. The final distance will depend on how far you go. The stone pavement is only about 7 minutes walk in lenght. The dirt trail is 1 km. There's about .5 km of a flat dirt trail and the rest of regular or off trail tracks. It's been quoted that when the full trail is finished it should be 4km. A fully detailed guide to the Accessible trail with more details is below
.
Honesty counts!
Every travel guide on this site has always been 100% independent, unbiased & honest. Rest assured there are no sales pitches for treks here & no hidden sales links. I have included plenty of options & resources for you to find the best trekking guides who know this area well. I do not accept sponsorships, free treks or tours. I do not own a trekking company or business in Nepal. I pay my own way & in turn write
authentic guidebooks to Nepal
. Rest assured, this is a genuine travel & trekking guide that you can trust.
---
The Accessible Trail is located in Gandaki Pradesh, Kaski District 12km from the city of Pokhara. The trail itself reaches a maxium altitude of 1,568 meters. Sarankot is a nearby landmark for sunrise views and paragliding and can easily reached by road or a relativley unmarked hill trail.
The trail is directly beside a resort hotel which you'll need to walk behind to get access to the trail area. A vechile is needed to reach the Accessible trail along the Pokhara Baglung highway.
The Accessible trek has views of Daulagiri, the Annapurna mountain range and Macchapuchre.
Most of these views are best seen from the resort hotel at sunrise. Views are also visible along the accessible trail past the stone pavement.
The accessible trail can be linked to the Kaskikot hike and Sarankot though the trail is not marked and roads can break it up. A longer trek from Sarangkot back to Pokahra via Methlang hill is also possible however none of these are diababilty friendly trails or well marked out.
---
---
This map shows you the Accessible Trail.
Please note this map should not be used as a practical trekking map.
---
---
The Accessible Trail may be open, but it's far from finished.
Highest point of the Accessible Trail
At (1,568 m / 5,144.35 ft) the Accessible Trails viewpoint in the east is the highest point. Unfortunatley the paving does not come remotely close to it and even the dirt trail finishing long before the viewpoint.
Annapurna Mountains from the Accessible Trails Viewpoint which cannot be reached by average wheelchair users
Highest sleeping point on the Accessible Trail
The highest place to sleep is in at the resport lodge at the start of the trail (1,538 m / 5045.93 ft). Do note that you do not have to stay at the resort as the trail is close to Pokhara city.
Total distance of the Accessible Trail
The Accessible trail is a total of 1.78 km one way. However, the actual pavement is currently only 0.2km.
How long have people been hiking the Accessible Trail route?
The Accessible Trail was first opened in April 2018. The area itself is well populated with a resort on site.
The trail was established by Nepal Tourism Board. It us unknown when it will be finished.
Is there any wildlife to see on the Accessible Trail?
The forested part of the Accessible trail has birdlife along with small mammals. There are various promotional matierals listing snow lepords and deer however this particuar part is well developed with a lot of inhabitants so the chances of coming across these animals is low. The resort hotel have planted several speicies of colorful flowers.
What mountains can you see on the Accessible Trail?
Daulagiri, the Annapurna mountain range and Macchapuchre can be seen. Some over zealous guides and establishments mention Manaslu but you'd pretty much want to have a highpowered telescope on a crystal clear days and a very long ladder to get a small glimpse.
---
---
Highlights of the Accessible Trail include:
A short paved low altitude trail next to Pokhara
Few other tourists
The pavement can be used by a strong wheelchair
Relatively flat trail
Mountain sunrise views
The elderly or those with mobilty issues may find the trail easier than other trails as there are not steps
---
---
Arranging a regular Accessible Trail Trek
Treks for Accessible trail need to be vetted carefully. The trail is not complete. The resort has nice views but is not wheelchari friendly without some help. Likewise the drive up to the Accessible trail can be bumpy. It's probably easier to arrange your own guide to take you than booking online.
Package treks & tours to the Accessible Trail bought online
Package treks & tours to the Accessible Trail are available online though not widely. Many of the itineraries feature unwanted extras like day trips to other locations.
Package tours for a half day trek start from around USD $70-100
Pro's of a package trek on the Accessible trail is that everything will be arranged for you in advance.
Con's include overpriced package and not being sure if things like vechicles will be adequate for your needs.
Package treks bought in Nepal for the Accessible Trail
This is a good option and it's best done in Pokhara which is right beside the trail. Do visit several trekking agents and ask what's included. Feel free to adjust their package as you want. The price will change as you adjust it.
Your hotel may also be able to help if they are associated with a trekkign agency (most are). Staff can be on hand to help if need be.
Pro's of a local package trek include being sure of what you are paying for and if things like a vechile are suitable.
Con's include trekking companies adding on extras that are not needed.
If you'd like to take the hard work out of finding a guide or package for the Accessible Trail with an expereinced guide before you arrive then do try my Find a Trekking Guide Service.
Hiring a local Guide for the Accessible Trail
Pokhara is the best place to find a local guide for the Accessible Trail. It's best to hire one from a trekking company and not off the street. If you need extra help they can easily get a porter. Do note that guides in general are not trained in aiding people with disabilities.
Hiring a local guide can cost between $25-50 per day based on their experience.
A local guide can also aquire a suitebale vehicle to bring someone to the Accessible trail. Do note that vechiles that are wheelchair firendly are rarely found in Nepal. Minivans or jeeps are easily found.
If you are looking for a local registered trekking guide for the Accessible trail trek I recommend you read my article on How to find a trekking guide in Nepal.
In my guidebook to Nepal there are several well vetted trekking agencies you can choose from that hire out local guides.
You can also save some time by using my Find a Guide Trekking Service to get a local guide.
Trekking the Accessible Trail without a guide
A guide is not mandatory on this trek. However, the resort area has rough concrete and steep ramps.
The wheelchair freindly toilet is often locked. The stone pavement ends abruptly and the dirt trail is quite rough. It can get very muddy if it rains.
There are no brail signs. Many of the trail signs are already fading away however it is a trail with no turn offs for the duration of the pavement. The handrailings are in an unstable condition. There are no helpers, staff or atendents anywhere on the trail.
It is adviable to take at least one person with you. in 2023 the area is still not paved well.
If you are looking for a guide for the Accesible Trail I recommend you read my article on How to find a trekking guide in Nepal.
You may also use my Find a Guide Trekking Service.
---
---
The Accessible Trail is low altitude and open year round. Views will be cloudy during the monsoon season.
Accessible Trail Weather by month (Pokhara)
Avg. Temperature
(°C)
Avg. Temperature
(°F)

Precipitation / Rainfall (mm)

January
13.1

55.6
28
February
14.9

58.8

24
March
19.5

67.1

52
April
23

73.4

106
May
24.1

75.4

312
June
25.2

77.4

626
July
25.3

77.5

876
August
25.2

77.4

807
September
24.1

75.4

491
October
21.6

70.9

140
November
17.5

63.5

6
December
13.8

56.8

6
Do note that the weather at the Accessible Trail will be the same as Pokhara city. If it's cloudy in Pokhara then it will be cloudly on the trail.
The above chart also shows cloud coverage which is important to note as the trail is low altitude.
Months with the best weather to trek the Accessible Trail
Mid October - November/(early)December: Nepal's peak and best time to go on the Accessible trail.
February-March-April: this is the end of the dry season in Nepal and the second best time of year to go hiking to go on the Accessible trail. Flowers will be blooming in the resort area of the trail. However do note that cloud coverage is becoming greater in recent years during this period.
December to January/February: the skies are clear but it can get very cold. There are not heaters in the resort so do enquire if staying there.
May - June: The hot pre-monsoon season means things get uncomfortable and humid. The valley and hills around the Accessible trail are starting to bloom with flowers but most will be covered by the forest.
June - Mid September: this is Nepal's Monsoon season and the least popular time to go trekking on the Accessible trail. The rain will mean slippery pavements adn a muddy trail.
For more details please see my guide on the best time of year to go trekking in Nepal.
---
---
None. No permits are needed for the Accessible trail. However it would not be ununsual to see a charge to access the trail should it ever be finished.
---
No specialized equipment is needed for the Accessible Trail.
The trail has no facilities and no addtional equipment like wheelchairs, walking frames or crutches.
Do take note of the weather and dress appropriately.

A pair of non-slip trekking boots, trekking shoes or footwear suitable for your needs.
A wind / rain proof jacket
Long sleeve shirt
Trekking pants / shorts
Water bottles
Sun hat/warm hat
Sunglasses
Sunblock
Food and bottled water is avaiable at the nearby resort.
Please note the above is a very basic list. For a full comprehensive trekking list please see my article on trekking equipment you need for Nepal
---
---
The Accessible trail is listed as easy. However do note that this will be relative to your own physical abiltiy. The trail for the most part is flat. Though later on there is a slope.
The hardest part is actualy reaching the trail as it goes up a broken road and pavement.
Only the first 0.2km of the trail is paved. The rest is a reasonably flat dirt trail. There are pebbles, rocks and finally the trail breaks into a regular uneven trail to the view point.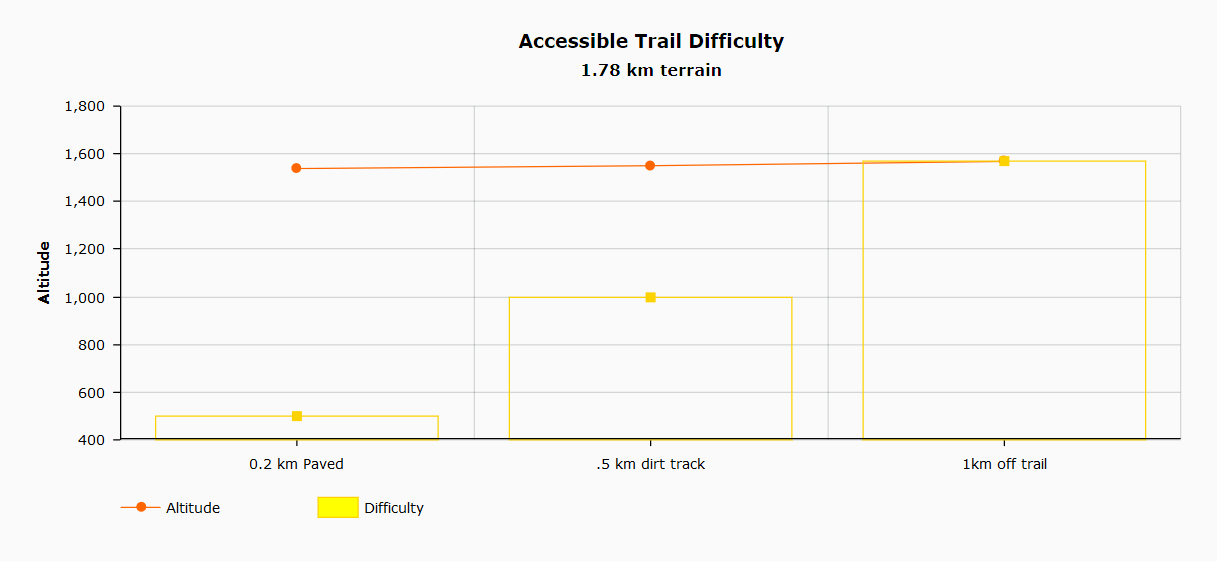 While the Accessible trail remains unfinished nor worked on since it was opened it remains a viable alternative for people with a disability. As a day out it can provide a natural enviroment and forest views. Those staying at the resort hotel would get the added benifit of a pleasent garden with mountain views.
Wheelchair access is debateable on the trail. Depending on ones ability addtional help would be needed to reach the accessible trail in a wheelchair and indeed use it.
Elderly or people with some mobility should not rely on the handrailings which are not stable. Likewise the seats are in poor condition.
There are well written sign posts on the trail that go so far as to messure "steepness" on the trail in percentages. Unfortunately many of the signs are peeling and have been knocked over.
There are no facilities for those with sight impariments. Toilets remain locked with no care takers. The nearest toilet would be in the resort hotel next to the trail.
Rain would make the paved area quite slippery. There are no spicalized foods or meals available.
For those seeking mountain views the Accessiblity Trail itself is forested so mountain views are not fantasic as the treeline blocks the route. If the trail is ever finished to the view point then there will be clear views. At the moment the best views of the entire monuntain range can only be found from the hotel grounds.
It should also be noted that Nepal is not a disability friendly country. Roads and pavements are broken. Traffic lights do not work let alone have sound signals. Hotels rarely have ramps nor working elevators aside from high end accommodation. Restraunts do not allow for alergy statements on menus.
If you have a physical disability then you may want to poperly evaluate your trip, make provisions and come with some assisitance.
---
---
Fitness for the Accessible Trail will be relative to your own fitness levels, health and abiltiy. The trek is noted as being easy and is quite flat.
As always I would advise anyone going trekking or hiking to see a doctor before they go for a check-up
The area after the pavement stops becomes a dirt trail what was flattened at one stage. Following this a regular trail takes over.
---
---
The only food available on the Accessible Trail is from the Himalayan Deurali Hotel. If it is low season than a buffet is normal and not so exciting. Otherwise there is a regular menu. There are no alergy notices nor speciality meals other than typical Nepali vegitarian meals.
---
---
The Himalayan Deurali Hotel is located right beside the trail. Accommodation comes in the form of joined cottages and rooms. There is a pleasent garden area with fantastic views of the mountains.
More accommodation can be found in Sarangkot nearby or for a much wider range in Pokhara's Lakeside area.
Read more and see what trekking accommodation is like in Nepal.
---
---
The Accessible Trail is free for now. The largest costs are transport to and from the trail.
Working out your budget
Package tours to the Accessible trail do exist but are usually overpriced.
Online package tours for 1 a day hike can cost USD$70-100 per person.
In country package tours Package treks to the Accessible trail are best bought in Pokhara. Common extras include private jeep and a porter. Do read through itineraries carefully. $50-70 would be an average price.
My Find A Guide Service can help you out here but do try to get in contact before arriving in Nepal.
Guide only services will exisit costing $27 to $50 per day. however there is no specific need for a guide as the trail is short. The only need for a guide would be to co-ordinate a day out for several people or in organising addtional porters if needed. If hiring a guide do make sure they are from a registered trekking company.
Trekking the Accessible Trail by yourself given the low altitude and shortness of the trail is a viable option. However it will depend on your own physical abilities. Getting from Pokhara to the trail will require a taxi. The pavement up to the trail is also steep. Getting back to Pokhara would mean another taxi though it would be easier to have one wait for you. Again, if you need assistance there is nobody on the trail. It would be better to bring someone with you.
If you are looking for a guide for the Accessible Trail then I recommend you read my article on how to find a trekking guide in Nepal. Alternatively use my Find a Trekking Guide Service.
Average half day Accessible Trail Trek
| | |
| --- | --- |
| Item | Cost USD $ |
| Permits | 0 |
| Guide x 1 day | 27 |
| Accommodation | 0 |
| Meals | 7 |
| Water 2 liters | 1 |
| Transport (private-RTN) | 40 |
| Total | 75 |
The above budget shows that some in country packages may equal an independant trip to the Accessible Trail. However if the fee is per person then an independant trip is far more economical.
Travel insurance should be included and do make sure you are covered for trekking Here is my recommendation for travel insurance when in Nepal.
How to reduce your budget on the Accessible Trail
Splitting the transport costs with someone else will reduce this Accessible Trails cost. Meals at the resort hotel are also more costly than meals in Pokhara's Lakeside area. As the trail is so short it's more economical to visit for sunrise and then return to Pokhara rather than staying for lunch.
---
---
As the Accessible trail is so short a full itinerary is not needed. However to give you an idea of what a day out may look like then here's a short itinerary.
Do be wary of trekking agents offering extended itineraries which can often inflate the price.
Flowers and mountains on the accessible trail in Nepal
Half Day Accessible Trail itinerary
| | | | |
| --- | --- | --- | --- |
| Day | Route | Distance (km) | Highest Altitude |
| 1 | Pokhara to the Accessible Trail by car | 20 mintues | 1,538m |
| 1 | Accessible trail paved area | 5-7 minutes | 1,540m |
| 1 | Accessible trail dirt track | 20 minutes | 1,550m |
| 1 | Accessible trail off track | 20 mintues | 1,568 m |
The above is a one way itinerary. The return journey follows the same path back.
Over night Accessible Trail itinerary
| | | | |
| --- | --- | --- | --- |
| Day | Route | Distance (km) | Highest Altitude |
| 1 | Pokhara to the Accessible Trail by car | 20 mintues | 1,538m |
| 1 | Accessible trail paved area | 5-7 minutes | 1,540m |
| 1 | Accessible trail dirt track | 20 minutes | 1,550m |
| 1 | Accessible trail off track | 20 minutes | 1,568 m |
| 1 | View sunset from Hotel Garden | N/A | 1,538 m |
| 2 | View sunrise from Hotel Garden | N/A | 1,538m |
| 2 | Accessible trail outing (opptional/as above) | 20-50+ minutes | 1,538m/1,568 m |
| 2 | Enjoy hotel garden with lunch at hotel | N/A | 1,538m |
| 2 | Hotel to Pokhara Lakeside | 20 mintues | 1,400m |
The above altidue is about the best one can do over two days. There are small lookout points on the hotel grounds though many have steps. The garden is however well maintained with great views of the mountains.
What's the best Accessible Trail Itinerary?
If you can get a good deal at the resort then an overnight stay is worth it if you cannot make it to any other mountain view points. Do let the hotel know if you have an special requirements. The small garden is nice and does have great views on a clear day. One could easily sit here with a book for the morning or afternoon on a warm day.
Otherwise a short morning outing can be enjoyable for anyone who is looking for mountain views and cannot make it to other areas which are not wheelchair friendly. The trail should not have any high expectations due to not being finished.
Is the Accessible Trail worth visiting?

The accessible trail if finished would provide a person with physical disabilities an opportinity to enjoy a short trail in a forested area with montain views. Unforttunately the Accessible trail was opened before it was finished and hasn't progressed since.
As such in it's current state the trail can indeed be visted by wheelchair users on the short paved area. The dirt trail area will take more effort to move along and if the ground is muddy may not be useable by a wheelchair.
The off trail secton to the viewpoint is a regular trekking route and not possible to visit with a wheelchair unless it is equiped for off road usage or there is a person to help. Nobody should visit the regular trail area alone in a wheelchair as it is easy to get stuck or topple over.
The toilet facilites is one toilet which seems to be locked. The hotel may have a key.
Elderly people or those who can walk with aid or with limited mobility should be aware that the stone sectino may become slippery if it's wet. The handrailings are not stable. The seats are in a state of disrepear. If you can walk with limited range of motion then the paved are and possibly the dirt trail are feasible to navigate. Though carrying a small portable seat may be an added bonus.
Again, there are no other disabled facilites on site.
On the positive side the hotel area does offer great views and the paved area of the trail is forested along with being peaceful.
If the Accessible trail is ever finished and maintained it could be a pleasent trip for any one wishing to see the Annapurna mountains. At the moment it is limited in its usage. A trip up there for a sunrise view (on the hotel grounds) is its biggest attraction. As of 2022 the accessible trail has not been finished, though the parts that have been finished are open.
---
---
For alternative treks do read my list of treks in Nepal which is continually being added to based on popularity or request.
If looking for a trekking guide I recommend you read my article on
How to find a trekking guide in Nepal
or you can use the
Find a Guide Service
.
---
Get my Trekking in Nepal Guidebook
---
Liked this page? You'll love my trekking book! It's a hands-on, fully comprehensive trekking guidebook that's better than the rest. Yes, really!
In the book, I cover over 28 treks in Nepal with step-by-step accuracy using scalable maps, photographs and travel-tested up-to-date trekking information.
Just like my other guidebooks to Nepal you can download it instantly now or order a paperback copy. An up-to-date guidebook like no other.
---
Was this page helpful to you? If so please tell others!