---
Shivapuri Peak (2,732 m / 8,963 ft) is located in Shivapuri Nagarjun National Park which is located to the north of Kathmandu city. The hike is can be a short day hike or extended into several days by taking on the Helambu section of the Langtang Gosainkunda trek.
The Shivapuri hike contains a myriad of Nepali cultural and natural highlights. Despite claims from some tour companies there are no mountain views. Most people who visit Shivapuri do so to get a short break from the city and enjoy the pleasant forests.
The national park is much larger than most people realize as it stretches out over 159 km2 (61 sq mi) to Nuwakot and Sindhupalchowk.
Water spout at Baghdwara the origin of the Bagmati river
The area is an important water source for Kathmandu and is protected by the army with several stations throughout. The park became protected in 1972 but officially became a National Park in 2002.
Shivapuri Nagarjun National Park address is Panimuhan Budhanilkantha, Kathmandu, Nepal. It's website is http://www.snnp.gov.np. The contact telephone number for Shivapuri Nagarjun National Park is 977-1-4370355 / 4370430
On this hike we'll be taking the most direct route to Shivapuri peak from Kathmandu and the famous Budhanilkantha temple that you can enjoy on a day hike. If looking for a trek you can continue on to Chisapani and the Helambu region by following the Langtang Gosainkunda route.
Trek Overview
| | |
| --- | --- |
| Difficulty: Easy | Days: 1 |
| Max Altitude: (2,732 m / 8,963 ft) | Distance: 18.62km (11.57 mi) |
| Accommodation: Monastery/Shelters | |
Distance shown is the main Shivapuri hike leaving from the national park gates and returning back to them. It should be noted that reaching Shivapuri National park gates can take longer than expected due to traffic and roads. For a day hike it's advised to leave early.
Honesty counts!
Every travel guide on this site has always been 100% independent, unbiased & honest. I do not accept sponsorships, free treks or tours. I do not own a trekking company or business in Nepal. I pay my own way & in turn write
authentic guidebooks to Nepal
. Rest assured, this is a genuine travel guide that you can trust.
Trekking guides are now mandatory in Nepal:
In March 2023 Nepal Tourism Board announced that all trekkers (solo, couples, groups, etc.) must have a licensed trekking guide from a registered trekking company if they want to trek in Nepal. Freelance trekking guides are also no longer permitted and only guides registered to trekking companies are allowed. The ruling is controversial in many aspects. There are likely to be changes to this ruling over the coming months and indeed years. However, the reality is that you now need a trekking guide to do this trek. Find a registered guide in my
Trekking in Nepal Guidebook
or use my
Find a Nepal Trekking Guide Service
.
---
The main entrance to Shivapuri National Park is located to the north of Kathmandu just past the
Budhanilkantha temple
. Shivapuri National Park is 159 km2 (61 sq mi) reaching as far away as Nuwakot and Sindhupalchowk. Shivapuri National Park joins Langtang National Park at Chisapani.
Given the sheer size of Shivapuri National park there are several ways to reach Shivapuri peak. The route shown on this page will show you the most direct way to the top of Shivapuri as part of a day hike.
There are no mountain views from Shivapuri peak. Many trekking companies tend to advertise the hike with a Himalayan mountain range. If the weather was crystal clear with no pollution below there is one small area where mountain could be visible. However with such a scenario better views could be had from Patan Durbar Square!
Most people climb up to Shivapuri peak to enjoy the truly lush green forest located here.
Shivapuri is also noted among locals as being one of the Bagmati river sources at Baghdware where there are natural water spouts and shrines.
The hike itself is an enjoyable one so long as you don't expect mountain views. It's largest let down are the exasperating entrance fees which we'll cover here.
---
---
This map shows you the Shivapuri Hike.
Please note this map should not be used as a practical trekking map. Here is a GPX/GPS file of the Shivapuri hike. Detailed trekking maps can be obtained in Nepal at very low costs and in my own trekking in Nepal guidebook.
---
---
The Shivapuri hike is popular among Nepali looking to visit one of the Bagmati sources. The hike is also popular among non-Nepali who live in Kathmandu looking for a day trip out of the city.
Highest point of the Shivapuri Hike
At (2,732 m / 8,963 ft) Shivapuri Peak is the highest part of the trek.
Top of Shivapuri Peak
Highest sleeping point on the Shivapuri Hike
This is a day hike so there is no need to sleep over. However there is a shelter at 1,645 m (5,400 ft).
Total distance of the Shivapuri Hike
The full distance to reach Shivapuri Peak and return to the National Park gates is 18.62km (11.57 mi).
How long have people been hiking the Shivapuri route?
Shivapuri has inhabitants throughout the national park. However aside from a few holy men the Shivapuri hike itself does not have many people living there.
Nagi Gumba is a monastery inside the National Park which has several Buddhist Monks living in it.
As a water source Baghdwara is used as a pilgrimage site rather than a source for usable water. Given the areas proximity to Kathmandu it's likely the area has been occupied and hiked for centuries.
Is there any wildlife to seen on the Shivapuri Hike?
Shivapuri National Park is renown for its wildlife and fauna. The park itself is comprised of four types of forest - Lower mixed hardwood, upper hardwood, Chirpine and Oak. Wildlife in the part include black bear, goral, jungle cat, wild boar, barking deer, Indian civet, flying squirrel, porcupine, rhesus monkey, mongoose, bats and birds. However it should be note that a lot of this wildlife is well hidden. Wild boar and black bears are dangerous and should be avoided.
What mountains can you see on the Shivapuri Hike?
The distant Langtang mountain range is out there, somewhere. Many guides point out mountains over the Kathmandu hills and the while fluffy clouds but it can be nearly impossible to distinguish mountain from distant cloud! The chances of seeing it is slender to none. On a crystal clear day with no traffic pollution you may get to see some distant peaks on the way up to Shivapuri Peak. However you'll get better views on such a day from Patan, Dhulikhel and Nagarkot. It's best to think of the Shivapuri hike as a forest and cultural hike rather than a mountain viewing hike.
---
---
Highlights of the Shivapuri Hike include:
A lush, dense forest hike
Local source of the Bagmati river
Historic landmarks
Passing through a Buddhist nunnery
Cultural shrines
Within easy reach of Kathmandu city
Can be extended
---
---
Many people look for treks nearby Kathmandu. Shivapuri is certainly a hike and not a trek. Being close to Kathmandu does not mean it will be cheap either. Neither does it mean you will see mountains. Hikes around Dhuilkiel or Nagargot would be more preferable for budget, mountain view hikes. Shivapuri is more for those looking for a single day hike within the city.
Arranging a regular Shivapuri hike
The Shivapuri Hike is easy to arrange. Many trekking companies will try to extend the trek into two days. This is not needed unless you really want to spend two days away. Day hikes are usually overprices and best arranged by yourself. Excessive entry fees are often a surprise to many.
Package treks & tours to Shivapuri bought online
Package treks & tours to Shivapuri peak are readily available. You'll need to decide on an overnight stay or a day hike. Most would recommend a day hike.
Package tours for a day hike to Shivapuri range from USD $50-100. It is however important to ascertain if all permit fees are included as extras are commonplace.
Pro's of a package hike to Shivapuri is having a guide bring you from Kathmandu up to Shivapuri and back again.
Con's include overpriced tours with plenty of hidden extras from additional guides needed to extra permits.
Package treks bought in Nepal for the Shivapuri Hike
Once again it's difficult to get a Shivapuri hike without hidden extras. This is not the fault of the trekking agencies but rather the bizarre Shivapuri entrance fees depending on how you reached the park.
It's important you get in writing exactly what you agreed to pay for and remain flexible if it changes. Work out where and how the extras appear at the National Park entrance.
Use the information on this page to work out the costs!
Pro's of a local package hike tour to Shivapuri is that you can meet the company and guide before hand and work out all the costs.
Con's include trekking agents trying to make you spend a night in Shivapuri when all you wanted was a day hike. Likewise surprise extra costs at Shivapuri National Parks entrance.
If you'd like to take the hard work out of finding a guide or package hike for the Shivapuri hike before you arrive then do try my Find a Trekking Guide Service.
Hiring a local Guide for the Shivapuri Hike
Be careful of Kathmandu's street guides when asking about the Shivapuri hike. Many will offer low prices but you'll get caught out at the entrance gates and another mandatory park guide being assigned to you.
Trekking companies in Kathmandu are the best place to hire a guide but even then they stand a chance of being told at the National Park that they still need to take a mandatory National Park guide!
The best option is to simply make your own way to Shivapuri and hire the mandatory Shivapuri National Park guide yourself! Prices are shown under Shivapuri costs.
If you are looking for a local registered trekking guide for the Shivapuri Hike I recommend you read my article on How to find a trekking guide in Nepal.
In my guidebook to Nepal there are several well vetted trekking agencies you can choose from that hire out local guides.
You can also save some time by using my Find a Guide Trekking Service to get a local guide.
Hiking Shivapuri without a guide
This is not possible. Shivapuri National Park requires that all hikers need a mandatory guide. Moreover, the National park ticket office have insisted over the years that the only guide you can take is one of their own! This is disputed officially. Yet, year after year hikers with guides have reported that they would be refused tickets unless they hired a Shivapuri guide from the entrance office.
To make matters worse they have 9 different guide fees depending on the location you expect the guide to take you.
To prevent this, have the trekking agency call ahead to confirm that you and your guide do not need a mandatory Shivapuri guide. This is permitted.
Another way to get around this if you do have a guide from outside and the entrance office is insisting you take one of there's is to simply pay at the entrance gate for a the mandatory guide and diplomatically arrange that they don't go with you.
There have been active volunteer groups in Kathmandu offering free hikes to Shivapuri in exchange for donations, eating in restaurants, cleaning up areas etc. Please note that "free" does not mean "no permit fees" - if you a non-Nepali, you will still need to pay for a permit.
Given the "mandatory" guide issue it can often work out cheaper to just arrive at the National Park Gates and hire the "mandatory" guide. This is one of the main reasons you should have in writing the cost of the hike or package tour and bring up the issue of a mandatory guide with them and agree on who will have to pay for them if the issue arises. If the agency says they don't know, move on. Similarly make sure the agency calls the National Park ahead of your arrival.
If you are looking for a guide for the Shivapuri trek I recommend you read my article on How to find a trekking guide in Nepal.
You may also use my Find a Guide Trekking Service.
---
---
The Shivapuri hike weather is the same as Kathmandu city. Due to the forest and stone steps it can get slippery during rainy days. As there are no mountain views it's not too important if it's cloudy to enjoy the hike.
Shivapuri Weather by month
Avg. Temperature
(°C)
Avg. Temperature
(°F)
Precipitation / Rainfall
(mm)
January
10.1
50.2
16
February
11.7
53.1
20
March
15.9
60.6
34
April
19.6
67.3
55
May
21.9
71.4
116
June
23.6
74.5
252
July
23.6
74.5
379
August
23.4
74.1
334
September
22.1
71.8
212
October
19.4
66.9
68
November
14.6
58.3
7
December
10.9
51.6
12
Do note that Shivapuri does not have a weather station and the above is indicative of Kathmandu city weather conditions.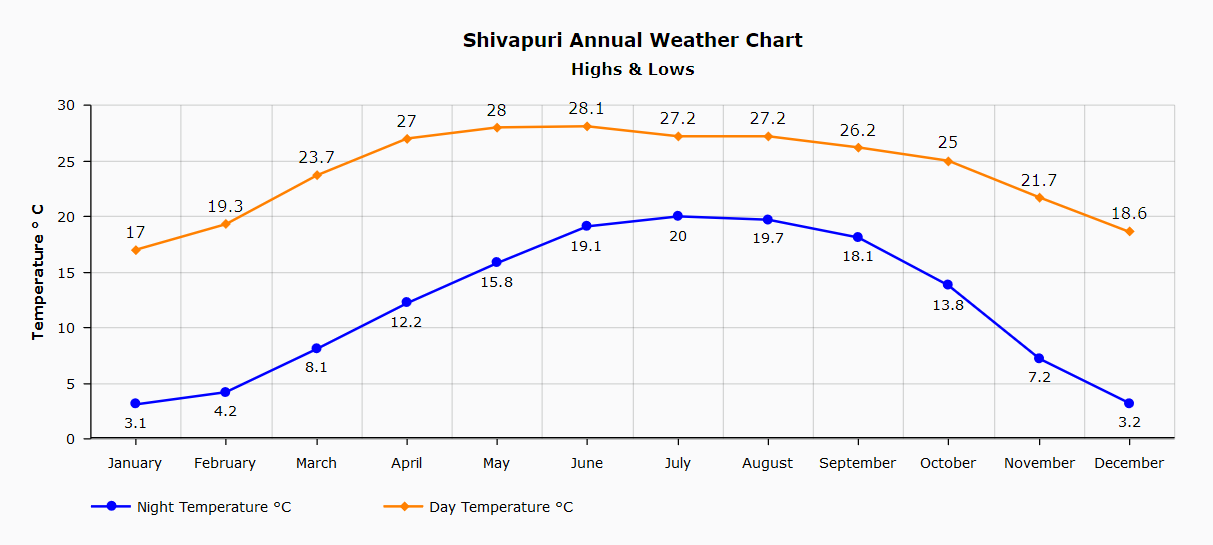 The above chart shows a more acurate representation of day and night temperatures in Shivapuri. Do note that it can feel colder due to the shade of the trees. This is a low altitude hike so cloud coverage can be an issue. Guides are mandatory but stick close to them if there is low cloud on the trek. Similarly be conscious of the trail path.
Months with the best weather to hike Shivapuri
Mid October - November/(early)December: Nepal's peak and best time to go hiking to Shivapuri peak.
February-March-April: this is the end of the dry season in Nepal and the second best time of year to go hiking to Shivapuri peak. This time of year also has the added advantage of the surrounding countryside in full bloom.
December to January/February: the skies are clear but it can get very cold. Shivapuri rarely gets snow.
May - June: The hot pre-monsoon season means things get uncomfortable and humid. The valley and hills around Shivapuri are starting to bloom with flowers but most will be covered by the forest.
June - Mid September: this is Nepal's Monsoon season and the least popular time to go hiking to Shivapuri Peak. The risk of leeches and heavy rain will increase. There's virtually no shelter along the hike.
For more details please see my guide on the best time of year to go trekking in Nepal.
---
---
As the hike goes through Shivapuri National Park you will need a National Park permit. Unfortunately there are also a host of additional extra fees that you should be aware of. Finally it's important to note that a mandatory guide is required before being allowed into the park. There are various prices for this mandatory guide which will be listed below.
You need one permit for the Shivapuri Hike & a guide
Shivapuri National Park Entry Permit
Shivapuri National Park Permit
Shivapuri National Park permits can be obtained at the main entry gates to Shivapuri National Park. They can also be obtained at Chisapani if coming from Langtang.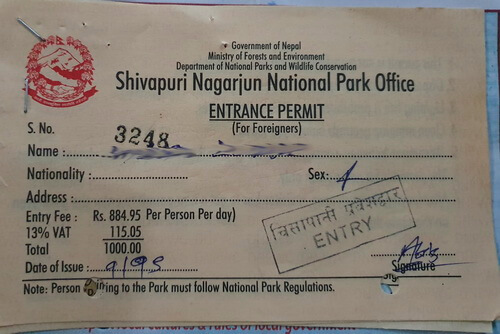 Steps to getting a Shivapuri National Park permit:
Arrive at Shivapuri National Park Entrance gate. There's a ticket office to the left just before the gate
Separate prices are displayed on a multitude of signs
Pay the 1,000 rupees (foreigner), 600 rupees (SAARC), 100 rupees (Nepali). Only payable in Nepali Rupees.
Get your park permit and be prepared for the following fees
Additional Shivapuri National Park Fees
Wildlife Damage Relief Fund
50 rupees - Foreigner
25 rupees - Nepali
50 rupees per motorbike (Foreigner)
30 rupees per motorbike (Nepali)
50 rupees per mountain bike (Foreigner)
30 rupees per mountain bike (Nepali)
Shivapuri vehicle entrance fees (separate to the above)
Area one - 50 rupees per bus, jeep, micro van
Area two - 150 rupees motorcycle
Area two - 350 rupees car, jeep, minivan
Area two - 500 rupees truck, bus
Area three - 20/50/150 rupees mountain bike Nepali/SAARC/Foreigner
Shivapuri hiking guide fees
Park Gates to Nagi Gumba - 1000 Rs
Park Gates to Bhisnu Dwar - 1500 Rs
Park Gates to Bagdwar - 2000 Rs
Park Gates to Shivapuri peak - 2000 Rs
Park Gates to Chisapani - 3000 Rs
Rather unfortunately all but the Chisapani fee are not for a full day so you'll be told there's a limit time for the guide.
These guides are officially not mandatory however a number of hikers have been told and expressly ordered to take a mandatory guide.
Do note that the Shivapuri ticket prices are often marked as from Panimuhan to a certain location. Panimuhan is the local area name given to the location of the National Park Gate area.
There are yet more additional fees for rock climbing in Shivapuri.
Exit out of the park is only allowed before 4pm at the main gates where there is an army checkpoint.
Where are permits checked?
At the main gates and at Chisapani.
Why are vehicles allowed in?
The section between the main gates and Nagi Gumba has a dirt road which is in bad condition. Many hikers prefer to drive up to Nagi Gumba and start the hike from there.
Why are there so many extra charges for Shivapuri National Park?
Great question and there's a long boring answer. To summarize the park is basically allowed to run itself with little intervention from the tourism board or other regulatory offices. Officially the fee to enter the park is 1000 rupees for foreigners. Unofficially there are a lot more hidden charges which is one of the reasons this hike is rated low at the top of this page.
If you can wrap your head around the extra charges and hassle you can still have a nice day out.
---
No specialized equipment is needed for the Shivapuri hike.
The hike is a day trip with many steps. Brining enough water and a packed lunch is essential.

A pair of trekking boots, trekking shoes or footwear suitable for off-road walking while being good with steps
A wind / rain proof jacket
Long sleeve shirt
Trekking pants / shorts
Trekking poles
Water bottles
Water purification system
Map
Sun hat/warm hat
Sunglasses
Sunblock
There's no place to eat on the hike so brining a packed lunch is essential. There is a shop at Nagi Gompa but it's not always open. Locals drink from Baghdwara water source which is a natural spring.
Please note the above is a very basic list. For a full comprehensive trekking list please see my article on trekking equipment you need for Nepal
---
---
The Shivapuri hike should not be underestimated if you are not used to hiking or trekking. There are many steps to climb both up and down. Likewise you'll need to be carrying your own lunch. Though to be fair a good guide will often lend you a hand in carrying this.
It's worth noting that on a Saturday Shivapuri can become quite crowded with Nepali visitors. If you are looking for peace and quite this is not the day to find it.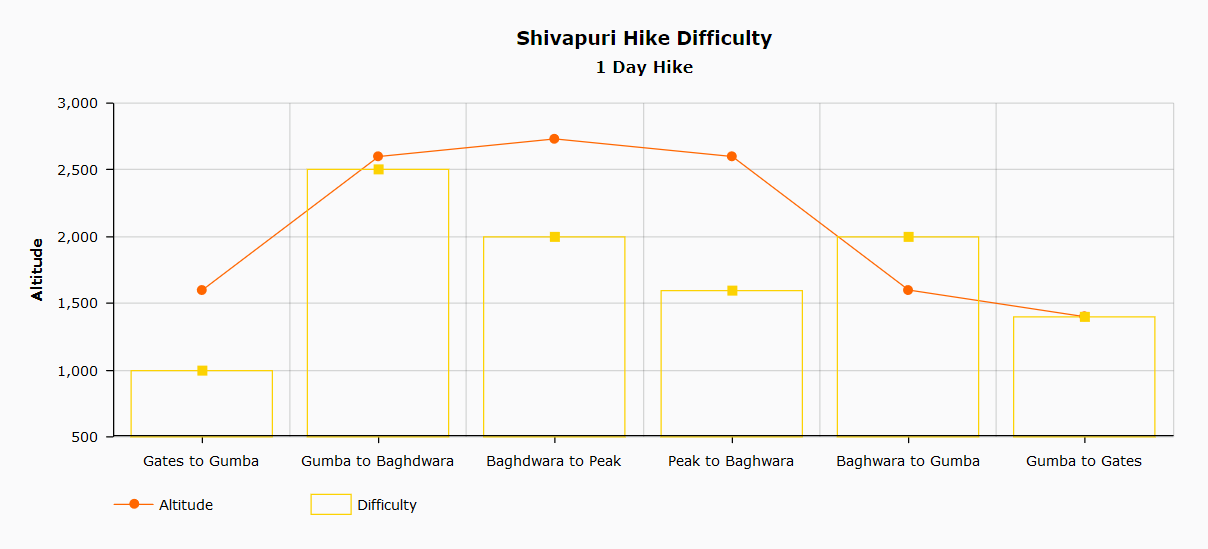 A lot of the hike's difficulty will depend on where you start it from. If starting from Budhanilkantha then be prepared for several hours of walking on road, broken roads and dirt roads. The stretch of road from the park gates to Nagi Gompa can be a muddy obstacle course if it's been raining. There's also not a lot to see. A better option if at all possible would be to drive up to Nagi Gumba and start from there.
From Nagi Gumba things are a lot more pleasant. The forest cools the are in this part and it's quite amazing that the woodland is so dense. Steps are frequent on they way up which catch most people by surprise.
Likewise the downward steps can also be tiring though they are well spaced out and not as severe as the Annapurna Base Camp steps or even the start of the Mohare Danda trek. If you arrive early then the steps should be easily manages by pacing yourself, taking breaks to enjoy the forest and enjoying the shrines that dot the path to the peak.
Nagi Gumba in Shivapuri is where the hike really begins!
Trekking poles will help with the steps on the way up and especially on he way down.
---
---
Fitness for the Shivapuri hike is relative to your own fitness levels. The trek is noted as being easy. It's the steps that catch most people out who are not used to them.
As always I would advise anyone going trekking or hiking to see a doctor before they go for a check-up
If you are sedentary before the hike you may well become out of breath early on in the hike. Especially if you don't climb stairs often.
Given the hike is only a day hike and not to a high altitude it's worth taking your time on hike up to the peak. There are stretches of forest pathways which are shaded and give one a chance to recover. The hike can easily be completed if you arrive early so there's no need to rush.
---
---
There is none! Bring your own packed lunch, snacks and water. The Nagi Gumba does have a food area but it's for guests and nuns only. They also have a small shop but you may have to ask someone to open it for you. It's far better to bring your own supply of food and water.
Sandwiches and be purchased and packed to go in many of Kathmandu's restaurants. It's worth asking your hotel if they do the same as they could make them the night before or during breakfast before packing them up. Naan breads are also a good alternative. Similarly rice meals, pizzas and just about anything on Kathmandu menu can be packed up.
There is an open lodge at the junction between Chisapani and Shivapuri peak which sometimes cooks dal bhat. But don't rely on it being staffed!
---
---
There are only two places to stay on the Shivapuri hike if you want to make it an overnight hike. The first is the nunnery at Nagi Gumba. However the Gumba is often booked out for pilgrims.
The second place is an open lodge at the junction between the route to Chisapani and Shivapuri peak.
There's a shrine here and the lodge is not always occupied. The doors are left open for pilgrims otherwise there's a 400 rupee charge for the night. There's is no bedding inside and once again there's no guarantee others won't be occupying it.
As this page focuses on Shivapuri being a day hike there's no need to spend the night.
Furthermore a Shivapuri National Park permit only lasts for one day! So if you do spend the night and go back to the main gates they will charge you again. The Chisapani ticket office is a bit more lenient.
Read more and see what trekking accommodation is like in Nepal.
---
---
The Shivapuri hike trek is short with most of your budget going on a guide, transport or dealing with the entrance fees
Working out your hiking budget
Package tours to Shivapuri Peak do exist but are usually overpriced. Many trekking or tour companies try to include an overnight stay. This page is only dealing with a day hike.
Online package tours for 1 day hike can cost USD$70-100+pp. This does not include water, meals or a porter. You will get a guide and national park entrance fees paid for. Most online tours hide the fact that there's a two person minimum fee.
In country package tours Package hikes to Shivapuri bought in Kathmandu usually start out cheap. However do go over the itinerary carefully and watch out for extra fees. Common extras include private jeep vs bus. Entrance tickets. And meals. For example if there are no meals included you may well find the guide has brought none for himself and you'll have to share. Again, do read through this page carefully as Shivapuri has many hidden extra fees. Costs can be from $60-80 depending on what's included.
Remember to look at itineraries and see how you are getting to Shivapuri. If it's by public transport you may well end up having to walk from Budhanilkantha to Shivapuri peak.
My Find A Guide Service can help you out here but do try to get in contact before arriving in Nepal.
Guide only services for the Shivapuri hike can cost from $27 to $50 per day. These are often the most economical ways to go up to the peak. However do make sure you hire your guide from a trekking agent and not off the street. Many guides will approach you in Kathmandu claiming they can take you to Shivapuri. However you'll more often than not end up paying more than a package tour after you've paid for transport, entrance fees and the many extras that will more than likely pop up.
Hiring from a registered trekking agency also means the guide will be registered and insured which is another important factor. It's important when hiring at an agency to get a clear confirmation that you do not have to hire a Shivapuri guide at the National Park gates. If necessary get them to telephone ahead +977-1-4370355 / 4370430.
Hiking Shivapuri by yourself is not possible as a guide is mandatory. The guards at the National park gates will stop you and say that you cannot enter without one of their mandatory guides. Prices are shown in the permits for Shivapuri section.
As such you'll have to pay USD $20 for a Shivapuri guide to the peak. Moreover if you arrived in a vehicle asides from the extra charges you should also have room for the guide!
If you are looking for a guide for the Shivapuri Hike then I recommend you read my article on how to find a trekking guide in Nepal. Alternatively use my Find a Trekking Guide Service.
Average 1 day hike cost for a Shivapuri Hike
| | |
| --- | --- |
| Item | Cost USD $ |
| Permits (Shivapuri Park Permit, Wildlife fund) | 10.50 |
| Guide x 1 day | 20 |
| Accommodation | 0 |
| Meals 1x$7 (packed) | 7 |
| Water 4 liters a day | 2 |
| Transport (private-RTN) | 40 |
| Vehicle charge | 3.50 |
| Total | 82.50 |
Like many short treks it's worth pointing out that a 4 day package trek to Muldai peak with all your accommodation, meals, a guide, permits and private transport is pretty close to the above if you get a good deal. This will depend on your bargaining ability, time of year and the guides availability.
Extras: P
lease see the permit section for extra charges. In particular vehicle fees.
Travel insurance should be included and do make sure you are covered for hiking Here is my recommendation for travel insurance when in Nepal.
How to reduce your budget on the Shivapuri Hike
The Shivapuri hikes largest cost is transport. If you wish to take public transport your budget drops dramatically but the hike duration increases. Direct minivans to Shivapuri leave from outside the Nepal Airlines offices in Kathmandu.
Many minivans will only go to Budhanilkantha. From there you can either walk the 45 minutes to Shivapuri National Park or hire local transport from outside Budhanilkantha temple.
From the National Park Entrance Gates you'll then need to walk the dirt road to Nagi Gumba.
---
---
This page shows you a single day hike to Shivapuri. There are many other longer itineraries including linking the Shivapuri hike to the Langtang Gosainkunda trek which you can also read out.
It's worth point out that how and where you start the Shivapuri day hike will have an effect on your day out.
Taking public transport will result in spending the most time in a vehicle and for the day. Public micro vans are available from outside the Nepal Airlines building in Kathmandu throughout the day and arrive at Budhanilkantha. From here it's a 45 minute walk though a town to Shivapuri National Park.
Alternatively there are buses from Ratna Bus park that go to Shivapuri National park though due to the new roads will often only stop at Budhanilkantha.
From the gates of Shivapuri National park it's about another 90 minute walk to Nagi Gumba. The road is in bad condition but hiking along it is fine. However you will lose part of the day and do remember you need to be back at the National Parks by 4pm!
Trishula and Shiva statue at Baghwara Shivapuri
1 Day Shivapuri hike itinerary
| | | | |
| --- | --- | --- | --- |
| Day | Route | Distance (km) | Highest Altitude |
| 1 | Kathmandu - Budhanilkantha (vehicle) | 45mins - 1 hour | 1,400 m |
| 1 | Budhanilkantha to Shivapuri National Park Gates (walking/vehicle) | 45 mins -1 hour avg / 20m -30mins | 1,500 m |
| 1 | National park gates - Nagi Gumba (jeep/hike) | 30 mins / 90 mins | 1,600 m |
| 1 | Nagi Gumba to Baghdwara | 2-3 hours + avg | 2, 600 m |
| 1 | Baghdwara to Shivapuri Peak | 1 hour + avg | 2, 732 m |
2-4 Day Shivapuri Trek itinerary
| | | | |
| --- | --- | --- | --- |
| Day | Route | Distance (km) | Highest Altitude |
| 1 | Kathmandu to Shivapuri to Chisapani | 6 hours + avg | 2, 732 m |
| 2 | Chisapani to Nagarkot | 7hours avg | 2,175 m |
| 3 | Nagarkot to Changunarayan | 7 hours avg | 2,100 m |
| 4 | Changunarayan to Bhaktapur / Kathmandu | 3-4 hours avg | 2,260m |
The above 2-4 day trek can be reduced by two days by leaving from Chisapani to Kathmandu.
What's the best Shivapuri Itinerary?
If you've never trekked or hiked in Nepal then you may well consider the 2 or 4 day treks. Though do note that you'll largely be seeing hillsides and villages. For mountain views you may prefer a hike to Nagarkot or indeed Dhulikhel.
If you have trekked or hiked before or are short on time then the one day out hike is very adequate for Shivapuri.
Detailed Shivapuri Hike Itinerary
The following is a detailed one day hike to Shivapuri
Day one - Kathmandu to Budhanilkantha
Getting an early start really makes a lot of difference to the day hike as you have to be out from Shivapuri National Park at 4pm.
A stop off from Kathmandu to the holy temple at Budhanilkantha is worth it.
The temple is an open one with no charge to enter. At the center is a large floating Narayan statue on a pond.

Do read my full guide to Budhanilkantha.

If you've taken public transport to Budhanilkantha then due north is where the entrance to Shivapuri National parks lies. There's a spaghetti junction of roads and walking streets that have been recently developed here and my best advice is to ask locals which one to take rather than rely on any map.
Day one - Shivapuri Gates to Nagi Gumba
To the left of the Shivapuri National Park gates is the ticket office. To the right is Dharmasingha, a Buddhist meditation retreat center. It's here you will likely be bedazzled by the three or more signs with prices on them. There is some English written there. The entry prices to Shivapuri National Park are here.
If you same via public transport then there's no choice other to hike the 90 minute dirt road to Nagi Gumba. If you are on your own you might be able to pay the use of the National Park Guide with a motorbike. The road is surrounded by the outskirts of the forest. It's not an unpleasant walk unless it's been raining recently.
If you arrived by your own motorcycle or jeep then you can pay the vehicle fee and continue on to Nagi Gumba. Do note that taxi's will be reluctant to take this road and may well charge you more. If it's been raining a taxi probably wouldn't make it without getting stuck in the mud. If you are looking for a short cut there's a set of stone steps to left after about 30 minutes walking. There's a dilapidated shelter nearby and about 40 minutes of stairs ahead that lead to a trail. It takes about an hour or so to reach Baghdwara. Otherwise if you continue on the road you'll reach the monastery.

Nagi Gumba itself is a large nunnery of the Kagyupa and Nyingmapa lineages. The Gumba has a small shop that may or may not be open. There's an area here where you can gather spring water.
Day one - Nagi Gompa to Baghdwara
The forested trail leading up from Nagi Gompa is one of the highlights of the Shivapuri hike. Pine trees decorate the ground with needles while filling the area with a wonderful scent.
The trail is well marked out though signs appear randomly.
It takes about 1.5-2 hours to reach Baghdwara.
For many Baghdwara is the main cultural highlight of the hike. The peaceful area is home to several Shiva shrines. A Nandi sits before some steps that overlook a small pond and trishula. You'll notice some cave like huts to the left where priests sometimes stay.
Behind the pond are many shrines and Shiva lingam. There's also a natural spring here that many Nepali believe to be one of the Bagmati sources. It's natural spring water.
Day one - Baghdwara to Shivapuri Peak
The stone steps beside Baghdwara lead up to a junction which is highlighted by a pilgrims rest house. There's an ashram beside it which is a new extension currently being built.
Several priests can often be found living here. Including an Indian baba who lived here for 18 years and many Nepali priests who moved here. However it's not always occupied. Hikers may stay here and if there is someone in residence will need to donate a sum of about 400 rupees for the night sans bedroom or sheets. You literally just get a space to lie down. There's a small attractive waterfall just in front of the ashram.
This junction also leads the way to Chisapani which is about 3 hours away. For Shivapuri Peak take a left and head up the final 20-30 minutes. Along the way your pass a cluster of priests houses. You may go into the area but do note these are private houses and the priests are often in a trance or singing nearby.
Continue un up to the open area which is Shivapuri peak. To the left is a statue of Shivapuri Baba. He died in 1963 at a reported age of 137. There are some old buildings just ahead past the grassy area which used to be an army base but was abandoned during the Maoist uprising (1996-2006).
To return go back the way your came. Beware that the stone steps can be slippery. If you brought trekking poles they come in handing on the way to Shivapuri National Park gates. Don't forget the park closes at 4pm!

---
---
For alternative treks do read my list of treks in Nepal which is continually being added to based on popularity or request.
If looking for a trekking guide I recommend you read my article on
How to find a trekking guide in Nepal
or you can use the
Find a Guide Service
.
---
Are you ready to trek in Nepal? If so, then you'll love my trekking books!
---
These guidebooks are a hands on trekking guidebooks that are better than the rest. Yes, really!
The books contain day-by-day guides with accuracy using scalable maps, photographs and travel-tested up-to-date trekking information. Just like my other guidebooks these have been proven to be the best interactive, or paperback guidebooks to Nepal available anywhere today.
So what are you waiting for? Get your hands on these guidebooks and start trekking in Nepal today!
---
Was this page helpful to you? If so please tell others!