---
Pottery Square is located to the south of
Bhaktapur Durbar Square
and is quite close to
Taumadhi square
so some call it Taumadhi Potters Square as there actually several pottery areas in Bhaktapur. It's formal name is actually Bolachha Tole
but "everyone" knows it simply as Potters square. Out of several, it is the most famous and popular Potters square to visit for many reasons.
Pottery Square contains a genuinely authentic Newari pottery kilns, open air drying areas and of course clay pottery!The word "Tole" in Newari (Nepali) means "market street area" and this is one of the best traditional market areas in Bhaktapur. This also includes the main market street leading to Potters square from Bhaktapur Durbar square. The walking time is only about 5 minutes but if you are looking for genuine handmade crafts it could take you much longer with all the shopping en route!
For those looking for genuine Nepali experiences Potters square will show you an authentic Nepali kiln along with potters at their wheels and oodles of clayware being sun dried. There are also a few shrines and temples here along with a slightly hidden one. The area is not big at all, but on a busy day it's jam packed with action.
Did you know?
Potters Square is not a "tourist sight" but a genuine traditional potters market which dates back to the 16th century. When tourists arrived in the 1970s the potters had no problem selling their wares right from the kilns.
Today, this area is still a genuine potters square where you can watch Nepali pottery being made traditionally. However, some shops have set up souvenir stalls and if you are here when a passing tour group is led through things can get a bit commercial. The best thing to do is ignore the tour group until they've left. It's a small area and most are moved on after 5 minutes. The secret to potters square is to take it slow and easy just like the locals.
---
If you are visiting Potters square in Bhaktapur along with the rest of the city I highly recommend you download my guidebook. It includes a fantastic heritage walk around Bhaktapur including potters square plus maps and photographs of every temple so you'll never be confused as to what's what again!
Jeth Ganesh Temple
The largest but still small temple in Potters Square is the tow-roofed Jeth Ganesh temple and it is dedicated to the son of Shiva known as Ganesh. The temple was built in 1646 when a wealthy potter donated it to the square.
Behind it and beside it are several "Pati" or rest houses. They are still used today by local residents as they were centuries ago
They offer shelter from the heat of the day or rain and allow residents socialize and of course trade goods.


Open Potters Drying Area
One of the main attractions at Pottery Square is the central area used for sun drying the clay ware. If you come here during the dry season or winter season the whole area will be filled with little jugs, bowls or water containers. The potters are constantly coming out from the shade to manually turn the clay ware around as it bakes naturally in the sunlight.
Naturally visitors are discouraged from walking through the central area, but are welcome to walk around here. I personally find the Ganesh temple above or the rest houses a great place to stand and watch all the action unfold here.
Again, it's important to remember these are real traders. Although they are patient with tourists, it's important not to get in their way when taking photos etc
In 2020 the small temple opposite the square remains razed. It is not known if it will be reconstructed immediately. Though given Bhaktapur's proactive approach to reconstruction it will be.
Potter's Wheels
Running alongside the main square to the south are several potters wheels. Each potter has both their own wheel and roofed shelter. The most common Potter's Wheel here is a simple large wooden low wheel that is spun with a stick and then potter bends over to shape the clay as it spins. Potters also squat down low as the they work quickly with a tall pot being spun in about 3 minutes.
Technically it is not possible to join in, this is again, a real life potters market despite the mass tourism on occasions.
The clay is thick and often found around by the kilns. Clay pounding is often more fun and easy to do. This area is famous for its black clay "Dyo Cha" which translated means "clay of the gods" which is dug up once a year in 10-12 foot mud pits.

Tip: If you are here on a quiet day and are patient, friendly and curious you might get invited to try making something. The finer art of jiggering and jolleying will likely not be taught though!
Potters Square Kilns
Just behind the potters wheels are traditional Nepali straw fired clay kilns. You are free to walk and have a look around for yourself. Again it's important to remember these are businesses so people are busy working. An interesting note is that these are single use kilns. Once used, another one is made to replace it.
Vishnu Shrine
In the center of Pottery Square is a single shrine dedicated to Vishnu. It's a simple construction makes of bricks with an ornate stone statue.
The shrine is blessed every morning by the local priest and throughout the day people will come by for their own blessings. There's red vermillion surrounding the entire statue as is typical with Nepal's living heritage.
Souvenir stalls
You can't go far in this little square without coming across a souvenir stall. Strangely most offer typical Nepali style souvenirs of wood carvings, metalwork and bracelets. There isn't a regular "pottery souvenir stall" as such. The reason is most of this pottery is made for the whole sale market either in Nepal or for export.
If you want to buy any of the pottery pieces you see drying in the sun, look for the nearby potter. There's always someone around watching their "ware". They might not want to sell you that exact piece, not because it is special or anything but because it hasn't finished drying. They simply want you to buy something that isn't going to fall apart. So in this case you may have to ask them if they have a difference but similar piece nearby. Keep in mind ware made from black clay will be more expensive due it is rarity. Watch out for black painted ware,
Tip: One unfortunate side effect of tourism are overly aggressive sales people. Some of the souvenir shops here have the odd sales person who doesn't relent with that little wooden Buddha statue. If you are not interested then it's really best to just put a hand up, shake your head and say no thank you. Though they can be annoying, being aggressive is not a good idea.
Another tip is not to forget that first market street you came down from after leaving Bhaktapur Durbar Square, it's filled with a far more interesting collection of souvenirs.
One last temple and where to go next
I'll leave the last temple up to you to find. It's in my guidebooks mentioned below. It's not hard to find though!
From Potters Square you can easily wind your way back to back to Bhaktapur Durbar Square or more interestingly make your way to the tallest temple in Nepal located at Taumadhi square.
If you get my downloadable guide to Bhaktapur it contains every temple in the square and far more: all laid out in a great walking tour, maps and parts of Bhaktapur not covered in any other book. Get my Bhaktapur guidebook here. For even more indepth discovery, get my book Kathmandu Valley Heritage Walks.
---
---
The current fee for foreigners is included in your overall Bhaktapur ticket price.
This ticket covers all of Bhaktapur including, Bhaktapur Durbar Square, Pottery Square, Taumadhi Square and Dattatreya Tole.
If you are planning to stay in Bhaktapur show your passport at the ticket office and you can get the same ticket extended for one week with no extra cost.
Ticket booths are located at all the main entrance streets into the old city of Bhaktapur and there are random "ticket inspections" so do hold on to your ticket!
---
---
From Bhaktapur Durbar Square simply walk down the side street near the Kedernath temple (opposite the golden gate).
Map of Pottery square
Need a better map? Get my 100% original and detailed maps of Bhaktapur and more in my guidebook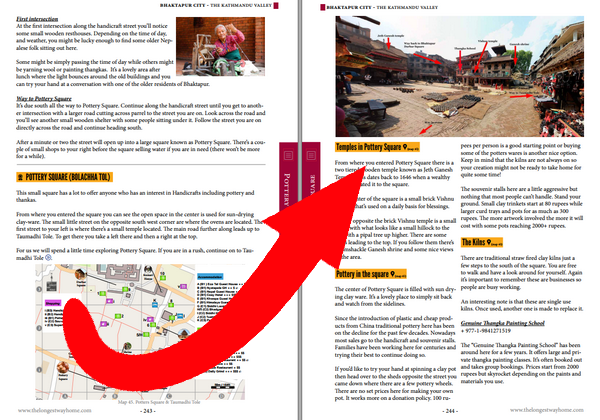 ---
---
Liked this page? You'll love my books! They are hands on guidebooks that are better than the rest. Yes, really! In them I cover all attractions with step-by-step accuracy using well researched information, photographs and travel tested walking tours.
Available in print or digital editions - the best guidebooks for visiting Nepal.
---
Was this page helpful to you? If so please tell others!