I've been on the Everest Base Camp Trek (EBC) on several occasions and wanted to culminate all the information I gathered about just that specific trek on one page. If there's something not mentioned here, just contact me and I'll let you know before adding it here.
Everest Base Camp is one of the most popular treks in Nepal. And, for good reason. You get to see the tallest mountain in the world up close!
Not only that but you get to see the entire Himalayan mountain range which is quite spectacular. The top photograph on this page is exactly what you can see at the end of this trek!
Below is a list of categories on this page that will hopefully answer all your questions about the trek.
Kathmandu Airport Delays 2019
From April 1st 2019 Kathmandu's airport runway will be undergoing reconstruction. The airport runway will be closed everynight from 10pm until 8am the following day. As delays to Lukla airport (start of Everest Base Camp trek) are already well known it is highly advised you try to extend your trip to Nepal by 2-3 days. Otherwise, contact your trekking guide and ask them to make alternative arrangements for your flight to Lukla via Ramechhap (Manthali) airport (4-5 hours from Kathmandu). More information below in
Lukla flight delays
.
Trek Overview
| | |
| --- | --- |
| Difficulty: Moderate to Difficult | Days: 12-14 |
| Max Altitude: 5,545 m | Distance: 130 km (80.70 mi) |
| Accommodation: Teahouse/Lodge | |
Distance shown is a return trek, the final distance will depend on side treks, extra days taken e.t.c. Acclimatization days should always be adhered to. You should assess your own fitness levels and assess each treks difficulty level yourself before trekking.
A fully detailed guide to Everest Base Camp with more details is below
.
Honesty counts!
Every travel guide on this site has always been 100% independent, unbiased & honest. I do not accept sponsorships, free treks or tours. I do not own a trekking company or business in Nepal. I pay my own way & in turn write
authentic guidebooks to Nepal
. Rest assured, this is a genuine travel guide that you can trust.
---
There are two Mt Everest Base Camps. One on the Chinese/Tibetan side of Mount Everest and one on the Nepali side.
Everest North Side Base Camp: Tibet/China
You can literally drive nearly all the way to Mount Everest's North Base Camp if you are in Tibet. There's a one day same day return hike to the camp. You'll be limited to a tour and have to deal with the hassles of Chinese visas, permits etc. And you don't get all that close to Everest. The North side does offer a good view though. The Chinese are still building a new "resort" at the north camp which is due to open in late 2019. For trekkers, it's not really an option as it's more of a photo opportunity and tour with much less trekking involved plus there are still visa issues to overcome.
Everest South Side Base Camp: Nepal
This is the most popular trekkers base camp for Mt Everest and the more famous one. Reached by a 8/16 day trek its views of Everest are limited up close due to some other mountains in front of it. However you do get spectacular views of all the Himalayan mountain range while being right on them. And, you get the fantastic trekking experience with no permit hassles.
---
---
This map shows you the trekking routes from Jiri, Lukla and Gokyo
The RED line is the famous Lukla to Everest Base Camp Trek
The YELLOW line shows a side trek to Gokyo
The ORANGE line shows the route from Jiri to Lukla
Please note this map should not be used as a practical trekking map. While the main Everest Base Camp Trek route remains the same there are variations depending on weather conditions, time of year, natural events and physical changes to the trek paths. Detailed trekking maps can be obtained in Nepal at very low costs.
---
---
Everyone knows Mount Everest is the tallest mountain in the world but here are a few more facts to fill some voids.
Height of Mount Everest
Mt Everest is 8,848 meters (29,029 feet) in height. A measurement officially recognized by both the Nepalese and Chinese governments.
How high is Everest Base Camp?
South Everest Base Camp is 5,364 meters (17,598 ft)
The Tibetan North Side Base Camp is 5,545 meters (18,192 ft)
Who discovered Mount Everest?
No one really. It has always there and in plain sight. However there have been several people accredited for accurately measuring Mount Everest in being the tallest mountain in the world.
Original British surveyors in the 19th century began mapping the world's highest mountains. Between politics, weather, and other obstacles if took over 50 years to finally confirm Everest as being the tallest mountain on earth. In 1847 Andrew Waugh, the British Surveyor General of India, James Nicolson and Radhanath Sikdar (India) are accredited with completely most of the early surveying.
What's Mount Everest's real name?
Before the survey Everest had many names from the many peoples that lived in the area. Andrew Waugh named the mountain after his predecessor as Surveyor General of India: George Everest. This was initially rebuked by George Everest but the name stuck none-the-less.
The Chinese have launched several campaigns to call the mountain Qomolangma as was their first recorded name. While in Nepal the Nepalese have called Everest Sagarmāthā as a counter to the Chinese claim.
Who was the first person to climb Mount Everest?
George Mallory made the first expedition in 1921 on the North Face and failed.
George Finch made another attempt in 1922 on the North Face and failed.
Over the next few years both Mallory and several others made many attempts to reach the peak of Mount Everest but failed.
On 8 June 1924 George Mallory and Andrew Irvine made a joint attempt to climb Mount Everest but neither man ever returned. In 1999 an expedition team found Mallory's body and controversy has reigned ever since on whether either Mallory or Irvine had made it to the top.
Due to China's take over of Tibet the North Face was closed off for a period in the 1950's.
In 1953 Raymond Lambert and Sherpa Tenzing Norgay were able to reach a height of about 8,595 metes (28,199 ft) on the southeast ridge.
Again In 1953 a British expedition of Tom Bourdillon and Charles Evans came within 100 m (300 feet) of the summit on May 26th 1953 but ran into oxygen problems and had to turn back.
Two days later the same expedition made a second attempt on the summit with its second climbing pair Edmund Hillary (New Zealand) and Tenzing Norgay (Nepal). They reached the summit of Mount Everest at 11:30 a.m. local time on 29 May 1953.
Though both Hillary and Tenzing said it was a joint effort. After many years Tenzing finally spoke out and said Hillary was the first to put his foot on the summit of Mount Everest.
Where is the best place to see Mount Everest?
From Everest Base camp you won't see much other than the tip of Mt Everest. The best places to see Mount Everest up close would be a trek up to Kala Pathar or to Gokyo. Both are in the Everest Region.
Second to that the Tibetan approach to Everest offers a full view. Outside of trekking there are numerous Everest viewing flights from Kathmandu (weather permitting).
---
---
Everest Base Camp (North Side, Tibet) Tours
Treks need to be arranged either in Nepal, Lhasa, or mainland China through an official tour. Tibet permits are now needed. The tours are about 7 days by jeep from Lhasa and require only one day of hiking. There are slight variations on this tour based on the operators.
Everest Base Camp Trek (South side, Nepal)
There are many options here ranging from package tours to independent trekking on EBC. Booking online can be significantly more expensive than booking in person when in Nepal.
Local trekking permits are required.
Either by package tour or independently you have the choice of taking a bus from Kathmandu to Jiri and trek to Lukla then onwards to EBC. Or fly into Lukla and begin your trek from there. The trek from Lukla to EBC takes between 8-12 days return. From Jiri to Lukla is 6-8 days.
Is it more expensive to hire a guide online through an agency or can I do it when I get to Nepal?
If you are looking for a guide for the Everest Base Camp trek I recommend you read my article on how to hire a trekking guide in Nepal.
Booking a trek online through an agency is far more expensive than going with an independent guide. Many online agencies are often not Nepalese companies and just have a small office in Kathmandu. The only advantage to booking through an agency is if you are seriously stuck for time on your trip. That said, you still manage the same for a lot less with an independent guide.
You may also use my get a local trekking guide service if you find all the online options overwhelming.
---
---
Everest base camp weather is subject to change:
However the following months have traditionally been used as a guide for preferred times of the year to visit Everest Base Camp.
October - November/December: this is Nepal's peak and best time to go trekking.
February-March-April: this is the end of the dry season and the second best time of year to go trekking.
November/December to January/February: the skies are clear but it can get very cold.
May - June: This is Nepal's hot season and it can get very warm indeed.
June - September: this is Monsoon season and the least popular time to go trekking in Nepal.
For more details please see my guide on the best time of year to go trekking in Nepal
---
---
Some tour operators provide basic equipment
If going to the North Base Camp in Tibet your tour operator should have all your equipment for you aside from basic clothing. However do take note of the following list as you can't go wrong including them.
If going to the south or Nepali Everest Base Camp then you'll basically need to look after yourself. Although some local trekking companies are starting to offer sleeping bags and trekking poles for free (you'll need to return them after the trek).
Clothes
If taking a trip to Everest Base Camp in Nepal you'll need the following:
Trekking permits you need include the National Park Entrance Ticket available at agents and through the official Nepal Tourism Board offices (trekking guides usually take care of this for you). See National Park entry permits and TIMS fees for trekking in Nepal. You'll also need to pay a USD$20 tax at Solukhumbu (Lukla).
After that it depends on the time of year in regards to clothing and equipment. The following are necessities:
A good pair of hiking boots
Good quality socks
A wind cheater style jacket
Long sleeve shirts
Trekking pants
Hat
Shorts
Sunglasses
Sun protection cream
Rubber sandals
Travel towel
Water bottles (heat proof & water tight)
Water purification system
Toiletries
Map
For a more extensive trekking equipment list see below.
* in September 2017 the Solukhumbu region is introducing an additional 2,000 rupee regional fee to all trekkers. This will be payable in the region itself. Additional Solukhumbu fee information. A TIMS card is no longer required.
Keep in mind if you do the trek during the off-peak winter season you'll need to carry extra clothing. Wearing layers is essential as it can get hot during the day so you'll remove clothing then. While when the sun goes down it can get very cold very fast.
Meanwhile in during the monsoon season you'll need to bring a rain jacket, cap and think about additional socks. It's harder to dry things out so spares are essential.
Should I buy all my trekking gear at home or in Nepal?
Buy your trekking boots at home and break them in before arriving. Good quality trekking socks from home can help too. Though you can get trekking socks in Kathmandu. Sunglasses should also be bought at home as there are many fakes in Nepal. After that you can buy most things in Kathmandu.
See below for a more extensive list of things and equipment to pack.
Can I do laundry on the trek?
Yes, you can either have a guest house do your laundry at a cost per kg. This will not be by machine, it will be by hand. Or, you can do your own laundry in a bucket. There are some guesthouses that will charge you for the use of a bucket. You'll need to bring your own washing line as there might not be one provided or it might be full. Do obey guesthouse rules about not hanging laundry in your room!
Please note the above is a very basic list. For a full comprehensive list please see my article on trekking equipment you need for Nepal
---
---
A certain level of fitness is required.
I would advise anyone going to either the North Base camp or Nepal's South Base Camp to see a doctor before you go for a check up and to talk about dealing with altitude sickness.
If you go to the Tibet side of Everest you'll spend most of your time in a Jeep with only the minimal of trekking effort needed.
For trekking to Everest Base Camp in Nepal you'll need to consider the amount of days you'll be out trekking. Most days include 4-7 hours of slow hiking. Altitude is the biggest problem (time of year & weather pending). Going slowly is essential to avoid sickness. Do read about altitude sickness in Nepal.
Many people from all walks of life, ages and fitness levels have trekked to Everest Base Camp. In the peak season there's nothing much to worry about in terms of cold or extreme weather.
Generally speaking, the slower you trek, the easier it is.
I have bad knees (or arthritis) can I still go to Everest Base Camp?
There are no paved roads so you will be walking on rough paths with loose rocks and rubble. Most people find they can manage this with the aid of walking poles. There are however some larger boulders that need to be climbed. There are not too many steps going downhill compared to other treks. Again, going slowly is the key to knee preservation too.
The biggest problem for people with bad knees will be the decent. This is where knees take the the most stress. Again trekking poles will help but only you can be the judge of what you are capable of. Do keep in mind things like the time of year which will be factor too (cold), altitude and carrying a backpack.
I would recommend anyone with bad knees, ankles, back or any joint problems to strongly consider taking a porter.
Can my children go on the Everest Base Camp trek?
Yes is the general rule. It's advisable that your child is reasonable and able to understand and obey instructions immediately. Your child should be mature enough to recognize altitude sickness symptoms. Do keep in mind that unless you have a porter your child will need to carry their own clothes in a backpack. While it is possible for children to do the Everest Base Camp trek it's also important to realistically assess if they are capable.
What training can I do before going on the Everest Base Camp trek?
There's no specific training needed if you are reasonably fit. If you are completely sedentary then yes some cardiovascular training would be recommended. Stair climbing or hill walking will get most people ready.
Remember you'll be walking up and down rough paths for 8-12 days. You'll be at altitude too which will make things much harder.
Having a good level of fitness will help you enjoy your trek more and always remember, it's not a race!
---
---
People can get sick when trekking. Altitude sickness is the biggest problem. After that the odd bad stomach can happen as can a sprained ankle.
Do read about AMS and understand the dangers of ignoring it. A quick decent is needed if you start to feel unwell.
Are there medical facilities on the trek?
Most larger villages will have "some" form of medical clinic during peak season. Lukla, Namche, Khumjung, Pheriche and Gokyo all have clinics but none are modern and are best used for minor ailments.
You should bring your own personal medicine with you as medical supplies are basic.
For serious medical attention helicopter evacuation is available. It's highly recommend you get proper travel insurance to cover this in Nepal.
---
---
In terms of terrain there are no ropes needed and no ice picks needed. There is no vertical climbing involved.
The ground is not paved. It is rough, rocky and gravel strewn. Most of the trek involves long paths that go up and then down. People with weak ankles should take caution. Depending on the time of year you go there can also be snow and ice in the trails.
There are some boulders that need climbing, but you can also walk around many. The Khumbu Glacier can be tricky to walk on due to potholes, rocks and unsettled ground. Use caution or seek the expertise of a guide.
I've never trekked before, can I still go to Everest Base Camp?
Yes of course! The word "Everest" gives many people the impression of snow blizzards, summits and frostbite. During peak season you are more likely to see tanned people in shorts, selfy sticks and sun cream.
So long as you are reasonably fit and come prepared you'll do well!
---
---
In 2018-2019 Nepal's helicopter industry took off. There's no getting around the fact that part of this was due to the long-standing helicopter rescue scam in Nepal. There are however genuine helicopter ride options both to and back from Everest Base Camp.
The first option is to trek all the way to EBC then take a helicopter back to Lukla before taking a plane back to Kathmandu. You are at the mercy of your guide or company in regards to cost. If no helicopter is at Gorak Shep then one has to be called up for you. This can cost up to USD$10,000 for the full trip. This price is also the same as a Lukla - EBC - Lukla helicopter flight.
If there is a helicopter at Gorak Shep then the single journey can cost USD $5,000 for a full helicopter. However, this price is drastically reduced when pilots are looking to fill seats on the way to or back. The price can drop to USD$300-500 per person.
As you can tell there is no set system or set prices. Again, you are at the mercy of both trekking agents and helicopter companies who are all out to make as much money as they can from you.
If money is not an issue for you then everything is indeed possible. If money is an issue then do expect changes to your "deal" on the fly. An example of this is chartering a helicopter, paying for it and then finding people with many excuses joining your ride and also paying someone else for it. With any helicopter flight in Nepal - do exercise due caution.
---
---
Costing for an Everest Base Camp Trek is subject to many things. Package tours bought overseas are the most expensive. Package tours bought within Nepal are next. Going with an independent guide and porter is next. Going with just a guide is next. And finally going it alone is the cheapest.
Package tours of 10-12 days can cost up to USD$1,300. Not including flights to Lukla or water. This does include accommodation, permits and meals.
Guide only services to Everest Base Camp can cost from $30 to $60 per day not including your food or accommodation. The more you pay, the more experience your guide should have.
Porter fees are roughly half that of guides.
The cost of an average teahouse with shared bathroom is 200 rupees in the off season and 400 in peak.
The cost of one liter of water reaches a maximum of 200 rupees at Gorak Shep. It starts at around 80-100 rupees.
The cost of a plate of Dal Bhat starts at around 200 rupees and climbs to 600 rupees.
Permits are needed depending on how you tackle your trek:
Sagarmatha National Park Permit is around 3000 Nepalese Rupees ($33) + 13% VAT
If trekking independently you'll need a TIMS card

*

which is about 2000 NPR - if taking a guide or porter you should get a discount on this - but not always.
* On October 1st 2017 the Solukhumbu region introduced an additional 2,000 rupee regional fee to all "foreign' trekkers. This will be payable in the region itself. Additional Solukhumbu fee information. This fee is now active!
* The new Solukhumbu fee above is active in 2019 but currently under dispute. The region has confusingly said a TIMS fee is now not needed for the EBC. As of April 2018 TIMS fees are not being collected but this has still not been made "official". As of now, it's best to play it safe and get your National Park Permit and ask at the counter if you need a TIMS (same office in Kathmandu). Then, when you fly into Lukla or trek into the region) you'll pay the Solukhumbu fee).
Bring at least two passport sized photos with you and your passport for getting these permits. Sagarmatha National Park office is at the Tourist Board Office in Kathmandu, however most trekking agents can get these for you.
Depending on the number of days you will be trekking you can work out the costs from the above.
Many people with trekking experience will still consider a guide/porter as they are cheaper. It should be noted these are trainee guides and may not have a lot of English. The benefit is having someone carry half your load, act as translator for bargaining/directions, a little information on your surroundings and company.
Please note prices here are rough estimates and fluctuate depending on the time of year, weather conditions and political situations in Nepal. However they should give you a rough idea on budgeting your trek to Everest base camp.
Do read my article for a full break down on how much an Everest Base Camp trek costs.
---
---
What type of food is available on the Everest base camp trek?
Every tea house you come across will offer a menu. On it you will find things like, pancakes, chow mein, eggs, potatoes, pasta and Tibetan bread. The menus are in fact very similar to that which you will find in Kathmandu at a basic restaurant.
Meat is harder to find past Namche and you might want to think twice about it unless you are really staying in high-end accommodation. The reason is simple: refrigeration (or lack thereof). The second thing to keep in mind is that meat is quite costly on a trek due to getting it there and keeping it fresh. That said, you can still buy a steak at EBC if you want (peak season) but it will cost you and I don't really recommend it!
I often bring some Yak cheese on a trek. If you have porter you might also consider bringing some cans of tuna. But again, these are also available on the trek but will cost double or triple more than in Kathmandu.
By far the most popular food on the trek is Dal Bhat. A mix of rice, soup, vegetables and vegetable curry. It's served in large portions and satisfies most large trekking appetites!
Is there bottled water on the Everest base camp trek?
Yes, there's bottled water from Lukla all the way up to base camp. But, the price goes up the higher you go. A one liter bottle of water might start at 30 rupees and at base camp cost well over 100. Keep in mind you'll be drinking several liters a day so the cost mount up.
A budget solution to this is to use a chlorine/iodine or a water treatment solution. You can have a guesthouse boil water for you to aid in its sterilization.
Should I bring any food with me on the trek?
Most things are available, but at a cost. Chocolate bars seem to be something people crave for and are available all the way to base camp. But they will cost a lot more than in Kathmandu. There's no harm to carry a few bars or again if you have a porter it will help.
Trekking bars made of oats are available in Kathmandu at many supermarkets. The most popular Nepali brand is Mountain Man. They come in several flavors from chocolate, peanut along with cinnamon and apple. While not exactly tasty, they are filling.
Probably one of the most underrated things to bring are packets of mints or menthol sweets that help keep your mouth from getting try while trekking.
Can I buy beer or coffee on the Everest Base Camp trek?
Yes you can. Just keep in mind that both alcohol and caffeine are not recommended when trekking at altitude due to the dehydration it can cause.
---
---
While this is meant to be a guide to the Everest Base Camp Trek I'll give you some brief details on what's required to actually Climb Mount Everest itself.
Aside from the technical training you will need and the costs of travel / equipment you may need to take note of the following:
The window of opportunity to summit Everest is in May. That's right, there's only a two to three week window of opportunity to climb Everest every year.
A low-budget trip can start with costs of USD$35,000 minimum for a group trek of 7. Solo trips can be up to and well over USD$65,000 just to start. So yes, going it alone is more expensive.
Now let's add some essential things on:

Climbing permits are based on groups fees. $25,000 for 1 person; $56,000 for 4 people; $70,000 for 7 people.
Khumbu Icefall Fee – $2,375 per group
Satellite Phone permit – $2,300 per phone
Garbage and Human Waste Disposal $4,000
Oxygen for group of seven (5 canisters) $30,000
Guide prices start at $25,000 and go up to $150,000
Assistant guides are $15-20,000
Doctor at base camp $3-5,000
Sherpas $3,000
Cooks $3,000
Yak transport of your goods to EBC $100-175 per day
Helicopter charters from Kathmandu to Lukla – $7,000 each
Donations to various deities and rituals $300-$400
Medical evacuation helicopter from Base Camp to Lukla - $5,000
Technical training can cost up to $8,000
Equipment can cost up to $15,000
Total cost of climbing Mount Everest? $70,000 -$120,000
Want to take a budget package trip to Everest instead? Okay prices here are between $45,000 - $90,000 with a western guide. You'll need to book about a year in advance.
Everest Summiteer Alan Arnette has a good break down of summit prices here.
---
---
I completed the Everest Base Camp Trek during the off-peak winter season in late December and early January. There were harsh cold winds, snow and not many trekkers around.
But I kept a handwritten account of the trek and documented it with many photographs. It should give you an idea of what the trek is like at the most difficult time of year. And what to expect.
I transcribed everything to my travel blog.
The following is my day to day account of the the Everest Base Camp Trek:
---
---
The above journals will give you a day by day account of my journey to Everest Base Camp. For a briefer breakdown on an average 12 trek here's an EBC itinerary.
Day
Route
Distance (km)
Highest Altitude
1
Kathmandu to Lukla (flight) - trek to Phadking
8 km (4 hours avg)
2,660 m
2
Phadking to Namche Bazaar
12 km (6+ hours avg)
3,435 m
3
Namche Bazaar acclimatisation day (hike)
(3 hours avg)
4,000m/ 3,435 m
4
Namche Bazaar to Tengboche
10 km (6 hours avg)
3,890m m
5
Tengboche to Dingboche
11 km (6 hours avg)
4,400 m
6
Dingboche acclimatization day (hike)
3 hours
4,600m / 4,400 m
7
Dingboche to Lobuche
12 km (7 hours)
4,910 m
8
Lobuche to Gorak Shep & Everest Base Camp

*

15 km (8 hours)
5, 180 m / 5, 380 m
9
Kalapathar - Gorak Shep - Pheriche

*

13 km (6 hours)
5,545 m / 4,320 m
10
Pheriche to Namche Bazaar
15 km (8 hours)
3,435 m
11
Namche Bazaar - Phadking - Lukla
16 km (7 hours)
2,850 m
12
Lukla to Kathmandu
35 minute flight
2,513 m
* Depending on the weather Kalapathar climbs and EBC visits are often swapped. e.g., you might climb Kalapathar on arrival and go to EBC the next day or visa versa.
Note: Please be aware of Everest Base Camp trekking itineraries from trekking companies suggesting less than a 12 day trek. 12 days is the minimum safety recommendation for the Everest Base Camp trek due to acclimatization requirements. Any trek under that number of days is high dubious and may well put you life in danger.
Those confused about extra itineraries should note that the trek to EBC is pretty much does not veer off the main route. So do be aware of "other" itineraries making it out like they are taking you a new way. They are not - they are just list off different villages on the same route. What does happen is that you can stop for the night at different villages along the way. And of course you can staf in them if you wish. This is normal as you'll be passing them anyway. The truely different itineraries will include side treks to Gokyo Ri but do know that these will add significant days onto your EBC trek.
---
---
For those with a few extra days and extra fitness to spare you may want to consider adding Gokyo into your itinerary. Again if you are fit enough and if you have the time.
Everest Base Camp with Gokyo encompasses several high passes so is a much more physical trek.
Day
Route
Distance (km)
Highest Altitude
1
Kathmandu to Lukla (flight) - trek to Phadking
8 km (4 hours avg)
2,660 m
2
Phadking to Namche Bazaar
12 km (6+ hours avg)
3,435 m
3
Namche Bazaar acclimatisation day (hike)
(3 hours avg)
4,000m/ 3,435 m
4
Namche Bazaar to Dole
10 km (6 hours avg)
4,200 m
5
Dole to Machharmo
5 km (3-4hours avg)
4,470 m
6
Machharmo to Gokyo
7 km (4-5 hours avg)
4,790
7
Gokyo side trek to Gokyo Ri & lakes
12 km (7 hours avg)
4,910 m
8
Gokyo to Thangnak
5-6 km (3 hours avg)

*

4,750 m
9
Thangnak to Dzongla (crossing Chola Pass)
12 km (8-9 hours avg)
4,850m (pass 5420m)
10
Dzongla to Lobuche
5km (4-5 hours avg)
4, 900 m
11
Lobuche to Gorak Shep & EBC

**

15km (10 hours)
5,364 m
12
Kalapathar - Gorak Shep - Pheriche

**

13 km (6 hours avg)
5,545 m / 4,320 m
13
Pheriche to Namche Bazaar
15 km (8 hours avg)
3,435 m
14
Namche Bazaar - Phadking - Lukla
16 km (7 hours avg)
2,850 m
15
Lukla to Kathmandu
35 minute flight
2,513 m
* This distance and time changes every year due to Glacial movement.
** Both of these days can involve swapping a climb to Kalapathar and visiting EBC. Lobuche to Gorak Shep is 3 km. However, if you are tired when you reach Gorak Shep you can trek Kalapathar and visit EBC the next morning before going to Pheriche. Or climb Kalapathar and leave EBC until the next morning. Or, vice versa. Views from Kala Pathar and EBC can be hampered by the weather so you might want to keep that in mind and make a decision when you arrive.
---
---
Everest Base Camp Trek is fully open. It was never closed and was not directly affected by the earthquake.
Lukla airport: was not damaged at all. Lukla village had minor damage which is repairable.
Phakding: had a couple of teahouses damaged. There are still plenty of places open.
Namche: contrary to media reports Namche Bazaar had only minor damage with plenty of places still open.
Tengboche: had a few damaged teahouses with many more open.
Deboche: had virtually no damage. 
Dingboche:  had virtually no damage. 
Periche: received a lot of damage and is being bypassed by guides.
Lobuche: had only a few houses damaged while everywhere else is open.
Gorak Shep: had no damage.
The Gokyo Treks are also open.
Electricity and water have not been affected by the earthquake.
---
---
In 2018 it was revealed that trekking, medical and helicopter companies had been running an travel insurance scam in Nepal for the past 10 years. It involved offering "to good to be true" priced Everest Treks subsidized by cashing in on a fake medical emergency and travel insurance payout. It has damaged Nepal's reputation as an honesty country.
In mid 2018 over a dozen companies were listed as being involved.
It is now important to have a brief read about the scam and how to avoid it. You can read about the Nepal Helicopter Rescue scam and be prepared before you go. None of the these trekking companies have ever been listed in my guidebook to Nepal. All companies are vetted carefully and I never accept sponsored treks. The companies involved were all wealthy, well connected Nepali companies. Now more than every it's better to go with a registered and safe Nepali local company.
It's also become very important to choose the right trekking travel insurance for Nepal.
---
---
Again in 2018 Nepal was beset with flight delays and cancellations from Kathmandu to Lukla. The official reason for this is due to bad weather at Lukla airport. However local guides also point out that airport traffic management is a greater reality. In all cases you need to be prepared.
Ignore online advice that you can book your own Kathmandu Lukla flight. While true, if the flight is delayed or cancelled you are on your own at the airport in trying to reschedule. Huge queues, angry or confused trekkers, a lack of organization and trekking agents with connections jumping the queues make rescheduling a massive headache. The best option to book your Kathmandu to Lukla flight is to go through a local travel agent or your own trekking guide.
The number one option is going with a guide who will then reschedule the flight ticket for you on the spot and perhaps most importantly find your a seat! The second option via a travel agent is that they will do the same thing. In all cases you should have a back up plan in case your Kathmandu to Lukla flight is cancelled that day.
The weather changes in the mountains on an hourly basis. The most important thing is not to quit. If you only have 14 days in Nepal or have limited time, give it another day for the weather to clear. If you are not comfortable with this, then you have two options.
Take a helicopter to Lukla
Chance going to Ramechhap / Manthali Airport
Go on a different trek
For option one be prepared to pay more. A helicopter from Kathmandu to Lukla can only take 6 people at a time and needs 6 people to come back to Kathmandu in order to make the flight. So, a guide or travel agent will get on the phone and start coordinating with other travel agents to make this happen. If it all works out then on average the cost is USD $250 per person one way. However, if they cannot get enough people then the price goes up.
Option two means taking a 4-5 hour taxi or micro van ride to Ramechhap / Manthali Airport where you are also at the mercy of the weather however due to less air traffic there is a much better chance that your flight will leave with no backlog. A micro van with a capacity of 18 people can charge up to USD $200 in total.
Option three simply means you've run out of time when waiting for a new flight so rather than pack it all in, go on another trek. You can easily change flights to Pokhara and do any number of great treks from there. For some ideas of other treks, see this list of treks in Nepal.
2019 Kathmandu Domestic Terminal closed for Lukla Flights
in late February 2019 Kathmandu Airport announced that the runway would be rebuilt by a Chinese contractor. Kathmandu airport's runway will be closed from April 1st between 10pm and 8am the following day. The runway rebuilding is due to be completed by June 30th 2019 (however historically completion dates in Nepal have been extended). This means flights to Lukla will be severely affected. Given the above information on weather issues in 2018 the chances of making an 8am flight just became more serious for those on a tight time frame.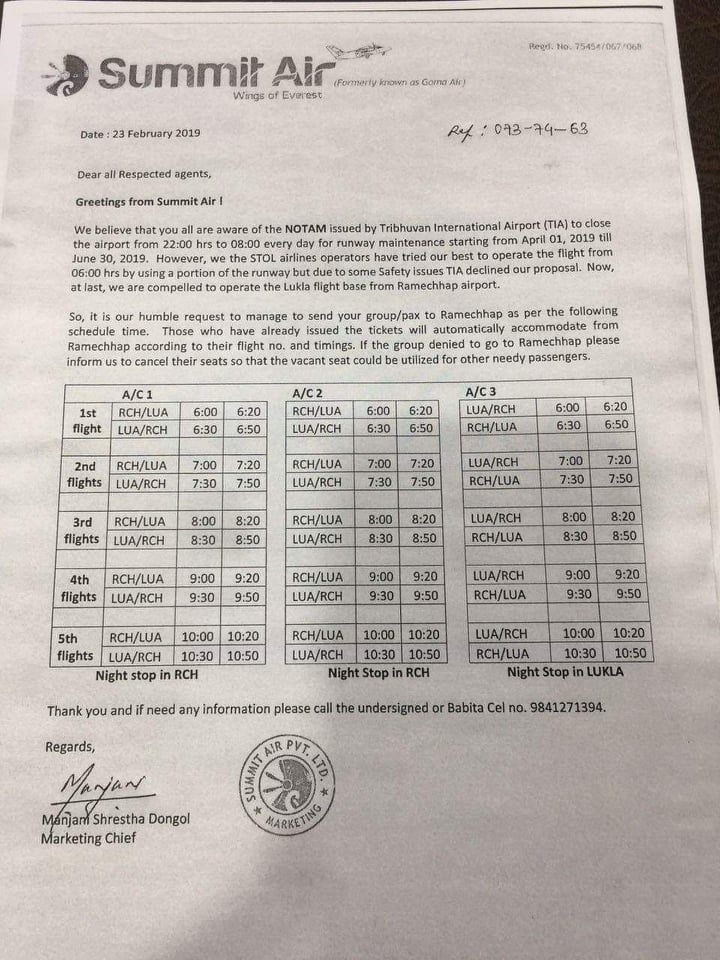 Airlines have been advised to use Ramechhap airport instead. Here is a map of Ramechhap/Manthali airport. Ramechhap airport is about 4-5 hours from Kathmandu with very limited accommodation nearby. I would highly advise trekkers to contact their trekking guide and confirm their plans. e.g., are they going to take you to Ramechhap the night before? or do they plan on taking a risk that the 8+am flights from Kathmandu will not get delayed?
Here is a list of hotels in Ramechhap/Manthali near the airport
S.S.F Green Guest House +977 48-540169
G.S Hotel +977 48-540599
Hotel Alina +977 48 5400062
Lau Hotel +977 48 540060
Pahuna Guest House +977 48-540373
Okhaldunge Hotel +977 48-540311
S.S. Restraunt +977 48-540530
Namobudha Hotel +977 48-540090
Sunrise Hotel +977 48-540015
Sailung Hotel +977 9860599198
Sowagatam Hotel +977 9860962389
Keep in mind this will also cause a change in plans when coming from Lukla to Kathmandu as there's a high likelihood the flight will arrive at Ramechhap airport.
In all cases I would advise all trekkers on a limited time frame to try and extend their trip to Nepal by at least 2 days to counter all of the above. For those with addtitinal time (5-6 days) you can still trek from Jiri to Lukla and on to Everest Base Camp.
While the above may not be the ideal trip you wanted in Nepal, it's important to be prepared in case the flights do get delayed or canceled. This is especially true if you only have a limited amount of time. If you have plenty of time, then you can simply wait it out. Domestic flight cancellations are yet another reason why you should get the right travel insurance for Nepal.
---
---
I get quite a lot of questions about doing the Everest Base Camp trek so here's a compilation of frequently ask questions.
Q: I've never trekked before, can I do the Everest Base Camp trek?
It really depends on your level of fitness. For first time trekkers I'd certainly advise in taking a guide, giving yourself plenty of days to complete the trek, taking your time and going during peak season rather than in the off-peak seasons.
Q: Everything is so expensive online, how easy is it to arrange an organized tour in Kathmandu?
Very easy. You can basically fly in and arrange an organized trek for the next day. Guaranteed that's a little extreme, but it can be done. Ideally I'd give it a couple of days of pricing around and interviewing potential agencies/guides. If you are stuck, drop me an email for a recommendation.
Q: I want to do the trek solo but can't book a flight to Lukla online! Help!
There are quite a few local airlines flying to Lukla several times a day. Most don't offer online flight bookings. The few that do, have a habit of making things difficult for you should a flight be delayed or canceled due to weather etc. You'll often see a guide and his group get in front of you when this happens. It's still better to let your guide or an agency do the booking for you. A few tour agencies will book on their behalf for you. The easiest way to do it is by visiting an agency in Kathmandu and buying your flight ticket personally. You can also buy an open ended return ticket. Once you know the day you want to return simply telephone the same agency. There is mobile reception along parts of the trek and landlines. The alternative is to buy a ticket from an agent on the Lukla side. Do remember though that flights are heavily subject to weather conditions. Check out my post on flying out of Lukla!
Q: Are there dorm rooms available or just teahouses?
Most of the rooms are twin rooms. If you are alone, then you'll have the twin to yourself. There are a few teahouses offering dorm rooms, but not many.
Q: What is a teahouse?
The traditional trekking name given to a Nepalese guesthouse on a trekking trail. You can read more about trekking accommodation in Nepal.
Q: What are the toilets like on the way to Everest Base Camp?
It depends on your accommodation. If you are paying a higher price for attached bathrooms then you'll have a western style toilet. However, the vast majority are shared bathrooms and squat toilets. That said, many teahouses have installed a western toilet and you may get lucky. In all cases, you should be prepared to use a squat toilet.
Q: I heard Lukla is dangerous to fly into. How true is that?
Lukla is indeed a dangerous airstrip as it's one of the shortest in the world. That said crashes are rare, but have happened in the past.
Q: How much luggage can I take on the plane to Lukla?
There's a 10kg limit on how much you can take to Lukla. You can hand carry 5kg. You can pay extra to bring more main luggage. It's usually USD$1-3 per kilo. Each airline had their own fee, so it changes frequently. If your guide is friendly, they can always take some for you. Airlines tend to bundle people together too. So if you are a couple, then they may just count all your luggage together e.g. 20 kg for both of you, so if your luggage is 12kg and the other persons is 8kg you are fine. One last point, you don't have to take all your luggage with you! It is very easy to leave your heavy stuff in your hotel storage until you come back.
Q: I'm genuinely scared of heights is this a problem?
There are some narrow areas along the trek and some boulders to climb over or around. There are also some steep passes to overcome. Think 45 degree angles. If you can handle that, then you should be fine. The biggest obstacle for people who are scared of heights to overcome comes from crossing suspension bridges. This can be unnerving to say the least. Make sure your guide is aware of this and prepared to deal with any issues that may arise e.g. fainting etc. Here's a photo of a Nepalese suspension bridge to give you an idea.
Q: Is it necessary to buy bottled water? Can't we drink boiled or tap water?
Yes tap water is available but it's sourced from a natural spring. There may be bacteria in it. Boiling water is a safe option as is using water purification drops or pills. Teahouses charge for boiling water (20-30 rupees per liter)
Q: Are there any ATM's on the Everest Base Camp Trek?
Yes, but they don't always work and are only available sporadically. It's far better to get all your money ready in Kathmandu. You can get cash advances from hotels but there are also steep fees involved with some charging up to 10%. Money changers will also offer cash advances but again you will be looking at 8-15% rates. Upper scale hotels will take credit cards but again with fees. It's far, far better to bring Nepalese rupees with you. In a fix, bring some US Dollars or Euro for back-up.
Q: Is it a good idea to carry food stuffs and cook it using dry wood at higher altitudes?
There's very little wood available over 4000m. You will also not be allowed to cook inside teahouses. You can however bring your own snacks or supplementary foods. e.g. cheese, cans of tuna etc,.
Q: Do I need special travel insurance for the Everest Base Camp Trek?
It really depends on the small print of your current travel insurance provider. Many will not include mountainous trekking or mountain climbing. Do check with them to confirm that trekking to Everest Base Camp is covered by your policy.
Many do or will not cover you above certain altitudes either. World Nomads is a provider that will cover you based on different altitudes, but again you need to be sure to select the correct level of cover for your trek! Keep in mind that a typical rescue costs $5,000 just for the helicopter alone, so it's strongly advisable to get insurance cover.
Here's an article I wrote about trekking insurance for Nepal.
Q: Can bring my own tent to Everest Base Camp?
Yes you can. But you'll need to be prepared for the elements. I would advise this only if you are experienced in outdoor camping. Some guesthouses will charge a nominal fee for you to camp there. Likewise keep in main things like camping stoves, fuel and food which will need to be carried.
Q: Can I charge my camera batteries on the trek? Should I bring a Kindle, iPad or Laptop?
Yes you can charge batteries but you'll be charged by the hour and you'll have to bring your own charger. Same goes for laptops, phones or anything else that you need to plug in. Charges vary between 100 and 300 rupees per hour.
I personally wouldn't bother bringing a laptop on a trek, it'll be bouncing around all day and subject to damage. As for iPad's or Kindles? Well keep in mind that you will be meeting others on your treks and will be going to sleep early so there's not always time for reading. There are usually a few old magazines in teahouses that can be read.
Q: Is there internet on the Everest Base Camp Trek?
Many teahouses will have WIFI however it doesn't always work, the speed is bad and they will charge you between 200 rupees to 500 rupees to use it. In other words, don't expect WIFI to work and when it does don't expect to be uploading photos. It's best used for sending a quick message home to let everybody know where you are and that you are fine.
You can also try purchasing a SIM card before going on your trek. However signals are not regular and again expect 3G or 2G speeds when they do work. For more information do read more about WIFI and the internet in Nepal.
Q: I have allergies, will food be a problem on the trek?
Depends on your allergies! The most common form of food on the trek is Dal Bhat, a plate mix of rice, vegetables and lentils. Here's an exact look at the type of dal bhat you'll get on a trek. Menu's do have a wide choice of plain pasta, noodles, pancakes and rice based dishes.
Q: What happens if I get sick or get hurt while trekking?
There are basic pharmacies in most larger villages along the trek. There's a hospital in Khumjung and a few altitude sickness clinics open during the peak season. Basically you are on your own for the duration of your trek (hence going with a guide/porter is a good idea). However in the event of an emergency there usually is access to a telephone line or satellite phone for an evacuation via helicopter. This is another reason to be sure you are covered with adequate travel insurance!
Feel free to contact me if you have any other questions or are looking for a reliable trekking guide.
Meanwhile most everything else if covered on other articles on trekking you'll find below or in the right-hand side bar at the top.
---
---
The above information should give you a brief outline and understanding about trekking to Everest Base Camp.
I've compiled more detailed articles on the specifics of trekking in Nepal below.
You will find them to be a great place to thoroughly research your trip to Nepal, be sure to bookmark them so you don't forget!
---
You might find my following free guides helpful:

My guide on trekking in Nepal

Check out my guide on equipment & gear needed for trekking in Nepal
Check out my list of treks to do in Nepal complete with maps
Check out my guide on how to travel overland into Tibet for a lot more!
How to choose a trekking guide in Nepal
My Day by day account of trekking to Everest Base Camp in the off season (winter)
Check out my How to travel overland into Nepal guide
Check out my country Guide to Nepal
---
Download my Trekking in Nepal Guidebook
---
Liked this page? You'll love my trekking book! It's a hands on trekking guidebook that's better than the rest. Yes, really!
In the book I cover all the popular treks in Nepal with step-by-step accuracy using scalable maps, photographs and travel tested up-to-date trekking information.
Just like my other guidebooks to Nepal it's an interactive & printable guidebook like no other.
---
Was this page helpful to you? If so please tell others!