---
Kathmandu Durbar Square is a landmark historic attraction located in the heart of the capital city Kathmandu. The immediate large square is surrounded by ancient Newari architecture, high temples, popular shrines and the old royal palace.
Today Kathmandu durbar square is still an active and living square. Filled with people worshiping in shrines, selling goods or simply walking through. It's a living part of Kathmandu city.
During the April 25th earthquake in Nepal the south of Kathmandu Durbar Square suffered a lot of damage as did the old palace. However the northern section remains largely intact. You can see a list of temples destoyed here.
The square has gone under many renovations over the centuries. One of the largest was during the big earthquake in 1934.
Kathmandu durbar is an active public walkway linking many streets together. Tourists are charged to enter or pass through but locals can enter, pass through and leave as they please. Read on to find out more ...
Did you know?
Kathmandu durbar square was originally formed from the palaces and courtyards of the old Malla and Shah kings. It is also called Basantapur durbar square. Durbar Square litrally means a "Place of Palaces."
The oldest temples were built in 1560-1574 by Mahendra Malla (king) though the oldest palaces date back to the 3rd century.
The square was still used for royal ceremonies up until 2001. Today Kathmandu durbar square is still used for official religious ceremonies including that of the Kathmandu Kumari (living goddess) whose residence is located there.
Many of the intricate temple carvings on the roof struts in durbar square depict scenes of erotic art.
---
---
All of Durbar Square was a part of Nepal's Royal Palace until 1896. With several buildings over one thousand years old and many others dating from the 15th and 16th centuries that were in turn built over other buildings from the 7th century. It's a treasure trove of history and culture.
Historians say Kathmandu Durbar Square was the place where two towns met during the Licchavi period and traded. This all happened in Kasthamandap which then grew and so became a city. Naturally, as a wealthy royal valley, the kings established their bases here and so it then became a royal area.
The word Durbar comes from the old Persian name meaning palace. This dates to when the Mughals ruled part of India. Kathmandu was a major trading route at the time.
Durbar Square remained "royal" until the monarchy moved to the Royal Palace in Naryansthan. Then when the monarchy ceased the area became a public square.

---
---
Do visit Kasthamandap (pavilion of wood) the three-roofed building is one of the oldest in the square and holds rare images of the god Gorakhnath. Sadly Kasthamandap was completely destroyed in the 2015 earthquake and finshed reconstruction in December 2021.
Trailokya Mohan Narayan temple was the tallest in the square and dedicated to Vishnu. Trailokya Mohan Narayan was completely destroyed in the 2015 earthquake.
Kumari Bahal (House of the Living Goddess) past the entrance a small square holds intricate wooden carvings that decorate the Kumari's residence.
Taleju Temple one of the squares most beautiful temples but one that's restricted. View from a distance only.
Shiva-Parvati Temple which is adorned with images of Shiva and his consort Parvati.
Basantapur Tower though damaged in the 2015 earthquake still stands and under reconstuction.
Gaddi Baihak is the white building that dominated the southern portion of the square. It is due to be torn down and rebuilt in the future.
Visit one of the many street vendors beside the Kumari house in an open square selling trinkets, singing bowls and other keep stakes (bargain hard!).
Watch out for the odd colorful Sadhu who will happily pose for a photo then ask for money rather persistently. Likewise street children looking for handouts tend to gather during the afternoon.
If you need to chill out from the touts, tourists and traffic then nip down Freak street to the south of Durbar Square.
My Kathmandu city, Nepal guidebook and Kathmandu Valley heritage walks book all contain the best maps and details of every monument in Kathmandu Durbar Square.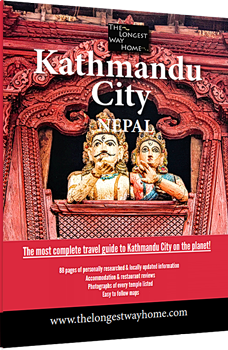 Do see my guidebooks to Nepal for more.
---
---
Not quite, but there is a lot of reconstruction work going on. At the moment Kastamandap, Hanuman Dolka and the the nine story tower are all covered up. What does that mean?
It means three buildings are covered up and three only have platforms with no temples. The rest of the square is not covered in scaffolding. The northern section (Hanuman Dolka) raised the Pratap Malla column again and the vast majority of buildings still stand.
Is it still worth visiting? If you are only visiting Kathmandu, then yes most certainly. Do however expand belond the square on heritage walk though to make the most of your trip.
If you are on a budget and plan to visit Bhaktapur Durbar Square then at the moment it's probably best to save your money for Bhaktapur as there's more to see. Before you do this though, do know that there are many free and great temples to visit that are free throughout the old city in Kathmandu (surrounding Durbar Square) in Kathmandu.
Check out my guidebook to Nepal and my Kathmandu Heritage book for exclusive heritage walks that make it all worth while! They are easy and fun to follow. They'll lead you from Thamel to Durbar square and back again better than any tour guide can!
---
---
The entrance fee for Kathmandu durbar square has shot up in price since 2012. The current fee in 2022 for foreigners is 1000rps.Ticket booths are at all the main entrance points into the square.
A Kathmandu durbar square ticket is only valid for that day! To avoid having to pay daily rates bring your passport and a photo to the tourism office inside durbar square (beside the Kumari residence) and purchase a long-stay ticket that's valid for the duration of your visa. The cost is 1000rps.
If you are staying or passing through via Freak Street, New Road or Paknajol getting a long stay ticket to Kathmandu durbar square is recommenced as walking around it to avoid fees can be annoying.
There are no other charges within Kathmandu Durbar Square aside from the museum which is now included in the new ticketing price. Beware of touts offering tours and charging extra.
Contact telephone number of Durbar Square tourist office: 01-4268969
---
---
By walking: Kathmandu Durbar Square is an easy is 20 minute walk from Thamel. Do take care along the streets along the way as they are broken and often very busy. Motorbikes zoom around at speed.

Find your way to Durbar Square here
By taxi: Unless you are staying far from Thamel taking a taxi durbar square can be more hassle than it's worth. Due to narrow streets and traffic drivers will often take a longer route around by New Road and then enter the square. Prices will be above average for this route from Thamel 150-200rps. Better to tell them to drop you at New Road which borders the square 100-120rps.
Looking for more things to do in Kathmandu?
Check out this list of things to do in Kathmandu and this full travel guide to Kathmandu city.
---
---
Liked this page? You'll love my books!
100% independent guidebooks, with no sponsored trips or ads. Designed to help travelers get the most out their trip to Nepal with premium detailed guides, insider information, impartial hotel and restaurant reviews, complete trekking routes, dedicated heritage walks & much more ...
Available in print or digital editions - the best guidebooks for visiting Nepal.
---
Was this page helpful to you? If so please tell others!
---