---
Panauti is situated at the confluence of Rosi and Punyamati rivers though there is said to be a mystical third river that only mystics can see.
This is just a subtle hint at the religious importance that presides over one of the oldest townships in the Kathmandu Valley, Nepal.

Many claim Panauti predates many other townships in the Kathmandu Valley. It was an independent town before becoming a part of Bhaktapur during later rapid expansion. However Panauti was granted back its independent township in 1793 when Nepal was united by King Prithvi Narayan Shah.
Panauti was built during the reign of Ananda Malla (1274-1310 CE). However there is documentation in the form of a golden scripture dated 1385 in the towns Indreshwar Temple that states King Harisingh Dev founded the town. In either case Panauti is still regarded as one of the oldest in the Kathmandu Valley.
Panauti can be visited in a single day out. Though spending the night is recommended if you enjoy Newari townships.
Did you know?
The Indreshwar Temple, one of the largest pagoda style temples in Nepal, is dated to 1294 CE. It is written that the widow of a Bhaktapur crown prince built the temple of "Indrakuta". This olso makes it the oldest surviving Newar-style pagoda temples in all Nepal.
---
There are several transportation methods to Panauti depending on your budget and schedule.
Buses run from Ratna bus park every 15 or so minutes and are the most budget friendly ways to Panauti costing just 60 rupees but taking 1 hour 45 minutes on average.
Taxi's can be expensive unless you book a two-way trip which can cost up to 5,000 rupees with a 5 hour wait.
Mountain biking to Panauti is possible but the road situation in the Kathmandu valley these days means high traffic and pollution. Save the bicycles for Pokhara! You could also rent a motorbike - but a license is needed and you'll need to park it safely (try near the tourist office)
If you are stuck for time or are looking for a private vehicle plus guide to show you around then taking a private tour is a good option. Do check out this recommended package tour to Bhaktapur and Panauti.
Do read my free online guide on getting to Panauti for full transportation to Panauti details.
---
---
Historical documents show that Panauti was founded by Ananda Malla during the 13th century. However other scribes date the town after this to the reign of King Harisingh Dev. In either case Panauti can lay claim to being one of the oldest towns in Nepal.
The star attraction is the Indreshwar temple which was built over a Shiva Lingam in 1294. Thusly the residents of Panauti lay climb that it's the oldest temple in Nepal.
Until just recently Panauti has largely been ignored. As such the old royal palace which has long since collapsed has never full been studied by archaeologists. This alone could indicate the true age of Panauti. The French government have largely been atributed in funding restorations within Panauti for almost a decade.
During the 17th century Panauti became a part of Bhaktapur as the Malla empire grew at its height. When the Malla's reign ended Panauti languished for a while until 1763 when King Prithi Shaw gave Panauti back it's independence as a township.
Today Panauti is renown for being one of the oldest Newari townships in Nepal with a population of just 10,000+. Thusly it is quite small but well preserved. Recent dangers to Panauti have included private business trying to turn Panauti profitable. So far the size of the town and it's proximity to Kathmandu has meant its survivable from big business.
An older version of Panauti's history
Panauti is historically associated with Lord Shiva who takes part in an interesting story from the towns past. The story tells of a sage who lived with his wife near the confluence. Indra, the king of gods, was attracted to the sages wife and decided to seduce her. To do this Indra disguised himself as the sage and took advantage of her
The sage's wife became mortified by this event and transformed into a rock which can be seen in the Indreshwar Temple Complex. When the sage discovered this he cast a spell on Indra that covered him with yonis (female genitals).
Indra and his wife had met at Panauti and were none too happy. Shiva took pity on Indra's wife Indrayani and turned her into a mystical third river, Padmavati, that joins the other two rivers at the confluence. After many years Shiva decided Indra had learned his lesson and appeared as a large lingam. Indra then bathed in the river and the yonis disappeared. Today the lingam is where the Indreshwar Temple stands and the confluence is regarded as a holy bathing area.
---
---
No, not at all. There's an old story that Panauti sits on a huge bed of rock and that the town is earthquake proof. Sadly this is incorrect. Though the town does sit on a bed of rock, it's taken damage over the years from earthquakes.
In 1998 an earthquake damaged the main Indreshwar temple. In 1934 more damage was caused to it. In 2015 while the Indreshwar temple was undamaged the domed Narayan temple opposite is was badly damaged. This temple went under reconstruction by the Department of Archeology in 2016/2017/2018 and was completed in 2019.
The good news for visitors is that Panauti as a whole is very well preserved. The vast majority of this credit goes to Panauti museum and the Indreshwar complex who have kept the area in impeccible condition.
---
---
Heritage sites are what Panauti is famous for and for good reason. Panauti can lay claim to the oldest temple in Nepal along with near impeccable preservation. What's more, Panauti can literally be like stepping back in time as very little has changed here in centuries.
The best way to explore Panauti is on foot with a self guided heritage walk.
Heritage walk through Panauti
Nearly all heritage trips through Panauti start from the rather dire looking bus park. The official entrance to Panauti is just south of the bus park through an old red brick gate to the left. However, I recommend that you take a more scenic route through Panauti by starting off crossing the bridge directly adjacent to the bus park due west.
Follow the straight street out and after about 10 minutes the buildings will thin out and over to your right you'll see the tell tale signs of tall pagoda temples. There's a little trail leading down a slope leading to some foot bridges to an area known as Tribeni. Don't cross the bridge yet! The first stop is the impressive lone Brahmayani temple on this side of the river.
There's an exclusive walk though Panauti found only in my book Kathmandu Valley Heritage Walks.
Brahmayani temple:
The very first temple you will come across in Panauti is the lone three-roofed Brahmayani temple by the river. Built in 1715 CE it is dedicated to the Brahmayani goddess. Every year at the end of monsoon season the mother goddess is taken out of the temple and paraded in a chariot around the town.

This is a 3D video of the Brahmayani temple by the Digital Archaeology Foundation
Today the clustered stone shrine inside the Brahmayani temple is freely visible if you visit the temple. The temple itself had extensive renovations done in the 1980s and seems to have had some fairly evident restoration work done around its roof struts. New brick and carvings are clear to see.
Tribeni Ghats (Khware):
In front of the Brahmayani temple are the Tribeni Ghats. In this immediate area there are not so many shrines. However across the river is an area known for many Shiva shrines.
Of note in this area you'll notice that there are two Ghats for cremations on either side of the river. One side is for Hindus while opposite is for Newari cremations.
It's here at the Tribeni Ghats that you'll get the first visual impression of where the streams of the Punyamati and Roshi meet forming a confluence. It is also where the mystical third river of Padmavati is said to flow to the center of town.
All around the ghats there are many shrines and temples. The vast majority are dedicated to Shiva as you might notice by the abundance of lingams around the area. There are however some buildings and temples that have their own merit.
Krishna temple (Bansha Gopal Temple):
Across the bridge is a tall three-roofed Krishna temple which marks the start of the main Tribeni Ghats area just though an open brick gate.
The pagoda design is very unusual for a Krishna temple as the Hindu gods temple is usually stone. Interestingly Krishna's presence is quite strong in this area (Tribeni) in Panauti. Krishna at this temple is in the form of his fun-loving flute boy. With one leg bent in front of the other he holds a flute to his outh.
The temple itself is impressively built atop a brick platform. Ten wood carved columns form the outer lower base while a much narrower brick shrine is at the center. Interestingly the second floor which is also made of brick is based on top of the lower outer wooden columns. A little later you'll come across an old pilgrims house which tells the tale of Krishna and some naked ladies!
Pilgrim's rest-house (Sataal):
Walk around to your right and you'll come around a long two-story rest house at the top of the ghats covered with fading frescoes depicting both Hindu and Buddhist scenes.
You'll often find Sadhu's here along with priests.
These frescoes include a picture of Ram killing the blue demon King Ravana; Vishnu playing his flute up a tree while naked ladies bathe in the river below. There are many stories about why Krishna is surrounded by naked Gopis (cow milking girls). One says that he once had sexual relations with 16,000 of them. Another tells the tale that he took their clothes while they were bathing to try and enlighten them that clothes are egotistical considering all humans are born naked.
Just around the corner of the rest-house is more sobering fresco of a demon disemboweling someone.
Santaka temple:
Across a small bridge to the rear of the ghats is a countryside area.
You should just about be able to make out a rare small temple compound dedicated to Santaka. The walled in temple is a relatively recent build however the Sankata shrine beneath it is undated and judging by its worn look is quite old.
Sankata is the goddess of danger and has a unique following for both Hindus where she is taken as an incarnation of Durga and for Buddhists. Little archaeological evidence exists to show how or why this shrine is isolated.
Head out the of Tribeni area though the archway next to the pilgrims resthouse. Walk straight until you see a sign for the Panauti Museum or Indreshwar temple.
Indreshwar temple complex:
At the center of Panauti lies the magnificent Indreshwar temple complex. There's a 300 rupee entrance fee which give you access to the complex and the excellent little museum there. The three story Indreshwar temple is dedicated to Shiva and holds one of the largest Shiva Lingams in Nepal. It is opened at about 6pm in the evenings.

The Indreshwar temple was built in 1294 CE but had extensive renovations after the 1988 earthquake and was undamaged in the 2015 earthquake.
A small Nandi (bull)sits in front of it. Stone lions guard each of the four entrances to the temple while a taleju bell stands to the south. The wooden roof struts have erotic carvings but you might notice that they are rather subdued compared to many others found in the valley.
Some may take them as being more posturing than erotic. Given the history of the temple this is somewhat ironic as the Indreshwar temple contains a large lingam placed here by Shiva himself. This was to aid in Indra ridding himself of yonis after his affair with a sage's wife. This is also where the mystic river, Padmavati (the sage's wife), runs to.
Tola Narayan temple:
Across from the Indreshwar temple is the white domed temple to Narayan.
It was damaged in the 2015 earthquake but repairs took place in the subsequent years.
Inside is an impressive black stone statue of Narayan between two columns and an arch. Smatterings of red tikka and some clothing adorn it. There's an inscription inside that states King Jayasingh made an offering here of gold equal to his body weight in 1383 CE. The small stone pillar outside was where the scales were used on that occasion.
It sits on a large raised platform. that has several statues at its furthest end.
Satya Narayan shrine:
Around to the rear of the Indreshwar Temple is this unusual shrine to Narayan with a brick outer wall and a small archway.
Behind the archway is a black statue of Narayan as the Supreme Vishnu.
The statue itself is formed from black stone but the years of vermilion being rubbed onto it has given it a maroon-like color.
All along this rear area are even more shrines to Narayan worth looking at until you come to the large rectangular temple.
Unmatta Bhairab Temple:
Beside the Narayan shrines and opposite the Indreshwar Temple is the large rectangular Unmatta Bhairab Temple.
The temple is easily recognizable by the three figurines staring out of the upper windows in the two-storey building.
Inside the building is the provocative statue of the fearsome Bhairab in his "Unmatta" form or aroused form in which he is a red-bodied demon with an erection. Thankfully there is "usually" a white sheet around his waist. Strangely, many Shiva statues don't have this covering up material.
Panauti Museum:
It's well worth visiting the Panauti museum within the Indreshwar complex.
Forget the other drab museum found throughout Nepal, this one is much better. Interestingly the museum is run independently be a team of young Nepali volunteers.
Back in the day it was also a drab museum. Then funding ran out. Then a much of older folk took over but found it all a bit much so they hired young volunteers to run it. They old "directors" then stopped coming so the young team began running it themselves. That 300 rupee ticket price goes to running the entire complex, the museum and their salaries.
The amazing thing is they have done a great job at putting on some exquisite historical show pieces from Panauti's past in the museum. Everything is labeled, lit up and clean. Compared to other museums in Nepal it's head and shoulders above them. Do say hello to Osin Tamrakar who is usually at the front desk along with the other staff.

Panauti Durbar Square complex:
Nothing remains of Panauti's Durbar square which is where the royal palaces were.
Currently the foundations for renovations and reconstructions have been laid. The palace is said to have been around since the 16th century but has long since collapsed from earthquakes and fires. Today extensive archaeology digs in the area have just finished up their work a lot of which you can see in Panauti Museum.
Reconstruction of the square and palace are at the very early stages now with funding and help from the French Embassy. If the door to the walled in section is open you can get a look at the old courtyard. The various squares you see inside are the foundations where the old temples used to stand
However opposite the square is the helpful little tourism office (closed Saturdays or whenever the tourism board has no staff to manage it).
Pashupatinath temple (Shikhara):
Opposite Durbar Square is the tall red brick Shikhara building known as the Pashupatinath temple.
This tall red brick temple contains Mughal architecture from the 15th century and once has multiple shikharas (pinnacles).
Shikhara means "Mountain Peak" in Sanskrit. This style of temple is said to have spread from north India. It is dedicated to Pashupatinath (Shiva). Today it's a key building in this square as it's indicative to what the palace across the road may once have looked like.
From here a visit to Panauti now turns into one of the most enjoyable. Walking through the old Newari streets. Much hasn't changed here in hundred of years which is part of it's charm.
Take a Heritage Walk in Panauti:
Throughout this guide to Panauti you will have seen a lot. However to get the most out of a visit to Panauti it's best to do a heritage walk by yourself. It's a small township and there's really no need to hire a guide.
The best maps and information (more than here) can be found in my guidebook to the Kathmandu Valley or my complete guidebook to Nepal. For heritage enthisastes you can make the most out of Panati with my book Kathmandu Valley Heritage Walks.
Each heritage walk has been meticulously worked out so you can discover it all. More so than anywhere else. This website was the first to publish such an in depth guide to Panauti and these guidebooks are the first and only ones to cover heritage walks throughout all of the Kathmandu Valley!
Prince Mahasatwo's Birthplace:
Taking the first left after Panauti Durbar Square will lead you into the old city.
Here on the first left, again, you will come across Prince Mahasatwo's birthplace which is marked by a stupa.
The Prince who was later made a saint. Mahasatwo gained acclaim while hunting in the nearby Namobuddha jungle.
He came across a tigress and her newborn cubs that were dying from hunger. Cutting himself, he fed the tiger and her cubs with his own flesh. Continue on straight!
Sorhakutte Square:
Noted for being the center of town Sorhakutte square contains several unique and revered buildings dating back to both the 17th and 16th centuries.
The first of these is the Buddhist stupa on the left. Panauti is like many Newari towns where both Buddhism and Hinduism are equally respected.
At the center of the courtyard is the unique Pati or Pavilion. It was restored in the 1990s by the Kavre Integrated Project. It's one of the few buildings with no walls in Panauti. As is typical for Panauti there is a Shiva lingam at the center.
.At the rear of the courtyard is a second Brahmayani Temple similar in name to the very first temple you would have found on this guide. This is the temple where the village goddess, Brahmayani, resides throughout the year. A chariot procession brings her here from the Brahmayani temple by the Tribeni Ghats.
Just in front of the pati to the right is a typical but beautiful tall Newari building whose woodcarvings and delicate balcony rounds off this square.
Badrakali temple:
From that last building in Sorhakutte square you can duck down some streets and side streets to find the Badrakali temple (this is where a guidebook like mine really comes in handy).
The Bhadrakali Temple looks surprisingly like the Brahmayani Temple from just a few streets away but this one houses the goddess Bhadrakali who is the fierce form of Devi.
She is shown with three eyes and four, twelve or eighteen hands. She carries a number of weapons with flames flowing from her head. She usually has a small tusk protruding from her mouth. Sadly the doors to the shrine are usually closed. Sometimes on a Saturday they are opened.
More of Panauti's shrines, lingams, resthouse and old streets:
Ir your really want to explore Panauti, you'll need my guidebook. If you head off by yourself you'll encounter lovely old streets which at many corners will have old trading resthouses.
Here the traders would sleep at night and trade during the day. Traders came through Panauti from Tibet and across into India carrying spices, clothing and other textiles.
Wandering around this area is like taking a step back in time. If it's harvest season you'll see people thrashing rice or drying it out on the little brick streets. You'll also soon come across the road running along the rather ill-kept Rosi stream. All along this road heading east you'll come across a bevy of rest-houses and shrines along with local people going about traditional style work.

---
---
Panauti is a Newari township so it observes all Nepali national holidays and local Newari festivals. As there are cremation Ghats there are near on monthly pujas or "blessings" at the ghats.
There is however one dedicate festival which is known as Panauti Jatra.
It takes place annually over several days between May and June. On day one the two goddesses you would have discovered earlier in this guide, Brahmayani and Bhadrakali, are brought out. In day two Brahmayani is taken to her temple across the river. On day three there is a parade in celebration of Ganesh (Shiva's son). Day four is the actual festival itself when chariots come out with people singing and dancing.
Another popular festival in Panauti is the Yomari festival that takes place in December. This is an event surrounding a momo like dessert made from steamed flour with a filling of sugar, nuts and ghee. Panauti lies claim to creating the Yomari so this is when the cook and eat it.
It's worth noting that for tourist things tend to either be too crazy and crowded or outright boring when it comes to festivals in Panauti. Certainly if you are in the area it's worth checking out. But making a dedicated trip there should really only be reserved if you have the time!
Do read more about festivals in Nepal to discover other events that happen in Panauti throughout the year.
---
---
There is no entrance fee to visit Panauti. However to enter the Indreshwar temple complex and museum there's a 300 rupee fee (it's one of the best preserved heritage sites and museums in Nepal and well worth the fee).
---
---
There are several things to do around Panauti, most involve walks or treks.
There is an art gallery in the building next to the tourist office but it's rarely open these days, you might get lucky.
There's a lookout point overlooking Panauti. Continue on down the main road you initially entered Tribeni from. Eventually you'll get to a set of concrete steps heading up. It takes only about 20 minutes to climb but on a clear day the views are great.
The Namo Buddha circuit stats in Panauti. It should be noted that his trek though the Kathmandu Valley changes every year due to the monsoon seasons. Avid hill walkers or trekkers should be fine. However if you've never been to Nepal before or never gone trekking in Nepal before then it's better to take a guide.
---
---
Not at all. Panauti is a very small town. There's currently a "private" tour company pushing "community tours" and "community homestays" around the town. These are quite overpriced and don't cover everywhere. If you really like heritage, enjoy the peace and quite of making your way around on a self guided heritage walk.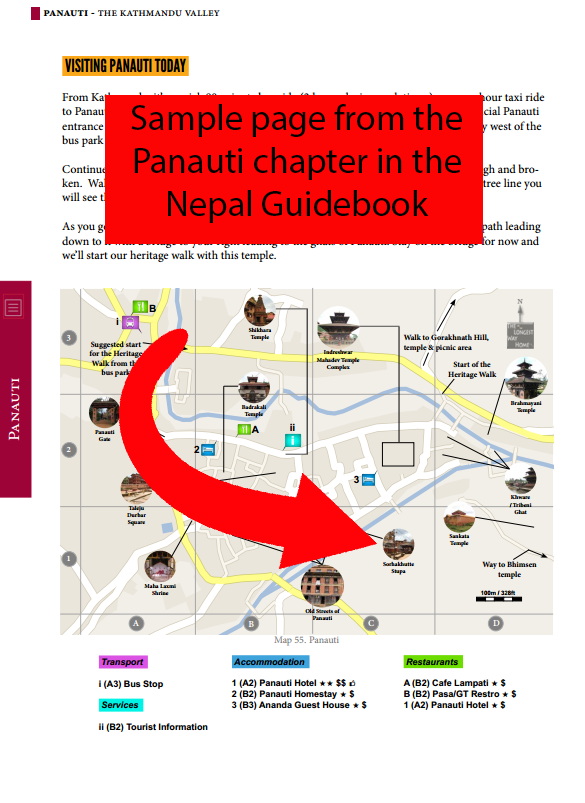 How long is a heritage walk around Panauti?
You can literally walk quickly around all of Panauti's old town in an hour. However, you'll miss out on a lot. Make it a half day and you'll come away with something special.
Here's a sample travel itinerary for visiting Panauti:
Take a bus to Panauti from Kathmandu and arrive mid morning.
Take out your guidebook.
Discover the Ghats and the Indreshwar temple.
Have lunch.
After lunch take a heritage walk around the old city.
You can literally loop around the city in 15 minutes by walking so there's no rush. Then take a bus back to Kathmandu. It really makes a nice laid back day trip. You could also arrive in the afternoon, do half a walk, stay the night then finish the walk the next morning.
When I first visited Panauti many years ago there was nothing put a paragraph in all the guidebooks about it. So, it's one of the first things I improved with my own guidebook. Panauti has an entire chapter dedicated to it in both my Kathmandu Valley guidebook or full Nepal guidebook. Including the first and only heritage walks, maps and diagrams to Panauti in the world. So, if your guidebook is lacking ... just get the better guidebook here.
In my book Kathmandu Valley Heritage Walks (print & digital) are even more details for those who really want to explore the undiscovered.
---
---
Full directions to Panauti and maps are available in my guidebook below. Likewise do check out my free online guide on how to get to Panauti.
---
---
Restaurants are few and far between in Panauti. Many close up in the winter and don't open early in the morning. In fact many don't open during regular hours at all. Don't despair though as there are a few options.
Ananada Guesthouse (right outside the Indreshwar complex) offer home cooked meals which are probably the best in Panauti. The menu is quite good and many of the vegetables come straight from their garden outside (you can literally watch them pick them).
Cafe Agna (used to be Lampati on the main street after taking a right form the tourism office) offers a whole range of items with momo's being a favorite. However their opening hours seem to offer no hope these days.
Aside from some local places, Hotel Panauti has a small restaurant attached to it offering good value but basic food if you get stuck.
---
---
There is limited accommodation available in Panauti. The largest hotel in the town is probably your best option for comfort. Hotel Panauti (+977-11-440055) which offers plenty of reasonably priced rooms.

Ananada Guest house (+977-1-6211924) is a long term family run favorite offering three shared bathroom rooms. The restaurant here is excellent though sometimes they are closed during the winter season.
GT Restro and Lodge - located in the main bus park. An option with good food but so so accommodation. Useful if everything else is booked out ... Kathmandu is only 1.45 hours away!

Finally, in a surge to promote business some tour agencies have been promoting Panauti "Community Homestay" options (+977-11-441015). Despite the name, these are commercial operations with prices to match (higher than a hotel). Indeed, in 2018 there were awarded over 225,000 euro by a booking.com project to get it online under the guise of sustainable tourism https://globalnews.booking.com/bookingcom-announces-the-10-award-recipients-of-its-2018-accelerator-program-for-startups-in-sustainable-tourism/.... You might find a lot of "positive" reviews for community homestays in Panauti online because in 2017 & 2018 many bloggers were given free stays in exchange for promoting them online. Commercialism has arrived in Nepal. Sadly some locals have been duped into taking out loans to do up their houses to get on board with this. If you are looking for a real homestay, I would suggest Ananda Guesthouse which is actually run by a local mother and family who are not involved in the above scheme.
Alternatively the Tourism office ( +977-11-440094) offers home stay visits which include three meals and a free tour. The rooms are quite basic though. Again, the families don't get all the money you pay. It's also hard to get hold of anyone at the tourist office if it is closed. Ask at the musuem in this case.
So, moral of the story? Do be careful when booking online for accommodation in Panauti as many are overcharging and all is not always what it seems. The good news is that rooms are rarely booked out so contact the owners directly. Full contact details and reviews are in my guidebook below.
Both Hotel Panauti and Ananda Guesthouse remain the best options for accommodation in Panauti if you are looking to stay the night.
---
---
Liked this page? You'll love my books!
100% independent guidebooks, with no sponsored trips or ads. Designed to help travelers get the most out their trip to Nepal with premium detailed guides, insider information, impartial hotel and restaurant reviews, complete trekking routes, dedicated heritage walks & much more ...
Available in print or digital editions - the best guidebooks for visiting Nepal.
---
Was this page helpful to you? If so please tell others!