---
The Mohare Danda trek is a 2-5 day trek in the Annapurna Mountain range. Mohare is pronounced (moe-har-e) with Danda meaning "Ridge". The trek is a community driven trek which is located on the outskirts of the Annapurna Conservation Park. No permits are required for this trek.
The Mohare trek is often compared to Poon Hill with similar views but no crowds. The trail was popularized by backpackers and trekkers looking for cheaper alternatives to Poon Hill as it was outside the permit zone with less tour groups.
The reality is that although they are very close they are not the nearly the same in many respects. Mohare's trails offer landscape Annapurna mountainscapes coupled with community trekking in forests and local villages. In my treks here I've added a short side trek to a nearby cottage hill beside Poon Hill which adds greatly to the overall trek.
Annapurna Mountains behind a farm shed on the Mohare Danda Trek - discover this great hidden cottage hill only on this page
There are several ways to reach Mohare depending on your time frame. One can literally drive to Nangi Village and trek up to Mohare the next day or spend 3-4 days trekking though community villages which would be a better option. Mohare can also be reached via Poon Hill and can be visited on a day trek or as an alternative way back to Pokhara though do note you'll need a permit for this route. You can also visit Mohare Danda from the Khopra Danda trek.
On this page we'll take my preferred route for the Mohare Danda trek which allows you to extend it if you want or you get back in time if need be. I'll show you the route, the costs, itineraries and what you can expect!
Trek Overview
| | |
| --- | --- |
| Difficulty: Easy-Moderate | Days: 2-5 |
| Max Altitude: 3,313m | Distance: 37.6km (23.4 mi) |
| Accommodation: Community Lodge / Teahouse | |
Distance shown is the main Mohare Danda trek which ends at the border to the Annapurna National Park. Returning the same way will double the trek distance to 75.2km. Or, you can continue on to Poon Hill or Khopra Danda if you have an extra day or two. Final distance will depend on side treks, how far you drive at the start/end, extra days taken etc.
Honesty counts!
Every travel guide on this site has always been 100% independent, unbiased & honest. Rest assured there are no sales pitches for treks here & no hidden sales links. I have included plenty of options & resources for you to find the best trekking guides who know this area well. I do not accept sponsorships, free treks or tours. I do not own a trekking company or business in Nepal. I pay my own way & in turn write
authentic guidebooks to Nepal
. Rest assured, this is a genuine travel & trekking guide that you can trust.
---
Mohare Danda is located just to the south west of Poon Hill in the north central area of Nepal bordering the districts of Myagdi District and Kaski District. The Mohare Hill itself is has a single community lodge at the top. It takes about 2 days to reach Mohare Danda though a better more scenic trek takes a total of 3 nights or 4 and half days trekking to and from Pokhara.
There are essentially two ways to reach Mohare Danda View point. The south eastern side involves trekking up a steep village side of orange groves and forests before the actual ridge. While on the other side you can visit Mohare after Poon Hill. Though the latter shares more panoramic views than Mohare.
What sets Mohare Danda apart from Poon Hill physically is a small forest between the two viewpoints. The biggest difference is that Mohare Danda gets far fewer visitors than Poon Hill. An further added attraction to Mohare is that the community lodge is right on the viewpoint so you can literally watch sunrise and sunset over a meal.
Finally the Mohare Danda is outside the Annapurna Conservation Area so you do not need a permit to reach it via Beni. However if you venture much further than Mohare you'll enter the park and be subject to paying for the permit - especially around Poon Hill.
On this trekking itinerary we go up via Beni to Nangi Village and then to Mohare Danda for the night before returning back and spending the night in a pleasant community lodge. I highly recommend going that little bit further on a short 2 hour trek to cottage hill with picturesque mountain views.
For those wanting to continue on with a permit they can visit Poon Hill before trekking to Ghandruk and going on to Pokhara via jeep or bus. Likewise they can also go north from Poon Hill and continue trekking to Khopra Danda.
---
---
This map shows you the Mohare Danda Trek Route.
Please note this map should not be used as a practical trekking map. The trek ends in Ghorepani on the map. If you don't have and ACAP permit you may be faced with an on the spot fine. The actual Mohare trek goes back the same way following the same route. If returning to Pokhara via the Ghorepani/Poon Hill route then please see the Poon Hill Trekking Map or the itineraries below. Detailed trekking maps can be found in my own trekking in Nepal guidebook.
---
---
The Mohare Danda trek has been a popular short budget trek for single trekkers since 2010. Once community lodges were set up along the Mohare trek including at the top of the ridge it became even more popular. The Mohare Danda trek does not attract large commercial groups or trekking agents. However it should be noted that international student groups and volunteer groups do frequent the trail - as such if you want to stay in Mohare Lodge do try to book ahead just in case there's a group there.
Highest point of the Mohare Danda Trek
At 3,313 m (10,869.42 feet) Mohare Danda is the highest part of the trek.
View from the top of Mohare Danda
Highest sleeping point on the Mohare Danda Trek
The highest sleeping point is at the community lodge on Mohare Danda 3,313 m (10,869.42 feet). This means you can eat and sleep with great mountain views right on your doorstep.
Total distance of the Mohare Ridge Trek
The full distance trekked on the Mohare Danda trek is 55km (34.1 mi) one way. The final distance will depend on your ending route. If you return back the same way the you simply double up the distance to 110km.
How long have people been trekking the Mohare Danda route?
Mohare Danda Ridge opened as a community lodge trek in 2010. However the trek nor the lodges were fully complete until several years later.
The community aspect was originally pushed by Mahabir Pun who has become well known for his rural connectivity projects in Nepal.
These days his brother Chitra Pun has taken over the running of the trail. Today well maintained blue and white trail markers along with plenty of signs mark the route.
Is there any wildlife to see on the Mohare Danda trek?
Wildlife along this route is mainly domesticated livestock such as buffaloes. However birdlife and fauna are plentiful. Local people near Beni are renown for their orange and lemon tree orchards which you can stay in.
What mountains can you see on the Mohare Danda trek?
From Mohare Danda Pass you will get full views of Dhaulagiri 8,167 m (26,795 ft), Annapurna I 8,091 m (26,545 ft), Annapurna South 7,219 m (23,684 ft), Machhapuchhre 6,993 m (22,943 ft), Some guidebooks and online sites will say you get the same views or Poon Hill which is simply not true. You get to see part of the Northern views that you do from Poon Hill with a tree line at the bottom. There's a viewing tower being built on Mohare which should increase the views. If you wish to have the same views or even better than Poon Hill without the crowds then consider the Muldai Danda Trek.
What guidebook covers Mohare Danda trek?
There's only one guidebook that covers Mohare Danda and that's the Trekking in Nepal Guidebook.
---
---
Highlights of the Mohare Danda Trek include:
A short trek with mountain views
Community lodges
Orange & lemon tree village
Forest pathways
Village trails
Less tourists & less commercial treks
Can be extended through several routes
---
---
Arranging a regular Mohare Danda trek
The Mohare Danda trek hasn't quite caught on to commercial trekking companies yet. It's not promoted by anyone as it outside the Annapurna National Park so no permits are needed. It's also quite a short trek on its own. As such the trek escapes a lot of the commercial aspects of big companies. This is great for budget trekkers.
Secondly one of the aspects of the Mohare Ridge trek is that it's run by community lodges. These are run by groups of locals in rotation. As such it's a slightly different experience than privately run local teahouses and larger lodges.
Due to it's short length and well marked out trails many trekkers forgo a package tour or guided trek. However, if you are not experienced in trekking or plan to trek further along the route then a guide can a great asset.
Package treks & tours bought online
Package treks & tours to Mohare Danda bought online usually have a fixed itinerary and include many other treks. It's very hard to get a 3-4 day trek to Mohare Danda online. Many offer 12 day Mohare Danda treks which include Poon Hill and a host of local low altitude villages. Again, unless you are looking for village treks watch out for some of these deals as they don't offer much value.
Package tours usually include food, accommodation and a guide. Costs can be from USD $550+
Pro's of a package tour to Mohare Danda include that everything is done for you ahead of time.
Con's include trying to figure out online if any of the place they mention on their itineraries are worth visiting. Most likely they are repeat style villages.
Package treks bought in Nepal
If you have a few days in Nepal it's easier to find a package trek. Most of the Mohare package treks will be advertised in Pokhara and not Kathmandu. Even if you don't see them all trekking agents will take out their calculator when you ask them.
When purchasing a local trekking companies package tour to Mohare Danda it would be in your interest to know how many days you want. The trekking agents will otherwise suggest other itineraries.
So do a little research first. All the information you actually need for this is on this page! So you are ahead of the game.
in all cases do get what you are asking for written down. Including number of days on the trek, if accommodation and meals are included along with local transport.
Pro's of a local package trek tour to Mohare include being able to set your own itinerary with a trekking agency directly.
Con's include having to listen about different "ideas" the trekking agency has to make it better for you and thereby increasing the cost and number of days.
If you'd like to take the hard work out of finding a guide or package trek for the Mohare Danda trek before you arrive then do try my Find a Trekking Guide Service.
Hiring a local Mohare Danda Guide yourself
This is probably the best option for a short trek like Mohare Danda. Local guides in Pokhara can be hired at daily rates for this trek but you will need to know how many days you intend to trek. You'll also need to pay for all your own accommodation, meals, drinks and transport.
Guides should also have completed this trek before. Many will say they have but as it is no well frequented trek may not have. Do ask them questions.
It's important these days to make sure your guide is register and qualified before hiring them. Registered guides with TAAN have their own insurance. Many street guides are not registered so if there is an accident you will be liable to pay for their medical bills.
If you are looking for a local registered trekking guide for the Mohare Danda Trek I recommend you read my article on How to find a trekking guide in Nepal.
In my guidebook to Nepal there are several well vetted trekking agencies you can choose from that hire out local guides.
You can also save some time by using my Find a Guide Trekking Service to get a local guide.
Trekking Mohare Danda without a guide
The Mohare Danda trek began as an independent trek for those who wished to see the Annapurna mountains without an organized trek. Since then the community trek has improved with community lodges and trails markers showing the way.
A common complaint among trekkers in Nepal is how badly the trails are marked. This included the Annapurna region which falls under the responsibility of ACAP. The Mohare Danda trek is outside the park with locals, foreigners and community efforts in keeping the trail well marked out.
Blue and white lines are used to distinguish the trail here along with sign boards at large junctions along the trail. For independent trekkers the Mohare trail is relatively straight forward to do by yourself or with other trekkers.
If you have trekked before in Nepal then this trek is straightforward. If you have not trekked in Nepal before then it's a good trek to get started on. It's worth keeping in mind that without a guide you will not get insight into the local fauna, wildlife, villages and indeed spend a bit longer navigating your path.
Mohare Danda can get cloudy throughout the year and there are dangerous ledges. Caution is advised. Similarly do be careful if there is snow on the ground.
If you are looking for a guide for the Mohare trek I recommend you read my article on How to find a trekking guide in Nepal.
You may also use my Find a Guide Trekking Service.
---
---
Mohare Danda's weather is practically the same as Poon Hill. Clouds seem to roll in in the late morning and early afternoon particularly in non-peak seasons.
There's really no rush to make it up to Mohare to see the mountains. The best chance is in the morning and late afternoon. As such spending the night a Mohare community lodge is your best chance at seeing them.
Mohare Weather by month
Avg. Temperature
(°C)
Avg. Temperature
(°F)
Precipitation / Rainfall
(mm)
January
2.2

36.0

30
February
3.5
38.3
27
March
7.5
45.5
39
April
10.8
51.4
33
May
13
55.4
34
June
14.8
58.6
61
July
14.2
57.6
143
August
14.1
57.4
135
September
13
55.4
74
October
10.3
50.5
35
November
5.6
42.1
6
December
3.3
37.9
10
Do note that Mohare does not have a weather station. The above weather chart is from Poon Hill which geographically is right beside Mohare. Monsoon season will likely see a lot of cloud cover in this region.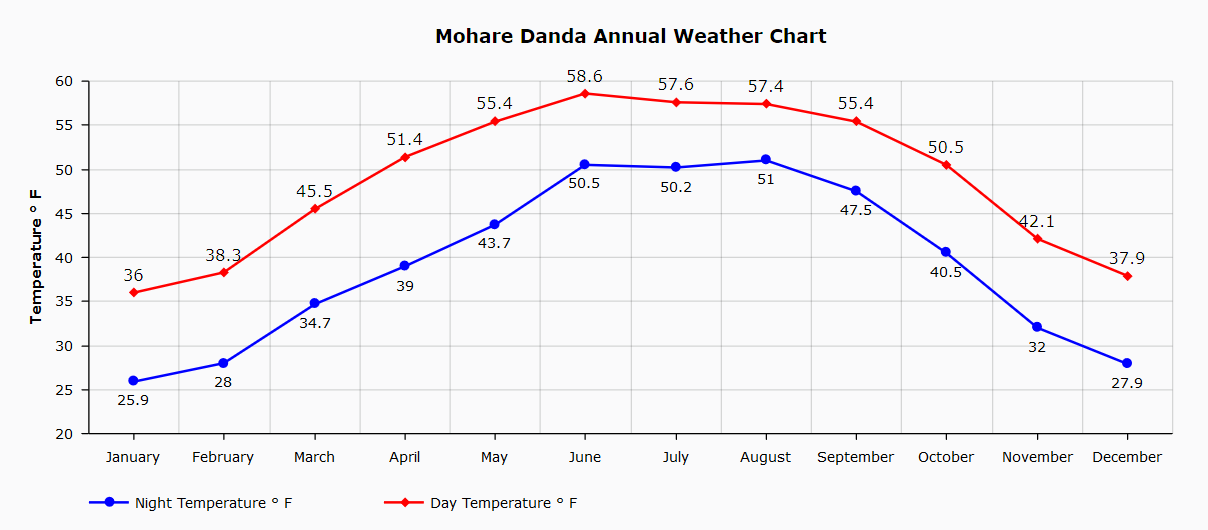 Mohare Danda is a low-mid altitude trek so cloud coverage is an important factor when planning your trek. Mohare's cloudiest months are July and August. However September and even October can also have heavy cloud coverage.
As above spending the night in Mohare lodge is your best change at seeing mountains both at dawn and late afternoon so long as the weather in general is clear.
Months with the best weather to trek Mohare Danda
Mid October - November/(early)December: Nepal's peak and best time to go trekking to Mohare.
February-March-April: this is the end of the dry season in Nepal and the second best time of year to go trekking to Mohare. This time of year also has the added advantage of the surrounding countryside in full bloom.
December to January/February: the skies are clear but it can get very cold. It's rare for Mohare to close asides from being cold it is still a good time of year to go.
May - June: The hot pre-monsoon season means things get uncomfortable and humid. The valley and hills around Mohare are starting to bloom with flowers though. It's probably best to go with a guide at this time of year to help you during down pours etc. Don't go expecting to see mountains.
June - Mid September: this is Nepal's Monsoon season and the least popular time to go trekking to Mohare Ridge. The risk of leeches and heavy rain increases greatly. The views are nearly always obstructed too. Going with a guide will make this a better trek at this time of year as they will know where to shelter and dry off!
As with any trek in Nepal, if there is unexpected or adverse weather confitions (snow, rain, etc) the treks difficult will increase.)
For more details please see my guide on the best time of year to go trekking in Nepal.
---
---
None. Mohare Danda is outside the Annapurna National Park so no permits are needed for the trek. TIMS is not needed either and there are no checkpoints. However do note that the funds used to buy TIMS cards are used to provide guides and porters with insurance.
It is however important to note that if you cross from Mohare Danda into Poon Hill you will technically be in the Annapurna National Park. There is no ACAP or TIMS counter here however there is a Poon Hill ticket station that usually closes at 9am. The people manning the station will be checking everyone they come across and if you are in what they consider to be the ACAP region then you will need to pay both an ACAP fee and the Poon Hill steps fee.
If you proceed from Poon Hill to Ghorepani there is indeed an ACAP checkpoint and a TIMS checkpoint. If you don't have either you will have to buy one or possibly be fined.
Interestingly there is no ACAP or TIMS checkpoints on the Khopra Danda Trek either and many trekkers take the chance of crossing Khopra Danda to Mohare Danda. Doing it the opposite was (Mohare to Khopra and exiting at Naya Pul is likely to see you crossing a checkpoint. So don't be surprised if some itineraries have permits included.
Both Poon Hill and Khopra treks require ACAP permits and TIMS cards. If you are planning to visit either then do read the permit section for details on the Poon Hill trek and the Khopra Danda trek.
---
While no specialized equipment is needed for the Mohare Danda trek.
However, there are a great deal of steps at the start of the trek and if you come back down the same way you'll have to come down the same steps again.

Many people don't like these stone steps. If it's raining they can be slippy.
Trekking poles can help a lot with taking the pressure off your knees.
A pair of trekking boots or trekking shoes suitable for off-road walking
A wind cheater style jacket
Long sleeve shirts
Trekking pants
Shorts
Socks
Rubber sandals
Trekking poles
Water bottles
Water purification system
Map
Sun hat/warm hat
Sunglasses
Sunblock
The community lodges all have blankets. I usually find a sleeping bag liner helpful as the bedding may not be clean to your standards.
There's no bottled water on this trek so make sure you are comfortable with your water filtration system.
Please note the above is a very basic list. For a full comprehensive list please see my article on trekking equipment you need for Nepal
---
---
There's a full day-to-day on the Mohare Danda trek which will describe each day and what's involved in my Trekking in Nepal Guidebook. In general the trek is a easy to moderate trek depending on how fit you are and the current conditions the trek is in.
Many trekkers note the hardest part of the Mohare Danda trek is the beginning and send with a few hours of stone step climbing. The good thing is, there's no rush with this trek.
The first day of the Mohare Danda trek is usually the toughest for most people. 3-4 hours of uphill stone step climbing. It's exhausting to say the least but if you do find this too tiring you can break the day up by staying in the pleasant village of Banskharka or if you are doing well enough on to Nangi village.
Day Two is the ascent up Mohare ridge which is best taken slowly and surely.
Day three is all down hill to Banskharka.
Day four is back down those steps to Beni and on to Pokhara.
For those looking for a less strenuous trek here is a 5-day trek difficulty chart.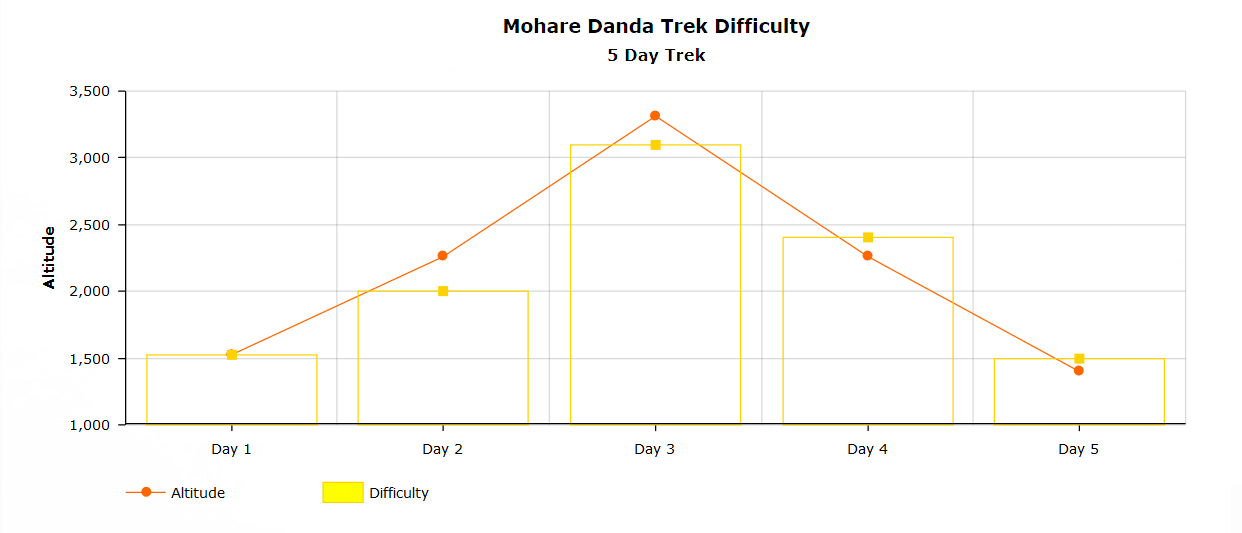 The day trek essentially breaks up the first day into two days. Thereby making the 3-4 hours of stone step climbing difficulty lessened.
Trekker on a ridge on the Khopra Danda Trek near Dobato
(the two treks can be joined up if you have the time)
Once again trekking poles help. If you have any sort of knee problems with coming down steps then make sure you keep this to a four day trek and break up the steps down with a stay in Nangi or Banskharka.
It's important to trek sensibly in Nepal. If there is snow or heavy/prolonged rain then consider hiring a guide, asking local advice, consider postponing your trek, check missingtrekker.com for any alerts and do check the local weather reports. Trails in Nepal are not well maintained so please exercise due diligence before embarking on a trek. Each trek in Nepal will have it's own challenges relative to your experience, the current weather conditions and the current condition of a trail.
---
---
Fitness for the Mohare Danda trek is relative to your own fitness levels. The trek is noted as being easy to moderate but the first day can be difficult if you are not used to steps.
As always I would advise anyone going trekking to see a doctor before they go for a check-up and to talk about dealing with altitude sickness.
If you don't get much exercise then you'd probably either want to extend the trek to allow for more rest or get a bit fitter.
Treks are usually broken up into 2-3 hours in the morning and 2-3 hours in the afternoon. Stair climbing would be a good exercise for this the first day of this trek. However, extending it by a day will make things easier. There's no rush as most people don't reach Mohare for sunrise. It's sunset and the sunrise the next morning that's important.
As a precaution do read about altitude sickness in Nepal.
---
---
Meals are simple and wholesome on the trek. While menus are list quite a lot of your typical trekking meals the actual food that arrives on your plate may not look exactly as you would expect. The reason for this is simply that the community rotations mean not everybody gets to practice what's on the menu. However, so note that Dal Bhat is usually quite good as it's what the locals eat.
As the community lodges work on rotation what you get one month may not be the same the next. Pancakes or porridge for breakfast and dal bhat for lunch are the best bets!
Plate of Dhal Bhat in Mohare Danda Trek
| Item | Price |
| --- | --- |
| Porridge with milk | 300-350 Rupees |
| Fried eggs (2) | 250-300 Rupees |
| Cheese Omelet | 350-450 Rupees |
| Vegetable Momo | 300-350 Rupees |
| Dal Bhat (Meat) | 700-900 Rupees |
| Dal Bhat (Veg) | 400-600 Rupees |
| Pasta with tomato and cheese | 500-600 Rupees |
| Fried Noodles (Veg) | 300-450 Rupees |
| Fried Potatoes with Cheese | 450-600 Rupees |
| Pasta with sauce | 400-500 Rupees |
| Tea/Coffee | 50/100 Rupees |
| 1 liter beer | 600+ Rupees |
| Soft Drinks (Coke, Sprite etc.) | 120-150 Rupees |
| 1 liter boiled water (for self-filtering) | 50 Rupees |
Please note that bottled water is not always available in the Mohare Danda region. The installed water filters for local water around the Mohare region are not maintained well. It's advised you use your own water filtration system. Filtered water costs at the lodges costs between 50-100 rupees, but it is not boiled.
Beer, soda, coffee (powder), tea and hot lemon are also widely available throughout the region.
Plate of macaroni and cheese on the Mohare trek
Chocolates, sweets, biscuits and candy bars are not that widely available. Some community lodges have a small stock but you'll be paying double for them. Most trekkers take a stock of their own sweets and treats.
The golden rule on treks is that you must eat in the restaurant of the tea house or community lodge you are staying at when trekking. This applies on the Mohare Danda trek otherwise you'll likely be charged more for your room.
---
---
Accommodation on the Mohare Danda Trek is quite good with community lodges providing clean, neat rooms.
Most accommodation has shared bathrooms. In Nangi you may just get a private bathroom.
Mohare Danda Lodge is pretty basic but they are expanding.
In all cases it's a good idea but not essential to bring a sleeping bag liner with you as a layer between you and the blankets provided.
Do try to call ahead to book a room at the Mohare Danda community lodge just in case a group arrives there. Chitra Pun is the contact person +977 9857622028. who pretty much looks after the community lodges along Mohare. Do be clear with your dates and send a confirmation text message after making the booking.
Read more and see what trekking accommodation is like in Nepal.
---
---
Due to the short duration of the trek and lack of permits the Mohare Danda trek can work out to be one of the cheapest in Nepal. However do remember you will need permits if you venture into Ghorepani / Poon Hill.
Working out your trekking budget
Package tours to Mohare Danda do exist but are usually overpriced and included other treks. So far nobody has jumped on the overpriced "homestay" bandwagon either as this is very much a community lodge trek.
Online package tours for 5-6 days can cost USD$$550+pp. This does not include water or a porter. You will get a guide, , meals and accommodation.
Online package tours often have fixed departure dates. And again they will often trey to include extra treks.
In country package tours Package treks to Mohare Danda bought in Nepal are best done so from Pokhara. Do read the itinerary carefully and watch out for extras being added on. As the trek is short trekking companies will have less interest in them. Costs can be from $250-400 depending on the itinerary.
Remember to look at itineraries and see if everything is included that you want. Do use this page as a guide. If you need to reduce costs try to eliminate things like a porter or a jeep. My Find A Guide Service can help you out here but do try to get in contact before arriving in Nepal.
Guide only services for the Mohare Danda trek can cost from $27 to $50 per day. As always the more you pay the more "experienced" your guide should be. However as Mohare is a short trek your could also opt for a porter-guide or a guide who has just finished their training.
However do note that porters themselves should not be used as a guide.
Porter fees are about USD $20 per day.
It's also important to be careful of street guides in Nepal these days. Particularly for Mohare as many know there are no permit checks and therefore nobody will check if they have a license or not. If an unqualified guide takes you then do understand if there is an accident they will not have insurance and according to Nepali law you will be responsible for their medical treatment.
Hiring a guide can be done via any trekking agency. Hotels will also often have links with guides - but again do insist the guide is registered with TAAN and qualified.
If you are looking for a guide for the Mohare Danda Trek then I recommend you read my article on how to find a trekking guide in Nepal. Alternatively use my Find a Trekking Guide Service.
Average 4 day trek cost for the Mohare Danda Trek
| | |
| --- | --- |
| Item | Cost USD $ |
| Permits (ACAP, TIMS) | 0 |
| Guide x 4 days | 108 |
| Accommodation x 4 (shared) | 16 |
| Meals 3x$5 | 60 |
| Water 4 liters a day (filtered & boiled) | 16 |
| Transport (public-RTN) | 12 |
| Total | 212 |
It's worth pointing out that a 4 day package trek to Mohare Danda whereby all your accommodation, meals, a guide and private transport is pretty close to the above. It also takes the stress out of your trek and there's no need to carry a lot of cash around.
Extras: Don't forget to include a tip for your guide 10%. Any soft drinks, sweets, hot drinks etc. you may want to purchase along the way.
The cost of an average community lodge with shared bathroom is 400 rupees.
Bottled water is available in some places though technically plastic bottles are meant to be banned. The cost of one liter of locally filtered water is 50-80 rupees (not boiled) but when boiled ends up costing more than bottled water. It's important to filter the water on this trek.
The cost of a plate of Dal Bhat starts at around 400 rupees and climbs to 600+ rupees or more with met.
The additional cost of a porter is about USD $20 per day./li>
Travel insurance should be included and do make sure you are covered for trekking! Here is my recommendation for travel insurance when in Nepal.
How to reduce your budget on the Mohare Danda trek
The Mohare Danda trek is a short community lodge trek and the price above reflects that. To reduce the treks price would be to go without a guide. There are pros and cons to that as mentioned earlier.
Likewise if you do opt to visit Poon Hill / Ghorepani then you'll need to increase your budget respectively and include permits.
I would boil water on this trek and filter it myself rather than rely on the locally filtered water.
---
---
Do remember when planning your trek to Mohare that there are several routes to the trek. The main itinerary on this page goes from Pokhara to Beni and then up to Mohare ridge.
If you plan to do the Khopra Danda Trek and the Mohare Danda Trek then my advice would be to do the Khopra Danda trek first and end with Mohare. You'll get an easier introduction with a gentler start this way.
If you plan to do the Poon Hill Trek then ending with Poon Hill would be my preference as you'll get two trips to Poon Hill - one coming from Mohare and one the next morning at sunrise.
Finally if you are trekking on a budget or want to take a bus back to Pokhara from Beni then the buses leave every hour but in winter do cease early. There are also jeeps leaving from Beni. The shrines and temples in Beni are worth calling into as you make your way to the bus stop so do give yourself some time.
Mountains seen from Cottage view point on the Mohare Danda trek
4 Day Mohare Danda Trek itinerary
Day
Route
Distance (km)
Highest Altitude
1
Pokhara to Beni (car) - Beni to Banskharka to Nangi Village
2 hours + 5 hours avg
2,260 m
2
Nangi Village to Mohare Danda
5-6 hours avg
3,313 m
3
Mohare Danda to Nangi Village

*

5-6 hours avg
2,260m
4
Nangi Village to Beni to Pokhara
4 hours + 2 hours avg
1,400 m
*
Side trek to cottage hill.
The above itinerary to Mohare Danda needs a good level of fitness. The first day is particularly grueling with many steps. See the 5 day itinerary to break it up into a more relaxing trek.

5 Day Mohare Danda Trek itinerary
Day
Route
Distance (km)
Highest Altitude
1

Pokhara to Beni (car) - Beni to Banskharka

2 hours + 3 hours avg
1,526 m
2

Banskharka to Nangi Village

3 hours avg

2,260 m

3

Nangi Village to Mohare Danda

5-6 hours avg

3,313 m

4
Mohare Danda to Nangi Village

*

6+ hours avg

2,260m

5

Nangi Village to Beni to Pokhara

4 hours + 2 hours avg

1,400 m
* Side trek to cottage hill.
The benefit of the five day Mohare Danda itinerary is spending the night in the lovely village of Banskharka and taking a welcome break from all those steps.
There is a 3 day itinerary to Mohare Danda but it's more expensive and has a lot less trekking. It basically involves hiring a jeep to Nangi Village and then going up to Mohare and coming down the next day.
You'll miss out on quite a bit and the cost of the jeep will work out to make the trek more expensive. It can however be done.
What's the best Mohare Danda Itinerary?
If you have 5 days then make the most out of the trek by making it more relaxing with a 5 day trek. The four day trek needs a higher level of fitness and has longer days.
Detailed Mohare Danda Trek Itinerary
The following is a detailed day by day 4 day itinerary from day one to day four on the Mohare Danda Trek. If you want to make it five days, then on day one spend the night in Banskharka.
Day one - Pokhara to Beni to Nangi Village
Getting an early start is a great idea here as it's a long day. The Pokhara to Beni bus take 2-2.5 hours.
Beni is a dusty riverside town so getting down the hill quickly to Galeshwar is a good idea. This is part of the Pokhara to Jomson road so getting across the bridge under the green hill is where the trek gets started.
Almost immediately the stone steps start as you make your way up into the hillside forest. The trees offer cool protection from the sun and the heat you'll be building up from all that step climbing.
Lunch in the orange tree town of Banskharka is possibly one of the nicest stops on the trek. Many people doing a 5 day trek will spending the night here.
4 day trekkers need to pluck up the courage to continue on up about another 2 hours of steps before it levels out. Here on the way to Nangi village if the weather is good are your first mountain views. In Nangi there are two places to stay. A community lodge teahouse style lodge along the road to the right or about 30 minutes later at the Nangi Community Lodge which does have privates. From Nayapul you cross over to Birethanti for the obligatory permit checks. It's a good place to eat breakfast if you haven't already.


Day two - Nangi Village to Mohare
Before leaving Nangi ensure that there is a place open for lunch later on. During winter places often close up. If they are closed then bring a packed lunch and plenty of water. The trail leaves the village along a stone central path which slowly disappears into the forest. It's uphill a little then down and up more steeply again.
If you are on the 5 day trek then you should be rested if you are on the four day trek you might well be still feeling yesterdays steps. By lunch the trail is far more like you are out in the mountains.
After lunch the final assault on Mohare Danda begins. In reality you've already begun. What remains is the twisty pathway to the top of Mohare ridge. It's steep in places with nice views of the valley below but by pacing yourself you'll make it. The forest gives shade.
Most people arrive in the early afternoon as clouds move in. Any later and you may well be trekking in cloud. Mountains are often obscured at this time. Hopefully the clouds will part just before sunset.
Day three - Mohare Peak to Nangi Village to Khopra Danda
Sunrise is nearly mandatory at Mohare Danda. Hopefully you will get to see some magnificent mountains across the treelike just before the ridge over breakfast.
There are some choices to be made after breakfast. There's a trail continuing on though wonderful pristine forests to another area just before Poon Hill with some stone cottages with similar mountain views over distance villages. This is the border of the Annapurna National Park.
Some curious trekkers will attempt to cross over to Poon Hill without permits. There's no checkpoint here unless the Poon Hill checkpoint people are still there. They usually go back to Ghorepani at around 9am.
Those going to Ghorepani should know there are TIMS and ACAP checkpoints there. While trekkers to Khopra Ridge can continue on to Swanta.
If you are headed back on 4 or 5 day trek then don't leave it too late. It's a good 2 hours down from Mohare ridge and a further 3 hours back to Nangi village. Do remember there are two community lodges here with one being further down the road if you arrive early.
Day four - Nangi Village to Pokhara
The last day on the Mohare Danda trek is much like the first only it's all down hill and down stone steps. Trekking poles will help.
Once you reach Banskharka for lunch you might feel as if the toughest bit is over. The pleasant orange and lemon trees in the picturesque village is well worth staying in if you are experiencing tiredness or knee pain. You'll need all your energy for the final steps down to Galeshwar.

Once again pacing is key here and don't lose concentration on those steps. Those trekking poles will save you a lot of effort.
At Galeshwar your legs might well be like jelly with the flat road feeling wonderful. It's a good opportunity to visit some of the temples and shrines there before making your way up to Beni and a bus or jeep back to Pokhara.

---
---
For alternative treks do read my list of treks in Nepal which is continually being added to based on popularity or request.
If looking for a trekking guide I recommend you read my article on
How to find a trekking guide in Nepal
or you can use the
Find a Guide Service
.
---
Are you ready to trek in Nepal? If so, then you'll love my trekking books!
---
These guidebooks are a hands on trekking guidebooks that are better than the rest. Yes, really!
The books contain day-by-day guides with accuracy using scalable maps, photographs and travel-tested up-to-date trekking information. Just like my other guidebooks these have been proven to be the best interactive, or paperback guidebooks to Nepal available anywhere today.
So what are you waiting for? Get your hands on these guidebooks and start trekking in Nepal today!
---
Was this page helpful to you? If so please tell others!