The Mundum Trek or Mundum Trail was inaugurated in January 2018. It is the latest official trek in Far East Nepal. It's remote, pristine and virtually devoid of tourists. While the trail is relatively easy, it is new so facilities are bare and camping is required in several parts.
A richly cultural ridge trek it takes you through Himalayan mountain facing ridges, hills and villages across several routes. Aside from rarely visited mountain villages, over 30 epic mountains like Everest are visible including Makalu and Lhotse. There's daily interaction with the ethnic Kirat Nepali in villages.
The Mundum trail is famous for its trekking ridges with epic views -
(photo: photographs are provided with permission by Pawan Shakya from Himalayan Travel Guides - the publisher of my guidebook to Nepal)

The Mundum trek can be completed between 11-12 days depending on your requirements. Read on to learn more about this great new "hidden trail".
Please note: the maps on this page are not to be used as physical trekking maps, they are here only to show the rough outline and region of a trek. The Mundum trail is new, so maps are not yet exact. New villages are hosting accommodation and trail posts are still being erected. With all new treks like this it's best to read up on it fully.
Trek Overview
| | |
| --- | --- |
| Difficulty: Moderate | Days: 10-12 |
| Max Altitude: 4,153 m | Distance: 76 km (47.22 mi) |
| Accommodation: Teahouse / Camping | |
Distance shown is a return trek, the final distance will depend on side treks, extra days taken e.t.c. Acclimatization days should always be adhered to. You should assess your own fitness levels and assess each treks difficulty level yourself before trekking.
A fully detailed guide to the Mundum trek with more details is below
.
Honesty counts!
Every travel guide on this site has always been 100% independent, unbiased & honest. I do not accept sponsorships, free treks or tours. I do not own a trekking company or business in Nepal. I pay my own way & in turn write
authentic guidebooks to Nepal
. Rest assured, this is a genuine travel guide that you can trust.
Trekking guides are now mandatory in Nepal:
In March 2023 Nepal Tourism Board announced that all trekkers (solo, couples, groups, etc.) must have a licensed trekking guide from a registered trekking company if they want to trek in Nepal. Freelance trekking guides are also no longer permitted and only guides registered to trekking companies are allowed. The ruling is controversial in many aspects. There are likely to be changes to this ruling over the coming months and indeed years. However, the reality is that you now need a trekking guide to do this trek. Find a registered guide in my
Trekking in Nepal Guidebook
or use my
Find a Nepal Trekking Guide Service
.
---
The Mundum trail is located in the far east of Nepal past Haleshi Mahadev, with a starting point in Diktel at 1650m, Khotang district. The trail then heads south into a valley towards Tamkel Danda.
The trek continues north east along rugged Himalayan ridges to Salpa Pokhari 3348m where you'll stay in tea houses experiencing the Rai culture like few other trekkers and indeed go camping.
Back along more epic views of the Himalayas the Mundum trail leads south to Hans Pokhari 2962m and on to Bhojpur 1600m. It's a low altitude trek with a maximum of 3426m at Rawadhap.
Known as a ridge trail Mundum offers fantastic views of over 30 mountain peaks which are visible as you trek along mountain sides. These include Mount Everest, Lhotse, Lhotse Shar, Cho Oyu, Makalu, Shishapangma and Kanchenjunga.
---
---
These maps show you the most popular Mundum trekking routes.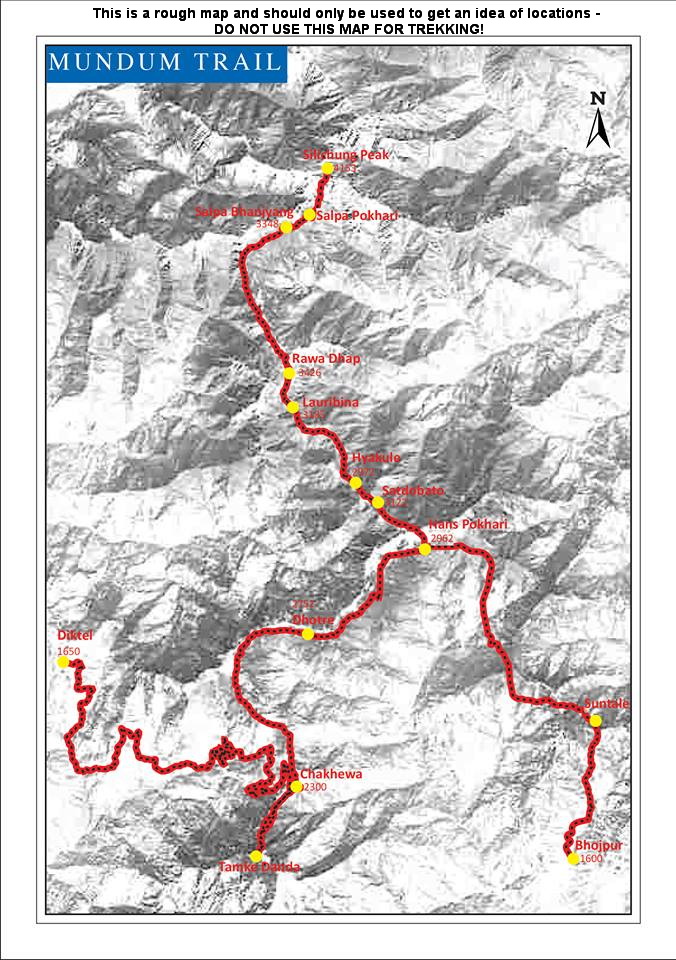 Rough Mundum route map
The above map and photographs are provided by Pawan Shakya from Himalayan Travel Guides who undertook the inaugural trek to Mundum and who also published my guidebook to Nepal. You can download a copy of this map here.
Please note these maps should not be used as practical trekking maps. The main Mundum route remains the same but it is new. As such there will be variations depending on side trails, weather conditions, time of year, natural events and physical changes to the trek paths. Detailed trekking maps can be obtained in Nepal at very low costs via Himalayan Map House in Kathmandu.
---
---
Facts about the Mundum Trek are based on trekkers who have been in the region before the trek was officially established and thereafter when it became and official trail route in 2018.
Highest point of the Mundum trek
At 4,153 meters (13,625 feet) Silichung peak marks the highest point of the Mundum trek. However, if you opt not to ascend then Rawadhap at 3, 426 meters (11,240 feet) is the second highest point on the trail.

Highest sleeping point on the Mundum trek
The highest sleeping point along the Mundum trek is at Rawadhap which is at 3, 426 meters (11,240 feet). However, do note that Rawadhap requires camping which may make it seem harder for some. Salpa Bhanjyang (Kulopankha) is 3,348 meters (10,984 feet) which does offer a tea house.
How long have people been trekking the Mundum route?
Officially, the Mundum trail only started in January 2018. However, the region has always been there. The areas around the Mundum trek are inhabited by local villages and communities which have been popular with campers for nearly a decade. Over the past few years efforts were put in place to establish more tea houses (guesthouses) along the trail for those who didn't want to camp.
In 2018 the Mundum trek officially opened up and is registered as a new trek. There are tea houses suitable for trekkers throughout most of the trail. It is a community driven trail so development will not be so fast. All members of the community will decide on what will or won't be developed in the area over the coming years.
For culture lovers this area will be highlighting their own ethnic backgrounds as a focal point of a trekkers stay in the region.
What mountains can you see from the Mundum trail?
The Himalayan mountain range is on full show from Silichung peak with fantastic views of Mount Everest, Chamlang, Makalu, Kumbhakarna and Kangchenjunga. Throughout the whole trek one can expect to see Everest, Lhotse, Lhotse Shar, Cho Oyu, Kanchenjunga, Makalu and Shishapangma among a recorded 30 peaks.
---
---
Highlights of the Mundum trek include:
Ridge trekking with mountains
New trek with very few tourists
Rare chance to meet Kirat people
Traditional teahouses
Valley Trails
Village Trails
Low Altitude
Camping
---
---
The Mundum trek generally costs more than many other low altitude treks. The reasons for this are many. It's a new trek so there are fewer trekking guides available. Post-pandemic there are fewer teahouses available so camping may be needed. Transport costs to reach the area. All the same, the region boasts exclusivity and a raw rarely seen untouched part of Nepal few get to experience.
Arranging a Mundum trek
Local qualified guides are the best option to visit the official Mundum trek. It is a new trek so many other guides may not be aware of it. In fact, you may find it hard to find a guide and if you do they may well charge a premium rate. Be careful of online tour operators trying to make out that they cover the trek. It is a remote area and package tours are rare. As per usual, booking this trek online through an international agency can be significantly more expensive than booking in person when in Nepal or when dealing with a local guide.
Package tours bought online
Package tours bought online for Mundum are generally geared towards camping "expeditions to nearby areas". There will be a hard sell to visit the other areas which may encompass a little of Mundum. These treks are separate. The exception here is if you want to include places like Haleshi Mahadev in your itinerary. See my guidebook to Nepal for more on Haleshi.
Package tours will include transport, food, porters, accommodation (including tents) and permits.
Pro's include that everything is done for you ahead of time.
Con's include you don't know who your guide will be and you'll be paying a lot more than getting everything done through a local guide. Extended Mundum treks can take you to Haleshi Mahadev and Ilam.
Package tours bought in Nepal
If you have a couple of days in Nepal when you arrive then you will have a little less difficulty arranging a package trek along the Mundum route yourself. Do as much research as you can. Print temporary maps. Shop around and don't get swayed by the typical talk of places names, mountain names or villages en route - most guides in Kathmandu will not know the area. You will need due diligence to find one that has trekked here before and knows the area.
With package treks it's important to know what's included, meet your guide before going and feel comfortable with both the agency and guide.
Make sure that everyone on all sides knows what's included in the total price. Accommodation (including your tents), permits, bus fees (or plane tickets), meals etc. Flights come from Kathmandu to Bhojpur (where the trek ends or starts depending on your itinerary). If taking a bus then the official trail starts at Diktel.
Quite often trekking package tours are broken up into different categories so again be cautious about what you expect in return. Higher priced categories will include everything with offers of high end accommodation (something that doesn't exist in Mundum yet), while lower priced package tours might not include accommodation or tents. Again, do ask to see everything in writing before committing to a package trek to Mundum.
Pro's here include actually meeting with your guide before going, being able to ask questions in person to the agency or guide and it's very much cheaper than online booking.
Con's include listening to random trekking agents talk about the Mundum as if they know it like the back of their hands but probably don't know much about as it at all as it is so new and far away. They may well make some phone calls in between the bragging. This is a sales technique used in Nepal to make every trek sound like they know it well. In actual fact they are calling a friend who might know more about it than they do for answers.
Hiring a Mundum guide yourself
With this trek being so new you can save on costs and get a better local experience by hiring an independent guide who has been before rather than a package tour. The costs come down but you will need to ask more questions with the guide. Most have smart phones these days and will be able to show you what they've done on previous Mundum treks. Or, will have references.
For this option you'll still have to bargain for a good price. The "package" trek is a guides favorite to new areas. But the truth of the matter is accommodation and meals are cheaper if you pay for them yourself. The issue will be the language barrier and the fact you will still need to hire tents. Hiring a more friendly guide will really help you for budget treks in this regard.
Pro's include a generally cheaper trek with more independence in your favor.
Con's include having to bargain for your own rooms in places with limited English. Again, making both you and your guide understand what you are looking for from the start will help. Considering this is a very new trek, this option really should be taken if you have some experience in Nepal e.g. hiring tents, booking equipment. If not, then it will probably end up costing you more than a local package trek.
Independently trekking Mundum yourself
In March 2023 Nepal Tourism Board banned solo trekking in Nepal. You now need to have a guide with you. However, the Mundum trek has no checkpoints as of yet. That doesn't mean you should trek alone as this trek is only available if you have a high level of prior trekking experience in Nepal. Keep in mind that the Mundum trek is not a well marked trail. Newly painted trail signs or posts will wash away until more permanent ones are put in place by the community. Camping is required as will carrying your own equipment. There are no precise trekking maps to Mundum yet, only rough trail maps. It is not advisable for first time trekkers or trekkers who have never independently trekked before to start with this trail.
Pro's of independent trekking in Mundum include independence and not having to spend money on a guide.
Con's include having to get your own permits, camping equipment and even food for camping. You'll be more vulnerable to getting lost on this new trail, accidents, sickness and being alone in a remote area in the mountains. Prior experience is preferable.
If you are looking for a guide for the Mundum trek I recommend you read my article on How to find a trekking guide in Nepal. Alternatively use my Find a Trekking Guide Service.
---
---
The Mundum is low altitude an in the Eastern part of Nepal's middle belt so cold conditions are rare. However rainfall can be an issue in the summer months. See the temperature and precipitate chart below for more details.

| | Avg. Temperature (°C) | Avg. Temperature (°F) | Precipitation / Rainfall (mm) |
| --- | --- | --- | --- |
| January | 9.5 | 49.1 | 17 |
| February | 11.2 | 52.2 | 15 |
| March | 15.3 | 59.5 | 40 |
| April | 18.6 | 65.5 | 69 |
| May | 19.8 | 67.6 | 156 |
| June | 21.3 | 70.3 | 308 |
| July | 21.4 | 70.5 | 412 |
| August | 21.3 | 70.3 | 349 |
| September | 20.4 | 68.7 | 245 |
| October | 18.3 | 64.9 | 84 |
| November | 14.3 | 57.7 | 14 |
| December | 10.8 | 51.4 | 8 |
As you may notice the temperatures on the Mundum trek are higher than many other treks in Nepal which is great for those who don't like the cold. It is however important to note that they are average temperatures. See the chart below for both highs and lows.
Due to being a low altitude trek be wary of cloud cover in February and March when people often like to go trekking. It may well be feasible to trek Mundum in the winter, so long as snow is not forecast and the skies remain clear as visibility on the Mundum trek can be great at that time of year.
Mundum Trek Annual Temperature Chart
Peak trekking seasons continue to offer the best experiences. Mundum is a lush area so Spring highlights the fauna of the area. While in the later months more arid and rugged landscapes can be had. Monsoon season should be avoided due to road and mountain conditions in Eastern Nepal. The following months are suggested as a guide for preferred times of the year to do the Mundum trek.
Best weather months for the Mundum Trek
Mid Sept-October - November/(early)December: this is Nepal's peak and best time to go trekking.
February-March-April: this is the end of the dry season and the second best time of year to go trekking. If there are still heavy rains then extreme caution should be advised.
November/December to January/February: the skies are clear but it can get very cold there is also a risk of heavy snow and harsh conditions in the winter so strong caution is advised.
May - June: This is Nepal's hot pre-monsoon season and it can get very warm indeed. The valleys however are starting to bloom with flowers. If there are rains inbound (ask your guide), exercise caution about traveling to this area.
June - Mid September: this is Monsoon season and the least popular time to go trekking in Nepal. The risk of leeches, downpours, landslides and roads being washed away increases greatly. It is not recommended to go at this time of the year.
For more details please see my guide on the best time of year to go trekking in Nepal
---
---
As of January 2018 Trekking permits and/or National Park Permits are not needed for the Mundum trek. TIMS Cards (Tourism Information Management System) are also not required. Authorities have said no permits or TIMs will be required for up to 3 years in order to help promote the new trek. Be wary of any online sites or trekking agents trying to include permits charges.
---
---
If you are on a package trek tour then your agency or guide will give you a list of things to bring on your trek. Sleeping bags and tents are probably some of the items you will need to talk to them about in regards to the time of year you are going (wet temperatures and warm days).
If taking a trek along the Mundum trail in Nepal you'll need the following:
Camping gear will be one of your more difficult decisions to make depending on who you go with. Tents are needed for several nights on the official Mundum trek. Sleeping bags are also needed. So too are cooking facilities for your camping nights. All of these can be arranged through a guide or agency.
However, you may not know the standard of tent or sleeping bag provided. Ask them to send you photos of these before you go. It will depend on the time of year in regards to clothing and other equipment. However no technical climbing equipment is needed. The following are necessities:
A good pair of hiking boots
A wind cheater style jacket or rain jacket
Long sleeve shirts
Trekking pants
Shorts
Socks
Rubber sandals
Tent
Sleeping bag
Light cooking equipment
Water bottles
Water purification system
Map
Sunscreen
Lip balm
Washing powder
Wet wipes
Toiletries
Sunglasses
Please note the above is a very basic list. Your guide should provide you with a personalized list specific to your trek. For a more comprehensive overall list please see my article on trekking equipment you need for Nepal.
---
---
In terms of trekking terrain there are no technical aspects needed. There is no vertical climbing or very high altitude passes involved though going up Silichung will require a little more effort.
Mundum trails are not paved at all. Aside from wild grass mountain sides the ridges on this trail are rough, rocky with gravel strewn like debris.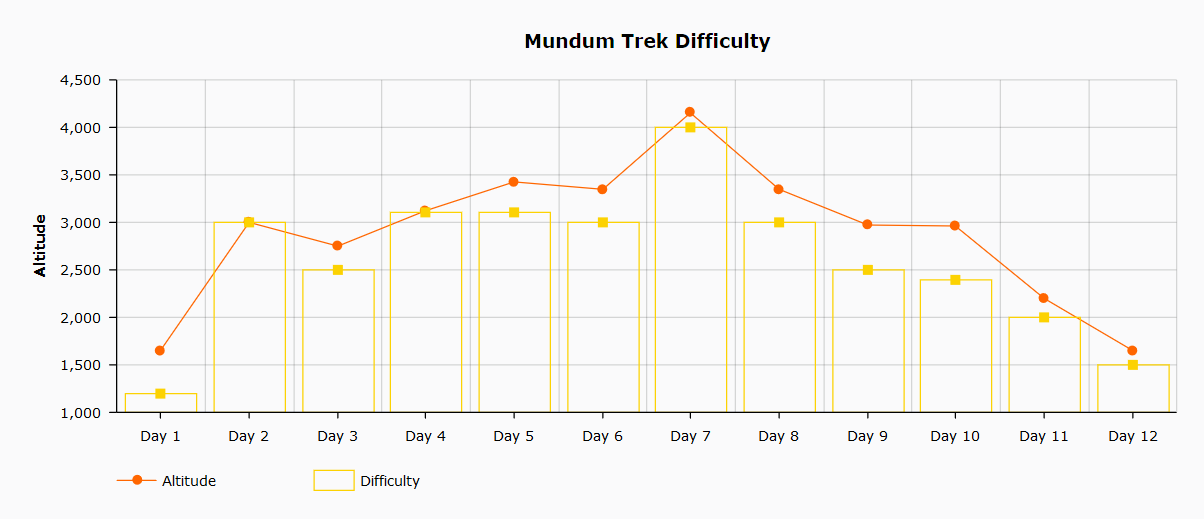 In terms of trekking, then the Mundum trek in Nepal usually requires several hours of both up and downhill trekking on rough terrain. Most days include 4-5 hours of slow hiking. Keep in mind the entire Mundum trek is about 11-12 days and covers about 88 kilometers. The near 10 hour bus journey to Diktel is tiring itself.
If you plan to trek for 12 full days, then ask yourself can you currently walk 6 hours a day?
There is no sudden steep or highly elevated paths on the trail. But loose soil and gravel like rocks could give people with knee issues a problem. Trekking poles are very helpful in this regard.
---
---
While not a physical or technically challenging trek, you will still need a good level of fitness. While there is no direct climbing involved however it is a new relatively unmapped trek with very limited facilities.
You will need to trek over some rocky ridges and open exposed areas. Food items are basic on this trek with Dal Bhat being the main source of diet for trekkers. Hygiene is also relatively low on this trek so ensure you bring enough of your own sanitation products. Electricity is not available in many parts of this trek, so battery back ups if needed should be brought.
This is not a high altitude trek, however altitudes of over 3,500 meters are common and the highest point is 4,153 meters so it's pertinent to see a doctor before you go for a check-up and to talk about dealing with altitude sickness.
One of the great things about the Mundum trail is you could cut it short by dropping Bhojpur to Taksar or make things easier by adding a few days to the trek.
Altitude sickness is not really a problem on the Mundum trek as you won't be at very high altitudes for long periods. You will be trekking at different altitudes though so as a precaution do read about altitude sickness in Nepal.
Not many people have done the Mundum trek so you will be one of the first to experience it. In the peak season there's little to worry about in terms of extreme cold or extreme weather.
---
---
The food is quite basic. Dal Bhat is the staple followed by basic pasta and occasional chop suey. It's wholesome food. However it's remote food so do keep an eye on sanitary conditions e.g., clean eating and cooking areas.
This is a plate of typical Dal Bhat on the Mundum trek - rice, potato curry, fresh vegetables and lentil soup
If you are used to Nepali food and drink the local beer, Chhang is usually a favorite in this region. Other than that most of fresh produce is farmed in the area.
Remember that you will be burning a lot of calories on this trek and you'll need to pack some food for yourself in areas where you'll be camping.
| Item | Price |
| --- | --- |
| Porridge with milk | 300-600 Rupees |
| Fried eggs (2) | 250-450 Rupees |
| Cheese Omelet | 400-450 Rupees |
| Dal Bhat (Meat) | 500-1000 Rupees |
| Dal Bhat (Veg) | 400-800 Rupees |
| Boiled Potatoes | 250-300 Rupees |
| Fried Noodles (Veg) | 250-350 Rupees |
| Tea/Coffee | 50/100Rupees |
| Tea/Coffee | 30/60Rupees |
| 1 liter beer | 600+ Rupees |
| Soft Drinks (Coke, Sprite etc.) | 120-150 Rupees |
| 1 liter boiled water (for filtering) | 40 Rupees |
Chocolates, sodas and other treats are not readily available on the trek. Bring your own!
Bottled water is not readily available on this trek. You should bring your own water filtration system.
---
---
Basic is the best answer. Expect shared bathrooms and thin foam mattresses. Accommodation will improve as the trek becomes more popular. A foam roll up yoga style mat can help with hard beds and when camping.
Accommodation is not likely to fill up due to the treks remoteness. Forget booking in advance. Ear plugs can help with early mornings or in case you have a snoring neighbor. Wet wipes for the bathroom are a necessity for most. Otherwise it's a bucket of water and squat toilets.
Running hot water is not available in taps. Buckets of hot water are available.
During the colder months indoor fires are commonplace and often located in common areas or in a kitchen on the coldest of nights.
Read more and see what trekking accommodation is like in Nepal.
---
---
Costing for the Mundum trek is difficult as it is based on many factors.
Firstly, from January 2018 there will be up to a 3 years grace period where no National Park Fees, permits or TIMs needed. After that, there most likely will be additional charges.
Any package tour bought overseas will be the most expensive for those looking for a guide. Package tours for Mundum arranged within Nepal are next in terms of expense (however, they are probably the most convenient). Hiring a guide alone will still mean you'll need to arrange for tents, equipment and a porter. Going it alone is the cheapest option but not recommended unless you have a lot of experience in Nepal as this is a new trek.
Online package tours of around 12 days can cost up to USD$2,000+ pp. Not including water. This does include a guide, accommodation, camping equipment flights and meals. Personally speaking, I don't think these types of packages are good value. Some reach up to $5,000 for an Ilam tour and Haleshi tour to be included. Many have 2 people minimum restrictions.
In country package tours for 12 days can cost $1,800. This includes a guide, bus, meals and accommodation. This can be reduced to $1,200 if you opt for bus transportation only.
Guide only services can cost from $27 to $50 per day. Just remember, for this new trek you should really hire a guide who knows the area. Hence they may charge more (for their experience).
If you are looking for a guide for the Mundum trek I recommend you read my article on How to find a trekking guide in Nepal or use my Find a Guide Service.
Like many treks having two or more people traveling together can reduce the cost. This is especially true if you are hiring a local guide. Something to consider if budget is an issue. However the cost of renting camping equipment will increase the treks cost again.
Porter fees are roughly $20 per day. In this area it may be possible to hire an even cheaper porter but the chances are they will not be registered and you may be liable for them.
An average 12 day Mundum trek breakdown of costs
| | |
| --- | --- |
| Item | Cost USD $ |
| Permits (ACAP, TIMS) | 0 |
| Guide x 12 days | 324 |
| Porter x 12 days | 240 |
| Accommodation x 12 (shared) | 36 |
| Meals 3x12 | 180 |
| Water 4 liters a day (boiled) | 24 |
| Transport (bus-RTN) | 40 |
| Camping Equipment | 50 |
| Total | 894 |
The cost of an average teahouse with shared bathroom is 200 rupees in the off season and 250-300 in peak.
The cost of a plate of Dal Bhat starts at around 300 rupees and climbs to 500 rupees.
It's worth noting that because this is a new trek, there may be pricing issues and expectations. Always ask the price of something before ordering. If you don't, you may be overcharged and there's nothing you can do about it but pay. This means if you paid 20 rupees for tea in the morning, ask again at lunch time in the new lodge. Otherwise it may cost you 200 rupees. Always ask the price before agreeing to buy.
In an area like this which requires a tent, many people will consider a porter to help them. It should be noted that porters are not guides and cannot be used as such legally in Nepal.
Most importantly don't forget to include your travel insurance in your budget. And be aware that many policies don't include trekking above 4000 meters so opt for an insurance policy for treks up to 4,500 or 5,00 meters to make sure you are covered on the Mundum trail. Here is my recommendation for travel insurance when in Nepal.
---
---
There is an official set route on the Mundum trek. The official TAAN recognized trail follows the following route. Do note that the official trail takes into account acclimatization. You can reduce the trek by 2 days at the end.
Here is official Mundum trek route:
Day
Route
Distance/time (km)
Highest Altitude
1
Kathmandu to Diktel
265 km (bus/trek) (10-12 hours avg)
1,650 m
2
Diktel to Chakhewa (2300m) (side trek to Temke 3000m)
48 km (6+ hours avg)
3,000 m
3
Chakhewa to Dhotre
(5+ hours avg)
2,752 m
4
Dhotre to Maiyung (

*

camping)
(6 hours avg)
3,122 m
5
Maiyung to Rawadhap (

*

camping)
(6 hours avg)
3,426 m
6
Rawadhap 3,426 m - Salpa Bhanjyang 3,348 m

(7 hours avg)
3,348 m
7
Salpa Bhanjyang 3348m - climb Silichung - Salpa Bhanjyang

(4 hours avg)
4,153 m
8
Salpa Bhanjyang 3348m - Hyakule 2972m (

*

camping)

(6 hours avg)
3,348m -
9
Hyakule 2972 m - Hanspokhari 2962 m (

*

camping)

(6 hours avg)
2,972 m
10
Hanspokhari 2962 m - Bhojpur 1600 m

(6 hours avg)
2,962 m
11
Bhojpur - Taksar (optional)

12
Bhojpur - KTM (Bus, or flight)

* Camping Currently there are only camping options in these areas. Local communities plan to build more trekking accommodation but it will depend on income coming in from trekkers.
Mundum can be shortened by a day by eliminating day 11's Taksar side trek. While bus travel is very possible, a flight will be less tiring.
If you just arrived at this page then do take some time to explore more treks in Nepal and practical guides on how to do them:
---
---
The Mundum Trek is one of many treks in Nepal. It's a brand new trek that has no crowds, explores a rarely visited area in far east Nepal with over 30 Himalayan peaks and has unique cultures to discover.
For alternative treks from short to medium and long, do read my list of treks in Nepal which is continually being added too based on popularity or request.
If looking for a trekking guide I recommend you read my article on
How to find a trekking guide in Nepal
.
Check out my list of trekking tours to Nepal.
---
Are you ready to trek in Nepal? If so, then you'll love my trekking books!
---
These guidebooks are a hands on trekking guidebooks that are better than the rest. Yes, really!
The books contain day-by-day guides with accuracy using scalable maps, photographs and travel-tested up-to-date trekking information. Just like my other guidebooks these have been proven to be the best interactive, or paperback guidebooks to Nepal available anywhere today.
So what are you waiting for? Get your hands on these guidebooks and start trekking in Nepal today!
---
Was this page helpful to you? If so please tell others!