There's so much information out there about adventure tours in Nepal it's hard to know who's tell the truth or what to believe. Right now, let's get you started with working it all out, easily.
Nepal is a tourist friendly adventure destination. It appeals to those who love the great outdoors. From trekking mountains, to search for wild animals, paragliding and bungy jumping Nepal is indeed a land of adventure.
With all this adventure and tourism come not just dozens but hundreds of companies trying to cash in on your money.
Not all of them are bad. Some are even a great option. But some really do rip you off. Let's work out the best choices of Adventure Tours in Nepal, for you.

Trekking adventure tours tours are probably the most popular in Nepal. It's very important you know what you are paying for. Always make sure permits, domestic flights and your guides insurance is included.
With all the above adventure trekking tours you'll get a good idea of what to expect and the costs involved. Where are the other big treks?
Well that's one of the trade secrets to online trekking tours. The big companies don't make enough numbers to offer other treks and turn a high profit. So, they'll either over charge for them or not advertise them at all. I don't like that as local guides still offer them at very reasonable rates.Again, do check out my list of treks in Nepal.
To help you along, if you really want the online option, I've written up a dedicated page on more trekking tours in Nepal.
---
---
The second most popular adventure tour in Nepal is a jungle adventure tour. Most online jungle adventures are good value for money. In country it's better to go in person than book through an agency. 90% of the jungle adventure tours are to Chitwan.
Bardia National Park is much more remote than Chitwan but does offer a far less touristy jungle experience. Avoid booking online as the prices are insane. If you'd like to know my local guides details you can contact me. Though I'd prefer it if you bought one of my Nepal guidebooks first!
» Discover more Bardia National Park
With all the above adventure jungle tours you get a good service in a good resort. The trick is to avoid booking via your hotel in Nepal. You'll only be sent to a place that happens to be a "friends" resort. If you want to avoid this, just pick your own.
The easiest way is via recommended resorts in my guidebook to Nepal or guidebook to Chitwan and guidebook to Bardia. Just look them up and give them a call - you'll skip the middle men that way!
---
---
The weather is warm and sunny during the day so bring trekking shorts, but not short shorts which would be deemed inappropriate culturally.
90% of the jungle adventure tours are to Chitwan.
Kathmandu Heritage tours often lack a in-depth knowledge beyond the basics. Keep in mind most of the heritage is Newari, so do ask if they know about Newar cultures. Most guides will be Hindu and not know much about Newar heritagfe.
» Discover more Kathmandu city guide
Kathmandu Valley adventure tours offer more bang for your buck, just make sure they include entrance tickets (most don't - so factor that into your cost).
» Discover more Kathmandu Valley Heritage Walks Book
If you are in Kathmandu already then you might think that hiring a local guide will be your cheapest option. It might well be. However many "local" guides are not qualified and simply ream off a few paragraphs they memorized from a guide book.
Do be careful with street guides that approach you. These days many illigal narcotics and have been known to cheat tourists by any means nessessary.
Do be careful when hiring any guide hanging around ticket offices for the above reasons.
Honestly speaking you are better doing a Do It Yourself style heritage tour. The reason being is that everything is walkable and far more affordable. Check out my free DIY heritage tours in Kathmandu. Or, better yet get by book in digital or print Kathmandu Valley Heritage Walks.
Heritage Adventure tours by car in Nepal are usually a let down. The only real reason to take one is if you don't have time. Be very careful of cheaply priced heritage tours - there's usually a horrible catch to them - many take you on a tour of their friends souvenir shops or give you a sob story for a big tip.
Help yourself out by working out the entrance cost and taxi cost from a good guidebook then add on a daily rate. You'll soon work out yourself if something is priced too low. Finally, do see my Kathmandu Valley Heritage Walks book for the very bestin hertitage.
---
---
It totally depends on your needs. If you have little time to book things yourself, then yes unless you are stuck for cash. If you have time, then no.
Buying online trekking adventure tours
Budget trekkers really need to be careful about some online treks with low prices. Most of these type of treks are run by big international groups who offer low prices - but there's a catch. You'll be bundled into a large group and placed on fixed dates.
Some also have hidden extras. Once you put in your dates, the price changes from the original price.
Likewise hiring a local guide can have it's pitfalls too. No qualifications, lack of experience etc. Do read my guide on how to hire a trekking guide.
Buying online heritage and jungle tours
I am very wary of heritage tours offering low prices. They are simply scams. Stay clear. A typical full day heritage tour should cost around $100. Anything you see for under $60 is a scam. The cost of a private car rental for the day is a $50 alone. So you can work it out.
Jungle tours are generally okay. But you will find cheaper in person. Be wary of hoteliers offering jungle tours, many are simply relations or friends of the owner.
---
---
If you are still thinking about buying from a big international company then do be aware that most are based outside of Nepal and no matter what their advertising states, profits stay outside of Nepal.
In terms of booking safely, trekking safety and enjoyability? Yes international adventure tour companies have a good track record. Though it is a bit of a "branded tour". You'll be sticking to their schedule no matter what. Unlike a local guide.
Many big companies say they support local guides and some do. But with local wages while their "admin" staff get international salaries. It's all a bit low.
In all cases it's really important that you read about getting proper travel insurance for Nepal.
---
---
Nobody said booking and adventure tour in Nepal would be easy. Even with all the tips in the world you'll still have to go through a lot, make a decision and even bargain with a local.
It's time consuming, there's an air of uncertainty and one is never sure about being cheated or not.
To avoid all the hassles there are two options.
1) get a good guidebook to Nepal that has most of the answers written out for you
2) use a Nepal travel planning service
---
Get the Best Nepal Guidebook
---
Without question you can use this website to plan out your trip to Nepal for free. The above map is just one of over 100 from my Nepal guidebook. There's is however a big difference in using a website and having a dedicated guidebook.
When I first came to Nepal 10+ years ago I was very disappointed with the big brand guidebooks on offer. So, I set about writing my own. It's is far better! Check out the details below and you'll see why, I promise.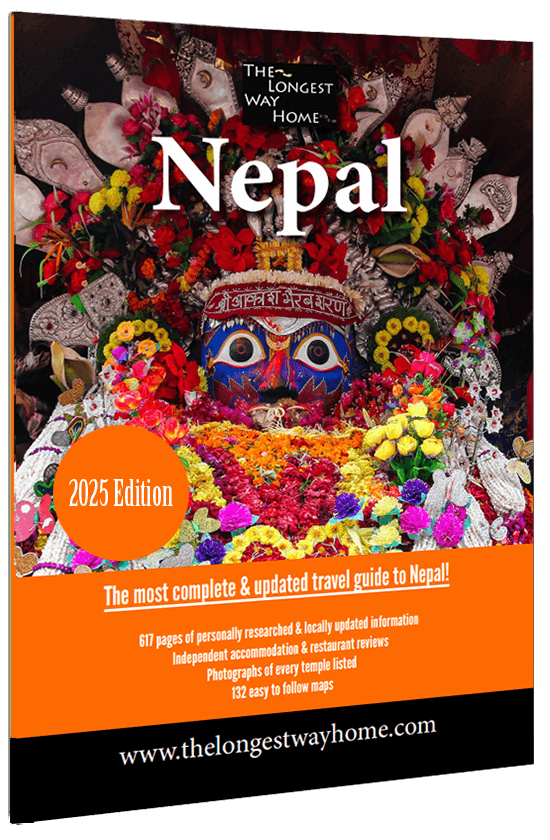 ---
Was this page helpful to you? If so please tell others!