---
Once you pass through the Golden Gate you'll find the Taleju temple in a courtyard to your left. There will be guards outside the main doorway. The temple was virtually untouched during the 2015 earthquake with all the shrines inside intact.
However, it was not completed until 1754 during the reign of Jaya Ranjit Malla, who was the last of the Bhaktapur Malla kings. Today the 55 Window Palace still stands as Bhaktapur's Royal Palace on ceremonial occasions.
It is still prohibited for any non-Hindu to enter the Taleju temple or for anyone to take photographs inside. The guards are so protective of it you probably won't even be able to take a photograph of the courtyard. There is more to see in the outer area so do read on! You can also look inside the main temple compound from the doorway.
No leather, shoes, hats or cameras are allowed inside the Taleju temple.
Did you know?
The Taleju is the goddess of the Malla royal family. There are three Taleju temples in the Kathmandu Valley, one in Bhaktapur, Patan and the largest in Kathmandu.
---
The Taleju temple was built in the 14th century and is the oldest part of Bhaktapur's Royal Palace. Although non-Hindus are not allowed inside everyone else can look through the guarded doorway. This is a lot more than the Taleju Temple in Kathmandu which only allows people in once a year!
The main shrine is to the left while to the rights old fresco paintings. Interestingly the stone guardian statues are Tibetan looking and may have been brought here separately.
Today Taleju is no more than a cult goddess. However she remains the goddess of the Malla royal family. Before you leave do not forget to visit the royal bath Naga Pokhari via the entrance at the rear of Mul Chowk as it is one of the highlights of the area.
---
---
There is no fee to see the Taleju Temple in Bhaktapur as it's covered under the main Durbar Square ticket. However only Hindus are allowed enter.
Do note that it is not possible to visit inside the 55 Window Palace however the Taleju temple is often refered to as being "inside" the 55 Window Palace.
---
---
Liked this page? You'll love my book! It's a guidebook that's better than the rest. Yes, really! In it I cover all of Bhaktapur's attractions with well researched information, photographs and travel tested walking tours.
It's an interactive & printable guidebook like no other.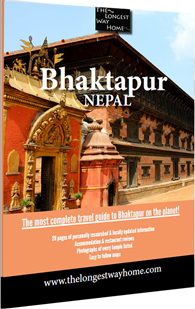 Find out more!
Looking for more? Try my
Nepal Guidebook
, or for heritage lovers my
Kathmandu Valley Heritage Walks
---
Was this page helpful to you? If so please tell others!