---
Broken your old camera or suddenly decided Nepal is so beautiful you want to buy a better camera? What ever the reason you need a new camera you'll be pleased to know that Kathmandu has plenty of camera stores. However, you must be careful before buying.
Kathmandu is not the easiest place to buy a new camera if you don't know much about cameras. Save money and do a little research first. Keep in mind that Nepal is a bargaining country so you'll need to bargain for a price no matter what..
The camera salesmen in Kathmandu will know straight away if you know much about cameras or not. If you don't then the price will go up. If you look like a professional photographer the price will also go up. So, go into any shop armed with information but not with a camera swinging off your neck.
---
There are two main areas to find most of the camera stores in Kathmandu. Thamel and New Road (near Kathmandu Durbar Square). Both have there advantages and disadvantages.
Camera Stores in Thamel:
Thamel is the main tourist hub in Kathmandu and probably the first place that you'll see camera stores. Most sell everything from compact cameras to high end DSLRs. Nearly all the stores sell at the same price. The only difference will be how well you can bargain or like the sales person.
Camera Mart and Thamel Photo Zone are located just down from Narshing Chowk in Thamel. They are practically identical in what they sell. DSLR's, tripods and compacts.
There are another three camera stores located on the street parallel to Thamel chowk. One opposite Kathmandu Guest House and the other two down the road past Hot Breads Bakery. Again, most are identical to what they sell.
Pro's of buying a camera in Thamel:
Nearby tourist hub
Several stores in one central location
Con's of buying in Thamel
Prices start high
Choices sometimes low
Camera Stores along New Road:
Most "insiders" will tell you New Road is the best place to buy a camera. In some ways they are correct as that's where most locals buy cameras. There's also a good choice of shops there too.
The Canon Store is not an official outlet of Canon no matter what people say. It's a reseller called New Camera Home that's one of the oldest there. Prices are about the same as Thamel but they have a good range of DSLRs in stock.
Nikon, Sony and Olympus camera buyers will have equal choices on all the stores either side of the Canon store on New Road. ornate brass roof. The inner shrine is open most mornings but by the afternoon is often locked up. The stone statue of Ganesh sits surrounded by a gilded arch.
Pro's of buying a camera in New Road:
Single row of 5-7 camera stores
Good range of cameras
Con's of buying in New Road:
Prices start high
Customer service can be low
---
---
There were rumors many years ago that there were fake cameras and camera equipment in Kathmandu. The truth is less worrying but you do need to watch out for somethings.
DSLRs are all real. Copying a Canon, Nikon, Sony or Olympus is not cheap so it's extremely rare to find a fake DSLR. You might find a new camera that's not so new or a strange Chinese named camera but that's about it.
Branded compact cameras are generally real. However do be very careful about buying a too good to be true priced camera from an unknown brand. Cheap Chinese and Indian cameras are often pushed for sales.
Memory cards are often either fake or not good quality. This applies to all the stores in Kathmandu. There's not much you can do here other than take many photos (in fast succession) with the card in store and if you get any errors,don't buy it.
Batteries are also a huge problem in Kathmandu. Nearly all AA batteries are fake. Generally speaking compact and DSLR camera batteries are okay. But do check packaging and look out for cheap quality.
Tripods, camera bags and equipment. Most camera equipment is unbranded and comes from either China or India. Do test out all the equipment personally. Tripods might have loose fittings and bags may have bad stitching.
---
---
If you've run into camera problems in Nepal then you'll probably want to get it repaired as soon as possible so you won't miss out on those precious memories.
There's a very simple answer here. All the above camera stores and locations will repair your camera. All can also expedite your repair. Do keep in mind these are local repairs and not official repairs so any warranties you may have will be void.
The catch in all this is that most of these camera stores all use the same repair facility. It's run by one man, Kiran Shrestha, for the past 20 years and his small team. The store has no name, but it's know as the Camera Repair Shop (01-4417771/985-1093993). It's located on Leknath Marg in North Thamel. Follow Thamel Marg all the way to the top until you get to the main road, then take a right. It's about three stores down (beside Makalu Tailors) on the right at the back of a small indoor parking garage. You can read more here about where to get your camera repaired in Kathmandu.
---
Get the Best Guidebook to Nepal
---
500+ pages of premium content for only about $20. That's a tiny investment for big savings and exclusive premium guides that will show you places in Nepal no other book does! That's a guarantee!
Check out the details below and you'll see why, this is better than any other guidebook, I promise.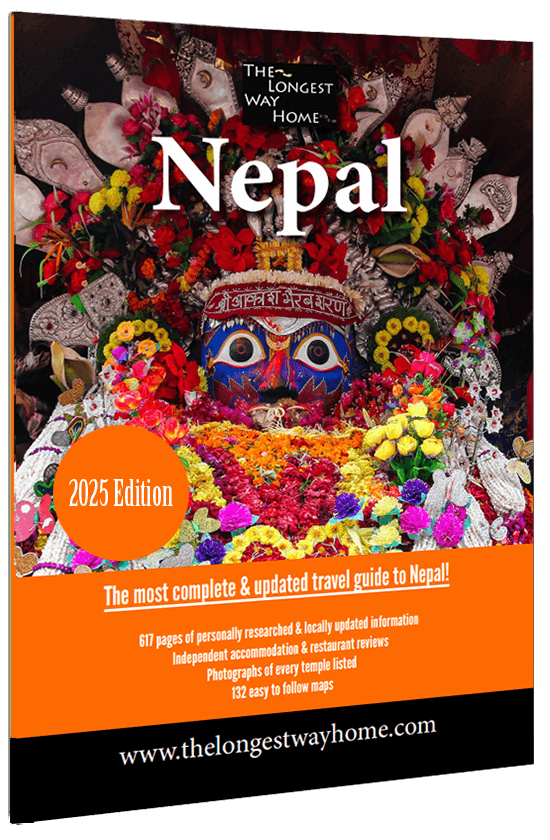 ---
Was this page helpful to you? If so please tell others!