---
The Langtang Gosainkunda trek or Langtang Gosainkund trek is a 14-16 day trek north of Kathmandu in an area that borders Tibet. It is essentially an extension of the Langtang Valley trek which brings you back to Kathmandu through the Helambu region of Langtang.
Over the past few year the advent of new dirt roads and indeed sealed roads has brought a number of Langtang treks much closer to Kathmandu. What was once a camping trek now has many lodges. Moreover the Helambu region is now easily added on. Indeed the itinerary we'll cover on this page is essentially the Langtang Gosainkunda Helambu route.
Gosainkunda can also be considered a trek in itself. However it is steep and tough if you do it as a solitary trek. The preferred option that also allows time to acclimatize is to do the trek after the Langtang Valley Trek. Hence it is called the Langtang Gosainkunda trek.
Trekkers on top of Kyanjin Ri one of the highlights from the Langtang Valley part of the trek
The highest pass on the Langtang Gosainkunda trek is 4610m but you'll also be trekking at 4380 m across the Gosainkunda lake area. Coupled with the Langtang look outpoints of Kyanjin Ri (4300m) and or Tserko Ri (4984m) the entire trek is more challenging than just the Langtang Valley alone.
The maps on this page are not to be used as physical trekking maps - they are here only to show the rough outline and region of a trek. There is a GPX trail which is accurate however do note that trails in Nepal can change yearly due to weather, environmental changes etc.
Trek Overview
| | |
| --- | --- |
| Difficulty: Moderate | Days: 14-17 |
| Max Altitude: 4,610m | Distance: 132 km (82 mi) |
| Accommodation: Lodge / Hotel | |
Distance shown is a return trek, the final distance will depend on side treks, extra days taken etc.. Acclimatization days should always be adhered to. You should assess your own fitness levels and assess each treks difficulty level yourself before trekking.
A fully detailed guide to the Langtang Gosainkunda trek with more details is below
.
Honesty counts!
Every travel guide on this site has always been 100% independent, unbiased & honest. I do not accept sponsorships, free treks or tours. I do not own a trekking company or business in Nepal. I pay my own way & in turn write
authentic guidebooks to Nepal
. Rest assured, this is a genuine travel guide that you can trust.
Trekking guides are now mandatory in Nepal:
In March 2023 Nepal Tourism Board announced that all trekkers (solo, couples, groups, etc.) must have a licensed trekking guide from a registered trekking company if they want to trek in Nepal. Freelance trekking guides are also no longer permitted and only guides registered to trekking companies are allowed. The ruling is controversial in many aspects. There are likely to be changes to this ruling over the coming months and indeed years. However, the reality is that you now need a trekking guide to do this trek. Find a registered guide in my
Trekking in Nepal Guidebook
or use my
Find a Nepal Trekking Guide Service
.
---
The Langtang Gosainkunda trek is in Langtang National Park located north of Kathmandu in the Langtang region of Nepal's central development region that shares a border with Tibet and also passes through Shivapuri National Park. The start of the trek is reached by a new road from Kathmandu in about 6 hours (depending on the time of year).
It is also possible to do the Langtang Gosainkund trek in reverse which may mean a shorter drive to the start of the trek but is not recommended due to the altitude increase trekkers will experience. A better option is to start from Dhunche or Syabrubesi.
The Langtang area of the Langtang Gosainkunda trek was severely damaged in the 2015 earthquake. Landslides remain an issue in the monsoon season and it recommended that your trek this region only during peak seasons. A second reason is due to the cloud cover the valley often experiences during the off peak seasons.
On the Gosainkunda side it used to be popular to camp here. However these days there are ample teahouses which have been built up along the area and camping is becoming quite rare.
Buses or jeeps will take you to the trail head in the village of Syabrubesi where can start your trek. You follow alongside the Langtang Khola (river) staying in pleasant tea houses and lodges. The trail at this point is obvious and continues into forests.
The Langtang Valley part of the trek shows you steep mountainous valley walls with snow capped ridges. While ahead lie larger snowy mountains. Choosing a lookout point you climb to the highest altitude before returning back to a turn off leading to Gosainkunda. It's here things get tougher with a higher altitude but in return you get to experience high lakes, barren snowy passes and then descend into the Helambu area filled with culture and mountain views.
For those who want a longer trek in the Langtang region then the Langtang Gosainkunda trek is it. A fabulous combination of forests, passes, look out points and mountain views.
---
---
This map shows you the most popular Langtang Gosainkunda trekking route.
Please note this map should not be used as a practical trekking map. The Langtang Gosainkunda trekking route is available as a GPX download. Weather conditions, time of year, natural events and physical changes do happen to the trek paths. Detailed trekking maps can be obtained in Nepal at very low costs and in my own trekking in Nepal guidebook.
---
---
The Langtang Gosainkunda trek is popular among trekkers who are looking for an extended trek close to Kathmandu. The trek itself is one of the oldest trekking routes in Nepal and as such has several deviations to it as it passes though two national parks.
Highest point of the Langtang Gosainkunda trek
At 4.610 m (15,125 feet) Laurebina pass marks the highest point on the trek. However, there are several look out points you can reach on day trips from the Langtang side. These include Menchhyamsa Ri (4650m) and Tserko Ri (4984m).
The top of Langshisa La Pass
Highest sleeping point on the Langtang Gosainkunda trek
The highest sleeping point is at Gosainkunda (4380m). The lowest point of the trek is Sundarijal is 1,460 meters.
Total distance of the Langtang Gosainkunda trek
The full distance trekked on the Langtang Gosainkunda trek is about 132 km (82 miles). This includes a side trek to Kyanjin Ri, Tserko Ri and the return journey. Distances will change if you add more side treks.
How long have people been trekking the Langtang Gosainkunda route?
This area has been trekked since Nepal first opened it's doors to commercial tourism in the 1960s. The Gosainkunda lakes are sacred to Hindus have been visited for hundreds of years. While the Kyanjin Gompa is a pilgrimage site for Buddhists.
Trekkers first starting camping along the Langtang Gosainkunda trek before teahouses and later lodges started opening. Due to its proximity to Kathmandu it's been a popular route.
Is there any wildlife to see on the Langtang Gosainkunda trek?
Wildlife is found throughout Langtang National Park. Himalayan black bears, Himalayan tahr (mountain sheep), rhesus monkeys, musk deer and red pandas are frequently encountered.
What mountains can you see from the Langtang Gosainkunda?
Langtang Lirung 7,234 m (23,734 ft), Langtang Ri 7,205 m (23,638 ft), Dorje Lakpa 6,966 m (22,854 ft), Loenpo Gang 6,979 m (22,897 ft), Changbu 6,781 m (22,247 ft), Yansa Tsenji 6,690 m (21,950 ft), Kyunga Ri 6,601 m (21,657 ft), Dogpache 6,562 m (21,529 ft), Langshisha Ri 6,427 m (21,086 ft), Gangchenpo 6,387 m (20,955 ft), Morimoto 6,150 m (20,180 ft), Tsogaka 5,846 m (19,180 ft) Yala Peak 5,520 m (18,110 ft) are visible from within Langtang National Park.
---
---
Highlights of the Langtang Gosainkunda trek include:
Close to Kathmandu
Moderate trek with several viewing points of mountains
Abundant wildlife can be seen
Valley trekking
Passes to cross
Village trails
Friendly locals
Can be extended through several routes
---
---
Arranging a regular Langtang Gosainkunda trek
When searching for a trekking agency or guide do keep the above in mind. There are several starting points and mid trek routes that one could take and guides have a habit of adding a day or two where they can to boost up the cost. The good news is that treks to Langtang Gosainkunda over 15+ days are generally cheaper than other treks in Nepal.
Package treks & tours bought online
Package treks & tours to Langtang Gosainkunda bought online generally have a fixed itinerary usually for 15 days or more. Though the trek can be done in 14 days as shown on this page. Many online operators will also hide the fact they require a minimum of two people to confirm a price.
Package tours usually include food, accommodation and permits. Costs can be from USD $1200+
Pro's of a package tour to Langtang Gosainkunda include that everything is done for you ahead of time. You need to do very little organizing and there's little scope for anything to go amiss.
Con's include paying a higher than average price and you won't know who your guide will be. Many online prices have additional hidden costs, examples of this include guides transport fees, meals, your meals etc.
Package treks bought in Nepal
Those with a couple of days in Kathmandu you can easily arrange your own package trek to Langtang Gosainkunda. The downside will be listening to trekking companies and guides try to tell you why their route is better than one you asked about. Do read this page completely and take a little of what the guides say as a sales pitch to increase your days.
As always when purchasing a local trekking companies package tour it's important to know what's included.
It's important you make sure that both you and the trekking company agree on what's included in the total price. Accommodation, permits, bus fees, meals etc.
The Langtang side of the trek has new but limited accommodation. Avoid trekking agents upselling better accommodation over their competitor. Many simply stay in the same place but make it sound better. You can easily cut the cost of a local package trek by taking a bus rather than a private car.
Pro's of a local package trek tour include meeting your guide before your trek. Being able to customize your treks itinerary. Treks can start from $800 per person for a 15 day trek. Again, opting for public transport or no porter will lower the price.
Con's include having to spend a day or two visiting trekking companies who like to upsell everything.
If you'd like to take the hard work out of this before you arrive then do try my Find a Trekking Guide Service.
Hiring a local Langtang Gosainkunda Guide yourself
There are many local guides that can take you on this trek. However do note that the guide must be qualified and registered. There are many street guides with fake qualification papers so be wise. By just hiring a trekking guide you'll be paying them by a daily rate with the total minimum number of days prearranged.
You'll need to deal with tea house and lodge owners yourself when it comes to pricing and payments. Owners in this area inflate prices during the peak season.
Pro's here include a slightly cheaper trek and greater independence.
Con's include having to get your own permits and learn to bargain a price for your own room. Do remember to order your food in the same place you stay - otherwise the accommodation prices increase dramatically.
If you are looking for a guide on the Langtang Gosainkunda trek I recommend you read my article on How to find a trekking guide in Nepal.
You may save some time by using my Find a Guide Trekking Service.
Independently trekking the Langtang Gosainkunda trek yourself:
It is no longer possible to trek the Langtang Gosainkunda trek solo. In March 2023 Nepal Tourism Board banned independent trekking.
If you are looking for a guide for the Langtang trek I recommend you read my article on How to find a trekking guide in Nepal.
You may also use my Find a Guide Trekking Service.
---
---
Nepal's traditional peak seasons offer the best months for trekking within Langtang national park. It's also worth noting that Langtang Gosainkunda does get more cloud cover than other areas which not only can block views but also makes getting lost a greater reality. Monsoon season on this trek should be avoided due to the very real danger of landslides.
Langtang National Park Weather by month
Avg. Temperature
(°C)
Avg. Temperature
(°F)
Precipitation / Rainfall
(mm)
January
-0.6
30.9
14
February
0.6
33.1
16
March
4.4
39.9
27
April
7.3
45.1
23
May
9.6
49.3
25
June
11.6
52.9
93
July
12.1
53.8
182
August
11.8
53.2
176
September
10.6
51.1
92
October
7.7
45.9
35
November
3
37.4
3
December
0.7
33.3
3
Important extreme cold winds and cloud can rush in around viewpoints, passes and peaks. Budget trekkers often try to do this trek alone and often get lost if the weather turns bad. Trekking in peak seasons is recommend to avoid veering off the main trail areas.
The above weather chart will give you an idea of the average highs and lows throughout the year in Langtang National Park. However do not it does not take into account wind chill which can drive temperatures down by -10 or more.
Months with the best weather to trek Langtang Gosainkunda
Mid Sept-October - November/(early)December: Nepal's peak and best time to go trekking to the Langtang region.
February-March-April: this is the end of the dry season in Nepal and the second best time of year to go trekking to Langtang Gosainkunda. This time of year also has the added advantage of the surrounding countryside in full bloom.
December to January/February: the skies are clear but it can get very cold. passes on for Langtang Gosainkunda are likely to have snow on them.
May - June: The hot pre-monsoon season means things get uncomfortable and humid. All around Langtang Gosainkunda grasses are green and starting to bloom with flowers. It's best to go with a guide at this time of year to help you during the rains.
June - Mid September: this is Nepal's Monsoon season and the least popular time to go trekking to Langtang Gosainkunda. The risk of landslides is high and trekking is discouraged. The views are nearly always obstructed by cloud.
For more details please see my guide on the best time of year to go trekking in Nepal
---
---
If you are on a package trek or tour to Langtang Gosainkunda then your guide or trekking agency should take care of all your trekking permits for you as part of your deal. For solo and independent trekkers you'll need to arrange your own permits. Here's how you can do it.
You need three permits for the Langtang Gosainkunda Trek
Langtang National Park Permit
Trekker Information Management System (TIMS Card)
Shivapuri National Park Permit
The first two of these permits can be bought in Kathmandu at the Tourist Information Center. The offices are open between 10am - 5pm however it is better to arrive an hour or so before closing time. The Shivapuri National Park Permit can be bought in Chisapani. The current TIMS office is closed in Langtang but the permit is still officially required whether you want to chance not getting one is up to you. By purchasing one you help guides and porters get insurance.
Get the Langtang National Park Permit
An Langtang National Park Permit covers all of the Langtang National Park including all of the Langtang Gosainkunda trek.
The permit is however only valid for one entry and one exit. This means you cannot exit the part and enter it again using the same permits. For normal Langtang Gosainkunda treks this will not be an issue.
Fill out the permit form
Hand over the completed form, your passport and 2 passport photos (they are taking photographs for free at the moment but bring a set just in case)
Pay the 3,000 rupees (only payable in Nepali Rupees)
Get your Langtang National Park permit
Get the Trekker Information Management System Card (TIMS)
The Trekkers Information Management System Card (TIMS) is meant to help protect trekkers through registration checkpoints along a trek including Langtang National Park. The fees also go towards guide and porter insurance. The current TIMS office is closed in Langtang Gosainkunda but the permit is still officially required.
*
Do note that the TIMS Card is now a flat 2,000 rupees
and a trekking company is the only one that can apply for it.
Get the Shivapuri National Park Permit
At Chisapani you are technically entering Shivapuri National Park and need to pay for a permit. This can be paid for on the spot for 1000 rupees.
Both the Langtang National Park Permit and TIMS card can be used for all applicable treks within Langtang National Park until they receive an exit stamp. Once either permit have an exit stamp they cannot be used again. Do be careful about exiting the Langtang National Park and entering it again with the same permit. This is unlikely to happen on the Langtang Gosainkunda trek but once you leave it at Chisapani then you'll need to pay again if you forgot your toothbrush in Gosainkunda!
Where are permits checked?
Dhunche on the way to Syabrubesi is where the first permit check is. It is also where the army search all bags for illegal trade. Syabrubesi has another permit checkpoint. Ghoda Tabel has one more checkpoint. Kutumsang on the Gosainkunda side has a checkpoint while Chisapani is the final checkpoint where you need to pay the Shivapuri National Park fee.
Important: the checkpoint in Dhunche requires the stopping of all vehicles and the searching of all bags (including trekkers). This is to prevent the trafficking of wildlife.
---
No specialized equipment is needed for the Langtang Gosainkunda trek. However, due to the passes on the Gosainkunda side warmer clothing is needed along with a windproof jacket. As with all treks gear will depend on the time of year in regards to additional clothing and equipment. The following are usually necessities:
A pair of boots or shoes suitable for off-road walking
A wind cheater style jacket
Long sleeve shirts
Trekking pants
Shorts
Socks
Rubber sandals
Water bottles
Water purification system
Map
Sunglasses
Sunblock
Additional equipment considerations are a pair of trekking poles which can help if you have knee problems coming down hill in particular.
Regular bottled water is available along with filtered water. It is better to bring your own water filtration system and boil water. A pair of good quality heat resistant water bottles are essential for this trek. The use of a Steripen or Lifestraw (does not protect from fecal matter) is also useful though do note they do not remove viruses and all bacteria.
Please note the above is a very basic list. For a full comprehensive list please see my article on trekking equipment you need for Nepal
---
---
The Langtang Gosainkunda trek is known as a moderate to challenging trek. Altitude and several steep sections on the Gosainkunda side along with the treks duration add to this category. A lot of this will be down to your own relative fitness levels and experience. While the Langtang Valley trek is in an easy category the addition of Gosainkunda elevate it to moderate / challenging.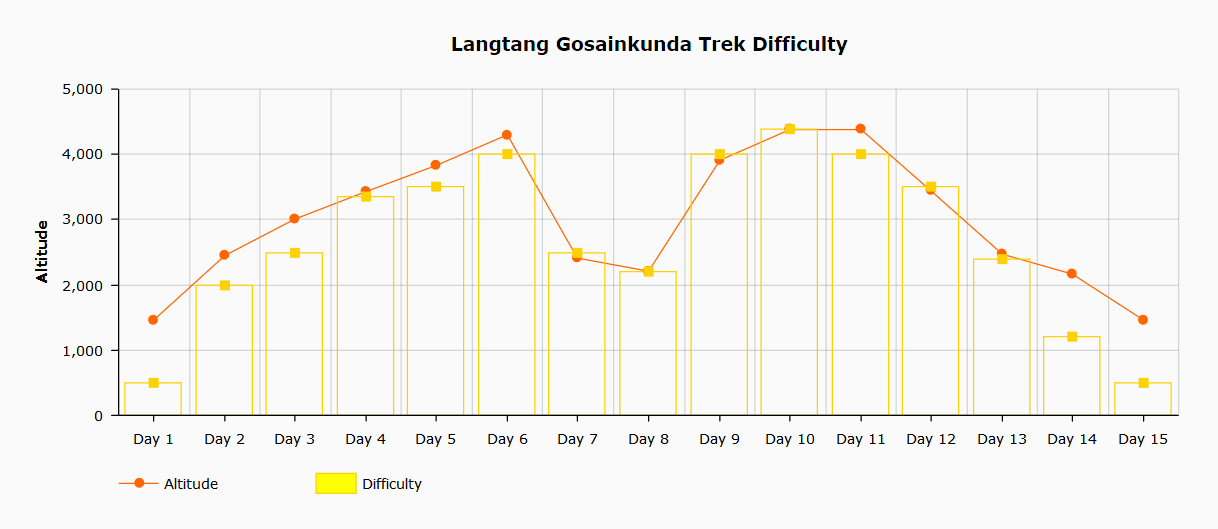 The Langtang Gosainkunda trek is made easier by starting with the Langtang Valley Trek. This way you'll have less steep terrain to cover at the beginning. Do keep in mind that the above chart follows the Langtang Gosainkunda itinerary on this page.
As per the Langtang Valley trek:
There's a steep route up to Rimche, but going slow will get you there.
There's a steep route up to Rimche, but going slow will get you there.
Day five involves several hours of alternating steep trails on the way up to Kyanjin.
Day six is likely to be your side trek to Kyanjin Ri
Day seven will be a return to Lama Hotel so it's steep all the way with some hidden inclines.
Day eight difficulty is again a decent so trekking poles at the ready.
Day nine and ten are about the hardest as you go over passes and sleep at altitude.
From days eleven on it's downhill for the most part. However do note knee strain and trekking poles can be helpful.
Crossing high passes in Gosainkunda
The hardest part of the Langtang Gosainkunda trek comes in two parts. The side treks to Kyanjin Ri is the first test of difficulty more so if you go to Tserko Ri. The second difficult patch is Laurebina to Gosainkunda trek up across and back down again. In the itinerary there will be additional rest stops mentioned in case you need to stop for the night early.
---
---
Fitness for the Langtang Gosainkunda Trek is like any other trek and relative to your fitness levels. It is considered a moderate to challenging trek. In many cases you should be able to trek 5-6 hours a day with the ability to trek steep trails.
As always I would advise anyone going trekking to see a doctor before they go for a check-up and to talk about dealing with altitude sickness.
Keeping the Langtang Gosainkunda trek to 15 days will make it a lot easier as aside from side treks you'll be resting more. Shortening it to 14 days will be make it more challenging and below that you'll be losing out on view points but it is possible if you give the lakes a passing glance and stick with the Langtang view points.
Guides and trekkers generally break the days trek up into early mornings of 3-4 hours and after lunch of 3-4 hours.
the Langtang Gosainkunda trek does include high altitude passes and sleeping. As a precaution do read about altitude sickness in Nepal.
---
---
Due its location near the Kathmandu Valley the Langtang Gosainkunda trek usually has a good supply of food. The Gosainkunda side along the high altitude areas may stick with basics.
All teahouses offer typical Nepali trekking food like Dal Bhat and various types of noodles and pancakes. You can also get chicken sizzlers at lower altitudes. Vegetarian options are available as are curries.
Bowl of stew and rice on the Langtang Gosainkunda Trek
Most of the food is either locally from the Langtang Valley or Helambu region or brought up from Kathmandu. As with all trekking routes in Nepal Dal Bhat is the staple meal on any trek. There is however a variety of pastas, pancakes, chow mien, momos and chop suey available.
| Item | Price |
| --- | --- |
| Porridge with milk | 400-450 Rupees |
| Fried eggs (2) | 200-300 Rupees |
| Cheese Omelet | 450-500 Rupees |
| Vegetable Momo | 350-400 Rupees |
| Dal Bhat (Meat) | 450-1000 Rupees |
| Dal Bhat (Veg) | 400-700 Rupees |
| Sherpa Stew | 500-800 Rupees |
| Fried Noodles (Veg) | 300-400 Rupees |
| Fried Potatoes with Cheese | 450-600 Rupees |
| Pasta with sauce | 450-600 Rupees |
| Tea/Coffee | 50/100 Rupees |
| 1 liter beer | 600+ Rupees |
| Soft Drinks (Coke, Sprite etc.) | 120-150 Rupees |
| 1 liter boiled water (for filtering) | 50 Rupees |
Please note that bottled water is available in the Langtang Gosainkunda region. However the installed water filters for local water around the Langtang region are not maintained. It's strongly advised you use your own water filtration system. Filtered water costs between 50-70 rupees - it is not boiled.
Beer, soda, coffee, tea and hot lemon are also widely available throughout the region.
Pasta with egg and veg
Chocolate, sweets, biscuits and candy bars are widely available in teahouses throughout the trek but as always do check the best before dates and be sure to ask the price before agreeing to buy as prices can fluctuate.
As with all treks in Nepal the golden rule is that you must eat in the restaurants of the tea house you stay at when trekking in Nepal. Langtang Valley is well known for seriously overcharging trekkers for accommodation if they do not eat in the teahouse where they stay. This overcharging has not yet been seen on the Gosainkunda side.
---
---
Accommodation along the Langtang Gosainkunda trek is quite good. Many teahouses and lodges have been rebuilt after the earthquake in Langtang. There's a range of typical shared bathroom tea houses along with comfortable lodges with a few private bathrooms, Wi-Fi and hot showers. On the Gosainkunda side the teahouses are older but of a good standard.
Again do please read about accommodation on the Langtang Valley trek specifically as there have been issues with overcharging.
Minimum costs for a room range from 400 rupees to 600 rupees.
If you are going with a trekking guide on a package trek make sure to let them know what type of accommodation you expect. Usually they will adjust the price beforehand for you - if not, move on. In most circumstances many trekking companies will place you in the most affordable to them.
Read more and see what trekking accommodation is like in Nepal.
List of teahouses & lodges on the Langtang Gosainkunda trek
| Tea House/Lodge Name | Location |
| --- | --- |
| Yak Hotel | Syabrubesi |
| Old Hotel | Syabrubesi |
| New Bridge Guest House | New Bridge |
| Domen River View Hotel | Domen |
| Namaste Guest House | Pairo |
| Bamboo | Tibet Guesthouse |
| Hotel Langang View | Rimche |
| Hotel Ganesh View Lodge | Rimche |
| Friendly Guest House | Lama Hotel |
| Sherpa Hotel and Lodge | Riverside |
| Hotel Ganesh View | Riverside |
| Lovely Lodge | Ghortetabela |
| Hotel Tibetan | Ghortetabela |
| Tashi Delek Guest House | Langtang |
| Buddha Guest House | Langtang |
| Yeti Guest House | Kyanjin Gumba |
| Hotel Sherpa | Kyanjin Gumba |
| Hotel Mountain Rest | Laurebina |
| Hotel GBC | Laurebina |
| Tibet Guest House | Gosainkunda |
| Hotel Peaceful | Gosainkunda |
| Himalay Sherpa Hotel | Ghopte |
| Namaste Hotel | Kutumsang |
| Mountain View | Kutumsang |
| Hotel Manakamana | Chisapani |
| Mountain View Annapurna | Chisapani |
Teahouse & Lodge owners are welcome to get in contact to have their accommodation listed. Those name here are not endorsed nor recommended but may help trekkers.
---
---
Costing for the Langtang Gosainkunda trek is very much subject to the duration of the trek more than anything else.
You will need to pay for the following permits:
A Langtang National Park permit which is 3,000 rupees.
TIMS Card (Tourism Information Management System) which is USD $20 for solo trekkers or USD 10 if you are with a group. Both available via trekking agents and through the official Nepal Tourism Board offices in Kathmandu.
Shivapuri National Park fee
Working out your trekking budget
Package tours bought overseas are the most expensive for those looking for a guide to Langtang Gosainkunda. Package tours bought within Nepal are next most expensive. Going alone with just a guide is next. And finally going it alone is the cheapest though not recommended for this trek. Each option offers their own pro's and con's.
Online package tours for ten days can cost between to USD$$1200+pp. Not including water or a porter. This does include a guide, accommodation, permits and meals. Personally speaking, I don't think these are good value. Many only offer a 2 person minimum but hide this criteria.
Ignore packages offering 17 or more days as they'll probably be taking you to more low altitude villages much of which you would have seen already.
In country package tours to Langtang Valley for 15 days can cost $800 pp. This includes a guide, permits, meals and accommodation.
Guide only services can cost from $27 to $50 per day. The more you pay generally means the more experienced your guide should have. Due to the high and relatively unused areas of this trek it is recommended you get a guide with experience of having completed this trek on several occasions.
Porter fees are about USD $20 per day.
The Langtang half of the Gosainkunda trek does get very busy during peak seasons with both international, independent and domestic trekkers. This is where a guide can help as they will prebook accommodation with lodges they know. On the Gosainkunda side of the trek there are less trekkers and more chance the accommodation will not book out. That said, it is more spartan along the passes.
If you are looking for a guide for the Langtang Gosainkunda Trek then I recommend you read my article on how to find a trekking guide in Nepal. Alternative use my Find a Trekking Guide Service.
Average 15 day trek cost to Langtang Gosainkunda
| | |
| --- | --- |
| Item | Cost USD $ |
| Permits (Langtang National Park Permit, Shivapuri Permit, TIMS) | 50 |
| Guide x 15 days | 405 |
| Accommodation x 15 (shared) | 75 |
| Meals 3x5 | 225 |
| Water 4 liters a day (filtered & boiled) | 60 |
| Transport (public-RTN) | 5 |
| Total | 820 |
Extras: Don't forget to include a tip for your guide 10%. Any soft drinks, sweets, hot drinks etc. you may want to purchase along the way.
The cost of an average teahouse with shared bathroom is 300 rupees in the off season and 500 in peak for a shared bathroom. For a private bathroom they are about 1000 rupees on the Langtang Gosainkunda trek.
Bottled water is available. The cost of one liter of locally filtered water is 50-80 rupees (not boiled) but when boiled ends up costing more than bottled water.
The cost of a plate of Dal Bhat starts at around 450 rupees and climbs to 700+ rupees.
Travel insurance should be included and do make sure you are covered for trekking! Here is my recommendation for travel insurance when in Nepal.
How to reduce your budget on the Langtang Gosainkunda trek
The striking observation in the above budget breakdown is that it can cost more to just take a guide without a package deal. This comes about from lower accommodation rates that guides can get vs a trekker.
To lower your costs you can bring their own water filtration system. This can save some money. It's still worth boiling your water on longer duration treks like this.
It's worth noting that for a trek like this taking a porter can make a huge difference to the trek. Aside from the high passes the long downhill on the Gosainkunda side can be very tiring.
---
---
Due to the regions development and many years as a trekking destination the Langtang Gosainkunda trek has several routes particularly from the Gosainkunda side. From the Langtang side the route is pretty much the same as the regular Langtang Valley trek.
While is possible to do this trek in reverse it's not recommended due to acclimatization and indeed the steep initial start to the Gosainkunda trek. Indeed many trekkers who just opt for the Gosainkunda trek start from the same location that you start the Langtang Valley trek from - Syabrubesi.
Syabrubesi is only 6 hours from Kathmandu by bus or taxi on the much improved road. The change over to Gosainkunda occurs after Lama Hotel on the return when you trek up to Syabru.
High pass and cairn at Laurebina
Here is a typical fifteen day Langtang Gosainkunda trek route itinerary
Day
Route
Distance (km)
Highest Altitude
1
Kathmandu to Syabrubesi
80 km (bus/car) (6 hours avg)
1,460 m
2
Syabrubesi to Rimche
5-6 hours avg
2,450 m
3
Rimche to Ghoretabela
4 + hours avg
3,008 m
4
Ghoretabela to Langtang
4 + hours avg
3, 340 m
5
Langtang to Kyanjin Gompa

*

5-6 hours avg
3, 830 m
6
Kyanjin to Kyanjin Ri
4-5 hours avg
4,300 m
7
Kyanjin to Lama Hotel
4 hours avg
2,470 m
8
Lama Hotel to Syabru
6-7 hours avg
2, 210 m
9
Syabru to Laurebina
3-4 hours avg
3,910 m
10
Laurebina to Gosainkunda

**

2-3 hours avg
4,380 m
11
Gosainkunda to Ghopte
5-6 hours avg
4,610m/3,430 m
12
Ghopte to Kutumsang

***

6 hours avg
2,470 m
13
Kutumsang to Chisapani
6 hours avg
2,165 m
14
Chisapani to Sundarijal
3 hours avg
1,460 m
15
Sundarijal to Kathmandu
2-3 hours avg
1,400 m
* Day treks to Tserko Ri can be added here to extend the trek.
** Day treks to Gosainkunda lakes can be added here to extend the trek.
*** Shortening the trek It's possible to take a jeep from Kutumsang to Kathmandu however do note that you'll still need to pay the Shivapuri National Park fee at the army checkpoint! If you want to avoid Shivapuri then from Kutumsang head to Melamchi Bazaar where buses can take you to Kathmandu.
Please note the following itinerary from day one to day seven is the same as the Langtang Valley trek.
Day one - Kathmandu to Syabrubesi
A fifteen day Langtang Gosainkunda trek route starts from Kathmandu where you take a bus or private transport to the trail head at Syabrubesi. This is where your trek starts from as per the Langtang Valley trek.
The bus leaves near Gongabu bus station at Machhapokhari in Kathmandu at 6am. The road is now black topped (tarmacadam) and has improved greatly compared to what you might read online or in out of date guidebooks. Granted the annual weather can damage the road every year.
Day two - Syabrubesi to Rimche
The first full day of trekking starts with permits checks and then it's a steep trek up to your first Chorten.
The trail veers of to the right away from Wangal as the steep trail continues. If you are trekking during a flowering season you'll soon get wafts of sweet flowers. This is rhododendron forest and bamboo forest territory and you'll hopefully see their beauty. The mountains of Kurphudanda and Chilimi offer your first snow capped views. Khangjim village is your lunch time stop unless you came straight from Syabrubesi on day one.
After lunch it's a long uphill haul. Ganesh Himal comes into view along with more forest. You'll trek past Sherpagaon village. It's here the scenery becomes quite spectacular as you trek along a cliff looking down at the fauna below. It's here you are likely to come across some local wildlife. By afternoon you'll arrive into the village of Rimche.
Day three - Rimche to Ghoretabela
Charming forest surrounds the start of your trek on day three as you soon pass the unusually named village known as Lama Hotel. Glimpses of Langtang Lirung are seen as you climb upwards while the river tumbles below. Ghumnachowk is the next village followed by Chunama before you finally enter to Ghoretabela.
Day four - Ghoretabela to Langtang
Day four sees a departure from forests into meadows where you may be lucky enough to spot a herd of yaks.
Chortens and mani prayer walls become more common place as the trek takes on a more Buddhist look. There's an army camp here and it's best now to point a camera near it. Passing the village of Thyangshyap there's a hefty 2 hour hike to Chyamki while a little further on is Gumba Village.
Past Gumba Village and you will pass though the old Langtang Village which was completely destroyed in the 2015 earthquake. After 10 minutes or so the first new lodges of "New Langtang Village" appear. Many lodges here are newly built.
Day five - Langtang to Kyanjin Gompa
This is the first day where altitude needs to be take seriously.
The trail is deceptively steep and slightly difficult to trek over. Gangchenpo comes into view after ran hour or so before the Langtang river roars alongside the trail. You'll soon come across and old white Gompa that is the landmark for the Langtang Lirung basecamp. Continue on an other hour and you'll reach Kyanjin Gompa which rather ironically lacks a large Gompa of note. However, you are at village where there are many spectacular side treks to enjoy.
Day six - Kyanjin Gompa to Kyanjin Ri
Day six is the highest altitude day of the trek as you trek up to the sharp rock covered in prayer flags. The trail itself is contains some sharp bends up to the ominous prayer flags above. This is actually known as Prayer Flag Look Out Point which has great views of the surrounding mountains. Kyanjin Ri itself is still further ahead.
The premier view of Langtang Lirung is what brings most people to Kyanjin Ri. Naya Kang, Gangchenpo and the Ganja La pass. The route down to Kyanjin Gompa is often obscured by cloud and caution is advised as trekkers have become lost here.
It's worth noting that if you spent a second day in Kyanjin Gompa you could attempt and even higher climb to Tserko Ri which is at 4,984m but takes about 8 hours return.
Day seven - Kyanjin Ri to Lama Hotel
A day of descents means you can make it to Lama hotel albeit under some knee strain. It's best to take ones time and have a guide call ahead to ensure a room is waiting for you. It's two hours from Kyanjin to Langtang following by another hour to Ghoretabela.
The final trek to Lama Hotel gives the weary trekker the final challenge of being uphill.
Day eight - Lama Hotel to Syabru
This is the first day when the Langtang Valley Trek merges with Gosainkunda Trek. The first half is a two out trek down through Bamboo where you'll be surrounded by forests. You'll reach the village of Pairo before the trail goes lower near the river and then rises for about 20 minutes before a junction appears. The trail to the left leads to Syabru along a steep zig zag route. After about 90 minutes you'll cross a long suspension bridge. The route ahead is up steep trails and steps. A few lodges will begin to appear and finally you'll make it into old Syabru which is now names Thulo Syabru.
Day nine - Syabru to Laurebina
Many guides will suggest you take the Syabru to Sing Gompa route here by adding one day to your itinerary.
It's completely optional and it will add more forest to your trek. Otherwise you'll begin by leaving Syabru and start to climb up through the tall tree woodland area.There a local cheese factory in Chandanbari if you want to stop by. Trees soon become sparse with meadow lands taking and mountain backdrops becoming commonplace. Prayer flags appear over the remaining trees. Laurebina finally comes into view with a selection of lodges.
Day ten - Laurebina to Gosainkunda
Today is one of the main highlights of the trek as the first of Gosainkunda's sacred lakes come into view.
Green meadows start your day as you trek up a gentle incline passing an old Chorten along the way. A narrow ledge appears with mountains to your side and finally Saraswoti Kund appears. You'll also come across a shrine to Ganesh and Saraswoti. The next lake will be Bhairab Kund followed by the Gosainkunda lake. This is where Shiva is said to have parched his thirst after drinking poison that had threatened to destroy the world. You can stay in Gosainkunda an extra day for a side trek up to Surya Peak (5145 m).
Day eleven - Gosainkunda to Ghopte
Laurebina La pass is the big challenge of the day and it comes quickly.
It's important to note that it is often snow covered and trekkers have become lost crossing it. There's a small cairn at the top which is wind battered throughout the year. Coming down to Phedi High Camp (Gyaje) across often icy trails can take up to two hours. There's a small lodge here but it's often closed in the winter. The route further down is equally difficult with rocky outcrops. Green hills start to appear as you finally make it to Phedi where you can stay for the night if you are tired. Otherwise continue on down across a bridge and then uphill for nearly an hour before descending again to Ghopte.
Day twelve - Ghopte to Kutumsang
It's a long day but a pleasant trek none the less. The day begins with a descent into more thickets to bamboo and rhododendrons. Passing Mera Kharaka you'll find this part relatively easy though forests for nearly three hours until reaching Tharepati.
Continue on through wonderfully pristine forests marked by old chortens and the odd collection of prayer stones. You'll then pass through Mangengoth before continuing the downward trek along a ridge. Kutumsang finally comes into view with a morning option of random jeeps that go down a bumpy road to Kathmandu if you want to cut the trek short. There is a checkpoint in Kutumsang for Langtang National Park permits.
Day thirteen - Kutumsang to Chisapani
This part of the trek can be warm as you depart Langtang National Park and enter Shivapuri park.
If you don't want to enter Shivapuri National Park or avoid the permit then head to Melamchi Bazaar. Otherwise continue on via the grassy start which drops steadily as you pass by farmhouses to Thodung. It now gets hard as you'll need to climb steeply once again before descending sharply. You will however be rewarded by panoramic mountain views. The village of Lapche before descending further down to Chipling where lodges and shops start to become more frequent. Finally Thankune Bhanjyang village comes into view alongside the road to Pati Bhanjyang and then Chisapani.
Day fourteen - Chisapani to Sundarijal
The penultimate day of the trek means entering Shivapuri national park.
Indeed after your first decent you could take the path leading to the Shivapuri National Park trek however continuing on leads to the small farming village of Mulkharka. Much of the trail is concreted here as you make the final decent to the more modern township of Sundarijal.
Day Fifteen - Sundarijal to Kathmandu
The final day of the trek doesn't have to be an early morning one.
There are regular buses and jeeps heading to Kathmandu from early morning and the afternoon.
Finally it's worth remembering that there are many lodges on the Langtang Gosainkunda trek so stopping off along the way instead of following the above itinerary is very possible. It's the same route but you can easily hold up in one of the lodges along the way if you are feeling tired or simply like the view!
---
---
For alternative treks do read my list of treks in Nepal which is continually being added to based on popularity or request.
If looking for a trekking guide I recommend you read my article on
How to find a trekking guide in Nepal
or you can use the
Find a Guide Service
.
---
Get my Trekking in Nepal Guidebooks
---
Liked this page? You'll love my trekking books (which include this trek)! They are a hands on trekking guidebooks that arebetter than the rest. Yes, really!
The books contain day-by-day guides with accuracy using scalable maps, photographs and travel-tested up-to-date trekking information.
Just like my other guidebooks to Nepal they are interactive, printable or paperback guidebooks like no other.
---
Was this page helpful to you? If so please tell others!