---
The Dhaulagiri circuit trek is beside the worlds seventh tallest peak Mount Dhaulagiri 8,167 meters (26,795 ft) in the Annapurna National Park, Nepal. The trek is known for being challenging with several passes to trek over along with multiple nights camping.
Despite its challenges the Dhaulagiri circuit takes only 14-16 days to complete. It is however important to ensure you go at the right time of year as it can get very cold on this trek with strong winds. Nonetheless trekkers who accomplish Dhaulagiri often feel like they've accomplished much more than a regular trek.
With high passes and base camps the Japanese Camp, Dhampus Camp along with the French Pass often makes those who complete the Dhaulagiri circuit feel as if they have a badge of accomplishment completing one of the top treks of the world.
Camping under the mountains on the Dhaulagiri Circuit
Breathtaking views of the Dhaulagiri Massif and the Annapurna Mountain Range are at their best on this trek as you not only trek though them but also walk alongside some of the most dramatic landscapes in the world.
Trek Overview
| | |
| --- | --- |
| Difficulty: Challenging | Days: 14-16 |
| Max Altitude: (5,360m / 17,552.49 ft) | Distance: 101.06km (62.79 mi) |
| Accommodation: Teahouse/Camping | |
Distance shown is the main Dhaulagiri Trek starting from Darbang and ending in Marpha. The road from Pokhara to Darbang is fully open so trekking along it is less desirable.
Honesty counts!
Every travel guide on this site has always been 100% independent, unbiased & honest. I do not accept sponsorships, free treks or tours. I do not own a trekking company or business in Nepal. I pay my own way & in turn write
authentic guidebooks to Nepal
. Rest assured, this is a genuine travel guide that you can trust.
Trekking guides are now mandatory in Nepal:
In March 2023 Nepal Tourism Board announced that all trekkers (solo, couples, groups, etc.) must have a licensed trekking guide from a registered trekking company if they want to trek in Nepal. Freelance trekking guides are also no longer permitted and only guides registered to trekking companies are allowed. The ruling is controversial in many aspects. There are likely to be changes to this ruling over the coming months and indeed years. However, the reality is that you now need a trekking guide to do this trek. Find a registered guide in my
Trekking in Nepal Guidebook
or use my
Find a Nepal Trekking Guide Service
.
---
Dhaulagiri mountain is located in the Western Development Region of Nepal and is part of the Dhaulagiri massif which stretches 120 km from the Kaligandaki River to the Bheri River. The main Dhaulagiri circuit trek takes place in the Annapurna Conservation Zone and passes alongside and around Dhaulagiri mountain.
Looking at a map the Dhaulagiri trek ends in Marpha which is a part of the larger
Annapurna Circuit trek
while it begins to the south near Beni which is near the
Mohare trek
. The main body of the trek follows a near vertical line to the east of the Annapurna Circuit,
Poon Hill
,
Khopra Danda
and
Annapurna Base Camp
.
Dhaulagiri itself is the worlds 7th tallest mountain at 8,167 meters (26,795 ft). The mountain is fabled for its large solitary appearance along with a large white snow expanse.
Large tall valley's start the trek and are fabled for their epic views of the mountains ahead.
There are several base camps along the trek including Italian Base Camp, Japanese Base Camp and Dhaulagiri Base Camp where climbers of Mount Dhaulagiri can be found camping.
There are also two high passes trekkers must trek through including French Pass (5360m) and Dhampus Pass (5280m).
The Dhaulagiri circuit involves several nights camping while teahouses are fairly basic along the route.
The trek itself is challenging but the rewards are that it remains one of the great true trekking experiences in Nepal with views from the top of the world unlike any other.
---
---
This map shows you the Dhaulagiri Trek.
Please note this map should not be used as a practical trekking map. Detailed trekking maps can be obtained in Nepal at very low costs and in my own trekking in Nepal guidebook.
---
---
The Dhaulagiri Circuit trek is one of Nepal's most popular camping treks. Due to the camping aspect the trek is not yet commercialized meaning there will be no crowds on the trek. Trekkers often meet mountaineers at the base camps which adds to the treks authenticity and exceitment.
Highest point of the Dhaulagiri Circuit
At (5,360 m / 17,585.3 ft) the French Pass on the Dhaulagiri Circuit Trek is the highest part of the trek. Dhampus Pass at (5,280 m) is the second highest area.
French Pass on the Dhaulagiri Circuit
Highest sleeping point on the Dhaulagiri Circuit Trek
Exact sleeping heights are normally based on the current days weather and where to pitch a tent away from the wind. However the highest average altitude is at Hidden Valley which 5120 m (16,797.9 ft).
Total distance of the Dhaulagiri Circuit Trek
The full distance of the Dhaulagiri Circuit is 101.06km (62.79 mi).
How long have people been trekking to Dhaulagiri?
Dhaulagiri's trekking and mountaineering history begins in 1950 when Maurice Herzog from a French expedition team tried to climb it but could not find a route. In 1960 a Swiss-Austrian expedition made the first ascent of Dhaulagiri led by Max Eiselin and ascended by Kurt Diemberger, Peter Diener, Ernst Forrer, Albin Schelbert, Nyima Dorje Sherpa and Nawang Dorje Sherpa.
For mountaineers Dhaulagiri has been noted at challenging and difficult. For trekkers Dhaulagiri also has it's challenges with camping at high altitude, avalanches and high winds being just some of the obstacles to overcome.
Is there any wildlife to seen on the Dhaulagiri Circuit?
Being high altitude Dhaulagiri is not known for being a wildlife spotting trek. It is in the Annapurna Conservation area which is known for snow leopards, musk deer and red pandas. Deer, birdlife and other wildlife can readily be seen at lower altitudes on the trek.
What mountains can you see on the Dhaulagiri Trek?
Dhaulagiri Massif consists of several peaks over 7,000 meters. These include Dhaulagiri I, II, III and IV. Once you enter Marpha the Annapurna Mountain range is also on display.
---
---
Highlights of the Dhaulagiri Circuit Trek include:
A camping trek along mountaineering base camps
Trekking closely around one of the world's 7th highest mountains
Comparatively short trek which reaches high altitude
Two dramatic high passes
Impressive Valley trekking
Few other trekkers or groups
Can be extended
---
---
Arranging a Dhaulagiri Circuit Trek
A Dhaulagiri Circuit Trek is relatively easy to arrange. However careful consideration and preparation should be taken. First and primarily trekkers should make sure the trekking company and guide are experienced with the Dhaulagiri region. Aside from the camping element and arranging equipment the guide should be familiar with weather conditions in the area which change daily.
There are areas with rock falls so a guide should know when and be aware of any potential danger due to high mountain conditions. Likewise the guide should be able to provide suitable camping equipment for such a trek.
Package treks & tours for the Dhaulagiri Circuit bought online
Package treks & tours to the Dhaulagiri Circuit are available online. However they often provide bloated itineraries which include too many days or overpriced treks. Some treks are often boosted up to 21 days.
Package tours on the Dhaulagiri trek online range from USD $2500-3000 per person. They usually include all permits, a guide, a porter and equipment.
Pro's of a package trek to Dhaulagiri include having camping equipment prepared for you along with transport and permits.
Con's include overpriced treks with added days that trekkers don't always want. As mentioned it's not always possible to know if the guide is experienced or not.
Package treks bought in Nepal for a Dhaulagiri Circuit Trek
Once again it's important to do some research on the Dhaulagiri Circuit trek before going out pricing it in person. One of the factors you should calculate is how many days you plan to trek. Once you know this, nailing down a price will be easier. Otherwise trekking agents do have a habit of adding days on.
Use the information on this page to work out the costs and days needed!
Pro's of a local package trek to Dhaulagiri is that you can meet the company and guide beforehand and work out all the costs. You can also inspect any of the equipment they may have.
Con's include trying to decipher if the trekking agent and guide have actually been to Dhaulagiri and spending a lot of time listening to them trying to extend it.
If you'd like to take the hard work out of finding a guide or package trek with experienced guides for the Dhaulagiri Circuit before you arrive then do try my Find a Trekking Guide Service.
Hiring a local Guide for the Dhaulagiri Circuit Trek
Be careful of going down the route of hiring just a guide for the Dhaulagiri trek. This trek will cost more than an average trek due to the equipment needed and the level of a guides experience. It's important not to try and save money by opting for a cheap guide.
Do not take a porter expecting them to act like a guide for this trek. Not only can you be reported for this but your life could be put in danger by inexperience.
Trekking companies in Pokhara will be better options to find a licensed guide. However again it's important to note that you will probably need more than just a guide. You'll also need a porter or two and equipment.
If you are looking for a local registered trekking guide for the Dhaulagiri Trek I recommend you read my article on How to find a trekking guide in Nepal.
In my guidebook to Nepal there are several well vetted trekking agencies you can choose from that hire out local guides.
You can also save some time by using my Find a Guide Trekking Service to get a local guide.
Trekking the Dhaulagiri Circuit without a guide
Caution is advised. Trekking the Dhaulagiri circuit without a guide is possible, however, unless you have prior high altitude trekking experience in Nepal, it is not advised. The Dhaulagiri circuit involves carrying your own camping equipment, cooking equipment and food. It also involves terrain in the upper passes that have seen trekkers become lost.
The strong and changeable weather conditions on the Dhaulagiri Circuit also mean that having the experience of a knowledgeable guide on where to pitch a tent can be invaluable. Again if you've not trekked in Nepal before then a guide is recommended.
If you are looking for a guide for the Dhaulagiri trek I recommend you read my article on How to find a trekking guide in Nepal.
You may also use my Find a Guide Trekking Service.
---
---
Special attention should be given to the weather conditions on the Dhaulagiri Circuit. The weather over the base camps can be notoriously difficult to predict with cold strong winds arriving in the afternoon. Picking a camping spot for the night out of the current winds path is a good idea.
It's also important to note there are no permanent weather stations on Dhaulagiri and the circuit takes place over several elevations which will vary the temperature greatly. Do see both charts below to compare temperatures.
In recent years many experienced trekkers have tried the Dhaulagiri Circuit in the winter with bad results due to the weather. Please choose your time of year carefully.
Dhaulagiri Weather by month
Avg. Temperature
(°C)
Avg. Temperature
(°F)
Precipitation / Rainfall
(mm)
January
-6
21.2
44
February
-5
23
66
March
-3
26.6
44
April
2
35.6
15
May
7
44.6
6
June
10
50
17
July
11
51.8
30
August
10
50
29
September
7
44.6
24
October
0
32
15
November
-2
28.4
4
December
-4
24.8
23
This trek is not recommended in the winter season.
The above temperatures do not take into account wind-chill. Precipitation is low however snowfall is regular in high altitude areas. Strong winds should be expected along the base camps and passes.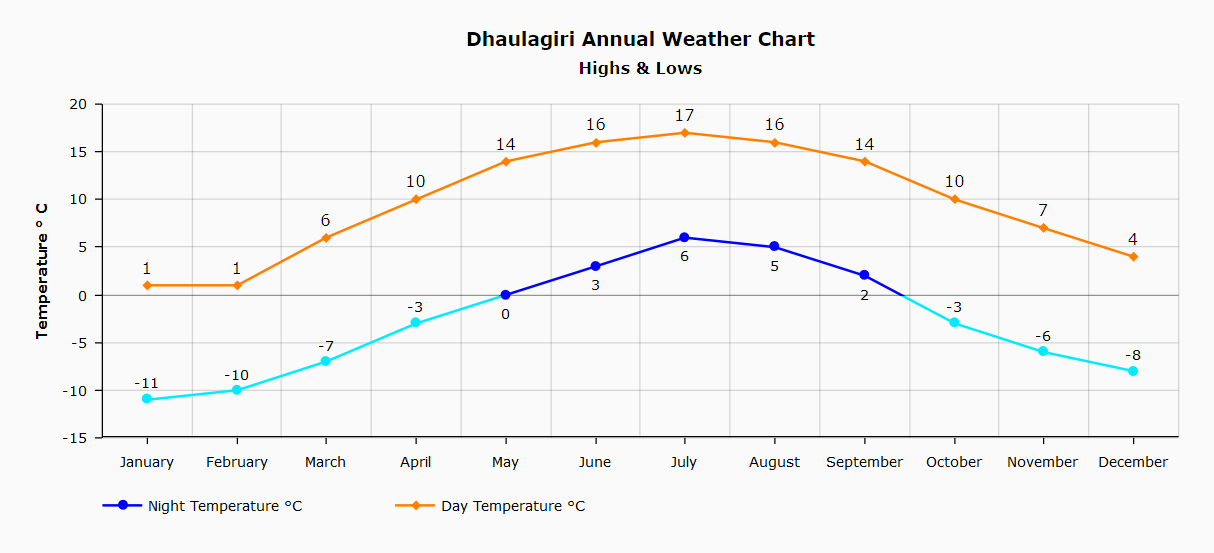 The above temperature chart shows approximate highs and lows on the Dhaulagiri Circuit year round. However do note it does not take into account wind chill which can drive any of the above temperatures down -15 to -20. Likewise the high altitude of trek will also effect the cold.
Months with the best weather to trek the Dhaulagiri Circuit
Due to the high-altitude, high passes, camping and terrain of the Dhaulagiri circuit it's important to consider the right time of year to trek there. Off seasons and monsoon seasons are not recommended at all due to extreme weather conditions that can occur in the region.
Mid October - November/(early)December: Nepal's peak and best time to go trekking the Dhaulagiri Circuit.
February-March-April: this is the end of the dry season in Nepal and the second best time of year to go trekking on the Dhaulagiri Circuit. However strong winds can occur on the trek and clouds can move in quickly. In recent years the winter has hung on for longer with snow blocking the pass up until mid-March.
December to January/February: the skies are clear but the weather on the high altitude parts of the trek can be extremely unpredictable with strong gales/winds, icy conditions and heavy snow. It is not recommended to go during this period.
May - June: The hot pre-monsoon season means things get uncomfortable and humid at lower altitudes. At higher altitudes winds can still be strong and thick cloud can move in quickly. It is not recommended to go during this period.
June - Mid September: this is Nepal's Monsoon season. The risk of leeches and heavy rain will increase at lower altitudes. At higher attitudes high winds, cloud and rain make it nearly impossible to trek around Dhaulagiri. It is not recommended to go during this period.
For more details please see my guide on the best time of year to go trekking in Nepal.
---
---
There are only two permits needed for the Dhaulagiri Circuit. An ACAP and a TIMS. The trek takes place in an unrestricted area so there's no need for any special permits.
The two permits needed for the Dhaulagiri Circuit Trek
Annapurna Conservation Area Project (ACAP)
Trekker Information Management System (TIMS Card)
Annapurna Conservation Area Project Permit (ACAP)
The Dhaulagiri Circuit is within the Annapurna Conservation Area so you will need an Annapurna Conservation Area Project Permit. ACAP permits can be obtained at either the Kathmandu or Pokhara tourism offices. As the Dhaulagiri trek is closer to Pokhara then the Pokhara office would be a faster and easier place to get all your permits. Guides can do this before you arrive.
Steps to getting an ACAP permit:
Fill out the ACAP form
Hand over the completed form, your passport and 2 passport photos ( do note the office taking photos for free at the moment)
Pay the 3,000 rupees (only payable in Nepali Rupees)
Get your ACAP permit
Trekker Information Management System Card (TIMS)
The final documentation or permit you need is a Trekkers Information Management System Card (TIMS). The card is meant to help protect trekkers through registration checkpoints along a trek including along the Dhaulagiri Circuit Trek. The TiMS card fees are also used towards guide and porter insurance.


*

Do note that the TIMS Card is now a flat 2,000 rupees and a trekking company is the only one that can apply for it.

Every person on the trek needs both an ACAP and a TIMS.

Where are permits checked?
Dabang is where the ACAP checkpoints are. The next is at Jomsom if you go that way.
---
Specialized equipment is needed for the Dhaulagiri Circuit.
This is a camping trek so a tent, -20 sleeping bag and cooking equipment are needed. The type of tent and sleeping bag will depend on the weather conditions when you go trekking. In all cases the equipment should be good quality.

A pair of trekking boots with strong grips. If snow is expected crampons can help.
An expedition jacket
Long sleeve shirts
Trekking pants / shorts
Base layers for the cold
Underwear
Socks
Gloves
Sun hat
Night hat (warm)
Sleeping mat
Quick dry towel
Washing powder
Toiletries
Wet Wipes
Trekking poles
Water bottles
Water purification system
Map
Head torch
Sunglasses
Sunblock
Chap stick
First Aid Kit
A good trekking agency will be providing you an appropriate tent, sleeping bag and cooking equipment. They'll also supply food for you on the camping nights and you should discuss the type of food they will bring. Do not expect expedition meals in bags. Meals are more likely to be pastas with a sauce or chipatis. Do watch out for cheap meals like instant noodles which do not provide enough energy. Do expect to melt snow for water so do ensure your water filtration systems are good. Solar chargers are helpful if you need to charge a device.
Good trekking companies may supply an emergency satellite phone as there is little mobile reception for the majority of this trek.
For a single person and a guide two porters make this trek much more enjoyable considering the amount of equipment needed. Two porters for two trekkers is also possible.
Please note the above is a very basic list. For a full comprehensive trekking list please see my article on trekking equipment you need for Nepal
---
---
The Dhaulagiri Circuit trek should not be underestimated and neither should it be feared. Respect for the trek is the best way approach it. Research the trek well, go prepared and it can be the experience of a lifetime.
While the camping aspect of the trek seems challenging if you are with a good guide they will help you every step of the way. They will know where to pitch your tent to avoid the wind and how to cook your meals. Meanwhile you'll need to be prepared for not washing for a while, high passes, base camps and indeed one of Nepal's best camping treks.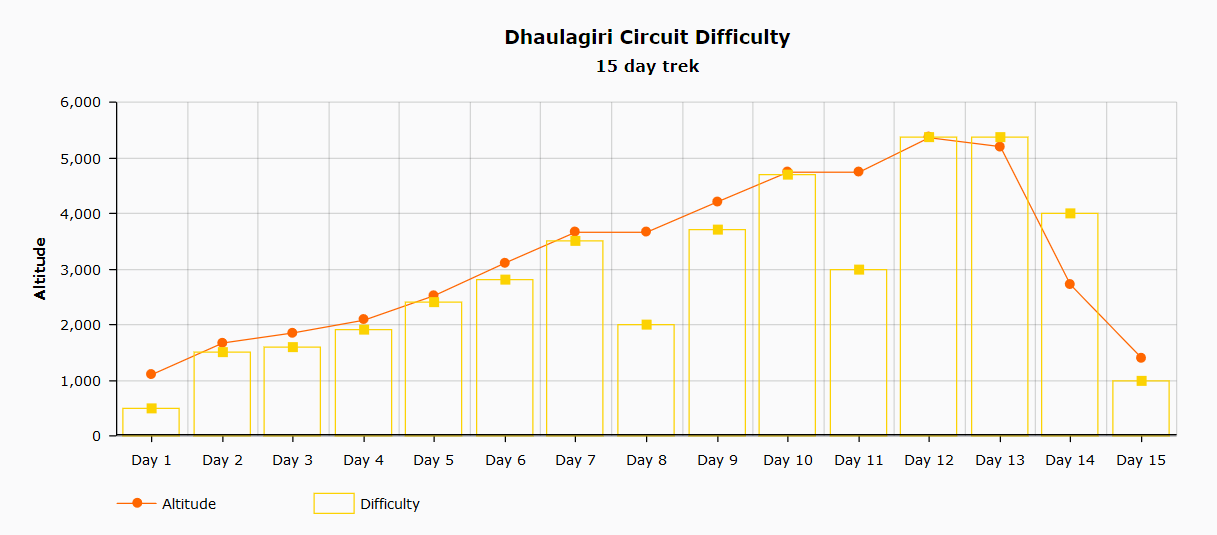 One aspect of this trek that people don't expect is the start. Tea houses and villages much like any other trek only more basic. It's only after the first few days that the Dhaulagiri Circuit change with giant valleys appearing.
After the valley snow capped mountains begin in earnest as the altitude increases. Steps become shorter and slower as you acclimatize to the high altitude surrounded by mountain giants.
Inspiration comes as you break out your camping equipment. Melt snow into water and meet base camp mountaineers. The first high pass is challenging and you'll be glad when dinner comes. The second pass feels tougher as you wonder when the village of Marpha will come into sight. Your last day is a steep decline as you literally make it down from the shoulders of the spectacular mountain giants.
Valley at Darbang opens up to Dhaulagiri
Trekking poles will help as will light crampons if there is snow or ice on the trail. A trekking guide should help with the conditions closer to your start day. Likewise two porters can be a huge help on this trek to help carry the tent and camping equipment.
---
---
Fitness for the Dhaulagiri Circuit is relative to your own fitness levels. However the trek is noted as being challenging. There are two high passes and several days of camping at high altitude.
As always I would advise anyone going trekking or hiking to see a doctor before they go for a check-up
If you are sedentary before the trek then you may want to reconsider embarking on the Dhaulagiri circuit. Active trekking of up to 8+ hours a day will be required. Moreover this will be at altitude. It's also important to note that there will be several days without washing or toilet facilities.
If you have concerns about the weight of equipment you may need to carry then do consider more porters to help. A guide and two porters will ensure that you can concentrate on your own trek and not in carrying tents, cooking equipment, food and additional clothing. Two porters on the Dhaulagiri Circuit can make a radical change to the difficulty of the trek for one person. While two porters between two trekkers is also possible.
---
---
Basic tea houses at the start of the trek have Dal Bhat. Unlike other treks menus are often lacking in the teahouses with just Dal Bhat on offer. Dal Bhat is the trekking staple in Nepal which consists of rice, potatoes, vegetables and a lentil soup. There's free seconds too. It fills you up and gives you the energy you'll need to keep going.
All this changes when you start to camp. You'll be cooking for yourself or rather your guide will be helping you to cook if you've never cooked when camping before. Camping stoves are usually gas powered with one cooking hob.
Guides will bring good food for you to eat from pastas to porridge, milk powder to cheese and cans of tuna. Though many people may scoff at the idea of eating well ... the altitude and conditions require good sustenance so don't skimp on food.
Plate of Dal Bhat on Dhaulagiri Circuit Trek
You'll usually have a choice about what you want to eat when camping before the trek starts. A lot of this will depend on the foods weight and the amount of cooking it requires. Pasta is one of the most popular items to take as are cans of tuna and cans of tomato paste.
The average budget for food on the Dhaulagiri trek is USD $30 per day.
Plate of Dal Bhat on Spaghetti Circuit Trek
Water is also an important consideration as is your water filtration system. Most of your water when camping will either be coming from streams or snow. Bringing a quick and safe water filter systems will help tremendously. In cold conditions at high altitude it can take up to 20 minutes to melt a pot of snow!
---
---
The first few nights take place in basic tea houses. Most will have shared bathrooms only. There may not be places to charge your devices. If they offer charging there's a financial charge of USD $2-3.
Accommodation is more expensive than normal treks with tea houses charging USD $7 to $11 per room.
This part of Nepal does not see too many trekkers so facilities are quite basic until you reach Marpha.
Tents when camping will largely be up to your trekking company. You should ask before arriving about the type of tents they will be using. Dome tents are possible to use but not if you go in off-peak seasons. Expedition tents are best but will cost a lot more in Nepal and are not always available.
Guides will have their own tent while you'll have your own. However if there are two trekkers then you'll likely be sharing. However, if you have your own porter then you can have your own tent. It all boils down to weight.
Similarly sleeping bags are an important consideration. You'll need to know the time of year you'll be trekking and take the weather into consideration. -20 to -40 sleeping bags are common place. Sleeping mats offer a buffer between you and the cold ground below. However everything is a weight consideration.
Read more and see what trekking accommodation is like in Nepal.
---
---
The Dhaulagiri Circuit cost is largely dictated by the number of days you will be trekking it. In this regard do beware of inflated itineraries if you are on a budget. Unlike many other treks that offer remote scenery Dhaulagiri trekking permits are quite reasonable.
Working out your trekking budget
Package treks to Dhaulagiri need to be looked at carefully. There are many trekking companies offering this trek online who've actually never been. They'll likely hire another company to do the trek (hire a guide) and add on the costs. Equally as mentioned above extended days that are not needed are the most common price hikes.
Camping equipment comes with all packages to the Dhaulagiri trek. Bringing your own won't likely make much of a difference unless you own it already. Consider the cost to buy and ship supplies over to Nepal. The result is likely to cost you more than if you use the trekking companies equipment. Similarly an emergency satellite phone is helpful to have and if the trekking agency has one then it's a bonus.
Finally consider hiring a porter along with your guide. If you don't, then you'll need to be fit, strong enough and experienced enough to carry your own tent, sleeping bag, clothing and any other equipment you may need. It won't be easy without a porter or two on this trek.
Online package tours can range from USD$2500-3500+pp. These include guide, two porters, camping equipment, permits and local transport.
However as mentioned earlier the length of the trek is important to note. Many online agencies are for 18-21 days which is boosting up the cost.
In country package treks for the Dhaulagiri Circuit bought in Nepal bring down the price significantly. Pokhara is closer to Dhaulagiri and probably where you'll get the best prices. Kathmandu will have the better equipment if you need to buy in Nepal.
It's best to go into a trekking agency knowing how many days you want to trek (use this page for help). Similarly knowing how many porters you'll need will also help in pricing the trek. A single trekker usually requires 2 porters to help carry what is needed. While two trekkers can often make do with 2 porters especially if they are sharing the same tent.
A 15 day Dhaulagiri Circuit trek can cost from USD $2000 pp to $2100 per person. Depending on what's included.
Remember to look at itineraries and see how you are getting to the start of Dhaulagiri. If it's by public transport you'll lessen the costs slightly but make the journey tougher. If you end the trek in Marpha with a flight or jeep back to Pokhara then the cost will be higher than a bus back.
My Find A Guide Service can help you out here but do try to get in contact before arriving in Nepal.
Guide only services Dhaulagiri trek are not that much different from package treks as you'll still need a guide with camping equipment. If you have all of your own equipment then the guide will still need to hire their own!
It is vital you hire your guide from a trekking agency and not from the street for this trek. The guide should have experience in this trek and have their own equipment. The cost of a guide on this trek can range from USD$35 per day to $50 per day.
Trekking the Dhaulagiri Circuit by yourself It is no longer possible to trek Daulagiri alone. In March 2023 Nepal Tourism Board banned all solo treks. You now need a trekking guide.
This is a challenging trek and taking a guide and porters is highly recommended to make it an enjoyable one!
If you are looking for a guide for the Dhaulagiri Circuit then I recommend you read my article on how to find a trekking guide in Nepal. Alternatively use my Find a Trekking Guide Service.
Average 15 day trek cost for a Dhaulagiri Circuit
| | |
| --- | --- |
| Item | Cost USD $ |
| Permits (ACAP, TIMS) | 40 |
| Guide x 15 day | 525 |
| Porter x2 | 640 |
| Accommodation | 90 |
| Tent, sleeping bag/mat, cooking stove hire/gas hire | 250 |
| Meals (tea house / camping) | 450 |
| Water 4 liters a day x9 (the rest is filtered) | 36 |
| Transport (public) | 30 |
| Total | 2,061 |
The above is a basic cost of a Dhaulagiri circuit trek if you manage it yourself. However, there are important additions not mentioned in the pricing that you will need to take into account. For example do you want a satellite phone in case of emergency? Do you need to buy extra clothing like the expedition jacket? These all add up. As you can tell the Dhaulagiri trek is often better value if you go with a package trek.
Camping gear should also be chosen carefully. It's not easy to get expedition gear in Nepal cheaply. Most tent rentals are ridge or dome tents which are not always suitable for Dhaulagiri.
Two porters are recommended as you'll need equipment and supplies for not just yourself but also the guide and indeed the porter/s.
Similarly a water filtration system that will not freeze up is important. Your choice of transport will effect the overall price.
Extras:
Travel insurance should be included and do make sure you are covered for hiking Here is my recommendation for travel insurance when in Nepal.
How to reduce your budget on the Dhaulagiri Circuit Trek
If you've never trekked in Nepal before then don't skimp on a guide or porter! You really do need an experienced guide for this trek due to the terrain, altitude and camping.
As noted above transport can be reduced by taking buses instead of jeeps or flights.
If you have your own expedition tent and camping gear then the costs drop dramatically. However do note that a guide will also need a tent and a trekking agency will likely add this to the cost.
---
---
This page shows you several itineraries for the Dhaulagiri Circuit. It's important to read through them carefully to understand acclimatization days and transport days. Any of these itineraries can be extended but you should note that camping day extensions also need to have extra food and supplies carried.
Many Nepali trekking agents have much longer itineraries that are often bloated with extra days that are not needed other than to increase their profits.
Some of these extra days continue on along the Annapurna Circuit. There's nothing wrong with this if it's what you want. However you'll still be carrying all that gear unless you leave it in a secure location or have porters to help.
It's also important to note that from Marpha or Jomsom on down there's the dusty road. Most trekkers simply opt to fly back to Pokhara or take a bus after the Dhaulagiri trek ends.
Tents at Yak Kharka on the Dhaulagiri Circuit Trek
15 Day Dhaulagiri Circuit itinerary
Day
Route
Distance (km)
Highest Altitude
1
Pokhara to Darbang (vehicle)
7 hours
1,100 m
2
Darbang to Takam
6-7 hours
1,670 m
3
Takam to Muri
7-8 hours
1,850 m
4
Muri to Bagar
5-6 hours
2,080 m
5
Bagar to Dobang
5-6 hours
2,520 m
6
Dobang to Choriban Khola
6-7 hours
3, 110 m
7
Choriban Khola to Italian Base Camp
6-7 hours
3,660 m
8
Italian Base Camp acclimatization day
N/A
3,660 m
9
Italian Base Camp to Japanese Camp (camping)
4-5 hours
4,210 m
10
Japanese camp to Dhaulagiri Base Camp (camping)
4-5 hours
4,740 m
11
Dhaulagiri Base Camp acclimatization day (camping)
N/A
4,740 m
12
Dhaulagiri Base Camp to Hidden Valley (camping) - French Pass
8-9 hours
5,200 m /
5,360 m
13
Hidden Valley to Yak Kharka (camping) - Dhampus Pass
5 hours
3,680 m / 5,200m
14
Yak Kharka to Marpha
8-9 hours
2,720 m
15
Marpha to Pokhara by bus/jeep/flight (jomsom)
12 hours/ 10 hours/30 mins
1,400 m
---
---
For alternative treks do read my list of treks in Nepal which is continually being added to based on popularity or request.

If looking for a trekking guide I recommend you read my article on How to find a trekking guide in Nepal or you can use the Find a Guide Service.
---
Get my Trekking in Nepal Guidebook
---
Liked this page? You'll love my trekking book (which includes this trek)! It's a hands-on, fully comprehensive trekking guidebook that's better than the rest. Yes, really!
In the book, I cover over 28 treks in Nepal with step-by-step accuracy using scalable maps, photographs and travel-tested up-to-date trekking information.
Just like my other guidebooks to Nepal you can download it instantly now or order a paperback copy. An up-to-date guidebook like no other.
---
Was this page helpful to you? If so please tell others!