---
The Golden Gate is an unmissable part of the Royal Palace in Bhaktapur's Durbar Square. The golden gate is also know as Sundhoka or Soon Dhoka and was built by King Ranajit Malla in 1753 CE. It provides the entranceway to the inner courtyard that you may pass though on the way to the Taleju temple and Naga Pokhari.
The
gateway's frame is of immense archaeological, historical and religious importance
.  Built in 1753 by king Ranajit Malla out of copper gilding. The intricate craftsmanship has led it to be called the greatest piece of Nepalese art ever created.
There's a permanent army guard by the Golden Gate guarding the entrance into the Royal Palace courtyard. Don't worry though, it's free to enter.
---
Just outside the gate on either side is a vase symbolizing good fortune. The Golden Gate itself is made from gilded copper and is said to be the best example of repoussage.
Starting at the top above the door is a Toran featuring a powerful winged Garuda with a naga (serpent) flowing downwards.
Under the Garuda is a four-headed Taleju depiction who sports ten arms. This the Malla royal guardian deity.
Today people still pay respect to two other important deities shown on gate which are covered in red tikka - Bhairab and Kali.
Percy Brown (1872 CE - 1955 CE) a British historian is quoted as saying the following about the Golden Gate:
the most lovely piece of art in the whole Kingdom; it is placed like a jewel,flashing innumerable facets in the handsome setting of its surroundings.
---
---
There is no fee to see the Golden Gate in Bhaktapur as it's covered under the main Durbar Square ticket. There's is also no fee to enter inside through the Golden Gate.
Behind the Golden Gate are the Taleju Temple and the Royal bath which you can visit.
---
---
Liked this page? You'll love my book! It's a guidebook that's better than the rest and the only one that's kept updated. Yes, really! In it I cover all of Bhaktapur's attractions with well researched information, photographs and travel tested walking tours.
It's an interactive & printable guidebook like no other.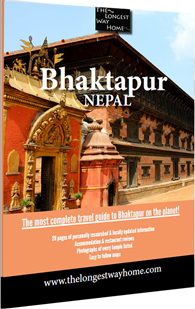 Find out more!
---
Was this page helpful to you? If so please tell others!