Yes, traveling all of Nepal on a budget is still possible - is the quick answer. However, things have changed over the past few years - including a slew of not so up-to-date information in many guidebooks and blogs. If you are planning on backpacking or traveling Nepal on a budget this page will give you the a wealth of up-to-date cost cutting tips and guides that you won't find elsewhere.
Why is this budget travel & backpacking guide better than anywhere else?
Nothing on this site nor page is "sponsored" nor am I selling anything (aside from a guidebook at the bottom of the page!) so what you get is the on the ground reality of Nepal on a budget.
You'll notice that this won't be the same on other sites. There are reasons for that. In 2016-19+ many bloggers were sponsored to stay in Nepal in exchange for writing about it. Out came a massive blurb of paid for information. One look at some of the "must see places" and you'll also note inaccuracies. Particularly in terms of places "destroyed by the earthquake" that are either still untouched or gone. Likewise "home stays" run by local families which are actually promoted by international travel agents. Ho hum.
So, my point? Use due diligence when reading online about "backpacking in Nepal". Let's move on and discover how to travel on a budget in Nepal!
Read this first to get a head start on budget travel in Nepal today
From the 1970s onwards Nepal was well known for being a backpackers paradise. With hotels for USD$2 and .50 cent meals getting by on $5 per day was easy. Today things have changed. Entrance fees, permits, national park fees, visas, boutique hotels, and hostels have all pulled budget travelers purse strings tightly.
Enterprising Nepali businesses have also tried to cash in on the budget market by advertising things like "homestays", "rural stays", and grouping budget trekkers into large groups together. In many ways, it's become a business to advertise yourself as a budget homestay or tour.
There are ways around things though while still enjoying yourself greatly. Do read through this page carefully and do try to "read between the lines". While there are many more affluent Nepali than people realize there is a huge rich poor divide, especially in the rural areas, so it's important not to always push locals to the maximum when trying to get a good deal.
The best online guide to Nepal
This page will often refer to the best online guide to Nepal found on this website. It's the largest and best online guide to Nepal in the world. Do explore the guide thoroughly as there are plenty of budget tips in every section.
Traveling to Nepal by flight is the most popular choice
. However there are very few direct flights from cross-continental international destinations.
Within Asia there are great budget flight options
from Bangkok, Kuala Lumpur, New Delhi and Guangzhou. If you are backpacking or traveling in any of those destinations it's well worth taking a budget airline like Air Asia or Malaysia Airlines or even the latest Malindo Air direct to Kathmandu. Pokhara and Buddha international airports have yet to fully open to international airlines but are trying.
Traveling overland into Nepal on a budget is best done via India. From Tibet (China) you'll only be able to get expensive package tours. So, stick with India if you can. More information on each option is available in the tabs below.
From Europe most cheaper flights stop off in New Delhi. Do look up Turkish Airlines as another option as they offer good value flights to Kathmandu. From the USA, aside from a stopover in Europe then the most budget friendly flight to Nepal is often via China Airline with a stopover in China. The other option is to look at Etihad flights or other options to/from the middle east.
From Australia or New Zealand then simply join in with short hop travelers from Singapore, Malaysia or Thailand with cheap AirAsia, Malaysia Airline and Malindo flights to Kathmandu. From India look to Jet Airways.
Nepal's own national carrier Nepal Airlines are not the most budget friendly but they do offer more baggage allowance than most other airlines.
Do check out my own custom flight search for the latest deals.
Traveling overland from India to Nepal is old backpacking right of way in the region. It used to be a grueling 24 hour process of trains, buses and rickshaws. Today you can equally hop on a bus from New Delhi and go directly to Kathmandu.
The booking office for tickets: Dr. Ambedkar Stadium Bus Terminal ( Delhi Gate). Tel. – No.011-23318180, 011-23712228.
www.delhi.gov.in
Otherwise budget travelers can opt to make their way independently via South Nepal: Sunauli border (most popular
choice). South Nepal: Raxaul/Birganj border.
East Nepal: Panitanki border (coming from Darjeeling) (travel warning: Terai region & the border is not always open)
West Nepal: Banbassa / Mahendranagar border.

» Discover more with this full guide to traveling to Nepal overland
Once seen as a new backpacking route into east Asia traveling from Nepal into Tibet overland never really took off. There were once dozens of tour agencies offering cheap packages and "Elusive Tibet visa".
Stories of travelers hitchhiking across Tibet filled many a hostel room with awe. The truth is less romantic. The stories were false as the area is filled with military checkpoints and serious consequences for anyone caught without a permit.
Today the overland tour companies have dwindled due to Chinese restrictions and regulations along with favoring their own companies.
Coming from China into Nepal overland is even more restrictive and expensive as you'll be forced to buy a package tour from a Chinese agency.
It's all still possible but it's more costly than must budget travelers would like.
» Discover more traveling to Tibet overland
---
---
All budget travelers to Nepal should be aware that there are tourist visa fees for Nepal including extensions. There's no financial benefit for applying ahead for a visa. You can however start to save money by having the exact requirements and money ready when you arrive and save even more by taking local transport from the airport.
Upon arrival into Nepal either at an airport or overland you'll need to pay an on arrival visa fee. For most countries this s USD $125 for 90 days, $50 for 30 days or $30 for 15 days.
To extend your visa you now can only do it online before going to the immigration office. Extensions in Nepal cost about USD$3 per day.
» Discover more Nepal visa information.
Arriving into Kathmandu airport can be a be a bit of a jolt to the system. From baggage carrier charges to expensive taxis. First impressions count so ignore the expensive official taxis and take a local one to the city for 500 rupees with some bargaining.
Super budget travelers can walk right outside the airport 12 minute walk and try to flag down a micro-van (bus) to the city. Be warned though the micro-vans (mini-vans) are usually very crowded, won't deliver you directly to the budget hotel area of Kathmandu and stop at about 9pm. In other words, it's probably best to just get a taxi directly to your hotel.
» Discover more Arriving at Kathmandu Airport
Getting around Nepal on a budget is very possible, but it will take a little extra time and effort. The two forms of transport to avoid when on a budget are package tours and private car hires.
Taxis for short distances like Boudha are relatively inexpensive. However to places like Bhaktapur drivers can charge up to 2,000 rupees vs a bus from Bhaktapur Bus Park or Ratna part for under 50 rupees. That's a big saving.
A budget travelers best transport friend around the Kathmandu valley is Ratna park in Kathmandu.
Trying to get "local tourist buses" to places like Pokhara or Chitwan from Kathmandu. Just show up at Sorhakhutte at 6.30am and take a tourist bus. Yes, a real local bus from Gongabu is about 100 rupees cheaper but getting to the local bus parks will cost you about 50 rupees in local bus fees or 200 rupees in taxi fees. All for a bus that will also drop you outside the tourist parks (50 rupees to the tourist area), take longer and be more uncomfortable. So yea, the big secret is just take a tourist bus from Sorhakhutte The exceptions are for further afield places like Lumbini which only have local buses. Greenline is not a budget bus by the way. It's around USD $20 to Pokhara. It is a little more comfortable.
» Discover more getting around Nepal and see the map below for local transport options.
Map of local transport options in Kathmandu for budget travelers
---
---
Nepal is filled with budget accommodation and not all of it involves squat toilets or cold showers. Ignore and of the guidebooks or guides tell you to go to the outskirts of Kathmandu or Pokhara to find them. It's simply not true.
What is happening is that the older cheap guest houses are being bought up and pushed out be new big hotel chains and boutique hotels are taking their place. So it just feels like there are no more budget friendly hotels in Nepal, but there are.
Likewise do watch out for backpacker hostels offering dorm beds for 250-500 rupees and few facilities (especially in China Town / Amrit Marg). For 100-200 more you can easily get a private room with a bathroom. In fact, there still are guesthouses offering privates for 700 rupees.
Finally, my biggest pet peeve - 2016s arrival of the "community homestay in Nepal". Pure and utter commercial hogwash. Family run guesthouse that have been around for years were simply "urged" by private tourism to change over to the latest trendy term of community home stay and slap on a higher price. Some of these are even being run by wealthy tour operators. Don't fall for it! For some "homestays" you can get a room in a hotel for less. Moreover, a room for half the price in a family run guesthouse.
Budget Hotels in Kathmandu
Thamel is the place to be along with Paknajol and Freak street to find cheap places to stay in Kathmandu. While you can find cheap accommodation online for $5 you'll also be charged commissions rates etc. If you are uncomfortable with arriving into Nepal and having no accommodation I always advise book two nights on arrival and then go out and find cheaper accommodation in person.
» Do see my accommodation guide to Kathmandu which has budget recommendation sections.
» Also check out my reviews of latest hostels in Kathmandu.
Budget Hotels in Pokhara
Lakeside is Pokhara's main tourist accommodation are. These days a lot of the budget guesthouses have been taken over by larger hotels or older places have simply raised their prices. The good news is that super budget accommodation has simply moved to the north of Lakeside to a place called "happy village." Meanwhile back at Lakeside the budget rooms of $10 + are now off the main strip to the east. It takes a little hunting, but they are still there. Booking online is only good to get a jumpstart. When you arrive, go knocking on some doors and you'll get some real gems.
Longer-term budget or low-end accommodation can be found in Happy Village, Damside or east of Lakeside.
» Do see my guide to Pokhara
Budget Hotels in Chitwan
Avoid all package tours to Chitwan if you are on a budget. Simply arrive by bus, follow my guide on getting to Chitwan to avoid getting ripped off. And then walk down the main strip where there are plenty of budget hotels.
More budget resorts can be found down along the road where the National Trust Nature Conservation office and museum is. Some of Nepal's cheapest accommodation can be found with rooms for as little as 500 rupees.
» Do see my guide to Chitwan
Budget Hotels in Lumbini
Over the past few years Lumbini has seen a lot of development mainly catering to Chinese and Indian tour groups. Large hotels have sprung up and for the most part remain empty aside from Buddhist festivals during the year. Unfortunately prices have also gone up.
The best budget guesthouse remain along Lumbini Bazaar. There's no real point to booing in advance, unless its during a Buddhist festival. Simply walk the 3 minute bazaar and knock on a few doors to get the best rate. Do remember to view the rooms before you agree on a price.
» Do see my guide to Lumbini
---
---
Do not eat the street food! No matter how hard-core you think you are or how many chicken gizzards you swallowed in Bangkok do not attempt the same in Nepal. Kathmandu is often alive at night with the sound of backpacker toilet flushing! Parasites, giardias, salmonella are very prevalent in a country with little education on hygiene, disinfectant or refrigeration always ends in trouble for all.
Stick with sit down meals in local places, freshly cooked and hot. Budget travelers should stay away from tourist restaurants charging VAT and services charges which can add up to an additional 23% on a bill. There are plenty of smaller family run cafes off the side streets of Thamel or Pokhara's Lakeside even in Chitwan (Sauraha).
Safe cheap eats include dal bhat, chow meins, maggi noodles with egg, momos and in Kathmandu naans. Samosas and other deep fried snacks should be eaten in a popular cafe with other customers and eaten freshly cooked.
Vegetarians can generally get all meals without meat.
Meat lovers on a budget should avoid mutton as it's often not fresh nor frozen well. Pork is usually fresh in Kathmandu, but not in Pokhara or anywhere else.
Here's a look at different types meals and food available in Nepal.
Beer and wine drinkers will be slightly disappointed. The 1 liter bottles of Everest or Tuborg sell for around 300 rupees to 600+ in bars. In corner stores, they are a lot less. Wine is imported and expensive. Try a supermarket. Raksi is the bootleg "rice wine" of Nepal, dirt cheap but the hangovers are special. Khukri rum in Nepal is everywhere and again pretty rough but cheap.
Budget travellers often make use of bakeries in Kathmandu and Pokhara. Many have end of the day sales at half price (around 8-9pm), but you will have to queue for it early! Otherwise, hunt out the local bake shops which are a lot cheaper!
Here's a list of recommended budget restaurants in Kathmandu.
---
---
My trekking in Nepal guides are the most poplar in the world for a reason. They are honest, frank and factual. Do read them to get the best budget tips for trekking in Nepal.
Some of the main budget trekking tips include:
Don't book a trek online through a big company - it may seem cheap but there will be plenty of add ons later. Hire a local qualified guide.
Don't be so cheap that you risk your life! Do not try to rush your trek just to save a day of expenses - acclimatization in Nepal kills every year. Please visit MissingTrekker.com if you don't believe me.
Hire a guide if you've never been trekking in Nepal before. Don't waste your trek of a lifetime by going alone, getting lost, going with a cheap guide and never learning about the mountains, culture or way of life in the Himalayas.
For all the gung ho blogs claiming to have trekked the Annapurna alone there are plenty of missing, sick or dead backpackers. Trekking without a guide is legal and fine, so long as you know what you are doing.
Choose a guide carefully in Nepal and interview more than one! I started this trend, it works. Same as a job interview. Get a guide you are comfortable with.
You must get travel insurance for trekking in Nepal. Otherwise it can cost you USD$7,000+ for a rescue!
Lastly, if you can't afford Nepal's National Park entrance fees to go trekking then do consider the short term hike or treks that you don't need permits for like Nagarkot, Dhulikhel or even Dhampus. Similarly you can trek around Lake Phewa in Pokhara or even camp without needing a permit.
---
---
Once free to enter, many of Nepal's world heritage sties now charge entrance fees. Prices have also been rapidly rising over the past 10 years.
On a global scale the entrance fees are not that high, however they are for public areas which often annoys tourists to Nepal. Here are the costs of entering popular heritage sites in Nepal and some great sites with no entrance fees.
One huge saving that many budget travelers can make is to take public transport to these sites. Do see read each section of my best guide to Nepal to get details on local transport options which will save you a lot of money in getting to these places!
Each tab below gives information on a heritage sites cost:
Kathmandu Durbar Square raised its entrance price to 1000 rupees in late 2015.
Many budget travelers feel it's overpriced for what you get and the lack of reconstruction or maintenance in the area for what is essentially a public square. The area is well patrolled with guards who are often quite aggressive.
Tip: if you are staying in Kathmandu for a while, then avoid the hassles, buy a ticket then get a Durbar Square pass all included in the same price from the main municipality office in the square.
Tip: make the most out of the area by doing a DIY free old city heritage tours on the way to Durbar Square
» Discover more Kathmandu city guide
Patan Durbar Square increased it's entrance fee to 1000 rupees in late 2016.
The price now includes the Patan Museum. Tourists are asked to wear brightly colored tickets to identify they've bought a ticket. You don't have to wear one. Patan Durbar Square is good value for culture lovers and regular maintenance and reconstruction does take place. tours offer more bang for your buck, just make sure they include entrance tickets.
Tip: North, South, East and West Patan do not require a ticket. There is a small charge for three other sites in these areas. See the full Patan guide for more information.
Tip: All ticket offices offer to stamp you in for the duration of your visa but you must display your passport.
» Discover more Kathmandu Valley guide
Bhaktapur Durbar Square (old city) has a hefty USD$15 Entrance fee however it offers more value for money than any of the other squares in Kathmandu.
It covers a large area with plenty to see and do. Value for money can be best had if you are staying here for a few nights. There are regular security patrols due to the large amount of side streets here that many people accidently wander through and don't pay for a ticket. Bhaktapur is well maintained though and for heritage lovers good value.
Tip: All ticket counters offer to stamp your ticket for the duration of your visa in Nepal. Have your passport ready.
Tip: read my Bhaktapur guide and find out how to get to Bhaktapur cheaply plus tips on budget accommodation.
Panauti has no entrance fee.
However there is a small fee for the Indreshwar temple. There area is incredibly well preserved and maintained compared to many others and great value for money.
Tip: read my Panauti guide and find out how to get to Panauti cheaply plus tips on avoiding expensive accommodation and tours there.
» Discover more Kathmandu Valley guide
Changu Narayan is a huge temple just outside Bhaktapur.
However it keeps increasing it's entrance fee and public transport to the area is not easy. While a great historic site budget travelers are at a disadvantage getting there.
Tip: Try hiring a shared taxi to Changu Narayan and Bhaktapur to save on costs.
» Discover more Kathmandu Valley guide
Boudha has a small fee of 400 rupees to enter.
The stupa was completely reconstructed in 2016 so the money is being used well. There are plenty of side streets into the main stupa with small ticket counters that open at 7am.
» Discover more Kathmandu Valley guide
Pashupatinath has a large 1000 rupee entrance fee that does not include entrance to the main temple as it's off limits to all non-Hindus. However there is a large part of Pashupatinath t
o the east that few tourists visit beyond the ghats which is well worth visiting.
Tip: Pashupatinath and Boudhanath are very close together and you can walk between them.
» Discover more Kathmandu Valley guide
Over the past 5 years Nepal has been constantly adding fees and taxes to just about everything.
For most budget travelers in Nepal it's very important to save or cut costs whenever possible yet still have a great trip. The best place to find these tips is by reading the best online guide to Nepal. Every section has budget or cost cutting tips.
Here are some more highlights:
Chitwan: If you book a jungle safari for the morning the day before then you can take an elephant safari that afternoon using the same one-day National Park Permit.
Pokhara: If you are taking a boat to Taal Barahi temple then keep an eye out for the boat signs at the docks. They give details on the price. Ignore the touts or boatmen, get an official ticket or go in a group to avoid being cheated.
» Discover more Kathmandu Valley guide
---
---
If you are having problems looking for prices of tours in Nepal, or budget treks then you can use the following pages as guides to help you.
Budget adventure tours
Read all about booking adventure tours online with this helpful page on adventure tours in Nepal. Covering everything from trekking to jungle safaris.
Budget trekking in Nepal
Pricing treks in Nepal is a complicated thing. Make it easier by getting rough prices by reading about booking online trekking tours in Nepal.
Planning your trip to Nepal
If you only think Nepal is good for trekking, then think again and read this great page on how to plan a trip to Nepal which includes step-by-step planning methods and ideas on what to do and where. s are not that high, however they are for public areas which often annoys tourists to Nepal. Here are the costs of entering popular heritage sites in Nepal and some great sites with no entrance fees.
One huge saving that many budget travelers can make is to take public transport to these sites. Do see read each section of my best guide to Nepal to get details on local transport options which will save you a lot of money in getting to these places!
---
---
How long is a piece of string? The answer to how much money you need to travel around Nepal on a low budget is completely relative to what you plan to do there!
If you are just going to sit on a rooftop in KTM all day eating momos then you can survive for under USD$10 a day. However most of us like some form of "travel" when we travel! So the costs will be more.
Ultimately you'll need to work out your own daily budget in Nepal. The answers to how much things cost are on this page and throughout my free guide to Nepal.
Sample daily budget for backpackers or budget travellers in Nepal:
Budget room = USD$8
Food x 3: Breakfast (bread) $1. Lunch momo $1.80. Dinner. Dal Bhat $2.50 = $5.30
Water (1-liter refillsx4) = $1.
Transport: local buses: $2.
Visa (3 month): $1 per day.
Total USD $17.30.
Keep in mind the above is a very basic budget. There are no entrance fees, extra food, health insurance or anything else. So the reality is the minimum backpacker budget in Nepal is under $USD20 per day for a solo traveler.
Do keep in mind surprising costs like PCR tests if your airline or another country requests one.
Where to cut costs when you are on a budget in Nepal
Doubling up on accommodation is the best way to save money. If a budget room costs $6 then sharing it with someone will mean $3 each for the night. This works out cheaper than the new hotels appearing and actually helps the old family run guesthouses.
Pokhara is about 1/3 more expensive than Kathmandu when it comes to food. So either cook for yourself, or make adjustments to your budget to compensate for the increased cost.
The best budget accommodation I've found in Nepal is located in Sauraha in Chitwan where you can find a private room for as little as $2 per night - (details in my guidebook).
Long-term accommodation rates work out a lot cheaper than daily, so ask for long term rates.
5 gallon jugs of water work out cheaper to buy than 1 liter bottles. Look for the water depots to purchase them.
Medical costs in Nepal are expensive for foreigners. Get good travel insurance for Nepal to avoid paying out a lot if something happens.
Where NOT to cut costs when you are on a budget in Nepal
Don't risk your health or safety. Nepal gets very expensive when it comes to hospital treatment so do not skip travel insurance.
Likewise don't skip on a guide if you are going trekking for the first time. I've met many backpackers who never make a complete trek because they thought that they could go with a group of others, or hired a porter cheaply. This invariably leads to a disastrous trek which wastes, time, money and does put lives at risk. See the trekking section above for better options.
Solo female travelers today need to be extra careful today compared to even a few years ago. This includes when trekking alone. Wear a wedding ring - this old travel stand by still works. Post 2015 earthquake Nepal was inundated with influences which culturally clash. Do please read about solo female travel in Nepal. And indeed solo travel in Nepal.
Avoid all forms of couchsurfing in Nepal. There have been countless stories of theft, attacks and deaths over the years. While Nepal is very safe there is an element out there that is not safe. Couchsurfing in Nepal as a solo travel may seem great, but there is a very real risk. If you are looking for hostels, then do check out backpackers accommodation in Kathmandu.
Avoid hitchhiking in Nepal. It's no longer considered safe with numerous reports of theft and other issues. A lot of this is coming from travelers from outside of Nepal. Some new wealthy people living in Nepal and road safety issues.
Buying drugs in Nepal was legal until the late 1960s. Today it is illegal. Despite this and the fact that cannabis does indeed grow wild in Nepal people are often tempted. Keep in mind that despite a low presence, the police are well aware of who is selling drugs and where people hang out. Every now and then there's a swoop. A Nepali jail is not nice. The one in Kathmandu in particular is well known for the list of "foreigners" they keep there.
As listed in the food section above, avoid street food in Nepal. Eat in local cafés and not the little push carts you see on the roads with hot dogs and other meats. Egg noodle carts are okay, but be cautious and try to eat where the locals eat.
A better daily budget in Nepal
While the above is the most basic of budgets for traveling Nepal on a limited budget it doesn't really let you explore the country. Boost your budget to $30 per day and you'll you'll have a much nicer time.
While $30 per day may sound a lot more keep in mind you don't have to spend $30 every day. Spending $30-35 twice a week on a daily budget of $20 could improve your travel in Nepal greatly. Then on the other days you can reduce it back to $20 or lower.
Use this budget travel guide to Nepal and the other pages listed on it to work out what you want to do in Nepal. Take notes of the cost. Add them up and divide them by how many days you'll be there to get your real daily expenditure in Nepal.
---
Save even more money by getting the Best Guidebook to Nepal
---
If you followed the budget tips and tricks on this page then the trekking section alone will have saved you $100's by avoiding the big commercial trekking companies.
Get even more budget tips and money saving solutions to traveling Nepal in my guidebook to Nepal It's 500+ pages of premium content for only about $20. That's a tiny investment for big savings!
From one budget traveler to another, check out the details below and you'll see why, this is better than any other guidebook, I promise.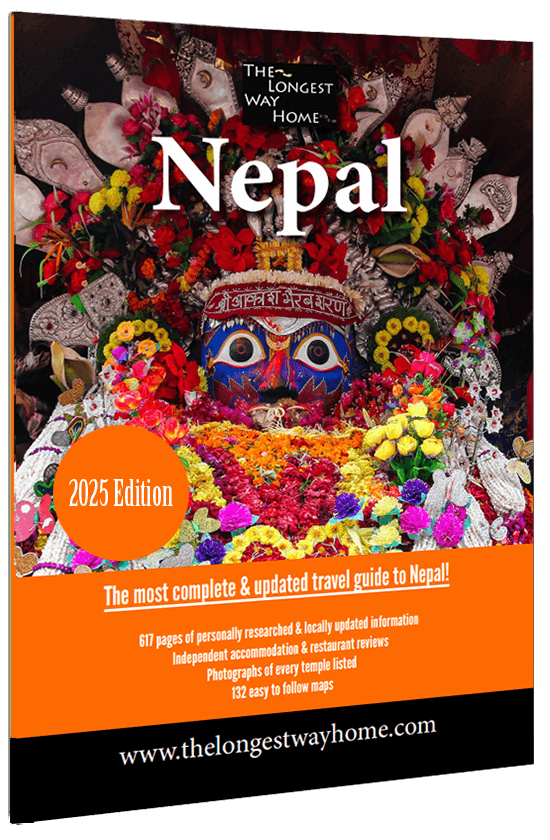 ---
Was this page helpful to you? If so please tell others!