---
Once you reach the eastern end of Bhaktapur Durbar square past the 55 Window Palace and Siddhi Lakshmi Temple you'll see two lone stone lions. If you walk from behind to the front of the lions you might notice the remnants of a building behind them.
However, it was not completed until 1754 during the reign of Jaya Ranjit Malla, who was the last of the Bhaktapur Malla kings. Today the 55 Window Palace still stands as Bhaktapur's Royal Palace on ceremonial occasions.
From in front of the stone lions look to your right and you'll see the remains of the white Fasidega Temple. This was an attempt at rebuilding a lost temple after the earthquake in 1934.. Many say it was better not to have tried than to build something so out of place. It was then destroyed in the 2015 earthquake. This temple will be rebuilt in 2019-2020 using photographs from pre 1934 and the original design.
Did you know?
Most temples in Bhaktapur have stone guardians or some kind at their entrance way. Stone lions are the most common form of guardian.
---
Astonishingly there was little documentation of buildings around Bhaktapur prior to the 1934 earthquake. And, certainly nothing of architectural warrant. However there is a solitary photograph depicting the tall three-tiered temple that once stood behind the lions (see the side bar for the photograph taken in the 1920's) known as the Hari Shankar temple. More details on this can be exclusively found in found in the book Kathmandu Valley Heritage Walks.

Today if you approach Bhaktapur Durbar Square from the east these two stone lions are what you will first encounter. With the Hari Shankar temple temple gone perhaps these graceful guardian lions have taken it upon themselves to now guard the entrance!

Exclusive to this site it was revealed that in 2020 there were plans to reconstruct the Hari Shankar Temple. Such a reconstruction would be an enormous task and one that will not be undertaken until the restoration of the other temples in Bhaktapur. It's likely the temple will not begin re-constuction until after all the other temples under majory renovation have been completed. The 2022 COVID-19 Pandemic situation has not stopped plans for rebuilding forgotten temples in Bhaktapur. However no date has been given for Hari Shankar Temple reconstruction yet!
---
---
There is no charge for visiting the Stone Lions as it is covered under Bhaktapur Durbar Square's main entrance fee.
---
---
Liked this page? You'll love my book! It's a guidebook that's better than the rest. Yes, really! In it I cover all of Bhaktapur's attractions with well researched information, photographs and travel tested walking tours.
It's an interactive & printable guidebook like no other.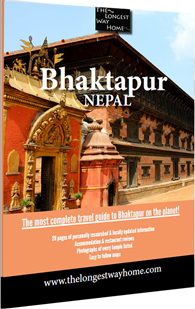 Find out more!
Looking for more? Try my
Nepal Guidebook
, or for heritage lovers my
Kathmandu Valley Heritage Walks
---
Was this page helpful to you? If so please tell others!