---
The Kaskikot Hike in Nepal is a relatively new trail with an ancient history. Kaskikot offers the same views as Sarangkot and is linked to it by a rough 2 hour trek. The direct trail up to Kaskikot leads to stone ruins and a shrine.
No trekking permits are needed to visit Kaskikot and it can be easily reached by road from Pokhara. A walking journey from Pokhara to Kaskikot could easily take 5 or more hours.
Machhapuchhre mountain from Kaskikot - do note that the famous fishtail aspect is not seen from this angle of the mountain
Kaskikot is relatively unknown to many visitors as most trekking agents and tours focus on Sarangkot. However for those who like a little independence and a crowd free view then Kaskikot is great alternative. However do understand that there are no tourist facilities at Kaskikot.
Please note: the maps on this page are not to be used as physical trekking maps. However the Kaskikot hike is very short and getting lost is not an option so long as you stick to the stone pavement by the resort.
Trek Overview
| | |
| --- | --- |
| Difficulty: Easy | Days: Sunrise view or half day hike |
| Max Altitude: 1,788 m | Distance: 2.40 km (1.49 mi) |
| Accommodation: Homestay/Hotel | |
Distance shown is the full hike up and down. This can be extended by following a rough trail to Sarangkot. A fully detailed guide to the Kaskikot hike with more details is below
.
Honesty counts!
Every travel guide on this site has always been 100% independent, unbiased & honest. Rest assured there are no sales pitches for treks here & no hidden sales links. I have included plenty of options & resources for you to find the best trekking guides who know this area well. I do not accept sponsorships, free treks or tours. I do not own a trekking company or business in Nepal. I pay my own way & in turn write
authentic guidebooks to Nepal
. Rest assured, this is a genuine travel & trekking guide that you can trust.
---
The Kaskikot Hike is located in Gandaki Pradesh, Kaski District 11km from the city of Pokhara. The trail itself reaches a maximum altitude of 1,788 meters. Sarangkot is a nearby landmark to the east with similar sunrise views but more crowds. To the east is the Accessible trail.
It's important to note that Kaskikot (Kaski) itself is a ward (24) within Pokhara city and is spread out over several villages. These include Raikar, Kaskikot Ancient Palace (this hike including Shaktipith or Gupta Kalika Temple), Khoriyapani, Dhaba, Khadgaukot, Deurali, Dopahare, Guntechour, Chilimdanda, Paharepani (Mandradhunga) Kaule, Pame, Dhokamukh and Gairabari. The main hike takes place at Kaskikot Palace and does not enter other villages. However, they are easy to reach if you wish to visit them.
The trail can be approached in several ways. As a single trail it can be reached via the Pokhara Sarangkot road. The hike itself is only about 40 minutes. There is a rough trail between Kaskikot and Sarangkot otherwise there's also a road linking them.
The Kaskikot hike is largely undeveloped. The trail is unpaved for the most part and unmarked. At the top of the ridge are two look out points. One with a small Shiva shrine and a larger lookout point with a larger Kali temple to the west.
The area used to be a fort in the 15 the century which often called Kaskikot Palace. The ruins still exist near the larger Kalika Temple in the form of ramparts which give dramatic views of the Annapurna Mountains.
---
---
This map shows you the Kaskikot Trail.
Please note this map should not be used as a practical hiking map. The route shows the main Kaskikot hike to the west while the black line leading to the east is the Kaskikot Sarangkot trail. Detailed trekking maps can be obtained in Nepal at very low costs and in my own trekking in Nepal guidebook.
---
---
The Kaskikot Hike does not have any nearby tourist facilities. The closest is near Sarangkot or Pokhara.
Highest point of the Kaskikot Hike
At 1,788 m the Kaskikot Palace viewpoint is the highest point.
Annapurna Mountains from the Kaskikot Palace Ramparts
Highest sleeping point on the Kaskikot Hike
There is no accommodation on the Kaskikot Hike. However there are some makeshift Homestays near the gate. Nearby accommodation to the west includes a resort and there are several lodges at Sarangkot which have an altitude of 1600m.
Total distance of the Kaskikot Trail
The Kaskikot Hike is a total of 2.40 km. However, it can be extended in several directions.
How long have people been hiking the Kaskikot hike route?
The Kaskikot hike is largely overshadowed by nearby Sarangkot which has become quite commercial. Local villagers in Kaskikot under the name Trekking Route Construction & Conservation Committee opened the route as an alternative. However the area itself has been inhabited since at least the early 15th century.
Is there any wildlife to see on the Kaskikot Hike?
The forested part of the Kaskikot trail has birdlife along with small mammals. It's common to see birds of prey here including Kestrels.
What mountains can you see on the Kaskikot Hike?
The Annapurna and Dhaulagiri Himalayan Mountain ranged can easily be seen on a clear day. Unlike Sarangkot's concrete area the mountains here can be seen from a more natural hillside viewpoint.
---
---
Highlights of the Kaskikot hike include:
A short hike to see panoramic mountain views
Local village
Historic landmark in Pokhara
Large Kali temple
Old fort ruins
Non-commercialized area
Can be extended to Sarangkot or nearby villages
---
---
Arranging a regular Kaskikot Hike
Hikes to Kaskikot need a little bit of research first. Do you just want the 2km hike up and down? Do you want to trek from Kaskikot to Sarangkot? Or do you want to hike from Pokhara? Every version has a different price from free to high!
Package treks & tours to Kaskikot
Package treks & tours to Kaskikot are note widely available online. Many of the ones you will find will include a full days worth of visits from Sarangkot to Kaskikot to village homestays.
Package tours for a half day hike start from around USD $70-100
Pro's of a package trek on the Kaskikot Hike is that you will likely get a private car and a guide.
Con's include overpriced packages that try to add in extras you may not want. Meals are often extras.
Package treks bought in Nepal for the Kaskikot Hike
This is a better option than a Kaskikot hike which is best done in Pokhara rather than Kathmandu. Do try to visit a few travel agents along lakeside and find out what they will offer. Prices will likely vary greatly.
Many hotels may also be able to offer you a trip to Kaskikot with more reasonable packages depending on the season. Prices will reflect what's included but average rates would be around USD $60-100
Pro's of a local package trek include being able to add or subtract what you want included.
Con's include many trekking companies trying to add things on and boost up the price.
If you'd like to take the hard work out of finding a guide or package for the Kaskikot Hike with an experienced guide before you arrive then do try my Find a Trekking Guide Service.
Hiring a local Guide for the Kaskikot Hike
Pokhara is again the best place to find a local guide for the Kaskikot Hike. Hiring a guide from a local trekking company is best as they'll be registered. You could also hire a guide from your hotel.
Hiring a local guide can cost between $25-50 per day based on their experience.
A local guide can also lead the way to Sarangkot with ease. There's a new cable car route being built nearby so do beware of local guides with no qualifications trying to take you to either location.
If you are looking for a local registered trekking guide for the Kaskikot Hike I recommend you read my article on How to find a trekking guide in Nepal.
In my guidebook to Nepal there are several well vetted trekking agencies you can choose from that hire out local guides.
You can also save some time by using my Find a Guide Trekking Service to get a local guide.
Hiking to Kaskikot without a guide
A guide is not mandatory on this short trek. Many hikers opt to go alone. The area is fairly easy to navigate and is short. The only issue hikers should be careful with is going for sunrise as the area is not lit and is a rough trail in parts with long drops and cliffs. Bring adequate lighting and ensure you watch you step.
Taxis will bring you to Kaskikot with ease but a driver will not walk with you to the top. You'll likely be charged for the driver to wait at parking area near the bottom. Do pre-arrange the total taxi cost if taking this option.
It is possible to walk between Sarangkot and Kaskikot along a trail. However do note this trail can become overgrown. The encroaching roads are also hard to avoid.
If you want to reach Kaskikot on foot it's possible to walk the 12km from Pokhara's lakeside. However do note that you will walking on a busy dusty road for long sections.
It is advisable to take at least one person with you.
If you are looking for a guide for the Kaskikot trek I recommend you read my article on How to find a trekking guide in Nepal.
You may also use my Find a Guide Trekking Service.
---
---
The Kaskikot hike is low altitude and open year round. Views will be cloudy during the monsoon season and many afternoons.
Kaskikot Weather by month (Pokhara)
Avg. Temperature
(°C)
Avg. Temperature
(°F)

Precipitation / Rainfall (mm)

January
13.1

55.6
28
February
14.9

58.8

24
March
19.5

67.1

52
April
23

73.4

106
May
24.1

75.4

312
June
25.2

77.4

626
July
25.3

77.5

876
August
25.2

77.4

807
September
24.1

75.4

491
October
21.6

70.9

140
November
17.5

63.5

6
December
13.8

56.8

6
Do note that the weather along the Kaskikot Hike will be the same as Pokhara city. If it's cloudy in Pokhara then you can be sure it will be cloudy on the hike.
The above chart also shows cloud coverage which is important to note as the hike is low altitude.
Months with the best weather to trek the Kaskikot Hike
Mid October - November/(early)December: Nepal's peak and best time to go on the Kaskikot Hike.
February-March-April: this is the end of the dry season in Nepal and the second best time of year to go hiking to go on the Kaskikot Hike. Do note that cloud coverage is becoming greater in recent years during this period in Pokhara.
December to January/February: the skies are clear but it can get very cold.
May - June: The hot pre-monsoon season means things get uncomfortable and humid. The valley and hills around the Kaskikot Hike are starting to bloom with green grass and flowers.
June - Mid September: this is Nepal's Monsoon season and the least popular time to go hiking However the hike is short so a rain coat will often do. The rain will mean slippery pavements and a muddy trail.
For more details please see my guide on the best time of year to go trekking in Nepal.
---
---
None. There are no permits needed for this hike.
---
No specialized equipment is needed for the Kaskikot Hike.
The hike has no facilities for tourists but is a short hike.
Do take note of the weather and dress appropriately.
A pair of non-slip trekking boots, trekking shoes or footwear suitable for your needs.
A wind / rain proof jacket
Long sleeve shirt
Trekking pants / shorts
Water bottle
Sun hat/warm hat
Sunglasses
Sunblock
Food and bottled water is available at the nearby resort.
Please note the above is a very basic list. For a full comprehensive trekking list please see my article on trekking equipment you need for Nepal
---
---
The Kaskikot trail is listed as easy. However do note that this will be relative to your own ability. The actual Kaskikot hike from the parking area takes place over a numerous set of steps.
Following the steps leads to the small Shiva shrine and then the main palace.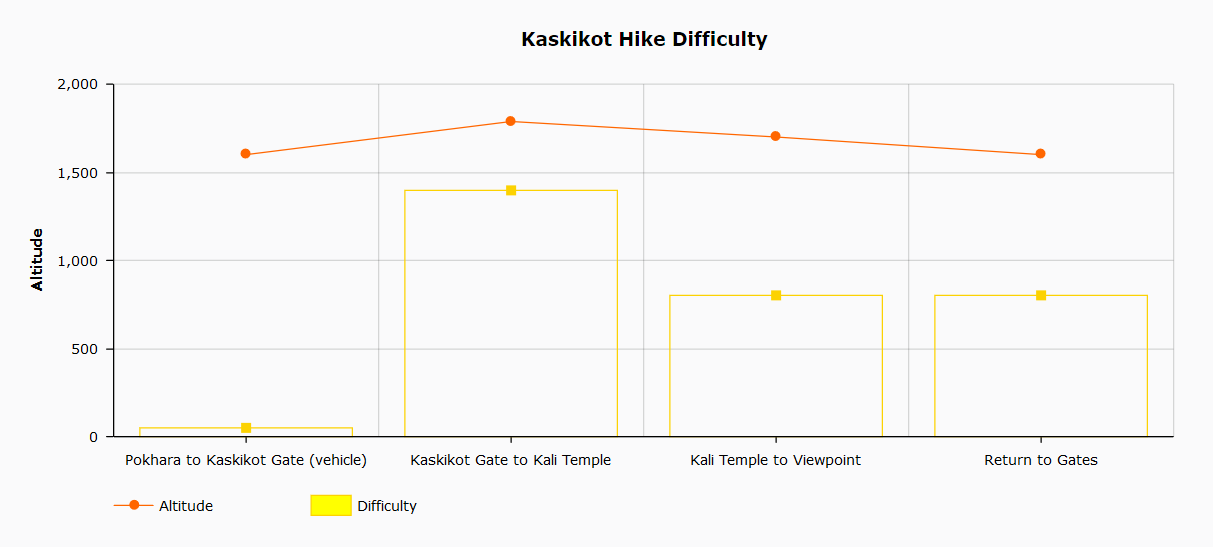 The trail to the look out point to the west is not paves and is over rough unmarked terrains. To reach the lookout point itself involves climbing up a steep mound with broken steps. Caution is needed.

The return journey follows the same path. The total distance is 2.4km.

If you follow the trail to Sarangkot then do note it is not marked out well and the trail is often overgrown with grasses and debris. The alternative is to walk by the Sarangkot road which is dusty and unpleasant. It is possible to reach the road from the trail however the paths are again not kept well and often broken.

If you are visiting Kaskikot for sunrise then bring head torches and watch your step as there is no lighting.

---
---
Fitness for the Kaskikot Hike will be relative to your own fitness levels, health and ability. The trek is noted as being easy but there are many steps to climb and descend.
As always I would advise anyone going trekking or hiking to see a doctor before they go for a check-up
The area without steps by the look out point is nearby but the ground is unpaved. Most people find the steps the hardest part. If you've already been trekking then it should not be difficult. Otherwise taking ones time helps. There are about 30-40 minutes of steps.
---
---
There is no food or water available on the Kaskikot Hike. The nearest place to eat is near the gates at the bottom of Kaskikot. It's a local eater and there's a shop here that's open (sometimes) selling water. Don't rely on it thought.
The nearest restaurant is located at the Accessible Trail where there is a resort. However the food is average. Other restaurants are located at the bottom of Sarangkot and in Pokhara's lakeside.
Bringing your own snacks and drinks is recommended. There are no litter bins so be prepared to take you litter back.
---
---
There are some homestays near the gate of Kaskikot. The Himalayan Deurali Hotel is located beside the Accessible trail.
More accommodation can be found in nearby Sarangkot or in Pokhara's Lakeside area.
Read more and see what trekking accommodation is like in Nepal.
---
---
The Kaskikot Hike is free with no permits needed. Most costs are related transport to and from the trail.
Working out your budget
Package tours to the Kaskikot Hike usually enrolled other places to visit as the Kaskikot trail is short.
Online package tours for half day hike can cost USD$70-100 per person.
In country package tours Package treks to the Kaskikot Hike are found in Pokhara. Common extras include private jeep and sunrise at Sarangkot. $50-70 are average prices.
My Find A Guide Service can help you out here but do try to get in contact before arriving in Nepal.
Guide only services will exist costing $27 to $50 per day for the guide alone. Do note there's no need for a full guide here and a porter-guide or trainee guide will likely do. Most guides will simply be showing you the way while better guides will be more interactive and explain the surrounding landscapes.
Local guides can also take you to several villages around Kaski.
Doing the Kaskikot Hike by yourself given the low altitude and short duration of the Kaskikot hike it's possible to this without a guide. However do note the hike signs are not clear. If arriving for sunrise bring adequate lighting and don't go alone.
It's possible to take a local bus to Sarangkot and hike to Kaskikot but again do be aware the trail is not well marked.
If you are looking for a guide for the Kaskikot Hike then I recommend you read my article on how to find a trekking guide in Nepal. Alternatively use my Find a Trekking Guide Service.
Average half day Kaskikot Hike
| | |
| --- | --- |
| Item | Cost USD $ |
| Permits | 0 |
| Guide x 1 day | 27 |
| Accommodation | 0 |
| Meals (local or take out) | 4 |
| Water 2 liters | 1 |
| Transport (private-RTN) | 40 |
| Total | 72 |
The above budget is based on taking a guide and private transport. For a 45 minute hike the cost is high however it is about the same as guided visit to Sarangkot but without the crowds.
Travel insurance should be included and do make sure you are covered for trekking Here is my recommendation for travel insurance when in Nepal.
How to reduce your budget on the Kaskikot Hike
Splitting the transport costs with someone else will reduce private transport costs. If sunrise is not important to you then you could also take a bus which dramatically drops the price down. Hiring a local motorcycle can also drop the costs.
Walking from Pokhara is the cheapest option but will turn it into half to full day out.
For those considering the Accessible Trail and or Sarangkot as part of the Kaskikot trail then do note that the views are virtually the same from all view points. A better option would be to choose one then visit some local villages.
---
---
As the Kaskikot Hike is so short a full itinerary is not needed. However there are alternative places to visit and this itinerary will give you an idea of the times it takes to reach each one.
The Kalika Temple at Kaskikot
Sunrise Kaskikot itinerary
| | | | |
| --- | --- | --- | --- |
| Day | Route | Distance (km) | Highest Altitude |
| 1 | Pokhara to Kaskikot parking by car | 30 minutes | 1,538m |
| 1 | Kaskikot to small Shiva shrine | 30 minutes | 1,700m |
| 1 | Shiva Shrine to Kaskikot Palace | 10 minutes | 1,788m |
| 1 | Kaskikot Palace to Lookout point | 5 minutes | 1,760m |
The return journey follows the same path. To reach the Sarangkot trail there is a sign just before the steps up to the palace pointing the way to the right.
There is a new Shiva shrine just behind the old one when you first finish the steps on the hike. There's a small Ganesh shine on the way up. To the west of the old and new Shiva shrines is the palace and the Kali temple.
Pokhara to Sarangkot to Kaskikot by walking itinerary
| | | | |
| --- | --- | --- | --- |
| Day | Route | Distance (km) | Highest Altitude |
| 1 | Pokhara to Sarangkot by walking | 2-3 hours | 1,600m |
| 1 | Sarangkot to Kaskikot by walking | 1-2 hours | 1,788m |
| 1 | Kaskikot to Pokhara by walking | 3-4 hours | 1,600m |
Use extreme caution if walking from Pokhara to Sarangkot or Kaskikot along the road in the dark or by driving. There are sharp steep bends and the road is known for accidents.

What's the best Kaskikot Hike Itinerary?
It depends on your budget, time and budget. The view is the same as Sarangkot. So if you are visiting Sarangkot and want to avoid the crowds then Kaskikot is viable alternative.
if you want a short trail to hike along then going from Kaskikot to Sarangkot is an option. Though if the area is overgrown then it can be difficult.
One nice day out would be to take a taxi to Kaskikot in the morning and then extend by visiting some nearby villages and take a bus back to Pokhara.
There's little point to visit the Accessible Trail as the views are again about the same. Though a lunch at the resort and an afternoon in their small garden overlooking the mountains would be nice way to spend the day.
---
---
For alternative treks do read my list of treks in Nepal which is continually being added to based on popularity or request.
If looking for a trekking guide I recommend you read my article on How to find a trekking guide in Nepal or you can use the Find a Guide Service.
---
Get my Trekking in Nepal Guidebook
---
Liked this page? You'll love my trekking book (which includes this trek)! It's a hands-on, fully comprehensive trekking guidebook that's better than the rest. Yes, really!
In the book, I cover over 28 treks in Nepal with step-by-step accuracy using scalable maps, photographs and travel-tested up-to-date trekking information.
Just like my other guidebooks to Nepal you can download it instantly now or order a paperback copy. An up-to-date guidebook like no other.
---
Was this page helpful to you? If so please tell others!