Chitwan National Park offers a wide range of accommodation in abundance and it's all located in Sauraha town!
Do please read my
guide to Chitwan National Park
to understand the difference between "Chitwan" and "Sauraha". Sufficed to say, they are beside each other and practically referred to as the same place.
There is no accommodation inside the National Park itself so don't believe any touts or package holidays telling you otherwise.
*Sadly in 2017 large "resorts" have "managed" to acquire permision to start opening resorts inside the main jungle itself again - despite locals and conservationists stating the damage it will do. So far in 2018, the resorts have not actually re-opened inside the jungle.
What to expect from a hotel/resort in Chitwan:
High-end: Swimming pool, 24 hour generators, 24 hour hot water, air-conditioning cable television, ensuites, valet, room service, wi-fi, restaurant, tour desk, airport/bus pickup, jungle tours.
Mid-range: back-up generator, 24 hour hot water, cable television, ensuite, wi-fi, restaurant, tour desk, airport/bus pick up, jungle tours.
Budget: back-up battery/generator, solar power water, cable television, ensuite/shared, wifi, restaurant, tour desk, bus pickup, jungle tours.
Accommodation notes: As you can see nearly all hotels and resorts offer airports/bus pickups, jungle tours and wifi. The real difference is the standard of accommodation.
Take note that high-end resorts are not all "high-end". Some take the approach that tourists might like to rough it in the jungle. The reality is they are skimping out on their guests. It's far more practical to "rough it" in a mid-range or budget resort.
Likewise some budget accommodation is really basic. That said Sauraha has some of the cheapest budget accommodation in all Nepal.
No matter what type of accommodation you choose do remember that Chitwan / Sauraha is a jungle area so everything from creepy crawlies to rhinos and tiger wandering across your hotel can be daily reality!
Due to the COVID-19 Pandemic some hotels and restorts have closed. Others are still feeling the impact and will do for years to come. It's important to keep that in mind when visiting Sauraha. There may be staff shortages, or the facilities may be downgraded compared to advertisements. Here, we support local businesses. By doing so, we are assured that money spent on accommodation goes directly to those involved in the business.
There are no resorts inside Chitwan National Park
All types of accommodation are not allowed in the actual National Park itself. Previously resorts were allowed inside however for conservation efforts they were removed. Do not believe any resort claiming to be "inside Chitwan National Park".
As previously mentioned there are no actual resorts or hotels within the inner boundary of Chitwan National Park. However the village of Sauraha is right beside the park across the Rapti river. Sauraha has most of Chitwan's accommodation from high-end resorts to budget guest houses.
Malpur road
Sauraha's main road is known as Malpur Road. There are two famous landmarks: one is the elephant statue at the top end and down towards the river is the rhino statue. There's a vast range of accommodation options along this road. For budget travelers or backpackers the easiest option to leave the bus stop area, take a right and walk to the end of the dusty road. From there take a left and you'll soon see the elephant statue on your right. This is where the bulk of the budget accommodation starts. Do read my guide on getting to Chitwan for more.
Riverside
At the very southern end of Malpur road is the Rapti river. Running along wide the river s it meanders west to east are various types of accommodation. There is a new promenade style walkway along part of the riverside however it's not easy to actually walk along it as many restaurants have set up a maze of seating arrangements and little fences.
To the east the road loops back to the north again where there's a string of budget and mid-range hotels. In this area it's commonplace to see rhinos in early morning in resort gardens foraging for food and the odd elephant likewise. Do not approach either! They are to be considered wild animals.
To the west are more upmarket resorts which really require some form of transport to reach easily. More on that below.
Resort areas in Sauraha
Many high-end resorts in Sauraha are based beyond easy walking distance from the center of town. The great thing about these resorts is that they often have many modern facilities while still being surrounded by a jungle like environment. They all run pick-up or shuttle services from town however most people generally opt to stay in the resorts for meals and entertainment.
Sauraha / Chitwan is filled with resorts, hotels & guest-houses. Even during a busy peak season day you will find a room. You'll find the best bargains by simply walking into budget and mid-range hotels along the main Malpur road and east riverside heading back up north.
High-end resorts and some better mid-range hotels now prefer online bookings and often give the best rates there. Walking into some nearly all high-end resorts and many mid-range resorts will result in you paying more.
For the purposes of budget the following grades apply:
High-end: USD $50-$100+ per night
Mid-range: USD $30+ per night
Budget: under USD $5-$25 per night
I have visited nearly 60 hotels, resorts and guest houses in Chitwan and have included some of my personal reviews below! More are found in my guidebook to Chitwan and my guidebook to Nepal.
---
---
Hotels, resorts and guest houses are separated by budget. Do keep in mind that even budget hotels will often refer to themselves as "resorts" or "jungle lodges". Use the reviews below to see what's really a resort vs a bamboo hut!.
---
High-end resorts, hotels and lodges in Chitwan
Some resorts/hotels/lodges are well outside Sauraha but will offer shuttles to and from. Price range: USD $50-100+ per night
Maruni Sactuary Lodge: Situated on the outskirts of beautiful Chitwan National Park, about 1.5 KM from the main road in Sauraha, is this sanctuary of peace and tranquility. Surrounded by its green ambiance, the lodge will provide the best services and amenities to ensure your stay is comfortable and memorable. ★★★★☆ book here

+ Pool

+ Service

Green Park Resort Chitwan: Rising up above from your expectations" is what sets this jungle resort apart from the rest of the hotels in Chitwan. Located just 1.5 km from the town center (ignore their map distance), Green Park Resort offers easy access with a shuttle to Sauraha. With its ideal location and facilities, Green Park Resort is the perfect escape for relaxation and exploration. ★★★★★ book here

+ Top Rated!

+ Pool

+ BBQ

+ Service

Hotel Jungle Crown: If you're looking for a combination of luxury and adventure, Hotel Jungle Crown could just be the place for you. Whether you want to explore the grassland sitting atop an elephant or ride a canoe down the Rapti River – count on Hotel Jungle Crown to make your trip memorable. ★★★★☆ book here

+ Pool

+ Sauna

+ Service

Hotel Sapana Village Lodge Chitwan : Catch a glimpse into Chitwan's Tharu culture! You'll find all 30 rooms at Hotel Sapana Village Lodge influenced directly by the authentic Tharu style, Chitwan's ancient heritage and the surrounding environment. You'll get to experience the local culture and the beautiful nature Chitwan has to offer with the help of the experienced guides located here. ★★★★★ book here

+ Spa

+ Culture

+ Service
---
Mid-range resorts, hotels and lodges in Chitwan
Some resorts/hotels/lodges are well outside Sauraha but will offer shuttles to and from. Price range: USD $30-50+ per night
The Rhino Residency Resort – a great place to get sunset views over the Rapt river. Literally just a minute away from Chitwan National Park, this resort features charming colonial-style bungalows, a swimming pool in the midst of a serene garden and a bar that boasts some great beverages. ★★★★☆ book here

+ Pool

+ Location

Hotel Seven Star: It's not really 7 stars or even 5 but if you're looking for a comfortable and an affordable hotel in Chitwan that seems to think they are a 5 star resort then Hotel Seven Star is the place for you. Take advantage of the great services and the excellent amenities this hotel has to offer, such as spa and wellness center, a fitness center, an outdoor swimming pool, 24-hour room service – all tailored to suit your every need with some great online booking prices. ★★★★☆ book here

+ Pool

+ Spa

Chitwan Gaida Lodge: A top pick of the southern lodges. Gaida has a pristine open area with seating. Two accommodation zones - one with cottages & another inside a larger new building. Restaurant & bar are both good. Staff here were exceptionally nice ★★★★★ book here

+ Top Rated!

+ Gardens

+ Bar

+ Value

Royal Park Hotel: Unplug from the rest of the world for a peaceful relaxation at Royal Park Hotel. Surrounded by lush green fields, the hotel rooms are built in traditional Nepali style with all the Western comforts. What's more, each room is fitted with a large panoramic window for you to enjoy the spectacular surroundings of Chitwan. ★★★★★ book here

+ Bar

+ Location

+ Service
---
Budget resorts, hotels and lodges in Chitwan
Chitwan offers some of the best budget lodges and guesthouses in all Nepal. The facilities might not be top-notch everywhere but it's worth shopping around. USD $5-25+ per night
Motherland Resort Motherland Resort delivers a different side to paradise! The rustic resort, located in Sauraha near the river, is just 5 minutes away from the Chitwan National Park. The hotel boasts a spacious sun terrace where guests can enjoy the view and the peaceful environment ★★★★☆ book here

+ Hot tub

+ Location

Chitwan Village Resort:Explore the picturesque paradise that Chitwan is, and let nature take over your holiday like no other. Chitwan Village Resort, situated right across the Rapti River, offers you an exciting combination of wildlife adventure and luxury. You can be rest assured that your stay with Chitwan Village Resort will be happy, comfortable and memorable. ★★★★☆ book here

+ Location

+ Value

Evergreen Ecolodge: Looking for a low-cost ecological hotel in Sauraha? Look no further than Evergreen Ecolodge. The 8 natural bedrooms built using recycled materials and fitted with natural insulation, this ecolodge is committed towards conservation, cultural sensitivity and style. Experience nature at its purest form; being green will never be this appealing! ★★★★☆ book here

+ Eco friendly

+ Gardens

+ Value

Chitwan Forest Resort:With a choice between renovated cottages or a new mansion sized hotel you'll be in safe hands here. The cottage rooms are well priced with a stable generator operating and working WiFi. The owner Deekpak is very honest and his tours are well priced. ★★★★★ book here

+ Eco friendly

+ Service
---
Get the Best Guidebook to Nepal
---
Get even more budget tips and money saving solutions to traveling Nepal in my guidebook to Nepal It's 500+ pages of premium content for only about $20. That's a tiny investment for big savings!
From one budget traveler to another, check out the details below and you'll see why, this is better tan any other guidebook, I promise.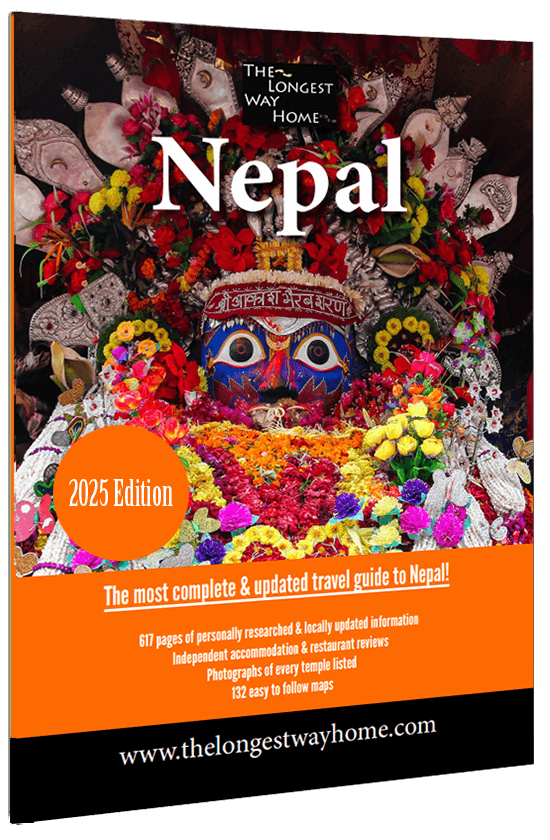 ---
Was this page helpful to you? If so please tell others!