---
The Kathmandu Valley (काठमाडौं उपत्यका) is located in the north east central region of Nepal. From ancient times to today it remains an important trading route from Tibet/China to India. The valley itself is the most populous in Nepal with a population of over 2.5 million people which continues to grow at a rate of 4 percent a year.
The capital city of Nepal, Kathmandu city, is located in the Kathmandu valley along with several other cities of historic and cultural importance (including several UNESCO World Heritage sites). These include the old royal capitals of Bhaktapur and Patan.
The Kathmandu Valley is also noted for being origin point of the Newari people who still populate most of the valley. Due to being a region of commercial value today there are people of many different cultures and religions living there.
Did you know?
Swayambhunath is said to be the first building ever constructed in the Kathmandu valley. Whereas Kasthamandap is said to be the first building that joined two old Yala towns together which formed Kathmandu city.
For visitors to the Kathmandu Valley there's a tremendous amount of cultural lineage and physical architecture to be found here that's unlike anywhere else on earth. For full details I recommend my Kathmandu Valley Heritage Walks Book.
---
Table of Contents
---
While many tourists flock to Nepal for the exquisite mountain views and trekking in Nepal opportunities the Kathmandu Valley holds its own in terms of stunning architecture, areas of profound cultural significance and places of historic importance for all of Asia.
Kathmandu city itself holds several areas of intense interest. Thamel is the tourist hotspot with most of the accommodation, restaurants and night spots located there. It's also where all the trekking stores and trekking agents are located. But don't overlook the fantastic heritage walks through the older part of Kathmandu city too.
Other places to visit in the city include Kathmandu's old royal capital Durbar Square. Here you fill find such unique buildings like the old royal place, the nine-story temple, the Kumari (living goddess) house and so much more. Take a break to the south of Durbar Square along the infamous hippie hangout known as Freak Street.
Old Kathmandu can be a treasure trove for explorers with Kathmandu heritage walks containing fascinating places like Thahiti Chowk, Ason Chowk, Jana Bahal and Indra Chowk.
On a hill to the west and walkable from the city is Swayambhunath (monkey temple) which is said to be the first building in valley.
To the west is the Boudhanath which contains the great stupa, the most important location for Buddhists outside of Tibet.
Just to the south of Boudhanath is Pashupatinath which is attracts thousands of devotees every year to the Pashupatinath temple. As well as being a revered place for Hindu's to be cremated.
A quick 20 minute bus journey to the south and you can visit Kirtipur, one of the rebellious old towns that saw the unification of Nepal.
Equally close by to the north of Kathmandu city is Gokarna where the main temple is surrounded by some of the rarest Hindu and Newari statues in the world.
Just 30 mins outside of the capital within Kathmandu Valley is home to the former capital of Patan. Easily visited on for a day or half-day trip it's a city filled with art and architecture. From the magnificent Golden Temple to Patan Durbar Square and a chance to visit a Living Goddess there's a lot to see and do here.
Perhaps the Kathmandu Valley's crown jewel is Bhaktapur, a truly beautiful city which is well worth a night or two's stay.
Much less congested than the capital, Bhaktapur contains such amazing sites as the 55-window palace, the Golden Gate, the Nyatapola Temple (the tallest temple in all Nepal) and so much more.

Just outside Bhaktapur is the world's tallest Shiva statue Kailashnath Mahadev.
If you are a culture lover then on the way to/from Bhaktapur do stop off at the little visited but charming township of Thimi.
Further out at the edge of the Valley is the fascinating Newari town of Dhulikhel which offers a fantastic blend of day hikes and culture where you can even catch a glimpse of Mount Everest.
If you want to get off the beaten trail then try a simple day trip to the incredibly well preserved Newari township of Panauti.
Finally for those seeking some mountain views and nature there's Nagarkot where on a clear day you can spot a tiny dot (literally) known as Mount Everest.
If you are fan of heritage do check out my exclusive book on Kathmandu Valley Heritage Walks.
---
---
Internationally there is only way to fly into Nepal and that is via Kathmandu's international airport which is within Kathmandu city in the Kathmandu Valley. Once in Kathmandu city transport to the rest of the Kathmandu valley is easily accessible via road. Either by taxi or bus.
The main destinations within the Kathmandu valley are all within one to one and a half hours drive of each other. The only hic-up is the increased congestion along the main roads. Traveling before peak traffic times is advised.
---
---
Physical objects indicate the Kathmandu Valley was inhabited as far back as 300BC. The earliest inscription is dated as 185BC (found in Swayambhunath ). Various stupa's were allegedly constructed around Patan in the 3rd century by the Indian Emperor Ashoka's daughter. However much like the Buddha's visit there is no factual proof.
The Kirats are accredited to be the first ruling inhabitants of the Kathmandu Valley. Following on in 464AD was the The Licchavi Dynasty. From the 12th century the Malla's rule the valley in what was its most popular period until finally in the 18th century the Shah's took over and formed what is known as Nepal today.
Throughout the history of the Kathmandu Valley the Newari people have remained at its forefront. They are accredited for the unique style of architecture within the valley (multi-roofed pagodas/temples).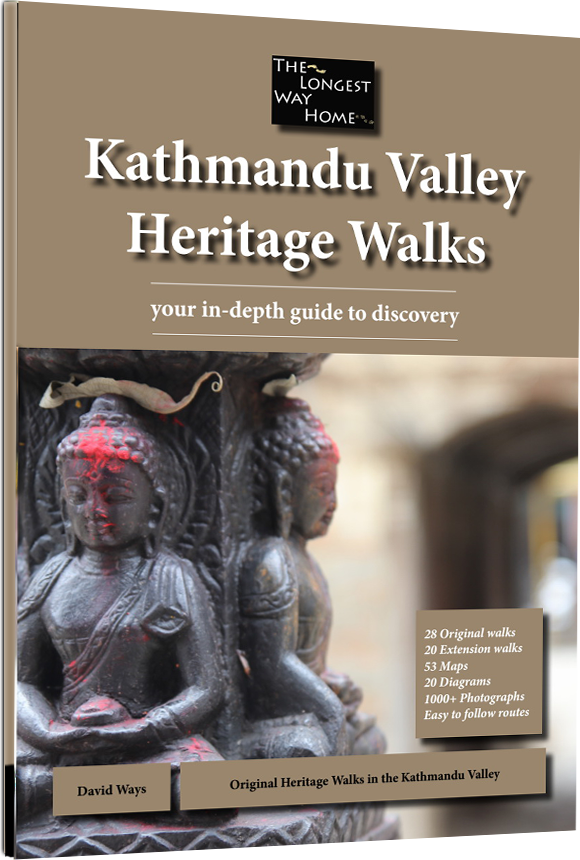 For the very best details on Kathmandu Valley's history do read this book on Kathmandu heritage walks.
---
---
Since 1991 the independently run Kathmandu Valley Preservation Trust (KVPT) has tried to safeguard the architectural heritage of the Kathmandu Valley in Nepal. They have saved more than 50 historic buildings including temples, step-wells, monasteries, and palaces, and have launched major campaigns for urban preservation of inhabited buildings throughout the valley. The trust was founded by the architectural historian Eduard Sekler.
Some of the buildings saved include such popular attractions as Mul Chowk, Golden Gate, Indrapur Temple, Kal Bairab and the Taleju Temple.
Though they do work with the Nepalese government most of the funding comes from overseas donators. The urban preservation projects have been particularly difficult to carry out due to local bureaucracy and privatization.
To find more about KVPT and see some of the before and after photographs you can visit them at their office in Patan Durbar Square or http://www.kvptnepal.org/
The KVPT are not the only organizations trying to preserve the Kathmandu Valley. Swayambhunath's recent renovation was also privately funded from overseas donations.
in 2015 following the earthquake the Digital Archeology Foundation began an ambitious campaign to digitally preserve the remaining temples and monuments in the Kathmandu Valley. Since then the preservation of Nepal's historical buildings has reached the masses and widespread adoption of their importance.
Impressive 3D scale models of Kathmandu's temples have already been produced in an effort to protect them via observation of their current statue, help restoration work in the future and to independently monitor and reconstruction attempts.
The biggest fear many historians and architects have for the future of the Kathmandu Valley not only comes from an impending earthquake but from a lack of funds or private land buyers.
2015 Earthquake
During the April 25th earthquake in Nepal the Kathmandu valley took a lot of damage. Kathmandu Durbar square lost several large temples as did Patan. All was not lost though as the vast majority are still standing.
Tourism as a whole was affected as international media focused on the negative aspects of the earthquake. On the positive side over 90% of all the hotels in the valley have been reopened after inspection.
Only two major heritage sites reported over 40% damage out of 8. You can see a list of destroyed temples in Nepal. The vast majority survived as did the valley's infrastructure. The majority of sites are open to tourists today.
In 2023 expect to see Kathmandu Durbar Square still under construction along with Patan Durbar Square. However there's still plenty to see within these mainstay attractions and the vast majority of temples in other areas have been rebuilt. These areas include Bhaktapur and the old city of Kathmandu.
---
---
Accommodation throughout the Kathmandu Valley ranges from high-end resorts, mid-range hotels and budget guest houses. In recent years a number of boutique Newari theme guest houses have opened in Patan and Bhaktapur.
While accommodation in the Kathmandu Valley has always been budget friendly in recent years prices have gone up. New high-end hotels now offer better facilities and comfort than the older more dated hotels. Mid-range hotels have faltered slightly with increased prices yet the services have remained the same. Many budget guest-houses have vanished or have been taken over by newer accommodation. Budget guest houses still exist, but they are nowhere near as numerous. Boutique guest houses have appeared in Patan and Bhaktapur with high prices while offering traditional Newari style decor.
Accommodation standards in the Kathmandu Valley vary considerably. If you are looking for international level comfort and facilities then do understand that a 3-star hotel in Nepal can be regarded as one-star elsewhere or rather annoyingly - a genuine three-star. Do read reviews carefully. .
Throughout this website each destination will have it's own accommodation section. More reviews and listings are in my Kathmandu Valley guidebook.
---
---
Eating out around the Kathmandu Valley is easy if you are in popular tourist areas. Once outside of the tourist zones it becomes more challenging to find variety.
Dal Bhat is the most common food in the Kathmandu Valley followed by momos and local specialities. Do choose carefully where you eat as refrigeration and hygiene are not that high when it comes to food in Nepal.
You can see a selection of Nepali dishes here. You can also read my reviews on the best restaurants in Kathmandu.
---
---
Getting around the Kathmandu valley is easier than it first seems. The number one choice for short trips (under one hour) are taxis which are not that expensive. If a journey is over one hour and budget is a concern then the Kathmandu Valley's bus service is fully operational. If taking a taxi always agree on a price first. Meters are rarely used in Kathmandu.
Inter city buses in the Kathmandu Valley generally consist of older buses with conductors on board with no allocated seating.
They operate on a first come, first serve basis. Most intercity buses depart from Kathmandu city's Ratna Bus Park. However in 2023 the bus park was cancelled and turned into offices so buses are departing from the main road outside and in the area. Generally each destination will have its own bus are which all look like an old parking lot. In 2015 there was a strong government reform of ticket pricing in the bus services and there are less problems with increased ticket prices now than there was before. My guidebook to the Kathmandu valley includes bus prices to all destinations.
Driving your own car in the Kathmandu Valley is not recommended. The roads are unsealed and driving standards are bad. There's also little difference in hiring a car or jeep with a driver or without. If you are looking for car hire in Nepal then feel free to contact me for my recommendation.
Renting a bicycle is good if you plan to go mountain biking around the Kathmandu Valley but it's not recommended for intercity travel or inner city travel due to road conditions, pollution and traffic issues.
Walking is possible in all cities and around the valley. Do take care though as there are no dedicated walkways and Nepal operates on a car first pedestrian latter mentality.
In 2023 a new hop on hop off bus is expected to be launched linking Kathmandu Durbar Square, Boudha, Swayambhu and Pashupatinath. However the pricing is two-tier which has drawn a lof of condemnation. The cost for non-Nepali is 1000rps. Plans have yet to be formalized.
For more information on transport do see this article on getting around Nepal.
---
---
The Kathmandu Valley is 1,425 metres (4,675 ft) above sea level. It covers an area of 220 square miles and is surrounded by four mountain ranges.
You can get a much more detailed map of Kathmandu Valley to download via my guidebook below.
---
---
Liked this page? You'll love my books! They are hands on guidebooks that are better than the rest. Yes, really! In them I cover all attractions with step-by-step accuracy using well researched information, photographs and travel tested walking tours.
Available in print or digital editions - the best guidebooks for visiting Nepal.
---
Was this page helpful to you? If so please tell others!